College Hunks Hauling Junk and Moving Review


VanLines Inc
Secure Storage
Easy Booking Process
Fully Trained Employees
GET A QUOTE

Colonial Van Lines
Storage Services
Long-Distance Moves
Corporate Relocations
GET A QUOTE

Moving APT
Available Nationwide
Award-Winning Movers
Extensive Vetting Process
GET A QUOTE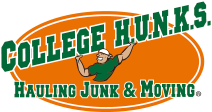 College Hunks Hauling Junk is a young moving company that began operations in the year 2004. In a short span of time, they have made a remarkable presence in the moving industry. By this we mean that they've had more than decent success even after joining the field late. The company has even featured on the reality show 'Shark Tank' and the Oprah Winfrey show from where they got popular, no less than a celebrity.
Also, the name College Hunks by itself is pretty intriguing for a moving company and certainly instigates the curiosity of many. So, let's learn more about what this youthful company has in store for you.
Overview
College Hunks is a moving company that's managed by 2 high school friends who wrote a business plan and tossed around the idea of running their own moving business someday. Cut to today, the company is a great success with headquarters in the hub of Tampa, Florida. Yes, it's an entrepreneurial dream turned into reality. The company kept expanding and began franchising, they now have over 150 branches in the US and Canada.
The catchy bright orange and green colors of the company plus the name itself creates a fascination for the customers. The word HUNKS is actually an acronym and stands for honest, uniformed, nice and knowledgeable service. And this is the character (fictional or not) that customers look for in the professionals they hire.
The HUNKS can help you with a local move or long distance one that is much more labour intensive. You can also reach out to them if you just need some manpower to move around furniture. Like the company name suggests, they would be willing to haul out the junk and dispose of it in a responsible manner. If they believe that the furniture or equipment you're throwing away could be used again, they donate it instead of disposing of it.
Which brings us to the fact that College Hunks is also an extremely charitable moving company. They have partnered up with Goodwill, Habitat For Humanity ReStore, and PickUpMyDonation to help fund their projects. Since a large majority of the work involves hauling junk and even doing donation drives, they have the opportunity to work in close collaboration with non-profit organizations. They even have their own subsidiary company that goes by the name 'Trash Butler LLC' which is a recycling company that comes to your doorstep.
Lastly, keep in mind that they don't have a franchise in Montana, North Dakota, South Dakota, Wyoming, Nevada, Utah, New Mexico, West Virginia and Mississippi. Now that you have a better picture of the company, let's move on to understand the services they offer.
What Services Do College Hunks Hauling Junk And Moving Provide?
Junk Removal
When you move homes, you're bound to have a truckload of items that you need to discard. We tend to collect these things in a storage area in our homes but when it's time to move out, there's no option but to face the things we hoard. We're all guilty of being hoarders and if you have found an unbelievable amount of stuff that would need to be hauled out, you can turn to the College Hunks to help you out.
The company also understands that basements, attics and garages are other common dumping grounds in our homes, so they could do a complete clean out of these rooms. You can also reach out to them if there's just been a renovation and you want your estate to be cleaned of the debris.
Here is a quick list of things they would accept:
● Metal scrap
● Appliances (dryers, refrigerators, ceiling fans and so on)
● Office Equipment (printers, monitors, desk, chairs)
● Tires
● Furniture
● Mattress
Donation Pickups
Once again, this isn't a standard service that is associated with a moving company, so it can be said that College Hunks is more modern in their approach. Also, if you think about it, such a service is much needed and can be of huge help when moving homes. It saves you from making two trips, when you can't manage fitting all the donation boxes in your car.
So if you've cleared things to donate and boxes are beyond count, you could consider hiring College Hunks to help. It also saves you time since you don't have to personally drive to the donation center.
See also: Charities that offer free donation pick-up
Labor
In case this is a self-move and you just need muscles on the field to help you lift out heavy pieces of furniture and equipment, you could opt for just labor. With this service, you basically get to hire HUNKS to do all the lifting so you don't have to strain yourself physically.
This service is also useful when you're renovating your home and need to shift things around the place. You can also hire manpower on an hourly basis if you need to stage the home. You'd find it interesting that College Hunks work with professional home staging companies so if this is something you're looking for, they'd be able to help.
Long And Local Distance Moves
Now if you just want the old school full service movers to pack, haul, transport and unload your belongings, then you can have that too. College Hunks helps with long distance moves where the difficulty level is high and you need to cross state borders. They also help with local moves where you're moving to a new city within the same state. What's more is that the Hunks have a huge team of professionals across the nation and have the appropriate license and registration to operate across the country. But that's not all, these guys also have experience in dealing with specific moves such as –
● College Move
● Senior Citizen Move
● Office move
Moving Supplies
If you've forgotten to go supply shopping to pick up basic packing supplies like tape, corrugated boxes, bubble wrap and packing paper, you can purchase them from College Hunks. You can add it to the package and probably even strike a good deal with the company. This saves you from running to home improvement stores because your moving company itself would be able to help you out.
Key Takeaway
College Hunks can help you with every type of move be it local, across the country or beyond state borders. If you just need some manpower to help you with lifting and carrying out stuff you could rely on them. Junk removal is a big chuck of the services offered by them. They specialize in getting rid of debris after a renovation and clearing out storage units, garages and basements. 70% of the stuff they declutter is recycled. By donation or recycling unwanted items, they ensure that they are disposing junk in a responsible manner.
How To Contact College Hunks Hauling Junk And Moving?
Option 01
You could click on the icon that states 'Manage appointment' on their website. You would then need to fill in your email address and phone number. Post that a sales representative from the company would ring you up to discuss further.
Option 02
Instead of them ringing you up, you can begin the conversation and give them a call on 833-626-1326
Option 03
If your hometown is Florida, you could choose to visit their headquarters in person. They have around 16 separate branch offices in Florida, so you can drop by the one closest to you.
College Hunks Hauling Junk and Moving Headquarters Address:
4756 N Dale Mabry Hwy, Tampa, FL 33614, United States
Do note that their office timings are from 8am to 9pm from Monday to Saturday. On Sunday, working hours are from 9am to 9pm.
Why Choose College Hunks Hauling Junk And Moving For Your Move?
College Hunks is a pretty new moving company that's getting recognition at lightning speed. They have a 4.8 out of 5 rating on Google Reviews and Facebook against the Florida headquarters. Most of the reviews also reveal that they've used College Hunks for the second or third time because of the great service. Many customers were also referred to College Hunks by friends and family proving that the word is spreading fast about the moving hunks.
One of the reasons you can consider hiring College Hunks is because they are known to be accommodating to various requests. For instance, you can rely on them to help you with things like logistics and decluttering your backyard. You could also count on them to send 2-3 men to lift or move the furniture around since they have labor only service. They've dealt with office, senior citizens and college moves, so although they are among the younger companies in the moving industry, they have gained enough experience.
Few of the things you'd probably find appealing about College Hunks Hauling Junk And Moving are:
The Upsides
● The interface of their website is modern and very easy to navigate, so placing your order won't be complicated.
● They are much more affordable than traditional full-service companies like those associated with Van Lines.
● Prompt customer service and active on social media like Instagram, where they have a huge following of 2,715 and an even bigger number on Facebook (21,456). They remain active to customer feedback on both these social media platforms.
● Fair pricing, it's less likely to feel you're paying a premium price. It's highly possible for the move to come within your budget.
Now let's also look at the other side and some of the drawbacks with hiring College Hunks for your move.
The most problematic aspect with the company is that they have several branches all across the nation. The Florida branches seem to be getting the most attention and great reviews while the others are not up there yet. So, before you book their services, it's best to do a quick run through the branch you're looking at and the reviews received against it. Experience will vary depending on where the branch is based out of.
Overall, the few not so attractive aspects are –
The Downsides
● They don't have a franchise in 100% of the United States. You won't find their offices in Montana, North Dakota, South Dakota, Wyoming, Nevada, Utah, New Mexico, West Virginia and Mississippi.
● You have to be careful about the franchise you're hiring from. Reviews against a certain branch of the same company can be different solely because of management.
● Providing storage units is not a core service they offer but they could source it out for you. So, if you're looking for storage solutions, chances are slim.
College Hunks Hauling Junk And Moving Fee Structure
Based on our research, it's easy to come to the conclusion that College Hunks is not as expensive as some of its competitors. The company themselves state on their website that the estimates are reasonable and nowhere in comparison to the brand Van Lines. So, if you're on a budget and would like to receive a modest quote, you should consider getting an estimate from College Hunks. You should expect to pay an amount in the bracket of $600 to $850 for a local move.
To give you a perspective in terms of costs, we've gathered a few examples of how much you can expect to pay:
| | | | |
| --- | --- | --- | --- |
| Moving From | Moving To | Number of rooms | Full service costs |
| Indiana | Indiana | Partial Move | $620 |
| Orlando, Florida | Clearwater, Florida | 3 Bedroom (Local Move) | $1,000 |
| South Carolina | South Carolina | Studio (Partial Move) | $200 |
| Arkansas | Arkansas | 1 Bedroom (Local Move) | $711 |
| New Hampshire | Connecticut | 3 Bedroom (out of state) | $4,000 |
Keep in mind that the table above is just to give you a rough idea of what kind of quotes you can expect. If you want an accurate quote, it's best to get in touch with the company itself. They offer free estimates with no obligation so there's no harm in seeing if things would fit in your budget.
Our Take
College Hunks is a decent company to consider if you're on a budget. Chances of getting a premium styled service for the quote you get is strong. If you just want labor by the hour to haul out some heavy furniture or things to throw away, they would be one call away. They are also a reliable service to help you declutter your backyard, storage units, basements from junk. Overall, it's worth considering them especially if you feel that everything is communicated very well to you at the time of consultation.
FAQs
Is College Hunks Hauling Junk an expensive moving company?
The quote you receive from College Hunks Hauling Junk will depend on the size, distance and season you're moving. On an average, local short moves can cost you $650 to $850. Generally, you can expect costs to be lower than professional full-service movers.
Is College Hunks Hauling Junk a good franchise?
College Hunks Hauling Junk is a young company with lots of potential. The company began operations in 2004 and featured on various platforms like Shark Tank, The Oprah Winfrey Show and House Hunters. The pace at which the business is growing is remarkable to say the least, since in a short span the company has over 150 franchises in the United States and Canada.
See also: Allied Van Lines Review | International Van Lines Review | Working of Junk Removal