1-800-GOT-JUNK Review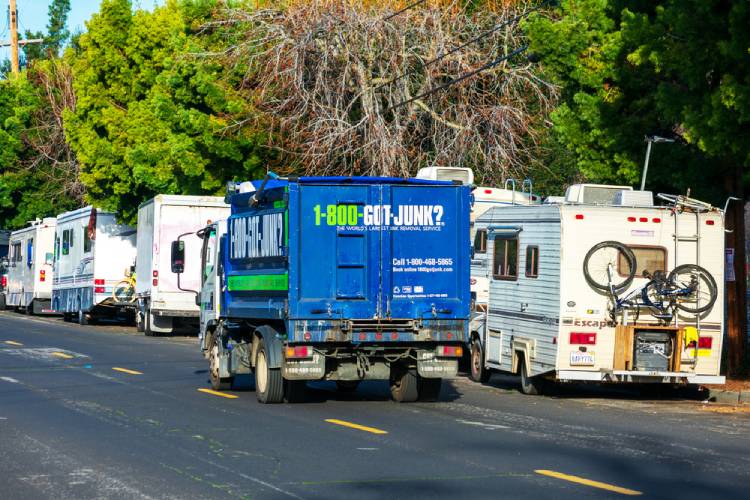 What you Should Know About 1-800-GOT-JUNK
When the time comes to do a spring clean, winter clean or just a bit of organizing around your home or office, you'll probably realize you have a much of junk. The same goes if you're about to move house, which requires a ton of packing and setting aside stuff you simply don't need.
We think it's a great idea to give as much stuff as possible to charity. However, the chances are you'll still have a lot of stuff leftover. Sure, you could attempt to get rid of all your junk on your own, but that's too much of a hassle and there's a tremendous amount of work involved. Thankfully, there's junk removal services. One of the most popular services is 1-800-GOT-JUNK.
Although it's a popular company, is using 1-800-GOT-JUNK worth it? What exactly do they pick up and how much do they charge? We understand you have a ton of questions about 1-800-GOT-JUNK, which is why you should read the rest of this article. We'll tell you everything you need to know about the company.
What is 1-800-GOT-JUNK
It is a company that offers junk removal services. Their parent company is Rubbish Boys Disposal Service or RBSD for short. 1-800-GOT-JUNK operates all across North America, as well as Australia. As the name suggests, the company removes junk from your property.
If you have unwanted items, then you could call 1-800-GOT-JUNK and they will send a professional to your home or office. They'll sort out all of your junk, too. You don't have to do anything except let them do their jobs.
1-800-GOT-JUNK handles the heavy lifting and it's usually much cheaper to use them than it is to rent a dumpster. Also, 1-800-GOT-JUNK is a franchise, so there isn't just one main central owner of the company. Different locations are owned by different owners.
What Does 1-800-GOT-JUNK Pick Up
One of the best things about 1-800-GOT-JUNK is they will take just about anything. Generally speaking, there two rules surrounding what the company will take. These include:
The items/junk should be able to be lifted by two people. If your items require more than two people, then the company probably won't remove those items.
The junk cannot be hazardous
As for what 1-800-GOT-JUNK considered hazardous materials, this includes stuff like oil drums, paint and asbestos. Chemicals are included in the list of hazardous stuff they won't take. Also, the company won't take cars off of your hands.
With that said, there is a lot of stuff that 1-800-GOT-JUNK will take. Some examples of items they'll remove from your property include:
Yard waste
Furniture
Appliances
Mattresses
Boxes
Books
Construction materials that aren't hazardous
Firewood
Roofing materials that aren't hazardous
Old timber
Basically, if your stuff is light enough to be carried by one or two people and it isn't hazardous, then 1-800-GOT-JUNK will take it. As for quality, that doesn't matter. Your furniture can be in horrible condition, have pet hair all over it and have several stains on it; The company will still take it. As long as the items can fit on the truck and they aren't hazardous, the condition of it is irrelevant.
How Much Does 1-800-GOT-JUNK Cost
How much you'll pay for 1-800-GOT-JUNK services depends on several factors. The amount of stuff you want to get rid of and the kind of items you want to get rid of are the major pricing factors. Also, what you'll pay depends on whether or not junk has to be carried down or up stairs, as well as where you live.
Generally speaking, if you have enough junk to fill up an entire truck, then you can expect to pay around $700 to $900. The minimum you can expect to spend is around $140, which is a good price.
The truth is you won't find out the amount until the company arrives to your location. The final price isn't revealed until the team at 1-800-GOT-JUNK knows exactly what they'll be removing. Don't worry though because they do provide estimates.
How Do You Get An Estimate
We love the fact that requesting an estimate is easy. It all starts with going to the company's official website: 1-800-GOT-JUNK, and then enter the relevant information via their booking page. You'll provide more info about the job if there is a franchise nearby. You'll have to let the company know what kind of junk you have and what time/date you would like them to arrive.
If you don't want to book online, then give them a call. The number is 1-800-GOT-JUNK, and their line is open around the clock. You can give them a call whenever you want.
How Do Appointments Work
You can schedule an appointment via the phone or online. Bear in mind that appointments offered by 1-800-GOT-JUNK are done so in two-hour time slots. You can opt for a same day appointment, but these aren't always available due to the slots filling up quickly. This is especially the case on the weekends.
We strongly urge you to make an appointment 4-7 days prior to the day you want your junk removed. Generally speaking, the tighter your deadline with your move is, the sooner you should book your appointment. When the company is near your place, they'll give you a call. Once they arrive, you'll be provided with an estimate.
See Also: How does Junk Removal Work
Is 1-800-GOT-JUNK Licensed And Insured
The company is fully licensed and insured. Each location maintains their insurance, as well as their license.
1-800-GOT-JUNK Reviews
To be honest, reviews for the company varies from location to location. Generally speaking, the reviews about the company are positive in nature. However, we suggest checking out reviews about your local 1-800-GOT-JUNK franchisee. This will give you an idea of what experiences other people had with that particular location.
We also want to point out that renting a dumpster tends to be more expensive than using 1-800-GOT-JUNK. It's cheaper to use them than it is to haul your junk to the dump, too.
Is 1-800-GOT-JUNK Worth It
In short, we believe that using 1-800-GOT-JUNK is worth it. It's too much of a hassle to haul away junk yourself. Although we are fans of the company, we still recommend requesting estimates from several companies that offer junk removal services.
We're confident that 1-800-GOT-JUNK offers competitive rates. This is why we believe they are well worth using. Give them a call today or fill out the online booking form via their website www.1800gotjunk.com
If you have an upcoming relocation and not sure which moving company to hire, Visit 9kilo.com to get moving quotes from some of the best and most affordable movers in USA!