Guide to Dumpster Rental Sizes


VanLines Inc
Secure Storage
Easy Booking Process
Fully Trained Employees
GET QUOTE

Colonial Van Lines
Storage Services
Long-Distance Moves
Corporate Relocations
GET QUOTE

Moving APT
Vetting Process
Award-Winning
Available Nationwide
GET QUOTE
Our Take
Price
Rating
Minimum Shipment Size
Storage
Booking Deposit
Cancellation Policy
Quoting Options
Discounts

Best Overall Value


GET QUOTE

2+ bedrooms




Free 30 Days




10%

Free up to 72 Hrs

Phone / FaceTime / Text

Senior / Same day Booking

Best Industry Reputation


GET QUOTE

1+ bedrooms




30 Days




20%

Free up to 72 hrs

Phone / Facetime

Seniors Discount

Best Customer Service


GET QUOTE

1+ bedrooms







Free up to 72 hrs

Phone / Virtual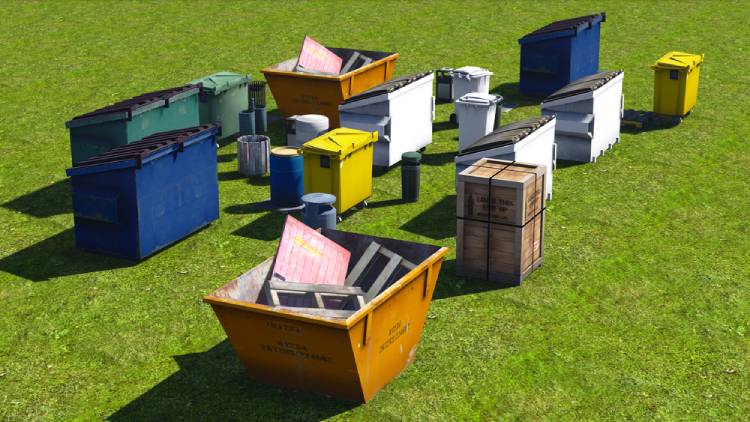 Whether it's moving out of your home, redoing the yard or simply deep cleaning the house of all the years of useless accumulated stuff, it's important to think about how you're going to dispose of all the junk that piles up around you. A dumpster rental is a great way to solve that problem but it can be a little intimidating for the first-time renter.
There are several things to think about to make sure you don't end up overpaying, one of which is figuring out the dumpster size you'll need. Considering you have no way of estimating how much junk you'll have by the time your task is done, it's easy to make the wrong guess. From understanding how dumpster rentals work, to an overall size guide to additional tips, our dumpster rental size guide covers it all.
Dumpster Rental Size Guide: What Size is Right for You?
Most dumpster rental companies have a few things in common, including their dumpster sizes. Dumpster sizes are measured by the cubic yard, which is a measure of how much the volume they can hold. The size of a dumpster is measured typically in feet while its volume is measured in yards.
There may be a slight difference with the sizes you see, but this guide should serve for you to get a basic broad understanding of the overall sizes.
6 Cubic Yard Dumpster
About 10 ft x 7 ft x 3 ft and able to hold 2,000 to 4,000 pounds. Approximately 2 and a half pickup truck beds.
Good for small to medium projects like:
Disposing yard debris
Small bathroom remodel
Small kitchen remodel
Small bedroom remodel
10 Cubic Yard Dumpster
About 14 ft x 7.5 ft x 3.5 ft and able to hold 4,000 – 6,000 pounds. Approximately 4 pickup truck beds.
Good for small to medium cleanouts and landscape projects like:
Small basement, attic or garage cleanouts
Disposal of heavy yard debris
Small kitchen or bath remodel
15 Cubic Yard Dumpster
About 16 ft x 7.5 ft x 4 ft and able to hold 4,000 – 6,000 pounds. Approximately 46 pickup truck beds.
Good for medium to slightly larger projects like remodels, roof renovations and larger landscaping projects like:
Large basement, attic, or garage cleanup
One room renovation
Carpet removal in bigger homes
Large roofing jobs
20 Cubic Yard Dumpster
About 22 ft x 7.5 ft x 4.5 ft and able to hold 4,000 – 6,000 pounds. Approximately 8 pickup truck beds.
Good for larger projects and small construction jobs like:
Multiple room renovation
Large deck or roofing removal
Large cleanups
30 Cubic Yard Dumpster
About 22 ft x 7.5 ft x 6 ft and able to hold 7,000 – 10,000 pounds. Approximately 12 pickup truck beds.
Good for large scale projects like:
Major home renovations
New home construction
Demolishing a garage
40 Cubic Yard Dumpster
About 22 ft x 7.5 ft x 8 ft and able to hold 10,000 – 12,000 pounds. Approximately 16 pickup truck beds.
Good for big projects involving high amounts of debris like:
Entire window or roof replacement
Entire building cleanout
New constructions
Also read: 1800-GOT-JUNK Review
Selecting a Dumpster Size
1. Your Project
The dumpster size you'll need will depend entirely on the amount of junk you need to get rid of, and their size. While no one understands this correlation better then dumpster rental companies, leaving everything to them is likely to be confusing. Try to get a reckoning of just how much junk you'll have. That way, you already have a rough idea of the size you'll need and you can narrow this down better with someone from the rental company.
2. Create an Inventory
As with anything in life, jotting down a list helps bring organization and method to the task. While it is practically impossible to have an exact inventory of the things you'll be dumping, it is still important you do this. We recommend a close assessment of the task; if you're moving out, go from room to room making a rough note of the things to be dumped. If it is a bathroom renovation, stand in your bathroom and take stock of just how much will end up being debris. Keep in mind that size and weight matter- if there's just three items but they're extremely bulky or heavy, you'll need a big dumpster.
It may seem easy to go with the smaller sizes to cut corners, but remember that one 20 cubic yard dumpster is cheaper than two 10 cubic yard dumpsters. Do not underestimate your junk. Also remember to include objects in spaces like the basement, the attic, the garage and the yard if it's a move out or a cleanout – these tend to escape our purview until sudden realization strikes when it's too late.
3. Get an On-Site Inventory
As mentioned, no one understands dumpster sizes than the pros themselves. When picking a dumpster rental company, ask them if they do an on-site inventory. Having one of their guys physically come over to your property to assess your project gives you more accuracy in terms of the dumpster size. However, remember that this is just an estimate and if your junk goes over the limit, you will have to take on the responsibility yourself.
Additional Tips When Renting A Dumpster
Dumpster Size: If you're renting a dumpster, you have to make sure you have the space for it to sit for the needed duration. If the dumpster is too large for your yard, you will have to approach authorities for a permit for street placement.
Specific Material: Certain dumpsters are meant to haul certain types of material, which you'll have to confirm with the dumpster rental company. For instance, the large, heavy debris dumpsters only accept materials like concrete. Additionally, construction materials like shingles or concrete are only accepted if they are "clean loaded" i.e. the dumpster is filled only with that material. This is occasionally a rule so that it can be directly taken to a recycling facility. Find out about this in advance, as you may also be able to get a discount if you clean load.
Overage fee: You will have a weight allowance: the upper limit to the weight of objects that go in the dumpster. Exceeding this weight means being charged the overage fee that goes above and beyond the price you've been charged for the dumpster rental.
Overloading fee: Most dumpsters also come with a fill line. Going above the fill line and having your dump sticking out the top means incurring the overloading fee. This is also why it is important to take a good reckoning of what size is best.
Prohibited items: Get a list beforehand of the prohibited items; these apply to all dumpsters, irrespective of size. Some of these items are-
Food waste
Computer monitors
Refrigerators
Paints and solvents
Oil drums
Industry-level cleaning sprays or substances
Batteries
Flammable liquids
Gasoline
Resins
Dumpster pick-up: Check with the company if they will automatically come to pick up the dumpster at the end of your rental period. Nevertheless, call the company as soon as you are done anyway as the sooner it's all out, the better for you.
Start early: Don't leave this for a few days before your project is due to begin. Lookup dumpster companies and compare prices and sizes a few weeks in advance. Finalize the drop date a week before the project, and ensure the dumpster is set to be dropped a day before your project is to begin.
Wrong size: Despite taking every precaution, your rented dumpster has proved to be too small for the task at hand. Now what? Simply dial the company and ask for an additional dumpster to be sent to your place. A word of advice? Don't wait till your current dumpster looks like it's bursting at the seams to do this. If it seems certain that you're falling short, make the call so junk doesn't end up accumulating all over while you wait for the second dumpster to arrive.
Easy access for the pick-up: Try your best to make sure the dumpster is easily accessible to the pick-up truck that comes to get it. For example, if there's a blockade, a car parked in front of the dumpster is cutting it off, or you're not home when they come, you may have to pay for a "trip charge" or a "dry run".
Renting out a dumpster is one of the most effortless ways to rid yourself of junk. Most dumpster rentals make sure that salvageable items are responsibly donated, and the rest are responsibly disposed of as well. Just like it's important to choose the right dumpster size, it is also important to make sure you have the right movers for a move. If that's the case, 9Kilo Moving can help.