How to Pack Heavy Items for Moving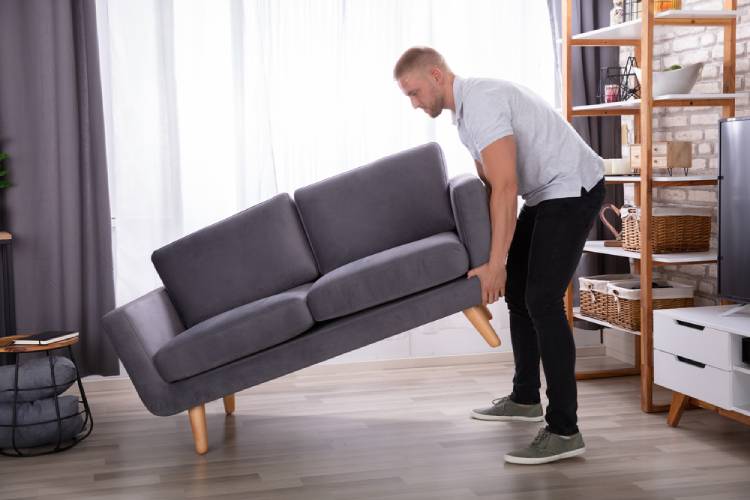 Every year, more than 15 million Americans move. That's one in ten people! And moving is a lot of work. It takes time, money, and hard labor to get all your stuff from Point A to B. But it doesn't have to be that hard if you do it right the first time around! Here are some tips on how you can pack heavy items for moving without stressing too much or having an accident along the way.
Do you need to pack and move the heavy items?
Before packing and moving, weigh the cost of all your items. The more things you own, the more you'll have to pay to move. This can end up being very expensive, especially if you have a lot of heavy items to pack into boxes! Some items are not worth moving because cheaper alternatives are readily available in the new town/city. If one item is more trouble than it's worth, think about selling it.
Make a list of heavy items that you want to move and look into long-distance movers or renting a truck. Moving these heavy items is the hardest part of moving. Hence, it is recommended to segregate your stuff and sell and donate items you don't want to move. In this way, you will save a lot of money and time.
Gather all the packing supplies
As you have decided what you want to pack and what you don't want to move, it's time to gather all the packing supplies required to pack heavy items for moving. There are different types of boxes and packing supplies available in the market. You can purchase these from a nearby grocery store or can order them online, too, depending on your budget. Packing materials of the correct sort can assist you in ensuring the safety of your big things and avoiding mishaps and injuries throughout the move process. A few packing supplies that you are going to need are:
Strong Boxes
Get hold of sturdy shipping boxes and double-ply cardboard boxes that will handle the weight of your hefty items. Packing boxes come in different shapes, sizes and materials. So, choose a container that best suits your needs. It might be a good idea to rent or buy plastic crates instead of cardboards. Wooden crates are your best option for heavy artwork and other expensive, oddly-shaped, fragile, and heavy items.
Thick wrapping materials
Packing peanuts, bubble wrap, and paper are the most commonly used materials. They cushion your items from damage while providing enough space for them to freely move inside the box without smashing into each other. The thicker the wrapping, the less damage to the item and floor you'll receive while moving.
Sturdier Cushioning
The crushed paper won't work when you need to protect big items in a box; the crushed paper won't work. Only blanket-style packing material, often called "bubble wrap," can protect your items from high-impact shocks and harm.
If you do not have a required kind of packing material, then use heavy blankets or pillows to protect the item that needs cushioning. This will keep your things safe from damage while transporting them from one house to another.
Packing Tape
Thin masking tape won't support more weight, so make sure you're using packing tape. That's the kind that's rated for weight and water resistance. You might have to use more than one piece of tape, depending on how heavy your items are.
Also See: How to Use Packing Paper For Moving?
Things to Remember
You need to remember certain things while packing heavy items for moving.
Use the correct size box to match your item. Do not use too large boxes for lightweight items and vice versa. Make sure the box is in good condition, with no holes or cracks before you place an item in it so that there is no mess while packing heavy items for moving.
Never use old boxes, which are not in good condition.
Understand that you will be charged per box, so make sure you're using the right number of boxes. You may buy your packing boxes from many vendors at low cost.
Packing is not complete without sealing your boxes with quality packing tape. It makes the contents secure and also prevents leakage during transit.
Pack in Advance
Moving is overwhelming. If you've never done it before, an entire lifetime of possessions can come crashing down on you when that moving truck shows up at your door. That's why it pays off to pack the heavy items for moving ahead of time, instead of waiting until the last minute.
Don't Just Pack, Organize
Start by sorting through your heavy stuff and putting items together. While you're at it, make two piles of related items; the "maybe" pile (items that need to be packed up) and the "got it" pile (items that are ready to be loaded up). Then start packing away. You'll save yourself time and energy if you know what's what.
Pack Heavy Items in Boxes Flexibly
When you pack heavy items, it's essential to place them in the boxes to avoid damage firmly. But, while packing, it is very important to be careful about the weight of each box so that an individual does not get injured during the moving process. Here are a few tips on how to prepare the boxes.
Pack in the Right Boxes
Different types of boxes are designed for different purposes. Make sure you're using the right kind of box for your heavy items. A good rule of thumb is that if the item doesn't fit into a single category, put it in the heaviest box you can manage.
Reinforce boxes
You'll want to put heavier things on the bottom of boxes that are more flimsy or weak than others. That said, try to reinforce your boxes with tape and extra packing materials. This will help you ensure that the weight of the contents is evenly distributed throughout your box instead of putting more pressure on one side.
Double box for heavy items
Items that are heavy, expensive, or delicate should be double-boxed. It's simply a matter of safety to enclose breakables in two boxes instead of one. This will also save you money on moving supplies, which you'll know you need if your second box is empty. Make sure the weight of the upper box is not more than 20 pounds.
Use Blanket-Style Packing Material to Protect
Blanket-style packing material, often called "bubble wrap," can protect your items from high-impact shocks and harm. If you do not have the required kind of packing material, then use heavy blankets or pillows to protect items during the moving process.
Make the heavy objects ready to Pack
Although there are exceptions, generally, you should:
Clean and empty the items that you want to pack
Remove any detachable elements from bigger, heavier objects and pack them separately for improved protection. You may want to disassemble furniture components and remove some types of equipment, household appliances, tools, and so on
Pack dishes and glasses separately for better protection
Put the heavier elements of the set (such as plates, bowls, pans, glasses) into one box. If you have enough bubble wrap or other packing materials, then pack each dish or glass separately with some air pockets in between
Put all smaller heavy items inside larger heavy boxes and If you want to ensure that your valuable load is safe, pay close attention to huge fragile things like TVs, cabinets, etc.
Pack the heavier items on the bottom of the boxes
Put your heaviest goods in first, and then pack lighter items around them to keep everything stable.
Do not overload boxes by putting too much weight into each one or stacking heavy objects on top of smaller ones; this can cause damage at worst and an unbalanced load at best.
See also: How to Get Organized for a Move
Packing Heavy Items for Relocation?
Now you know how to prepare the boxes and prepare the heavy item for packing. Here we will discuss the tips for packing heavy items for moving:
Choose the appropriate sort of boxes, properly padded boxes that are somewhat bigger than the items you'll be packing.
Prepare your workplace; you will need a large flat surface and many packing materials for the protection of items
Fill the space in the box with pieces of cardboard, foam sheets, packing peanuts, or a large size bubble wrap. Make sure you use the right material for packing.
Seal the boxes and pack them in a place where they won't get crushed or damaged. Next, place it in another box and tape the second box properly.
Write HANDLE WITH CARE or HEAVY on the boxes and label them with the contents.
Also See: Guide to Cheap Moving Boxes | How to Pack for a Move – Packing 101 Checklist | Emergency Moving: Last-Minute Move
Conclusion
Packing heavy items for a move can be daunting, but if you take the time to plan and use the right packing materials, your items will be safe and secure. Remember to pack heavier items on the bottom of boxes and label them accordingly to be easy to find and transport. With a little bit of effort, you can make sure that your most valuable possessions make it through the move without any damage.
Frequently Asked Questions
How do you pack heavy objects for moving?
Use a sturdy, well-cushioned container that is somewhat larger than the item itself. Ensure it's properly padded and sealed, and ensure the weight is evenly distributed to prevent tipping.
How do you pack heavy and fragile items?
Fragile Items Packing Tips:
Make sure to wrap your fragile items with cushioning materials like bubble wrap, packing peanuts, foam sheets, or several pieces of newspaper sheets properly before you pack them into the container.
Use the right size of the box and seal the box properly
Soft packing material should be used to line the bottom of the box
The weight should be distributed equally on all sides of the box.
How do you pack heavy appliances for Moving?
When packing your appliances, remove any detachable parts/accessories and even consider disassembling certain items If possible. Always use a sturdy, well-padded container. This will help them remain protected during transit.