How to Avoid Common Moving Injuries


VanLines Inc
Secure Storage
Easy Booking Process
Fully Trained Employees
GET A QUOTE

Colonial Van Lines
Storage Services
Long-Distance Moves
Corporate Relocations
GET A QUOTE

Moving APT
Available Nationwide
Award-Winning Movers
Extensive Vetting Process
GET A QUOTE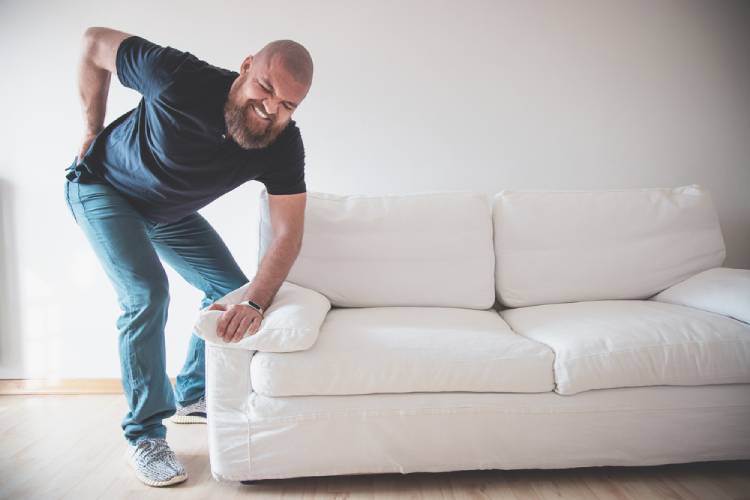 Relocating and moving to a new place is not an easy task. There will be times where you'll find yourself struggling through sleepless nights worrying about so many things. Also, packing your entire house can be a nightmare. It can be both physically and mentally exhausting, especially when you're running short of time. And when you try to speed up the process, you make way for carelessness that could cause serious injuries. Have you ever thought about getting injured and what you'd do in such a situation? Let's take a look at some of the most common moving injuries and how to avoid them.
Back Injuries
Most people suffer from back injuries when they're packing and moving to a new place. Your everyday routine may not compel you to do the heavy lifting, but on your moving day, you may be responsible for packing your items and loading them onto your moving truck. Whether it's moving your huge wall art or furniture, you will tend to strain your back when you're bending down to lift any of your items.
The problem occurs when you put too much weight on your back which your muscles cannot bear, eventually leading to a back injury. Spinal injuries, herniated disks, pinched nerves, etc. are some of the most common back injuries that happen during moving. So the best thing you can do is take precautions rather than regretting after getting injured.
Tips To Avoid Back Injuries During A Move
Always know your limits when it comes to lifting heavy items for a move. The more you exert your back, the more you're risking it. If you think your box or any other item is too heavy for you, seek help from professional movers to get the job done.
Pay careful attention to your posture when you're lifting your items from your ground. First of all, make sure you're in a squatting position when you're bending down and see to it that your feet are at a shoulder-length distance from each other. While you're doing so, don't put too much pressure on your waist or knees as that can cause serious injuries.
For heavy items like furniture, appliances, etc. you can rent an appliance dolly and a furniture dolly. All you have to do is place the items on the dolly and then slide the dolly to your moving truck. That way you don't have to carry the items by yourself all the way to the moving truck outside your house.
Broken Hands, Fingers, And Toes
Doesn't matter whether you're packing your items in advance for your move or lifting your items on your moving day, a lot of things can go wrong. One such thing is dropping your items on your feet or hands while you're trying to lift them or load them onto your moving truck.
You wouldn't want a fracture or broken limb on your moving day, right? That's why don't overlook these injuries as they can give you a difficult time throughout your life if not treated properly. In worst-case scenarios, if you drop any heavy item on your foot, it may even break a bone. We don't want to scare you away from planning your move, this is just to make you aware of how a small mistake from your end can cause you great trouble.
Tips To Avoid Injuries To Your Hands, Fingers While Moving
As mentioned earlier, it's good if you take precautions so there's little risk of you getting injured. Firstly, make sure you don't compromise on packing supplies. You need to get good quality moving boxes and packing tape to pack and secure your items. Also, avoid stacking too many items in one box, that can cause the box to break and your items may fall on your feet or hurt your hands.
When you're packing your things or lifting them to load them onto your truck, you need to wear gloves so that your hands are protected from any kind of risks or injuries. Also, see to it that you wear closed shoes so that your feet are protected just in case you tend to drop any items while moving them.
You can ask your friends and family members to help you pack and move your things. Otherwise, it's best to rely on movers to pack and move things as they have experience in carefully handling things for a move.
There are chances of people bumping into each other while lifting and loading items on your moving day. That can cause serious accidents and so it's best if you plan, organize, and coordinate your move with your friends and movers beforehand. You can keep entry and exit points and see to it that there is someone who supervises the people who lift and load your items.
Cuts And Bruises On Your Body
Not all items you possess can be packed in the same way. For example, when it comes to packing appliances and furniture for a move, they first need to be disassembled and then packed in moving blankets. Then there are your delicate items like art pieces, glasses, china sets, lamps, etc. which can easily break because of their fragile nature. Such items that break or have sharp edges can easily cut your skin and you may start bleeding. That's why you need to be extra careful while handling these delicate items.
Tips To Avoid Cuts And Bruises While Moving
As a precaution to avoid any cuts and bruises during your move, you can wear covered clothes so that most of your skin is covered. So long jeans and a full-sleeved T-shirt are a good choice. Also, don't forget to protect your feet for which covered shoes; your sneakers would be a great option.
While packing sharp objects like your glasses, mirrors, dishes, and other fragile items, see to it that you first cover them in bubble wrap before placing them in the box. Don't forget to wear gloves while doing the job. For art pieces and pictures, you can secure their sharp edges with corrugated cardboard pieces or bubble wrap.
Knee And Ankle Injuries
On your moving day, you're going to be entangled in tons of responsibilities like packing your things, coordinating with your movers, and loading your belongings onto the moving truck. In this chaos, there are chances that you'd hurt yourself while performing various tasks like moving your couch, lifting your TV, or moving any other heavy item. You might sprain your ankle or twist your knee if you put too much pressure on your legs. To make it worse, if the weather is not in your favor and it rains on your moving day, you may trip and fall, causing yourself a knee or ankle injury. That's why you need to be prepared for all sorts of mishaps and accidents.
Tips To Avoid Knee And Ankle Injuries
You need to be careful and watch your step when you lift your items for loading them onto your truck. The best thing you can do is wear comfortable shoes that have a good grip, so there will be very less chances of you slipping down and injuring yourself.
To avoid any kind of pressure on your knees, you can purchase knee caps or knee braces as a safety measure. Instead of dragging and lifting your items, you can opt for hand trucks or moving dollies to help move your items from one place to another.
Always plan your move well in advance and avoid moving in bad weather conditions like snow or rain. There are high chances of you tripping and falling because of the wet ground and slippery floor. Also, there are chances your movers may arrive later because of bad weather conditions, which may prompt you to take the job in your own hands. This can invite trouble! So it's best if you keep a track of the weather forecast on your moving day and notify your movers about the same.
Muscle Injuries And Risk Of Hernia
Regardless of whether you seek help from friends or whether you hire professional movers for assistance, you won't really be sitting in the corner while they do various moving tasks. In the hustle and bustle on your moving day, you'll lend a helping hand in lifting large items like your sofa set, table, TV, piano, and other heavy items. Not only can it cause a backache, but you will also strain your muscles while performing such complicated and risky tasks. If there's too much pressure on your muscles, there are chances that the muscle fibers may get torn in the process.
In the worst-case scenario, you may even get a hernia because of all the heavy lifting that you would perform on your moving day. No fairy godmother is going to spin her magical wand and ease your pain. So, just like you pack and secure your items to avoid them from getting damaged, you should also take care of your safety.
Tips To Avoid Muscle Injuries During A Move
Don't try to be a superman and take up all the heavy lifting on your shoulders. If at all yours is a large move and you have lots of stuff to be moved, you should seek help. Having said that, professional movers can be your best option; they're experienced and you can be at ease handing over your precious belongings to them.
Moving can be pretty exhausting as there are tons of responsibilities on your shoulders. Whether your move is DIY or professional, see to it that you take adequate breaks in between. Keep yourself hydrated and eat on time, you need the energy to do all the heavy work.
In case you get cramps in your legs while performing any task, stop then and there. Don't exert yourself and try to complete the job when your body is not really looking forward to it. You can take small breaks and do a little stretching so that your muscles are relaxed and you'll be able to perform all tasks properly.
See also: Risks of a Self-Move
Safety Measures To Avoid Injuries While Moving
Plan Your Move In Advance
If you want your move to take place without any interruptions, it's always best if you plan it well in advance. First and foremost, hire a moving company at least 6 months prior to your moving date and confirm their availability at least 3 months prior to your actual moving date.
Regardless of your move being small or big, you can start planning in advance to reduce unnecessary stress on your moving day. One such thing that will help you is your home inventory. Right from deciding how much packing supplies to purchase to measuring the length of all your furniture, you get to know everything so that all your items are packed and moved safely.
Clear Some Space In Your Hallways And Pathways
Without proper planning and coordination between your movers, there is a high possibility that people may bump into each other while moving large items. On your moving day, it's going to get a little crowded in your house with all the boxes here and there and movers lifting and loading them onto your truck. So to avoid any accidents, the best thing to do is clear your hallways and pathways.
One of the best ways to do that is by allotting one specific room for packing all your items. That way your packing process won't be interrupted and you can safely pack all your items. Next, make sure that your hall or living room is packed first so that people can easily move about. Always plan your move with the movers beforehand, they can give you useful tips and insights to avoid the risk of any injuries during the entire moving process.
Make Arrangements For Your Kids And Pets
While you're busy planning your move, don't forget your little ones who know very little about safety. On your moving day, there will be a lot of moving equipment and packing materials which can be dangerous for your little ones. They can wander around here and there and keep running in the hallways.
You don't want your kids and pets to get injured when they're excited to go to their new house. So the best thing you can do is make arrangements for them so that they're occupied. You can ask your family members or neighbors to watch over them while you execute your move. You can allot a separate room for them to play or keep them at your friend's place till you pack and load all your belongings.
Don't Overexert Yourself
It's natural to feel overwhelmed and stressed while planning or executing your move. Doesn't matter how much you plan your move, there can be a possibility wherein things don't really go as you planned. For instance, if your movers arrive late, you'd want to pack and load all your things at the earliest at the cost of risking your own health. If you think your body can't handle the heavy lifting or if you feel exhausted, you should leave the job to your movers. Losing a little time and a few extra bucks is always better than exerting and injuring yourself.
Conclusion
The entire moving process can go peacefully and successfully if you do proper planning and don't take unnecessary risks. Don't just worry about your belongings, your health and safety is more important and should not be neglected under any circumstances. Now that you've read our article, you're ready to plan and organize your move along with prioritizing your safety. We wish you a happy and successful move!
FAQs
What Are The Five Common Problems In Moving Items?
The five most common problems you'll face while moving your items are back injuries, broken hands, fingers and toes, cuts and bruises, knee and ankle injuries and muscle injuries.
How Can You Protect Yourself From Moving Objects?
The best way to protect yourself from moving objects is by seeking professional guidance from movers and wearing gloves and appropriate clothing. You can also use appliance dolly and furniture dolly for loading your items onto the moving truck. Don't forget to eat healthy food, keep yourself hydrated, and take adequate breaks in between.
What Will Happen To A Person If He/She Did Not Follow The Proper Way Of Lifting Objects?
If you don't lift your objects properly and overexert your body, there are chances you'll suffer a back injury. In the worst-case scenario, you may even get yourself fractures or your muscle fibers may get torn because of exertion. If you're not lifting sharp objects properly, you can easily get cuts and bruises on your body.
See also: Best Moving Companies in USA