How to Wrap and Move a Couch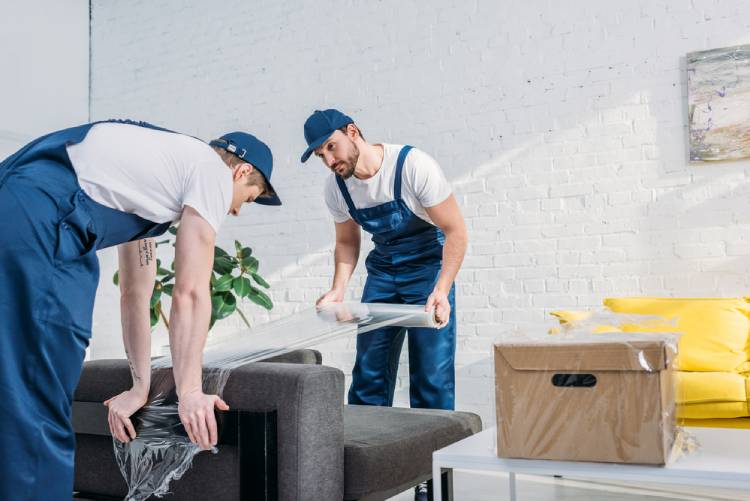 After a long tiring day of work, laying on your comfy sofa sipping on hot chocolate while reading your favorite book or watching your favorite series is a different feeling altogether for many of us. Naturally, couches are an important piece of furniture in many homes and leaving them behind while relocating isn't an easy choice to make. At the same time, because of its heavy and bulky nature, moving a couch could also be a tricky challenge.
Professional movers know the nitty-gritty of packing and moving a couch. But if going the DIY way is your preferred choice, our step-by-step guide is going to be your savior out there. From the planning to the execution process, we've covered a detailed yet comprehensive guide to help you wrap and move a couch.
Also See: What is best for you: DIY move or Hiring Movers
The Planning
Work Out The Navigation
You could have one couch placed in your living room or multiple couches placed in different rooms of your house or apartment. Depending on its size, type, and where it is placed, you will want to ensure that there aren't any blockages on the way. Maneuvering a large sofa out of tight places or short ceilings will be a bit more challenging. Go into your headspace and visualize the route from the room where your couch is placed to the moving truck or trailer you need to load it on to. Try and keep the room or path as empty as possible to have enough space to navigate the couch.
We suggest that you physically walk the path the couch will be taken through so you can even account for staircases or the number of doorways you will be crossing. Navigating a couch through a staircase can be tricky; you can be prepared by marking the spots where you will be taking a pause. One more important step is to measure the doorways through which your couch will be passing through. Make sure the door can be opened wide enough for the couch to be moved.
Don't forget to chalk out the navigation process for your new house as well. Walk through the path from where your couch will be unloaded, to the room it would be placed in, and make sure there aren't any bumps or drops on this journey.
Get Accurate Measurements
Different sofa types have different requirements to be packed in a specific way. You could either have a sofa-cum-bed or a leather sofa and it is important that you handle it with the care it needs. Make sure to note the exact details of its height, width, and weight so you know the correct rental truck or trailer size that you would need to hire. This will also give you an idea of the helping hands or moving labor that you would need to efficiently move your couch from one place to the other.
Ask For Help
The average weight of a three-seater sofa is around 290 to 350 lbs. Even if you have a couch smaller than this, moving it across a distance is not ideally a one man's job. The size and shape of your sofa can make it difficult for a single person to navigate it through a hallway or a doorway (Pivot, pivot!). Not only can you end up physically hurting yourself, but also be at risk of damaging property, especially if your couch has some sharp edges.
Ideally, you would need two people to move lighter sofas and around four people to move large, sectional sofas. If you aren't keen on hiring professional help, you can also consider reaching out to friends, family, colleagues, or neighbors for a helping hand. The edges of your sofa may be sharp enough to cause a scrap on the floor; so make sure to have enough hands that can easily lift and move your couch.
Packing Materials Needed To Pack The Couch For A Move
Here's a list of everything you'll need to efficiently pack your couch. Keep all these materials handy and you'll be good to go. HomeDepot and Amazon can be a few of the places to check out for easily getting your packing materials.
Moving Blankets
In a true sense, moving blankets become a savior when it comes to protecting your couch from dirt, grime, or even other damages. Make sure to take the exact measurements of your couch so you know the number of moving blankets that you'll need.
Plastic Wrap
Along with the moving blankets, you can also use plastic wraps for the cushions and couch frame. It will help keep your items together, hold the moving blankets in place, as well as protect your couch from damages.
Packing Tape
To keep the packing paper, foam sheets, or moving blankets in place, you can use packing tape as well. The durable tape comes in handy in making sure that your couch is securely packed for transit.
Furniture Sliders
If your couch is too heavy to be lifted even with a few helping hands, you can also make use of a furniture slider. You can place them under the feet of your couch and then move it with ease. These furniture sliders can also be used to move a couple of other heavy items or furniture pieces.
Furniture Dolly
Another alternative to furniture sliders is a furniture dolly. The only time you would need manpower to lift your couch then, would be for placing it onto the dolly. Make sure that you place the couch on its side so it becomes easier for you to navigate the dolly as and where you need it. We definitely recommend getting hold of a dolly or a slider to do smart work and save yourself from those unnecessary back troubles.
Furniture Moving Straps And Ropes
These moving straps are not only helpful during proper lifting of the couch but can also be used to hold your couch in place on the moving truck or trailer. If you don't intend to purchase it, you can also get these moving straps on rent. Alternatively, you could also make use of tie-down ropes to secure your couch, cushions, and any other materials from moving during transit.
The Execution
Follow these steps for packing all kinds of standard-sized sofas, loveseats, large sectionals, leather, and upholstered couches.
Step-by-Step Guide To Pack A Couch For Moving
Step 01 – Remove The Pillows And Cushions
The first step to move your couch is to keep it as empty and light as possible. You should remove all the accent pillows, blankets, and any other décor items lying on the sofa and pack them separately in well-labeled boxes. If you have couch cushions that are removable, take them off separately and pack each of them in plastic wrap to protect them from dust and dirt.
Step 02 – Detach Or Disassemble The Removable Parts
On some antique sofas or a number of other couches, the arms and legs of the sofa are detachable. For large sectionals as well, different pieces could be disassembled and moved separately. Check if your couch has any detachable pieces and then disassemble the parts you can to make the moving process easier. Carefully wrap all the pieces of the couch with plastic shrink wrap and then place them in a neatly labeled moving box.
Step 03 – Wrap The Couch
Next comes the main packing step. After you've removed all the detachable parts of the sofa, it's time to wrap the piece entirely. Depending on the type of your sofa, you might need some different packing materials but in general, moving blankets and plastic shrink wraps should suffice for packing your sofa – both leather and upholstered.
Start with covering your sofa with moving blankets or paper padding. Stand the sofa up on its ends and make sure that the blankets are held securely with packing tape. Be sure to cover all ends and tape it around a few times to keep the blankets in place. Use paper or furniture pads next and wrap the couch with them. Lastly, wrap up the entire couch with a layer of shrink wrap to keep the blankets in place as well as work as an additional layer of protection for your precious sofa.
You should never use the shrink wrap on your sofa directly as the plastic causes condensation and will end up damaging your sofa.
Step 04 – Moving The Couch To The Truck
We've mentioned before that moving a couch is usually not a one-man job. Depending on your sofa type and weight, you'll have to reach out for more helping hands. You can make use of a furniture dolly, furniture sliders, or moving straps to move your couch to and from the moving truck.
When using a dolly, you'll have to make the couch stand upright and then slowly load it onto the dolly. Make use of ropes or straps to secure the couch to the dolly and then move it to the truck. Alternatively, if your couch isn't as heavy, you can make use of furniture sliders. All you need to do is place the sliders underneath the couch legs and slowly slide along the floor.
If there are only two people handling the couch, make sure to stand at opposite ends and bend at the knees to pick the couch up. You can also turn the couch on its side and make use of moving straps to better navigate your way through congested doorways and tricky corners. Do make sure to carefully read the instructions to make appropriate use of the moving straps.
Step 05 – Securing The Couch During Transit
When you're moving other belongings with your couch, we suggest you place the couch in an upright position toward the back of the truck. Ideally, you can place the couch frame toward the front of the truck that's near the cab, to help maintain the balance as well as weight distribution.
This positioning will also help open up space for your other belongings and boxes. Avoid placing any items on the sofa as it could damage the springs and cushions. Once the couch has been placed properly onto the truck, make sure to use ratchet straps or ropes to secure the sofa in place.
Step 06 – Reassemble The Couch At Your New House
Once you've reached your new location and navigated your way to the space where you want to place your couch, your final step is going to be unwrapping and reassembling the couch as before. Make sure to clean the floor beneath the couch as well as use a hand vacuum or damp cloth to clean any dust on the couch. Once done with the unpacking process, just grab your favorite book and unwind on your comfy sofa!
Things To Note When Moving A Couch
Before you begin with the moving process, be sure if you really want to move your couch to your new house and is there an ideal space for it, or you would rather sell or donate the old one off and buy a new one instead.
If you're living on the top floors of a high rise, or have a large and bulky couch, you could also consider looking for professional moving labor that gets the job done easily. Check out companies like Hire A Helper or Taskrabbit who provide professional labor by the hour.
When moving a couch through a hallway or a doorway, make sure to place the couch on its end and let it slide through the doorway. If even after removing the door you aren't able to slide the sofa, you can pry off the door-stop molding to widen up the space a little.
Inspect the damages on your sofa piece, if any before the move, and make sure that they are rectified before beginning the packing and moving process. This is important so that the damage does not extend beyond repair when the couch is in transit.
Final Thoughts
Moving a couch isn't as tough a job as moving a piano or a hot tub. While you can take charge of the process on your own, you can also reach out to moving companies that offer moving labor, especially for such heavy items. If you still prefer going the DIY way, we suggest that you plan out the process a little beforehand so you are prepared to go on about it. And now that you've got an idea about the packing materials you'll need and how the process looks, you can pull up your socks and follow our guide to efficiently pack and move your couch.
FAQs about Moving a Couch
How Do You Shrink Wrap Furniture For Moving?
The first step for shrink wrapping furniture is to clean the item thoroughly and remove all the detachable parts (for instance, chair legs), if any. Make sure to cover it with paper padding before using shrink wrap, especially if it's a leather or wooden piece of furniture. You can use foam or cardboard to cover any sharp edges as well. Lastly, hold the roll of plastic as you move around the furniture. You can let the plastic unwrap against the piece and cover it with the desired layers of shrink wrap.
How Do You Transport A Couch Without A Truck?
If you aren't using a truck to move your couch, you can also rent a trailer that can be hitched to your vehicle. If your couch has any detachable pieces, make sure to remove them separately so as to keep the couch as light as possible during transit.
How can I move my heavy couch by myself?
A couch is classified as a "heavy lifting" item, and it requires at least two people to move it safely. You cannot move it by yourself. In general, you will need the help of one other person who can balance and lift while you position yourself on both ends of the furniture.
How many moving blankets do I need for a sofa?
The amount of thickness and size of the sofa determines how many moving blankets you need for it. For small couches, a single moving blanket would suffice. But for larger sofas and others with armrests, at least two would be good enough.
How can I move my couch without damaging it?
If you're planning to move the couch out of a home or up flights of stairs, it will be helpful to set one end right on the ground and push with all your might. Use furniture shims in between the legs as needed for stability. Another option is to shift it by sliding then lift with two people using a sling technique.
What can I use to wrap furniture for storage?
For furniture storage, use old sheets and blankets to cover pieces for protection from dust. Be careful not to wrap it with thick plastic or other covers that will seal in moisture because this can create condensation, which would swell the wood of any piece you store.
How do you move a heavy couch?
You can put a rug or blanket on the floor in front of the couch. You then need to push the rug or blanket under the couch and start to pull it towards you. This will give you leverage as you gradually pull heavier items out.
See also: Best Full Service Movers in America