Moving Blankets: Reasons You Need Them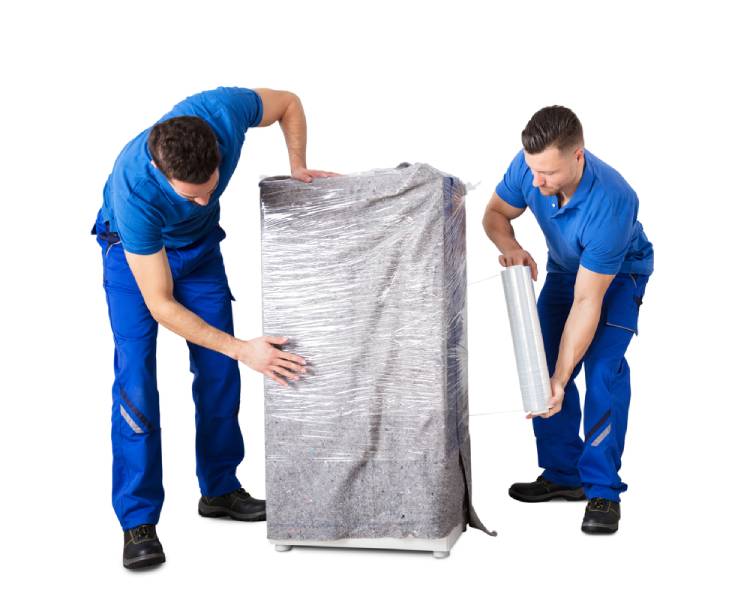 There used to be a time when styrofoam and bubble wrap were the alphas in the space of packing materials used for padding. As time went by and people started getting more aware, moving blankets started taking center stage. Especially when it came to the larger items. Moving blankets sure are underrated and have several uses. You don't really have to be a moving company to have these around. So here's a lowdown on everything you need to know about moving blankets and reasons you should have them.
What Are Moving Blankets?
In case you still are unsure or unaware of these, moving blankets are nothing but a thicker, stronger and a much more durable blanket used for the purpose of… well… moving! Think of them as a heavy duty product designed to withstand and shield against the external forces conspiring to damage your oh so precious belongings during a move.
Moving blankets are primarily used as a padding material that is made of cotton and polyester mesh. So in some ways, it is actually created by wadding cotton inside the durable fabric. Although, it's important for you to not mistake moving blankets with storage pads, because they're both different, despite some similarities.
One of the major differences between the two is the weight of both these items. Normally, 3 to 5 lbs is what storage pads are believed to weigh around. On the other hand, moving blankets tend to be slightly heavier, with the average weight being around 6-7 lbs. Meaning, they can take relatively stronger blows and still be able to hold their own.
Do You Need Moving Blankets?
Okay so imagine you're moving to a new place and you have a truck of your own. There will be larger items like your washing machine and furniture that you will be moving with you. In this scenario, you will need to drive for about 70 miles. Goes without saying, you will be on the road for a couple of hours or so, and as your loaded truck would keep moving, so will your belongings. The more they keep shifting inside, the more the risk of your belongings getting damaged. This is where moving blankets come in and provide protection.
Think of these as padding materials on the higher end of the pyramid that's used to safeguard large fragile items. Now that could mean anything from furniture and washing machine to refrigerator and microwave. Best part is that moving blankets have a long shelf life, so they will always happily return to your aid. Unlike bubble wraps, you can use these babies for a lot more than just 2 times. Stronger, much more durable and reusable, getting moving blankets is you investing money in the right place, and for the right reasons.
Also Read: How To Move A Washing Machine
Where Can You Buy Moving Blankets?
Moving blankets can easily be found in most of your local home improvement stores. Then there's always the option of getting it through Lowe's. You could even sit back and order it online from Amazon. They have a variety of moving blankets to choose from and they come in singles and packs too. You could just as easily find moving blankets in Walmart. If there's a Home Depot around you, that's certainly an option too. There's also a possibility that moving companies in your locale would be selling it, so you could always just ask them.
How Much Do Moving Blankets Cost?
The price would depend on where you purchase it from and the brand you choose to go with. Normally, moving blankets cost around $7 to $12 a piece. But if you buy a pack or multiple together, it often ends up being cheaper. The size of the blanket you choose would also play a part in deciding the final price of the moving blanket. For example, 80" x 72" is believed to be one of the standard sizes for these. It's best to check each of the online retailers to compare rates, or for that matter, check if there are any ongoing offers or deals.
How Much Does It Cost To Rent Moving Blankets?
Alright before you even consider this option, let us give you a clear disclaimer. Renting moving blankets is not really the safest or the best option. It might end up being cheaper, but you never know how worn out they are or how many times have they gone through the same strenuous drill. You know just as well as us, your belongings deserve better.
Although, if your backs are pushed against the wall and renting is the only option remaining, then you can do so from U-Haul. Another option for renting some moving blankets would be through the truck leasing company, Penske. Beyond these two, you will have to check with local moving companies or local home improvement stores because not many rent these.
On an average, the price for renting moving blankets is believed to be in the range of $15 to $25 per dozen, which is usually the cost for a single day. The prices could vary depending on a variety of factors like the size of the blankets, the quantity of blankets and the quality of blankets, among a few other things.
What Are The Best Moving Blankets?
The US Cargo Control Supreme Mover Moving Blankets sure is one of the best there is. It comes in the standard size of 80" x 72" and unlike some others out there, it can also be cleaned in a washing machine. For a more heavy duty option, there's also the Cat Non-Woven Utility Padded Protection Moving Blankets 65GSM. This is also of the standard size, but it's considered a bit more premium.
Both these products should be available in Amazon, Home Depot, Walmart and some of the other places. So if possible, check the price in each of these places to compare who is offering the better deal. There are definitely plenty more good moving blankets you can buy. These are just a couple of them which can be considered as some of the best out there.
If your moving blanket weighs somewhere between 75-pounds per dozen dozen to 95-pounds per dozen, you can consider it as a top quality product. Make sure you purchase a moving blanket that boasts of a woven body which also comes with woven binding. This is only to ensure a more long lasting and durable product. So with such moving blankets, just one layer of padding will almost always suffice for the protection of your belongings.
Using Moving Blankets For Padding
This is the most common use but also a very effective one. And more importantly, they can be used for a wide range of your belongings. While they are often given the nickname of a furniture pad, moving blankets can serve as a reliable padding material for a wide range of large objects you will have at home. Here are some of the things that can be wrapped with a moving blanket for padding when planning to move to a new place.
Refrigerators
Microwaves
Dishwashers
Washing Machines
Chairs
Bookshelves
Dining Tables
Chair
Wardrobes
LED TVs
Layering And Padding For Furnitures And Appliances
Of course, you have to keep in mind that the number of moving blankets you will need to pack each of these will differ. Even the layer of padding you decide to give each of these items will vary depending on their size and fragility. Normally, with the thickness of a standard sized moving blanket, two layers should suffice for appliances like your refrigerator, washing machine, dishwasher and the microwave.
Bear in mind that two layers doesn't really mean 2 moving blankets, because you'll need a lot more to cover the appliances completely from top to bottom. Say for example, you require 4 moving blankets to cover your washing machine from top to bottom. Then you will have to repeat the process once again to make sure your appliance is padded well enough. Unless of course, the thickness of your moving blanket is good enough for a single layer protection.
For furniture, the total number of layers you use would depend on the same factors we mentioned above. For chairs or relatively smaller objects, wrapping one moving blanket twice could very well do the job for some parts of the furniture. You have to treat each item differently. The way you wrap and pack a dishwasher is not the same way you would go about packing some other appliance or furniture.
Read How To Move A Dishwasher to understand the way moving blankets can be used here.
Securing The Padding And Wrapping
Not to state the obvious, but even a fifth grader would understand that moving blankets alone can't do the job. You would need something to hold it together. This is where shrink wraps and tapes make their grand entrance. Ideally, you would have to wrap an appliance or a piece of furniture more than twice or thrice. This would be to ensure that the shrink wrap not only holds the moving blankets in place but also has enough backing to hold things together when being transported for long and bumpy distances.
Other Uses Of Moving Blankets
We believe you would know enough about moving blankets by now to not underestimate their capabilities. What you should know is that apart from securing your belongings from dents and scratches, moving blankets also serve as dust repellents. In fact, it can absorb a certain amount of moisture too and keep it out to ensure it takes care of your precious belongings. Make no mistake, moving blankets are not water resistant by any means. They're made of fabric after all, so the importance of shrink wrap increases even more here.
Besides dust, a layer of moving blankets also helps protect your belongings from dirt, smudges and other greasy stains that look to attack your belongings every opportunity they get. Sure, your blanket will need to be cleaned after that, but it does take care of what's important. You could also use these blankets to cover some of the important things in your garage when you're carrying out work that involves dusting, sawing furniture or other such tasks. Ones that damage any of your valuables which can't be moved at that moment.
Best part is that you could even use it as an unconventional moving trolley of sorts. You know how your back is always petrified at the thought of dragging a heavy object around? Even more so when the friction created by the object against the floor doesn't take your side either? Well, you could always place that object on a moving pad, which will make it easier to drag it around. All you have to do is push and let it slide smoothly. Goes without saying, this only applies if your room has a marble or wooden floor devoid of any carpet.
What To Do With Old Moving Blankets?
If they're still in a condition where they're not really worn out, but used a considerable amount of times, you could also use them as loading and unloading pads. Feel like they've lived their life and are now closer to the end of days? Well, don't discard them just yet. There are yet to perform their final act before you bid adieu to them.
Basically, whenever you're unloading a heavy object, there is always a chance of the item experiencing some jerk when placed. All the same, there's always the possibility of an accidental slip resulting in the object just hitting the ground. In such cases, the unloading area of the ground being spread out and layered well with moving blankets reduces the possibility of the object getting damaged or dented.
On moving day, you will be going in and out of your house a lot of times to load everything onto the truck. Well, not necessarily you, but that would be the case with the movers you hire too. Removing shoes won't be a viable option to ensure efficiency, but that won't help keep the house clean. You could always spread them out inside your house from your doorway to all the way inside. They could serve as a disposable one-time carpet or rug of sorts.
If you're moving in winter when it's snowing, there will be even more chances of your house getting dirty. And it would only create an additional task for you, because you will have to clean the house again after loading the truck. So you could use the old moving blankets and spread them out on the walkway and driveway. It will also help avoid slipping on the wet and snowy surface. After you're done loading the truck, you could simply discard the blankets.
Also Read: Tips For Moving In The Snow
---
Conclusion
The uses of moving blankets are aplenty. Sure, if you're hiring a moving company, they will often have all the tools and materials needed for packing and ensuring a safe move. But if you're someone who usually goes the DIY way, purchasing a moving blanket will only serve as a good long term multi-functional moving material. If that's not enough, your mind will rest easy knowing you have just what you need to ensure the safety of your valuables whenever you move.