Risks of a Self-Move


VanLines Inc
Secure Storage
Easy Booking Process
Fully Trained Employees
GET A QUOTE

Colonial Van Lines
Storage Services
Long-Distance Moves
Corporate Relocations
GET A QUOTE

Moving APT
Available Nationwide
Award-Winning Movers
Extensive Vetting Process
GET A QUOTE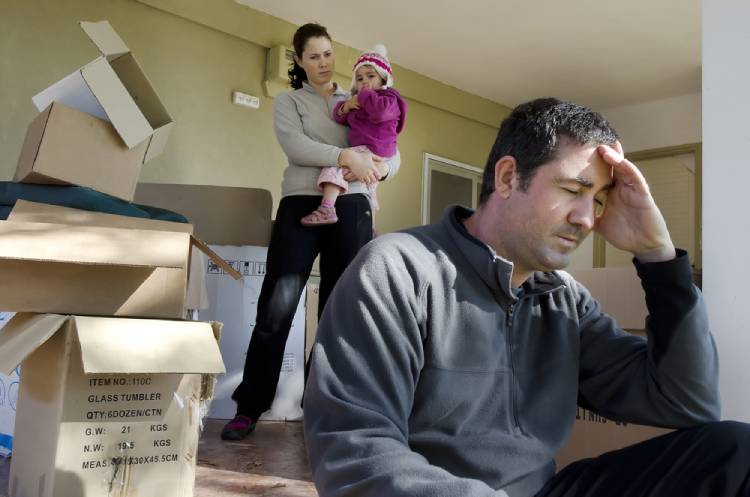 Today, a good deal of people toy with the idea of a self-move since there's various benefits to this approach. It's slowly gaining popularity because to an extent it does work out to be cheaper for many. There's also a good deal of trust-worthy truck rental companies, pods and metal shipping containers available in the market to make this modus operandi convenient.
However, this type of move is not everyone's cup of tea. You're probably wondering yourself if you really can move all by yourself or should the professional movers just take the wheel? If you ask us, there are plenty of risks to factor in before going down this road. When you move independently, you would need to manage packing, loading, unloading and even driving the rental truck. If you've never moved by yourself before, it can prove to be quite difficult.
In this blog, we will be going over other such areas that need your time, attention, energy and of course money. Read on to learn about the advantages as well as the risks of a self-move. Keep our pointers in mind, they will certainly help you jump down the fence and decide if you're making the right move.
What Is A Self-Move?
A self-move is when you pack your own belongings and do everything associated by the move yourself. It could include doing the lifting of boxes, checking the vehicle, driving the moving truck and even strapping all the items loaded carefully to avoid damages.
Do note that there's lots of room for flexibility with a self-move and doesn't necessarily mean that you can't take any help at all. There are companies that offer a labor-only service, where you hire manpower to help lift the heavy items to the truck you'll drive. If you wish to take professional help, you would be charged extra for that particular service such as loading, unloading or even dismantling a piece of furniture. You can customize your self-move so that you're not doing all the work.
Now that you have a fair idea of what a self-move means, let's understand the risks you should factor in by asking yourself these questions.
Questions To Ask Yourself Before A Self-Move
Before you take the leap of a self-move, you have to analyze your situation and understand if it would work for you. Moving by yourself demands long hours and heavy lifting. And it might seem like a rocky journey if you've never driven a moving truck before. Hence, it's important that you step back and weigh your options by answering these questions.
See also: Moving Safety Tips
Do You Have Sufficient Time For A Self-Move?
One of the main reasons why individuals settle for a self-move is because they have excess time on their own hands. When you have enough hours to spare on a daily basis for the move, you can plan things out in a timely manner so things work in your favour. With or without the help of movers, ideally you would require 2-3 months to organize the move and come up with a moving agenda. If you're in a situation where your moving date is just 1 month away, you would experience a time crunch. Which is when planning a self-move wouldn't seem like the best option to go for.
A self-move demands you to put your time into finding packing materials to seal and protect every single item you need to take on the move. Let's not forget that you would also need to work out ways to deal with the tricky furniture like your sofa, bed, tables, TV set, or even other fragile objects like mirrors, lamps, dressers, frames and even the microwave.
You can surely learn to pack it the right way. But then again, you need to set aside some time to do your homework on the same. On the other hand, movers would mechanically be able to pack it up as though its normal routine. When you invest in movers, something that takes you 4 hour to figure out would be completed in 1 hour by an expert.
When you're low on time, you also end up rushing yourself into the packing and organizing process. Under time constraints, you put pressure on yourself to take on more than you can. Everything that you need to complete from the moving checklist starts to look urgent. Ultimately, this stress could take a toll over your mental peace because you're constantly trying to catch up with the things on the checklist.
See also: Tips for DIY Sturdy Packing
We can all agree that it's absolutely necessary to be well-rested and in the right frame of mind for loading a truck and driving it too. If you don't have a maximum of 3 months to get prepared for the move, you might not be able to endure such demands of a self-move. In that case, it's best to drop the idea to maintain your physical and mental health.
If you have a 9-5 job, it can be even more difficult to dedicate lots of time for the move. Evaluate your daily schedule and consider investing in movers since they will save loads of your time. When you pack in a rush, you run the risk of adding more anxiety and stress on yourself, which is counter-productive for the move. Lock in the moving date on your calendar once you have it in place. Then, decide if you have enough time for a safe move. If you feel you'd be running out of time, it's best to let professionals intervene so you have enough time to take care of other areas of the moving process.
Will You Be Moving With Kids Or Pets?
The next situation you should consider is ways in which you can make such a moving process comfortable for those travelling with you. The moving day madness could feel even more hectic when it's with kids, pets or for that matter, elderly family members.
If you have kids or pets, you have to ensure you have a relative or friend to babysit them on days you're focusing on packing. Of course, these are small things that can't be overlooked. However, it should be planned out well in advance because it can be too huge a favor to ask from close friends too.
It's also necessary to work out a different travel plan for them on the day of the self-move, since you'll be driving the moving truck. Depending on the distance being covered, you could decide if they should travel via private car or flight. If you're moving across states, you might have to make lodging arrangements for everyone on the move. This is an additional cost that you should factor in while drawing out your moving budget.
In all honesty, when you have kids and pets, the to-do list can get even more lengthy since there's multiple things that will need your time and attention. To name a few – allocating time to research schools in the new neighborhood, sending out emails or making multiple calls to the administrative offices for admission and transfer certificates. Amidst this, you would also need to find a new family doctor for your kids and collect previous medical records before the move.
See also: Tips for Moving with Kids
For your four-legged friends, you need to make proper travel arrangements and find a new vet as well in the new area you're moving into. So, the bottom line is that post your full-time job requirements, it can be mentally exhausting to also find time for these small requirements that cannot be ignored.
See also: Moving with Pets
If you take up moving by yourself, chances are, you won't get enough time to cater to these specific needs of your kids and pets. Family routine can get tossed around and it can make the move an unpleasant one. Since everyone will be moving to an unfamiliar place, it's best to find ways to ease the whole process so that you have a stress-free move.
Overall, loading or unloading with kids and pets in the picture is a dangerous risk to take and you'll probably be relieved to watch the movers handle it for you.
How Much Will The Self-Move Cost You?
You may believe that a self-move is less expensive since you're physically involving yourself in the moving process. But think about it carefully! Consider all the possible loopholes to get some perspective on whether there is a financial risk or not. Read on to learn more about the financial conditions to consider during a self-move.
Costs Associated With A Self-Move
Truck Rental Charges
The base rental amount you pay for the truck is probably the most upfront cost associated with a self-move. This base amount is determined on the basis of:
Distance being covered on the road.
Size of the truck that is being rented out.
Once you visit a truck rental website such as U-Haul, Penske or The Home Depot, you can browse over the section that has information on all the available truck sizes. For instance, you could select a 22 foot size container if your house has around 3-5 rooms while a 12 foot truck works best for houses with 1-2 rooms. Your inventory would let you know the truck size you should be settling for.
Packing Supplies
Since you would have no assistance with packing all the items you own, you would need to invest a reasonable amount for corrugated boxes, tape dispensers, bubble wrap, packing paper and moving blankets. Buying brand new moving boxes itself can cost upto $85.
Fuel
Filling up the fuel tank and paying for gas is a cost that must also be calculated during a self-move. Depending on the size of the truck chosen, the truck would be able to hold 30, 33 or even 50 gallon of fuel. The fuel consumed every 10 miles is something you should confirm with the rental company before closing the deal. This way, you'll be able to get an estimate of fuel costs. Do note that a certain amount of fuel will already be present in the container when you rent it out and you must ensure you're returning the truck with the same amount of fuel. Either that or you could be charged heavily for returning the tank emptier than it was. To avoid the risk of such hassles, always fill up the tank before you return the truck.
Mileage
Now, your per day rental charges can seem very low and could range anywhere from $40-$60. However, when the mileage costs are taken into the picture, your bill costs for renting a truck builds up.
For instance, imagine you're traveling from Virginia to Washington which is approximately 135 miles. If the mileage cost charged by the rental company is $1, you would require to pay $135 + (base rental charge). In most cases, the mileage cost can even be lesser than $1. This makes your self-move extremely cost-efficient. However, this proves to be beneficial mostly for short distances.
Once again, don't forget to check the miles covered per gallon of fuel. After all, you would also need to set aside a plan for stops to refill your tank as you cover more and more miles. Let's face it, who wants to run the risk of experiencing a dwindling fuel tank with no gas station in sight?
Insurance Costs
Taking insurance for the truck itself, as well as everything that is packed inside the truck are the two types of insurance packages you will need to budget for during a self-move.
For example – If you take a $100 (Limited damage waiver insurance) with the moving company Penske, you won't need to pay for any damages that god forbid happen to the truck while you were driving it. You can be relieved of any financial responsibility if you left a small dent or mark anywhere on the truck while reversing into your driveway or loading it.
Most moving companies have a range of insurance policies you can choose from. Such as U-Haul offers a SafeMove Insurance plan for $80 which is a full coverage plan. It's best to go into a detailed conversation with the truck rental company and get clarity on the insurance plan you selected so there's no hidden surprises later.
Rental Equipment
To make the move easier you would need to consider taking the support of equipment like a moving dolly so you can load the truck with ease and avoid hurting your back. Moving sliders are also great products to purchase so you can slide heavy furniture. This aids with the physical strain you're putting on yourself during the moving. Ensure you've rented the right equipment so that you and the people who have volunteered to help you with the move save yourselves the trouble of carrying the boxes. Remember that even with the equipment, it would approximately take you 6-8 hours to load the truck. Therefore, be sure you've rented the equipment for long enough.
Lodging
Lodging costs must be considered only if this is a long-distance move. For example, if you're moving from Virginia to Florida the distance in miles is 861 and it could take you approximately 12 long hours to complete the drive to Florida. 12 hours can be strenuous to complete in a single stretch, hence you should also consider lodging to gain back your energy lost in driving a fully loaded truck. If your family has been following your truck in a private vehicle, you would need to take into account their lodging costs as well.
Do note, when it's a long-distance move like the example above, you would be charged a higher rate since you will be returning the rental truck at a different location in Florida.
Late Fees
In case you don't make it in time to return the truck at the location discussed with the rental company, find out about the late fees applied. But can you really take the risk of returning it later the next day? Or would you require to take an additional break from work? This is something that must be kept in mind during a self-move. You should always be asking yourself if you can afford any delays. Afterall, you would have a limit on the amount of paid leaves you can take from work too.
Food And Refreshments
During the move, it's necessary to stop for breaks whenever possible, to freshen up and eat something so you don't run the risk of feeling the fatigue of the move. Our bodies face a different level of exertion during a self-move, so consuming enough water and snacking in between helps feeling charged for a long drive.
You would also need to factor in any unforeseen circumstances. By driving a moving truck yourself, you run the risk of handling a truck breakdown too. Be prepared to call the moving truck rental company immediately so that you have someone to fall back on when unexpected headaches like these pop up.
Key takeaway – By working out on all the costs associated with a self-move, you would be able to gauge if it's actually falling drastically cheaper on the pocket than hiring movers. This way, you can decide if you want to take on a fully fledged self-move. If not, you can even consider a hybrid move which is in fact a way to divide the tougher sections of work to a moving company. You can do this by hiring a professional for loading, unloading and driving the truck. However, you would stick to handling the packing independently since you trust yourself more with that aspect and it looks cost-efficient.
Alternatives to Self-Move
Rent a POD
Even a good driver understands that driving a rental truck is a whole different ball game. If you don't wish to take up the wheel, you can always ship your items to your new place in Pods. These are essentially portable storage containers which you can load at your property itself. Once you've loaded it, the packed container will be driven to your new house so you can follow it via the comfort of your car. The benefits of this is that you can load the container at your own pace and let the company do the driving.
Use Amtrak
For big moves like a cross-country move, you can ship your items on an Amtrak train. The company has some restrictions on items like furniture, but you can ship your bicycle, clothes and other household items on the train. All you have to do is drop them off at the station, weigh the boxes and pay for the boxes by weight. Do note that they don't have a drop or pick-up service so you must drive down to the station personally to collect your things.
U-Pack
U-Pack is almost the same as Pods, where a shipping trailer or container is dropped to your doorstep and you can load it up independently. U-Pack will find the fastest road to get your container from point A to B. You pay one single upfront cost for the shipping of the container you packed and locked to your new home.
Do Your Homework On The Following To Avoid Risks During a DIY Relocation
Plan the navigation on stairs.
Measure doorways and hallways to avoid the risk of damaging the walls or leaving furniture smudge marks behind.
Read or watch tutorials on packing techniques and methods to safeguard your belongings.
Clear the passageway on the day of moving.
Take the help of a moving dolly to wheel your items out and save your back the trouble of lifting.
Learn about proper lifting postures for heavy items.
Never leave your rental truck unattended.
Have someone to help you with road navigation so that your eyes are on the road.
Read about tips to efficiently pack the truck so that you're making good use of the space.
Hire a driver if you don't trust yourself with a moving truck.
Do an overview of the finances you save but the risk and stress you take.
Reserve your rental truck in advance so you don't sacrifice on the truck size you need.
---
Conclusion
To sum up, it all boils down to looking at all the blind-spots of a self-move and preparing to make the ride less bumpy. Sure, there are some risks of a self-move, such as how it can be extremely time-consuming and strenuous to your mind and body. But that's probably the flipside to saving a sum of money. Hopefully, this will be the end of the road for the seemingly never ending debate between hiring professionals or doing the move by yourself.
See also: 2 Cheapest Ways to Move
Frequently Asked Questions
What are the risks of moving?
Moving to a new place comes with a lot of risks. Exceeding the planned moving budget, items getting damaged during the move and injuries that can happen while packing, loading or unloading are some of the risks you can get caught up with during your move.
See also: How to Avoid Common Moving Injuries
What is self move?
As the name suggests, self-move is moving all your belongings by yourself – The good ol' Do It Yourself approach. There are also several self-serving moving companies that offer you limited services where you can hire a truck and pack and load your stuff by yourself.
Is it better to hire movers or move yourself?
If you want to save yourself from the stress of moving your house, you can hire movers that will help you pack and transport your belongings. But for people who are on a tight budget or are confident to carry out tasks themselves, a well planned DIY move can be the best option.
Is it worth paying for movers?
Hiring movers is definitely worth it if you have a lot of things to be moved or if you want things to be done in a professional manner. They can help you pack, load, transport and unpack your belongings to your new home. You can either choose to hire full-service movers or self-serving movers depending on your type of move and budget.