2 Cheapest Ways to Move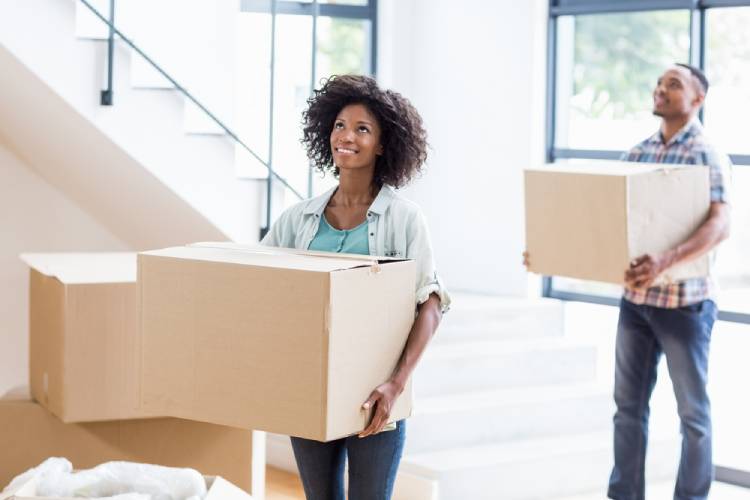 Moving homes is an expensive affair. It's true that you have to brace yourself for the financial load that you're going to encounter with relocating. But on the plus side, most figures are foreseeable and in your hands, such as moving costs. This is one of those expenses that you get to control in the earlier stages of your moving project. Your main goal with this is to weigh different moving services out there to direct your finances in the right places. This way, you're not dealing with some monstrous bills at the end of your moving saga.
One way of managing your moving budget is to find cheaper quotes from moving companies or settling down on the costs by making some reasonable compromises. The other standard most cost efficient ways to move is by approaching the field of moving pods and rental trucks. These are the two most sought after methods for those specifically moving on a budget.
We'll discuss these in detail along with the drawbacks and other options you possibly have. This would also help you get a realistic picture of the financial savings you are bound to make, as opposed to hiring full-service packers and movers. Consider all the information we've gathered below as your most practical guide on the cheapest way to move.
Top 2 Cheap Ways to Move
1. Rent A Moving Truck
Now, this is the good old way of cutting down on moving costs. Although, there's a catch with regards to not receiving that monstrous bill we spoke about earlier. There's also tons of work that you will be putting up with. For instance, there's loading, unloading, dismantling heavy furniture and even driving the rental truck yourself. These are just a few of the demands of renting a moving truck.
Overall, the most demanding factors of renting a moving truck are the long hours, heavy lifting and driving that comes along with taking this approach of moving. However, something that makes this DIY method appealing is that you're 100% saving on a considerable amount of money by going down this road. Let's get down to figures so that you are able to understand if it's a good trade-off.
See also: How to Plan a Moving Road Trip
How Cheap Does It Get With You Driving A Rental Truck?
Renting a moving truck could cost you anywhere from $130 to $1780 per day. While the price range for hiring movers falls in the higher bracket of $1250-$4890. Without a doubt, there is a big margin between the two. However, this is just a rough estimate to give you a price point. The price would vary depending on the distance and size of the rental truck you're hiring.
Let's not forget, the more the miles you're covering, the higher the cost can get. More importantly, there will also invariably be a big difference in cost between a 12 foot truck rental, in comparison to a 22 foot one that gives you more loading space. You simply cannot discount how big a truck you would really need and even the complete duration you would need it for.
Things That Contribute To Moving Expenditure With A Rental Truck
You have to take into account the base rent fare which is calculated on distance and size of the truck.
Post that, there's gas costs that you have to separately budget for. Always remember to ask the company about the number of miles covered per gallon.
Reasonable insurance costs for your things packed in the truck and the truck itself. The average amount to cover damages is $100 or more, depending on the policy you select.
Your food, refreshments and lodging, since you would need to recuperate while driving.
For further emphasis, this means that if you're travelling from Point A to B, and the distance being covered is 132 miles, then your mileage costs amount to $132. Although, this would be assuming that they charge $1 per mile (it can be way lesser). Apart from that, you would also be paying them somewhere between $130-$1780 to rent the truck. This is the base fare, assuming it's a 12 foot truck you'd probably pay around $250.
Your costs have now amounted to $382. Aside from this, you would also need to factor in the insurance and supplies you hire, like a dolly for heavy boxes or furniture pads. And of course, gas costs! So, on an average, you can expect the cost to go upto $509-$609. This is still way lower than hiring full-service movers and packers, which fall in the above $1000 mark. You can expect your rental truck costs to also cross the $1000 mark if it is a long distance trip.
Things To Note About Hiring Truck Rentals
Hiring a rental truck does get expensive if this is a long-distance move. Costs are almost triple the standard fare when the truck is rented out for a one-way trip. This makes hiring a truck a more ideal option for short distance moves, since it is much more economical when you return the truck from the place you hired it. A long distance move with a rental truck, on an average could go beyond the $3,250 mark. Also, keep in mind that moving trucks don't often give good mileage, so you may be shelling out a good sum on gas. To avoid fines, you also have to ensure you're returning the truck with the same amount of fuel that was in it.
Few of the top notable companies that can help you out with hiring rental trucks are:
U-Haul
Penske
The Home Depot
Budget Truck Rental
Enterprise
Our Tips On Renting A Moving Truck
Try your best to reserve one of the newer trucks.
Select a diesel truck after confirming it gets better mileage.
Have a conversation with the company about potential fines.
Confirm your reservation a day before your moving day.
Get multiple quotes, we'd recommend getting at least 3 quotes.
Our Verdict On Hiring A Rental Truck
You potentially save a good sum of money, because you are not paying anyone the labour costs of loading, unloading and driving the rental truck. Yes, it is way cheaper, but we suggest making a judgement on total costs after taking into consideration all the add-ons of gas, supplies, insurance and lodging, that eventually makes this approach expensive.
Also See: How to Move a Boat When Relocating
2. Moving Pods
This is a pretty peculiar moving method, where a ground level container is dropped to your doorstep, and you get to pack it at your own convenience. The storage container could be somewhere between 8-22 foot in size, and it is practically an on-site storage unit. If you select the Pods approach, you can choose between moving the container or using it as a storage unit. Once you load the container with your belongings at a time that's feasible for you, it will be driven to the new location. Not everyone is comfortable with driving a rental truck, so this works as a great alternative to let someone else take the wheel.
How Cheap Does It Get With You Driving Moving Pods?
In most cases, a full-service move goes beyond $1,000. If anything, it could very well even go upto $12,000, depending on how big the move really is. But taking a moving pod, unlike rental trucks, are relatively cheaper. With moving pods, you can expect the average low to fall between $349-$549 (short-distance) and the average high to be somewhere around $999-$2,999 (applies for long distance).
Overall, the short distance budget is even more economical than rental trucks. If you're covering 100-250 miles, your costs could fall between $450-$800 for a 1 bedroom apartment. It's also relatively easier to load, since the container sits right on the ground. So you're not really breaking your back lifting boxes, like you would do with a rental truck.
Things That Contribute To Moving Expenditure With Moving Pods
The distance of the move
The size of the container you rent
Season of the move, costs can be relatively higher in summer
Cost can be lower if a storage facility or Pods service is available in decent proximity to your house
Things To Note About Hiring Moving Pods
The other pros of opting for Pods is that you get enough flexibility with your move. For instance, with a moving truck, you would need to unload stuff into a storage unit if your house is not ready. And then load the truck again when things are ready. It's just too much of back and forth.
With Pods, both your storage and moving boxes needs are fulfilled with one service. And the plus point is that in most cases, it does work out to be cheaper than a standard storage unit. The Pod container will wait for you in your driveway until you're ready to unpack. In addition to that, you also save yourself from lodging and fuel costs, along with the hassle of driving a rental truck.
Few of the top notable companies that can help you out with hiring moving pods are:
See also: United Van Lines' National Pods Service
Our Tips On Renting Moving Pods
You would need to purchase your own locks in order to ensure you are the only one who can safely access the container.
Pre-decide on the place where the container will be placed on your property.
It would be your responsibility to pack the container so make sure you've used ratchet straps to keep all the boxes from moving during transit.
Be careful that the container is locked even when it sits in your driveway to safeguard the container from thefts.
There are no additional charges for drivers, fuel, or lodging costs of the driver so double-check the bill to know that you're not being charged for any of this.
Our Verdict On Hiring Moving Pods
Moving Pods sure is an inexpensive option, especially if you're considering a long distance move. The large containers are convenient to pack, primarily because they are set at ground level and also serve the purpose of storage units. The fact that pods also offer monthly rentals is great, because it gives you the chance to pack at your own pace.
If you have too many time sensitive tasks clashing, you could use the Pods, so that you're not stressing yourself to have everything packed when the rental truck arrives. It is an ideal option for those who would like to sell their house because they've got a good offer, but haven't yet closed down on a new house yet.
See also: PODS vs Full-Service National Movers
Drawbacks Of The Cheapest Ways To Move
The only drawback is that the quality of the move could be a hit and miss with both these options. Think about it, you would be packing, doing the unloading and loading of your boxes all by yourself. You would need to chalk out time to learn about things like how you would load the boxes smartly to prevent them from moving around. With full-time jobs, it can be stressful to do your homework on everything before the big day. Sometimes, going pro full-service mover has its own benefits, since they would be more experienced and with their intervention you can save time.
Professional movers also have more insight with things like keeping an eye on the doorways while lifting large furniture. Or assembling the truck as securely as a sardine container that doesn't have spills. But if you personally feel you can take command and efficiently pack your moving container, you can opt for moving trucks and pods to save a ton of money. Although, there are certain risks that come with a self-move, since you'll be putting a tremendous amount of physical pressure on yourself. So do weigh the pros and cons before you come to a conclusion.
In A Nutshell: You run the risk of damaging your belongings if it isn't packed properly. Lifting heavy boxes and furniture is more than a two-person job, so you would have to make arrangements for helping hands. Always take into consideration all the add-ons, so that you know if it really appeals to your budget.
Other Ways To Cut Down Moving Costs
If possible, schedule your move post peak moving season.
Get quotes from at least 3 moving companies.
Purge and reduce the amount of boxes you'll carry.
Consider organizing a garage sale and making some extra cash for the move.
Try to get a hand on discounted packing supplies.
Consider standard shipping companies like UPS, FedEx and DHL for smaller boxes if possible.
Book overnight hotel accommodations and flights in advance with discounts and offers.
You can also ship certain items on the Amtrak train by weight if it is feasible for you.
---
Final Thoughts
By opting for rental trucks or moving pods, you would have a surprisingly low bill to clear. Roughly speaking, there's a high probability that your expenditure won't cross the $1000 mark if we take the lower average. But the higher average could go upto $4000. At the end of the day, factors like size of the house, distance and a few others are what will determine the final price. These are factors that can be found upon reading between the lines.
Overall, the amounts can surely be way lower than confirming full-service packers and movers. It's an ideal approach to take for short distance moves, since costs drop even further which is assuring. But at the same time, one can't ignore the fact that there are quite a few variables at play with both these approaches. And that's exactly the reason why this can't be everyone's cup of tea. The good thing is that it doesn't even have to be that way.