Where To Donate Electronics Before You Move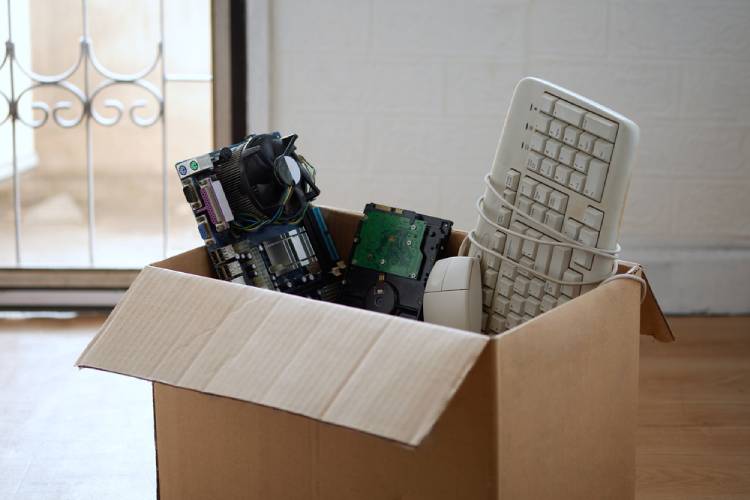 Dealing with electronics is just one of those things we like to sweep under the carpet. We're all guilty about it. We keep old wires a secret and hide them in drawers that must not be opened. Few of our old phones, CD players, cable wires, routers are dumped in storage rooms.
This is ultimately digital hoarding which just increases over the years. But it all comes out in the open when it's time to move homes. And that's why we're going to help you learn to clear it all by sharing ideas and options where you can donate electronics before you move.
How To Segregate Your Electronics?
Before we share with you a list of places you can consider for donating your electronics, we'd like to first help you declutter. Something you must remember is that most donation centers only accept electronic donations that have the potential to be used by someone else. You cannot send them boxes of stuff that actually belong in a recycling facility. This is probably something that you already know, but divide all the electronics in your household into 2 categories –
To Donate (have resale potential and items that aren't outdated)
To Recycle (items that belong in an e-waste management facility)
We're going to help you out with both recycling and donation options.
Top 6 Places to Donate Your Electronics
1. World Computer Exchange
World Computer Exchange is a charity that provides digital access to underprivileged children and people all over the world. It's true that the digital world is taking over the way we live but not everyone has the funds to buy a laptop or computer. This is something that World Computer Exchange recognises and steps in to bring a change. They refurbish old computers and fix them up at schools that don't have enough funds to provide computers for students.
If you want to support this cause, you can do so by dropping a functioning computer that isn't extremely outdated at one at a WCE Chapter. A WCE Chapter is just the term used for the various outlets. Do note that the locations are limited and not spread out all over the states, so if you'd like to mail them your computer you can do so.
World Computer Exchange, 936 Nantasket Avenue, Hull, MA 02045.
Once you donate a computer, you'd receive a receipt that would help you with tax exemption. Do note that the company does not accept outdated computers or a desktop that doesn't work. The (iSeries) desktops and dual core laptops along with adapters are acceptable. Besides computers, a few other items that you can consider donating are headphones, USB keyboards, hard drives above 100 gigs and projectors. An electronic that can be used in a classroom would be useful for the charity.
2. The Salvation Army
The Salvation Army is a charitable Christian organization that provides financial aid and support to people fighting addiction, poverty and abuse. Their operations are not limited to the States but outside the nation as well. The Salvation Army could be a convenient choice for many of you as they have roughly 8,000 stores in the US. You can reach out to the one in close proximity to your home.
Few of the electronics you can donate to them are printers, computers, DVD players, eReaders and anything else that has resale value. Besides this, you can also contribute by donating clothes, kitchen items, furniture to them. If you have a whole bunch of other items you'd like to donate, we suggest scheduling a free pickup. You can do so by ringing up their helpline number which is 1-800-SA-TRUCK (1-800-728-7825).
3. InterConnection
InterConnection is a non-profit organization based in the hottest hub for technology, any guesses? Well, it's none other than the tech-driven city of Seattle!
You can send your used tech devices to them via mail, drop it off or have someone from InterConnection pick it up for you. By simply donating to them, your old electronics are given a second chance to be of use to someone else. The organization revamps products they receive from huge corporations and individuals. After that, they sell it to low income groups of people at a great discount. So, if you have pieces that have the potential to work if fixed, you can send them out to InterConnection.
Few of the accepted items are laptops, tablets, speakers and various other office equipment. Upon donating you would receive a receipt from them that allows you to avail a tax deduction based on the value of the item. Do note that if you wish to donate a larger valuable item, it is necessary to drop it off at their Washington location. So, if you don't live in the state of Washington, stick to sending them the smaller electronic items which you can directly ship them.
4. Vietnam Veterans Of America
The Vietnam Veterans Of America is a dedicated non-profit organization working towards improving the lives and standard of living of veterans. They do accept donations in the form of clothes, kitchen appliances and also electronics in working condition. If you like, you can choose to club together a couple of things you've kept aside for donation. This organization is in dire need of clothes, so if you do have excess clothes, do consider sending them here too.
The website of the Vietnam Veterans of America has an interactive map so you can easily find the locations at which they accept drop-offs. If you schedule a pick-up, a volunteer will drop by to collect the boxes.
Similar operations you can consider are – Cell Phones For Soldiers, Operation For Gratitude and Wounded Warrior Project. These are all non-profit organizations that serve retired military personnel and veterans.
5. Human-I-T
human-I-T, just like the other names on this list, is doing great work to refurbish electronics. They aim to provide second-hand products in good condition to those who don't have access to primary technological items like a desktop. They also train and educate students and individuals from low income families to take advantage of the Internet. To achieve this, they collaborate with several non-profit organizations and help them with their efforts.
The process to donate is simple. You fill an online form on their website with some of your details. Post that a sales representative would contact you as soon as possible. If you have any doubts or questions, you could have those clarified by ringing them up on (888) 268-3921.
6. National Coalition Against Domestic Violence (NCADV)
NCADV is also a non-profit organization that aims to empower individuals who are victims of domestic violence. One of the ways in which they collect funds for their several operations is by selling old electronics. The money gained from a sale is beneficial to the various projects they run to benefit women who are domestically abused. This whole initiative is known by the name of 'Cellular Recycler'.
Cellphones, laptops, video games and GPS systems are few of the products you can donate. In the year 2018, the Cellular recycler initiative by NCADV was able to raise over $23K.
You can ship your electronics to them on:
Cellular Recycler, ATTN: NCADV, 3131 N. 75th St., Boulder, CO 80301
Keep in mind that you would have to print out a shipping label provided on their website before you drop it to a Fedex or so. If you would be sending them three phones, NCADV would bear the shipping charges. They also have an entire guide where you can learn the exact price value your electronic item is. We suggest going through that list to know the worth of the product you would donate.
Where To Recycle Your Electronics
1. Visit The Website RecycleNation
RecycleNation is your go-to website that maintains a database of all the recycling options for all 50 states. All you have to do is put in your ZIP code and then the company would almost magically pull out a whole list of functioning recycling programs in your vicinity. RecycleNation is almost like a Trivago, but to find recycling organizations that wish to make the earth a greener place to live.
Another great feature is that you can filter out centers as per the product you wish to recycle. The website interface is extremely modern, so you can easily even zero down to locations that accept pick-ups. All in all, we highly recommend using RecycleNation to learn more about discarding your electronics and various other items in a responsible manner.
Websites similar to RecycleNation that you can consider to find a recycling center are Earth911, The Freecycle Network, and Green Earth Electronics Recycling.
2. Contact Your Local Municipality
E-waste can't really be thrown into the same garbage cans you put everyday household waste. This is why they would be an e-waste program operated by the municipality. We suggest contacting them about the load of electronic waste before discarding them. If you also google 'E-cycling plants' with your neighborhood name, you could get a list of local run operations that recycle old electronic junk.
3. Staples
Staples has an electronic recycling program that has been operating since 2012 so this would also be a good option. It is also a well established company with plenty of outlets all over the USA, so it shouldn't be a problem to find a store.
You can donate any computer monitor, laptops, printers and tablets are also accepted. Smaller items like a hard disk, keyboard, speakers and web cams can also be given away. We suggest making a list of the things you wish to donate and call up the store before visiting. You mostly have to drive to the store and they do accept things everyday, making it quite convenient. Keep in mind that televisions, kitchen appliances, lamps and smoke detectors are few of things you cannot donate.
Other things accepted by Staples include – fax machines, scanners, routers, calculators, cordless phones, digital cameras and so on.
4. Best Buy
Just like Staples, the well-known company Best Buy accepts your old electronics. You can take your old electronics for which you have no use to one of the many stores dotted across the US. However, make sure to check the list of things accepted before leaving your home. Their website states that they collect roughly 400 pounds of electronics per MINUTE for recycling! Now isn't that crazy? It also doesn't matter if you didn't buy from them, as Best Buy would still accept the old products you bring.
Best Buy is definitely stoked on recycling electronic waste since they believe they're part of the cycle, which to us sounds like a great initiative. The best way to donate old, worn out wires, cords or cables is at a Best Buy Kiosk. You'd usually spot these at the front door area of their many stores. Just a heads up that if you require the company to pick up your larger appliances like a TV, you would need to pay a small fee for the service of them coming to your door. Do note that they recycle products for free, but you can only donate three big items per day.
Additional Tips To Get Rid Of Electronics Responsibly Before You Move
22nd April is celebrated as Earth Day and in honor of the day, there would be several local drivers for picking up recyclable items. If possible, fixate on donating while these programs open up.
If you're donating an item, ensure that the cords are untangled. We also recommend packing these items with the instructions manual and original box that it came in.
Always ensure that you have erased all of your personal data from mobile devices, tablets, laptops and hard drives before donating them. The factory reset button on your phone will do the job of getting rid of data for you.
Many of the electronic companies simultaneously run recycling programs. Notable names are Staples, Good Will, Best Buy, but you'd also find a similar operation by a local business in your neighborhood.
Remember that if you donate, you can claim income tax deduction. So make sure to always ask for a receipt if you're specifically donating a large number of valuable items.
FAQs
How to discard unwanted electronic waste?
Your top options are:
Use websites like RecycleNation, Earth911, The Freecycle Network and Green Earth Electronics Recycling to find recycling centers near you.
Donate electronics in good condition to reputable charities such as The Salvation Army, Vietnam Veterans Of America, World Computer Exchange or any other local organization.
Contact your municipality to know about e-waste recycling plants that discard old electronics responsibly.
Which stores take old electronics for free?
Staples and Best Buy would take your old electronics for free. Most electronic stores have take back programs so you can consider medium size companies as well.
How do I dispose of old electronics?
You can dispose of your old electronics by giving them to the electronic companies who can recycle them. Other than that you can also approach One group, Call2Recycle.org or any nonprofit organizations that recycle electronics.
Can I just throw away electronics?
It's good if you donate, sell or recycle your electronics instead of just throwing them away as they add to the landfills and harm the environment. Many states like California, Illinois, New York and North Carolina have banned electronics to be thrown into the landfills.
How do you dispose of broken appliances?
You can dispose of your broken appliances by contacting the manufacturer and find if the company has any disposal or donation center. Other than that, you can check for any auction sites online, contact metal recyclers or check with your local municipalities who can help you dispose of your broken appliances. If your appliance can be repaired and used, you can donate it to any charitable organization for a good cause.
How do you dispose off gadgets?
There are various electronics companies that have an exchange policy wherein they take your old gadgets and sell you a new one at a discounted price. Other than that, you can approach your local civic institutions or a certified e-waste recycler. You can also check websites like RecycleNation, Earth911, The Freecycle Network, Green Earth Electronics Recycling, etc. to find recycling centers in your locality.
Where is the best place to sell used electronics?
You can search for any online auctions like the ebay site to sell any of your used electronics. There are several other sites like SellCell, Amazon, Decluttr, Gazelle, Swappa, etc where you can sell off your old electronics.
Who buys used broken electronics?
There will be several buyers online who will be interested in buying your old or broken electronics. You can explore sites like SellCell, Amazon, Decluttr, Gazelle, Swappa, ebay or Facebook Marketplace.
Can I sell my broken TV for money?
You can sell your broken TV for a good price on several websites like ebay, 5Miles, OfferUp, Varage Sale, Craigslist and Facebook Marketplace.
See also: Charities for Donation Pick Ups
---
Conclusion
Digital waste and dealing with it is a modern day problem that all of us have to deal with at some point. Today, there are several ways to dispose of this waste in a responsible manner. We suggest taking that extra effort to find an e-waste recycling plant or a donation center that accepts electronic waste. The websites we've mentioned above will surely cut down your research time, so do consider this list when it's time to sustainably manage e-waste.
See also: How to Pack and Move Electronics | Where to Donate Clothes Near You