Cost of Junk Removal


VanLines Inc
Secure Storage
Easy Booking Process
Fully Trained Employees
GET QUOTE

Colonial Van Lines
Storage Services
Long-Distance Moves
Corporate Relocations
GET QUOTE

Moving APT
Available Nationwide
Award-Winning Movers
Extensive Vetting Process
GET QUOTE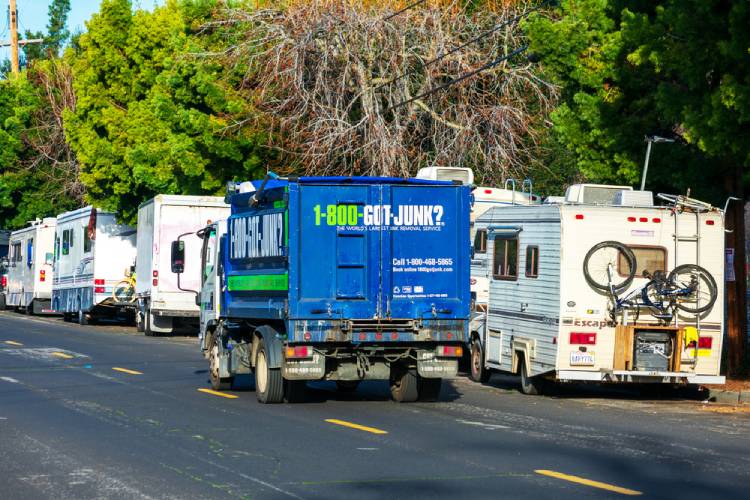 In the decluttering stage, you suddenly realize that you've accumulated things that don't fit in the recycle, sell, or donate box. You're certain that you want it out of sight and it 100% can't be part of your new home but aren't sure how to get rid of it. Well, the solution to this hurdle is calling up a junk removal company.
A junk removal service could help you get rid of a treadmill, an old couch, lawn decor, renovation debris and more in the blink of an eye (hypothetically speaking). Let's learn more about it and the costs associated with junk removal.
Cost Associated With Junk Removal
Most junk removal companies will display a table of flat rates against most common junk items they haul from customers' homes. Just like you get a menu with the list of food served at an eatery, you'll get a list of items accepted and the cost for hauling it.
Another popular pricing structure that removal companies follow is that they charge customers as per the space taken up on the truck. This is called 'Load Pricing'. Here is rough breakdown for you:
Minimum load truck – $60 to $110
Half loaded truck – $380 to $410
Fully loaded truck – $630 to $800
If the amount of junk takes up minimal space, then expect costs to be somewhere between $60 to $110. On the other end, the upper price range is in the $515 to $800 zone.
The higher average is applicable when the company has to empty stuff out of a large home with lots of heavy furniture items. In other words, there's so much junk that it takes up space in an entire standard 14-foot truck. This is usually the case when a homeowner is downsizing the house and has to empty out a vast variety of things from storage rooms, the attic, garage and more.
When it's a fully loaded truck of junk, you should certainly expect costs to cross $500 and could go beyond $800 depending on the work involved. For instance, the junk removal company could charge you more if they have to send more manpower on site to haul all the large items. Even in cases where an individual lives in an apartment and the staircases are narrow, you'd need to pay more because of complexity in comparison to an individual residing in a single-storey bungalow.
Factors That Affect Junk Removal Prices
Now keep in mind that not every moving company will price you based on the volume occupied in the truck. Some companies also factor in the weight and time taken to haul the items into the truck. If weight is taken into consideration, then the company would provide you with a flat rate to haul each pound of junk.
It's necessary that you confirm with your moving company if they would form an estimate based on volume, time, or weight. It's absolutely necessary to have this conversation because you don't want to be spending big bucks on just getting rid of junk.
You should also look for 'single item pricing' on junk hauling websites. For example, if you require a junk removal mover to just take away just one single old non-functioning refrigerator, you can ask them the flat rate to haul it.
Services Provided By Junk Removal Companies
Junk removal services basically are a huge help during a massive spring cleaning session or when you're thinking of downsizing from a large property to a smaller one. They're also of big assistance during a house remodeling session. At such stages, you end up finding a lot of things you don't need but these items simply hog space in your home. If your main goal is to regain space, a junk removal company will make that a reality.
But keep in mind that a junk removal company would only take non-hazardous waste. Here is a list of things accepted by them, this list would help you segregate your stuff.
You Can Hire Junk Removal Companies To Get Rid Of:
Home furniture (chairs, TV units, couches)
Home appliances (microwave, refrigerator, dishwasher)
Electronics (monitors, TVs, old computers, radios, CD players)
Construction debris (the rubble after renovation)
Additional Services:
Garage/basement/attic clean-ups for homeowners
Estate clean-ups for businesses (heavy duty office equipment)
Yard cleanout (fencing, landscape debris, branches)
Shed/deck removal
Estate sale leftovers
Exercise equipment removal
Large specialty single item (pool table, hot tub, swing set)
Items Junk Removal Companies Don't Accept:
Oil
Paint
Chemicals
Batteries
Advantages Of Hiring A Junk Removal Company
You get rid of junk in storage rooms, the attic, lawns, garages, and basements.
More room and space in your home to keep things you need and use. Sometimes it costs more to fix unused things, so the alternate approach of giving them up seems more feasible.
They take care of all the debris that takes up space in your house during a home renovation.
It's an opportunity to downsize and freshen up your space by getting rid of unnecessary clutter.
Makes the resale of your home easier because you can empty the space completely which is more appealing to your prospective buyers.
It saves you the hassle of spending time and energy on figuring out what to do with things that have nearly no value for you anymore.
The flat fee and upfront pricing structure used ensures that you know exactly what you're paying for.
You don't have to drive anywhere because the junk removal employees will come to your door.
In just one sweep you manage to get rid of things that the garbage man would refuse to take out.
Top 5 Junk Removal Companies
It's absolutely necessary to pick removal companies that know the job well and are insured so that you're not letting strangers into your home but professionals.
To help you with picking the right junk removal company, we've compiled a list of the best in the nation.
1. Junk King
Junk King is a removal service started by childhood friends Mark and Brian. They're a recognized company with over 100 franchises in the US and Canada. The company is promising and this is why we let them take the first rank on our list.
They've reinvented the junk removal industry and stick to green practices. They certainly understand how they play a role in helping the environment. We mention this as 60% of the hauled material is recycled. This reassures you as a customer about where the company's intentions lie.
In terms of costs, you pay for how much space you use. The minimum you can expect to pay is $99 for smaller single items. If you pack the company dumpster halfway, costs will bump to $178 to $275.
Perks Of Using Junk King:
They have an online pricing estimator so if you're tech-savvy and would like to get a quote within minutes, this is a plus point. Another perk is that they offer a $20 off your order if you book online and the estimate is over $99.
2. 1-800-GOT-JUNK
Just like how we immediately think of 911 for emergencies, 1-800-GOT-JUNK is the company on people's speed dial for junk removal services. By this, we mean that they've made it that big in the waste management industry. The company was launched in 1989, making them an older company and is a living example of the saying you get wiser with age.
If you're a fan of the American reality show Hoarders, you probably may have spotted the company trucks on TV too. They work like genies who come and magically empty spaces cluttered with unwanted items. But do note that the company doesn't operate in Mississippi, Montana, New Mexico, North Dakota, South Dakota, West Virginia, and Wyoming.
In terms of pricing, 1-800-GOT-JUNK is on the pricier side. Like other removal companies, they charge based on the load you have and the space it takes up in the truck. If you end up loading the full truck till the brim, expect to receive a quote of $600 or more.
Perks Of Using 1-800-GOT-JUNK:
You can expect professionalism from the team of workers that arrive at the property. They're experts at cleaning out estates, basements, garages, attics and more.
3. College HUNKS Hauling Junk
College HUNKS portray themselves to be a young and enthusiastic company that began operations in the year 2004. They're a junk removal and moving company that joined the industry late but have still managed to perform like the runner-ups.
The company works in close collaboration with non-profit organizations like Goodwill, Habitat For Humanity ReStore, and PickUpMyDonation. So, 70% of the things hauled by them go to donation centers they work with.
You can reach out to them to pick and drop your donation boxes to charities beside just hauling junk. They also run another company by the name Trash Butler LLC that is essentially also a junk removal service.
On an average, if you pack half a truck with waste, you could receive an estimate of $370 to $400. For a full truckload of junk, the cost for removal could increase to $600.
Perks Of Using College HUNKS Hauling Junk:
The biggest perk of using them is that they aren't just a junk removal company but they also assist with rental trucks to help you relocate. If you're moving homes, you can strike a good deal for both professional moving services and junk removal.
4. Junkluggers
Now your main worry with hiring junk removal companies is the worry about where the waste goes. You probably want to pick a company that is advocating for recycling and green practices. Like the others on this list, Junkluggers is a removal company that's making huge progress in ensuring that the junk they haul doesn't just end up in landfills.
The company works closely with a decent number of charities like Boots on the Ground, Goodwill, Furniture Sharehouse, Good Stuff Thrift, Big Reuse, Big Brothers Big Sisters, Alliance Against Homelessness, Hillcrest, and Hope for the Warriors. You may actually get that warm fuzzy feeling that the thing you're sending is going to someone who needs it.
In addition to junk removal, the company can help with delivery requirements. So if you're redecorating and need someone to pick up and deliver some units of furniture, you can ring up Junkluggers.
Perks Of Using Junkluggers:
You can hire manpower to help with jobs like lifting furniture around for a home staging activity. So if you need extra hands for a moving project, you can consider Junkluggers for labor-only services.
5. LoadUp
LoadUp is a young junk removal company that began operations in the year 2014. They've not been in the industry for too long, but are masters at what they do. The company website is extremely modern and they even provide disposal guides to make their customers use the proper way to dispose of their unwanted items.
Scheduling is made extremely easy on the website and is just a 3-step process where you share your ZIP code, enter the items that need to be hauled, and voila! You shall shortly be assigned a loader after you're happy with the price.
Perks Of Using LoadUp:
They have an outlet in 49 US states except for Wyoming. Their efforts to expand all the nation in a short span of years is applaudable. The biggest perk has to be the pricing which is roughly 20% lesser than the average junk removal company.
Things To Keep In Mind While Hiring A Junk Removal Company
Enter information of the items that need to be hauled as accurately as possible to receive a quote with no sudden surprises.
Confirm a timeframe that you're comfortable with if you want to be there when the junk removal employees come home. You can also request curb pick-up if you'd prefer not to intervene.
Try to bundle up a few pieces of items that need to be hauled instead of hiring a removal company to drive all the way for just 1 item. It could be more cost-effective for you.
Ensure that the company you pick is responsible for recycling and donating as much as possible.
FAQs
What is the best junk removal service?
LoadUp, College HUNKS Hauling Junk, 1-800-GOT-JUNK, Junk King, and Junkluggers are reputable junk removal companies that you can consider.
How much does junk removal cost?
For small junk removal projects, expect costs to fall in the range of $60 to $110. If the junk removal company has to haul out an entire truck of stuff, expect the estimated cost to bump to $500 to $800.
How much is 1-800-GOT-JUNK?
You can expect a cost of about $600 if you end up loading the full truck and around $400 for a half truck. Do keep in mind that they offer a single item pricing, but in some cases the amount of space your items take up and the city you live in will also affect your total estimate.
How much does it cost to have furniture removed?
The minimum charges for your furniture to be removed would range between $50 to $125. This price may vary depending on the company you're choosing as most companies charge you based on the volume of the truck.
Is junk removal expensive?
If yours is a small junk removal project, then your basic cost would range from $60 to $110. But if you have too many items that would haul an entire truck, then your cost would go up to $500 to $800.
How do I calculate junk removal?
You can follow the 5 simple steps listed below to calculate your junk removal:
Determine the location, amount of junk and number of workers you'll be needing.
Calculate your total labor cost by multiplying the number of hours needed for your work with the number of workers you need to get the job done.
Calculate your hourly labor costs (taxes, employee wages, etc).
Finally, calculate your total junk removal cost by multiplying your labor hours by the labor cost.
Make sure you consider other factors like dump fee costs, garbage and electronic waste, hazardous waste, etc.
How much does GOT JUNK cost to remove a couch?
GOT JUNK will charge you an average of $177 to remove a couch.
What does GOT JUNK not take?
GOT JUNK does not take things like paint, chemicals, oil, asbestos, storage drums, old vehicles and leaky batteries. Basically, hazardous materials are a clear no no and they need to be disposed of separately in a safe manner.
Should I tip junk removal?
Although tip is not really expected, you can always appreciate the workers by tipping them especially if they've helped you with a difficult task. Junk removal can be a laborious task and a little tip can go a long way with the person who's doing the job.
Who picks up old furniture for free near me?
There are several organizations like Salvation Army, Goodwill, AMVETS National Service Foundation, Habitat for Humanity, The Arc, Pickup Please and PickUpMyDonation.com that will help pick up your furniture for free.
What do junk collectors do with the junk?
Most junk collectors try to reuse and recycle the junk to avoid dumping unnecessary items on the land that cause harm to the environment. Most companies try to donate and recycle items whenever possible.
How much is FEMA paying for debris removal?
FEMA has determined an amount of $2,355,943 for debris removal from private property for an applicant who is eligible.
How does GOT JUNK make money?
GOT JUNK is a waste management company that gets all the junk and unwanted items recycled and donated whenever possible, for which their pricing is on the higher side because of their professional services.
Is College Hunks Hauling Junk expensive?
The kind of services you seek and your location will determine your junk removal cost. College Hunks will charge you an average of $600 for hauling a full truck and about $370 to $400 for a half truck.
What is the best junk removal service?
Junk King, 1-800-GOT-JUNK, College HUNKS Hauling Junk and LoadUp are some of the best junk removal companies with great services.
How much does it cost to remove a sofa?
Your basic cost to move a sofa will be around $75 to $160. This price may increase depending on your location. Of course, the size and make of your sofa can also play impact the final cost.
What does 1800 junk do with the junk?
1-800-GOT-JUNK reuse, recycle and donate the junk they collect. They also sell certain items which can be reused.
How do I get rid of junk in my house?
There are several ways through which you can get rid of junk in your house. Here's what you can do:
Organize a free yard sale.
Give your items for recycling.
Sell your items online.
Donate your items.
Consult junk removal companies.
What is the best charity to donate furniture?
Here are some of the best charities where you can donate your furniture and other items:
Salvation Army
Habitat for Humanity
Goodwill
PickUpMyDonation
AMVETS National Service Foundation
What will Goodwill not take?
Goodwill will not accept the following items:
Large appliances, electrical and mechanical appliances which don't work.
Damaged couches, chairs and automobile parts.
Paints, chemicals, kerosene and other hazardous chemicals.
CRT Televisions
Building materials, encyclopedias and mattresses
Conclusion
Just like you clear your junk email box fortnightly or weekly basis, it's necessary to look into garages, attics, and basements. These rooms tend to become hiding spaces for things we don't like looking at. But when it's time to move homes, there's no other option but to face the mess we hide behind doors. This is when junk removal companies become a saving grace.
They save you the trouble of making countless trips to donation centers or a landfill. All in all, a junk removal company will reduce one of the 99 problems that come up during the saga of moving homes.
Also See: How does Junk Removal Work