How Can I Keep My Child in the Same School if I Move?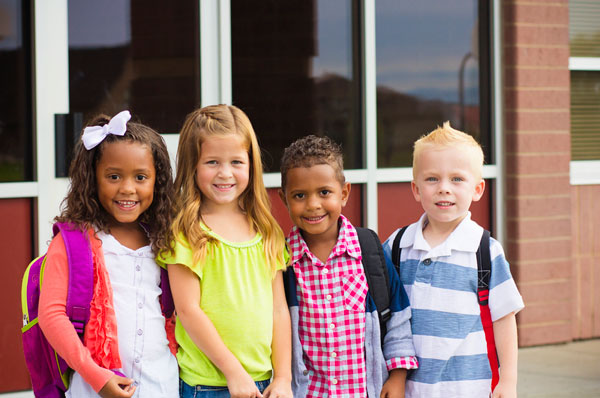 One of the biggest challenges that come with moving with a family is making sure your children cope well. This includes helping them with getting settled and making acquaintances, all while making sure their academics don't take a hit. Of course, moving houses means you'll mostly have to change schools too. But, what if you don't want to? This question is probably something you've been mulling over: how can I keep my child in the same school if I move houses?
The easy answer is, it depends. There are many factors that decide a student's enrollment in a school. However, you need to remember that there are a lot of bureaucratic and legal variables to consider, and figuring them out isn't a bed of roses. Keep on reading to understand what works and what doesn't work for you in a situation like this.
See also: 11 Tips for Moving During the School Year with Children
Understanding Funding
Before we delve into the nitty-gritties of the topic, you need to make sure you thoroughly understand how schools are funded, and why this matters. In the US, children attend public schools free of cost as the schools receive their funding partially through the property taxes collected by the state.
Since your child's education is funded in part through your property tax, the school zone and school district you live in make a huge difference. To put it simply, if your property taxes are going to a different school district than the one your child is enrolled in, your child's school does not receive the funds to accommodate their education. Plus, your child has to go to the school your property is zoned for. This means you won't be able to send your child to any K-6 school of your choice, even if it is in the same school district.
This is done to ensure that all public schools receive enrollments, instead of a few selective ones that are preferred by the parents. Otherwise, all the parents in the district will enroll their children in a few selective schools, leaving all others essentially empty and defunct.
However, don't lose hope just yet. There are a few ways you might be able to retain your child's admission in their old school. However, as mentioned above, it's not going to be easy.
Same District, Different School
One of the biggest factors that decide what school your child goes to is the location of your house. If you are moving to a different house in the same school district, you might not have to change schools at all. This would be even easier if you move across town but remain inside the same school zone.
If your new location is inside the same school zone, your child will mostly have no problems retaining their admission in their current school. You'll just have to inform the school authorities about the change in address. Moreover, most schools make that process easy by letting you declare the change in address with a simple notice. This notice generally contains the student's information like their name, age, grade, parents' contact information, both addresses, and proof of the new address being inside the school zone.
If you plan on moving to a different school zone in the same school district, this might be a very different scenario. In most cases, if the address of the student changes to a different school zone, the student will only be allowed to attend their current school for the ongoing year. After that, the student will have to attend the school they will be assigned to (one in the same district but in the zone of the new home) for the next academic year.
Depending on the school district, you might be able to retain your child's admission in the old school by asking the school for an intra-district transfer. In this case, even though your child has been a student of the school all along, they'll be transferred 'back' to their old school from the school they had been assigned to in your new location and school zone.
However, this is entirely up to the school and school district. If the school finds your children to be well-behaved, high-scoring students whose parents ensure their transport to and from the school, the officials may let them stay enrolled in their school.
The process for retaining your child's admission can get quite taxing, though. You will have to fill in a lot of paperwork, appear before a board appointed by the school, and place your reasons for wanting your child to study in their old school. If you present a convincing case to this board, your child gets to stay in their old school!
One schooling 'hack' is that you can ask for an intra-district school transfer even after you move to a different school district. In case you don't like the school your address is zoned for, you can approach the principal of a different school and ask them to let your children attend. As long as the school you want to transfer to is in the same school district, you can have your children attend any school. But do note, this won't help you keep your child in the same school–it only gives you a bit more leeway to choose a better or equally good school for them.
Also Read: How to Find Best School for Your Child When Moving
Different District, Same School
Often, people will tell you that it is impossible to keep your child enrolled in their old school once you move out of the school district. The good news is, they are wrong. The process to retain your child's enrollment in their old school gets complicated, lengthy, and overall difficult. But, it is possible.
The first thing you need to realize is that you'll have to request a school district to let a resident of that area attend a school from a different district. This, in essence, would mean asking them to transfer a portion of their funds to a different school district.
'How would that work' you ask? Well, when a school district accepts an inter-district transfer, they have to forward the funds they collect through your property tax to the school district your children will go to. Once again, you'll have to go through a complicated process of application and appear before a board. However, if you can present a convincing case in front of the board, your child might just be able to keep on going to their old school.
If you want to avoid that hassle, you can offer your old school district, or any district of your choice if we're honest, to pay for your kid's tuition in order to let them attend a school in that area. However, the cost of tuition in a case like this will be over your property taxes and you still might have to face a board in order to get this arrangement working. Again, it's a difficult process, but it does work sometimes.
Regardless of which way you choose, you'll have to go through a complicated paper trail. This will consist of a completed copy of the inter-district request form, along with copies of your child's transcripts, report cards, discipline, and attendance records. You also need to make sure that your child maintains the standards you set during this process. Otherwise, their transfer can be revoked and they will have to come back to the school in their new district of residence.
Lastly, your request for transfer has to be approved by both school districts. Since each school district has its own set of rules and regulations, you need to make sure that your paperwork is suitable for both school districts. One of the easiest ways to gain some direction in this matter is to speak to the Superintendent's Office in your old school district.
What Happens If I Don't Tell The School?
Not declaring the change in your address might work and could just seem like a great idea. However, all schools require you to provide a residential address from within the school district in order to mail information and documents to you.
You may think that using an acquaintance's address from within the school district, or a P.O. box might work, but we suggest against it. The bottom line is, if you get caught attempting to defraud the school district, you will face stiff punishments and fines. Worse still, your child's enrollment will be scrutinized, if not suspended entirely.
See also: Pros And Cons Of Buying A Home Near A School
What About Kids With IEPs?
Individualized Education Programs, or IEPs, are created by the school district for students with disabilities and/or special needs. However, IEPs are maintained by districts and the possibility of them being carried over to a new school district is slim. Moreover, there is no special consideration for students with IEPs. They have the same exemptions and same opportunities with the added challenge of retaining their IEP.
Usually, a student with an IEP will be allowed to attend their new school with the terms of their IEP staying 'as-is' for 30 to 60 days. If you have moved to a different school within the same district, chances are your child might be able to hang on to their IEP. However, if you are moving to a different district altogether, the district will re-evaluate the IEP. At this point, they may decide to make any changes they see fit.
But remember that you can dispute any changes made to your child's IEP. The school district needs to inform you of any proposed changes and provide you with valid reasons for the same in a Prior Written Notice, or PWN. If you disagree with anything in the PWN, you can take it up with the school district.
Once you do bring up a dispute regarding your child's IEP, the school district cannot implement changes to the existing IEP, or enact a new IEP, before dissolving all points of dispute with you. While we suggest you try and go through this dispute amicably, we also suggest you keep a good lawyer's contact information handy.
Chart A Map To Charter Schools
Even though charter schools are funded by the state, they are privately managed. This means that they have a lot of control over their functioning, including the proximity of their services. Charter schools are not bound by the school districts and can retain students, regardless of where they live. Retaining your child's enrollment when it comes to charter schools should be a breeze.
In fact, most charter schools give preference to returning students. This can work perfectly if you're moving back to the same region and want to transfer your kid back to their old school from a different district. This might automatically give your child an edge in the process of getting themselves enrolled again.
The only caveat in this scenario is that some states do require their charter schools to give preference based on the distance of their students' residences. In such a case, you might be at a disadvantage if you've moved far away. So, do your research about the laws and regulations regarding charter schools in your state (and the one your child is enrolled in as well) before you decide to move.
See also: Our updated list of best out of state movers in the country.
Summing Up
Every parent will have their fair share of reasons for not wanting to change their child's school, and we get it. However, as a parent, the first thing you need to realize is the amount of pressure your child would be in regardless of which school they go to.
After everything, if you decide to try and retain your child's admission in their old school, make sure you have the patience to get through the process. Who knows, the fact that you're not changing this one thing in your child's life, while everything else changes, might just be what they need.
FAQs On How Can I Keep My Child in the Same School If I Move
Do Schools Ask For A Proof Of Address?
The short answer to this question is yes. The longer one tells you that the schools will ask you for proof of residence right at the time of admission. Without the required paperwork and proof that confirms your residence in the school district, your child's application will never even become eligible for admission.
What Happens If I Get Caught Using A Fake Address?
If you get caught using a fake or incorrect address, you will be charged with trying to defraud the government. Depending on the severity of your crime, you will be fined, jailed, or both. Moreover, this will put your child's enrollment under scrutiny, if not immediate suspension.
How Does A School Know If I Move?
One of the easiest ways to figure out if a family has moved is to wait and see whether the mail you send them comes back or not. If it does come back a few times in a row, the school might send someone to your address in order to figure out what is going on, in turn confirming for the school whether the people have moved or not.