Top 10 U.S. Cities Where You Can Live Without a Car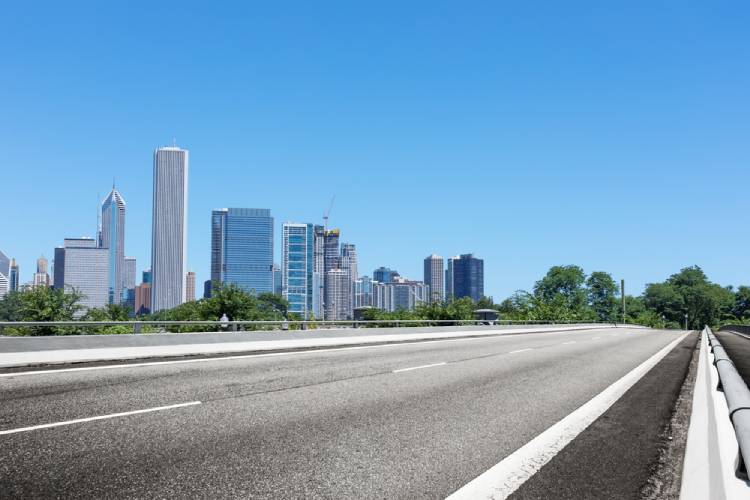 The average annual costs to maintain a car can make a considerable dent in your bank account. You have to shell out enough finances for fuel, insurance, maintenance, taxes, license renewal, registration and the whole gamut of requisites. When it's time to drive the car, you even have to prepare your mind to battle against traffic jams and bad drivers alike. Moreover, it can be stressful to find parking space and also get out of crowded parking lots.
These are just a few of the cons that drive people into wondering about where they can live without a car. Make no mistake, cars can make commuting and traveling easier. But at the same time, there are several perks associated with a car-free lifestyle. And there's no denying that there are quite a few cities here in the US that make this possible. So keep reading on to know all about the top 10 US Cities where you can live without a car.
Here's the list of top 10 cities in America where you can live without a car:
10 Best Cities in U.S. Where You Can Live Car-Free
1. New York City (Transit Score – 84)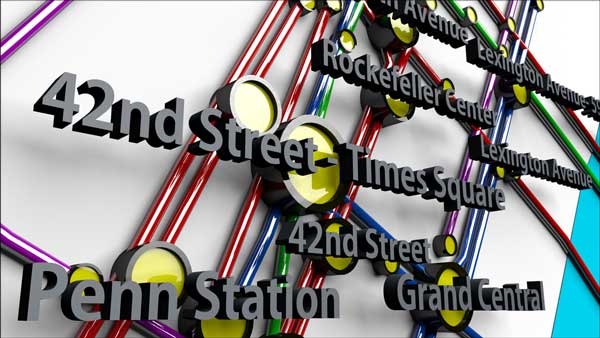 In New York, you have a vast network of transportation options to choose from. New Yorkers are basically spoilt with choice. The transit options can be compared to a snake that's making its way through all the possible nooks and corners of the city. Taking the subway in particular is the most embraced and heavily commuted mode. The notable subway system has received worldwide acknowledgement for being one of the longest subways with 472 stations delivering over 5.6 million rides daily! It is also the most inexpensive mode of transportation and a way of life for New Yorkers.
Other than that, you can access a huge collection of buses or you can pretty much walk to your destination. With a walkability score of 88, you can accomplish a lot by foot. The city also has an extensive bus system that travels through 5 pockets of most commuted regions. Once again, this ends up pushing residents to opt for public transit. Both the rail and bus systems are run by the Metropolitan Transportation Authority (MTA). All you need is a MetroCard to take either the bus or subway, as it helps you avoid dealing with the hassles of taking out your car. A single metro or even bus fare would cost you roughly $2.75. But you can choose plans with a compensation on fees, if you're going to be an avid user of the public transportation systems in New York.
See also: Moving to NYC
2. San Francisco (Transit Score – 80)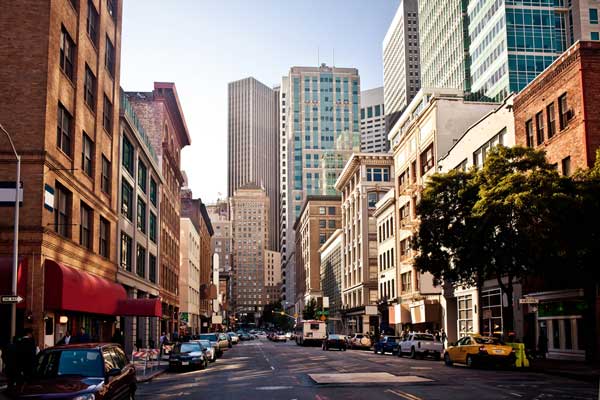 One of the most basic modes of transportation that encourages residents to commute by non-car modes of transport is the Muni system. Muni is recognised to be the seventh-largest transit system in the United States, but for locals, it is the lifeline for daily commutes throughout the city of San Francisco. The Muni systems presently operate a combination of light rail and subway systems, the bus, trolley coaches and the Muni Metro. The Muni also operates street cars and cable cars, but the functioning of these two modes is more or less tourist oriented.
Apart from this, residents also have another system of operation known as Bay Area Rapid Transit (BART). BART is the most efficient elevated rail and subway system, connecting residents to the East Bay and San Jose portions of the city. The use of BART is limited and concentrated to the East Bay area, whereas Muni systems have a better reach, since it's made up of a variety of options. These modes of transportation come together to make San Francisco an efficient and cost-friendly way to commute the city.
See also: Moving to San Francisco
3. Boston (Transit Score – 72)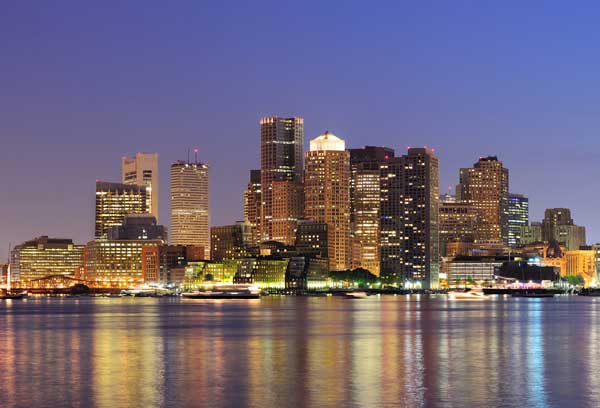 Boston is certainly the first city that comes to mind when you think of cities that are offering a great variety of public transportation for its residents. The transportation system in the Boston area and most other municipalities is overlooked by the Massachusetts Bay Transportation Authority (locally called 'The T'). It has got a pretty cool nickname and the basic role of the MBTA is to make a commuters life easy and help residents get from point A to B by non-car methods.
Here's a fun fact: The T has a reputation for providing 1.3 million trips every single day, throughout the whole of Greater Boston. Now that's as massive as a number can get, speaking of the system's reliability. In its entirety, the 'T' is made up of extensive bus systems, 4 subway lines, a commuter rail system and a handful of ferry services too. Residents of Boston practically have it all, and can completely avoid a car to get around the city without second thought.
A large number of commuters also choose to walk or cycle to work. E-scooters and bicycle lanes that crawl through dense suburban and urban areas are basically in partnership towards the same goal as 'The T'. So overall, it is safe to say that you have plenty of options other than accessing your four wheeler to get around.
Also read: Moving to Boston
4. Washington D.C. (Transit Score – 71)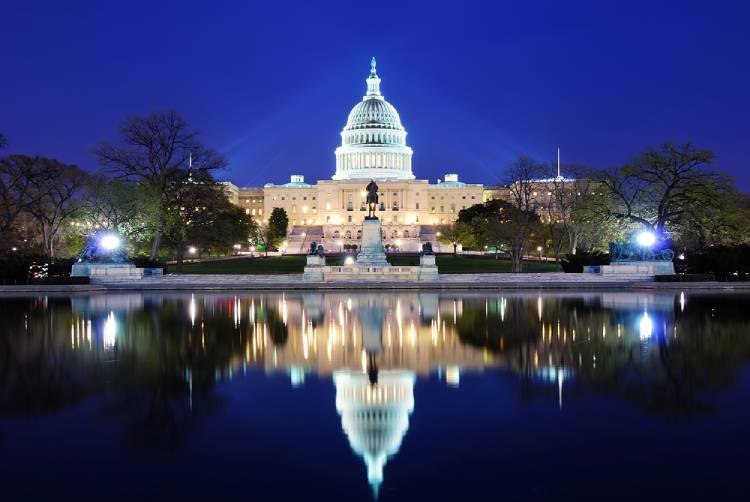 The Washington State Department of Transportation (WSDOT) is in charge of the overall operation of all the transportation systems in the city of Washington. It certainly gets all the credit for the fact that Washington is considered to have a world class public transit system. The Washington Metro is peculiar from the rest, as it is extremely clean and well-maintained. It manages to be cleaner than quite a few other metros, since eating and drinking is prohibited on the metro. However, the downside to that is their fees are also relatively higher.
The two transit options receiving the most amount of ridership are the Metrobus and Metrorail. You can completely count on the Metrorail to get you everywhere you want, as it has 6 lines that serve most of the major hubs. In case the Metrorail doesn't get you to your destination, you would have the bus to supplement areas the metro hasn't covered.
Now isn't that a win-win situation, with the bus and metro working together to connect residents to suburbs throughout the city? The city also has its fleet of 22 ferries helping residents get where they need to, in the Puget Sound area. Lastly, bicycling also plays a key role in helping people get around. Washington has topped several charts for being a bicycle friendly state by the League of American Bicyclists, seven times in a row!
5. Philadelphia (Transit Score – 67)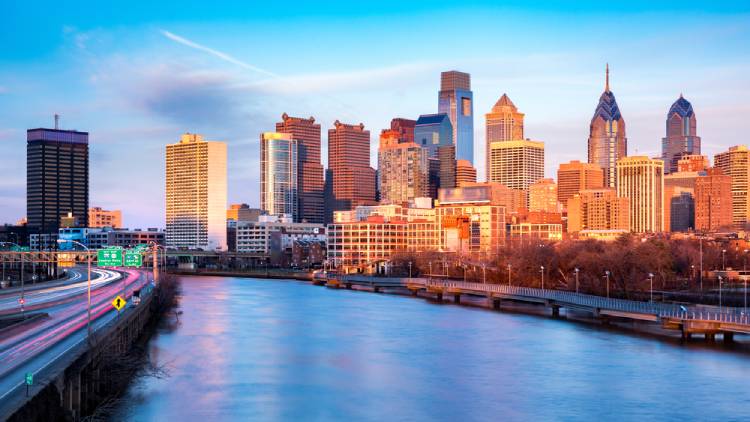 Just like every other city on this list, Philadelphia also has its share of public transit that is managed by Southeastern Pennsylvania Transportation Authority (locally called SEPTA). Septa overlooks the proper functioning of buses, trains, subways and even trolleys. Some of the major hubs that are being served by the Septa are Bucks, Chester, Delaware, and Montgomer.
Overall, Septa can be trusted and considered as that true friend who will take you anywhere throughout the city of Philadelphia. In addition, you can even access New York, Washington and Boston via the SEPTA. There's a high chance that you won't require a car, since you can practically choose from 7 different types of services being offered by Septa.
The city has a remarkable walk score of 79 out of 100. But certain areas like Center City West, Avenue of the Arts, Rittenhouse Square and Center City East have a walkscore that touches 99!
See also: Moving to Philadelphia
6. Chicago (Transit Score – 65)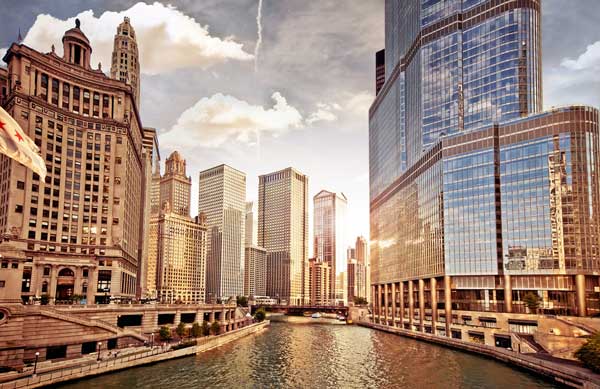 The modes of transportation in the city of Chicago are managed by an organization called 'Chicago Transit Authority'(CTA). In total, it comprises of an extensive bus service and 8 train lines belonging to the system known to locals as 'Chicago L'. The L Train in particular is slang for elevated train, since most of the train lines run above ground level. The bus routes are spread out and make several regions easily accessible to residents here. The city also has the Metra Rail with 11 rail lines that link residents to all the top junctions in the nort-east Illinois direction.
Apart from the massive connection of rail and bus ways, residents enjoy over 200 miles of bicycling paths. If pedaling is your way to commute, you'd definitely be happy about the number of bike routes that you can access. However, it's best to check if it would be a feasible way to commute, depending on where you need to get.
Burnham Greenway, Lakefront Trail, Major Taylor Trail, North Branch, North Shore Channel and Sauganash are few of the major biking trails in Chicago. Interestingly, the city of Chicago even has a region popularly known as 'The Loop'. Think of this as the place where you'd probably have a tough time using a car, since the area highly promotes non-car modes of transportation.
See also: Moving to Chicago
7. Seattle (Transit Score – 60)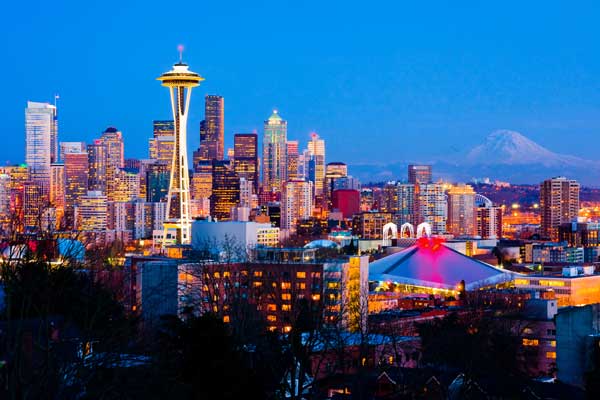 The transit options in the city of Seattle is specifically dominated by a vast network of bus systems. Isn't it surprising that the bus routes solely contribute to Seattle receiving a score of 60 on 100? Well, this surely reveals to us that the bus system is efficiently doing wonders to make commuting much easier for Seattle's residents. Among the network of buses, King County Metro and Sound Transit are the most commuted ones.
King County Metro in particular strives to help residents forget about dealing with the ordeal of driving. The buses have two paces, you have the express one that skips certain stops, while the regular one could take you longer, since it stops nearly at every location. The Sound Transit on the other hand, overlooks the working of express buses, Link light rail and Sounder commuter trains.
Other than that, you must have noticed that Seattle has a very peculiar geography. Because of this, the city has a pretty extensive network of ferries that residents do take on a daily basis. Even though cars may want to dominate the mode of transportation, you can't really have cars go over water. If you asked, we'd anyways probably pick sitting on a boat with scenic views over being stuck in traffic.
See also: Moving to Seattle
8. Minneapolis (Transit Score – 57)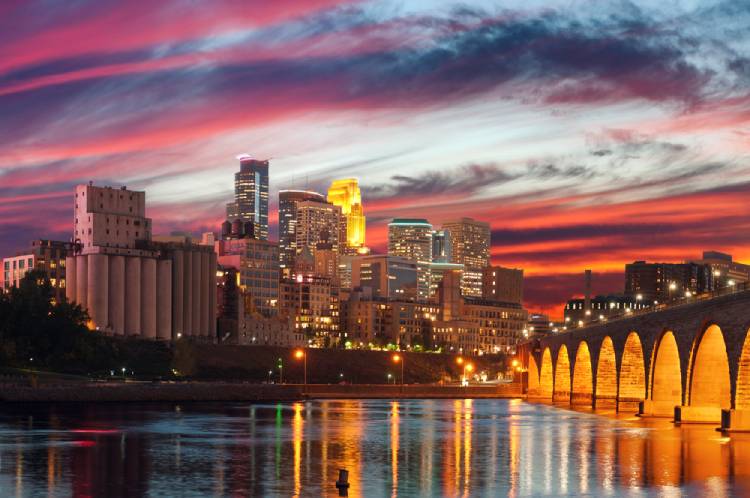 Minneapolis has a smart city challenge fund, with a goal to develop small ways of transport for residents. So even though the city of Minneapolis makes it to the last of the list, the efforts being taken to develop the modes of public transportation may just change the course of things for this city. Bus-only lanes, bicycle-friendly safe school routes and a mobility hub that connects residents to the major modes of transportation are the top 3 performing initiatives by the city.
Aside from this, the bus system, light rail and commuter rail are the reliable transport lifelines that make commuting without a car stress free for residents. The city has an average transit score of 57, since the light rail currently just has 2 lines. So it doesn't really spread out into every area. Then again, it still does stick to the densely populated suburbs.
However, the city makes up for the low transit score by having a decent walk score (70) and bike score (84). Overall, you can't judge Minneapolis just by its public transit options, since it isn't as extensive as the others on the list. Your destination may not necessarily be on the light rail or commuter rail line, but you'd still most likely be able to walk or bicycle towards it.
9. Pittsburgh (Transit Score – 56)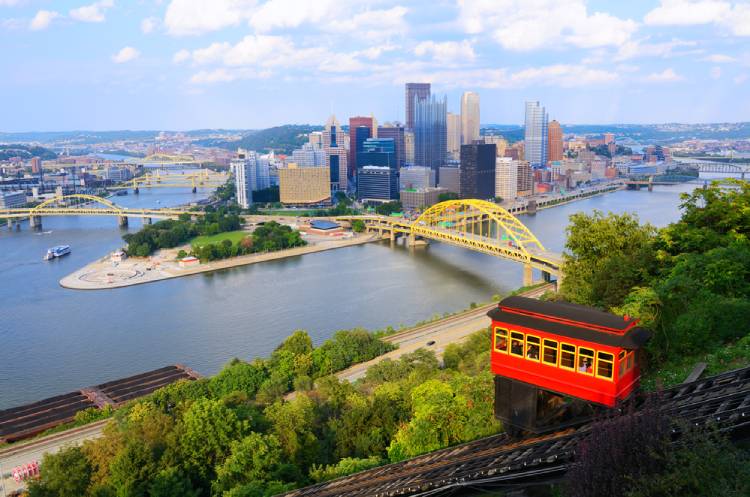 The mass transit system in Pittsburgh is ranked to be the 14th largest in the nation. All credit and efforts go to the Port Authority of Allegheny County (locally referred to as PAT). The PAT system coordinates the working of a fleet of 800+ buses, a light rail car service and inclines. Inclines are basically cable driven cars that connect people on steep points.
An important thing to note is that the inclines are catered more towards tourists. Apart from this, PAT is also in charge of the functioning of Access Paratransit, which comprises 300 vehicles that serve certain locations based on reservation. These are the top basic modes that make it absolutely doable to live in Pittsburgh without a private car.
10. Portland (Transit Score – 52)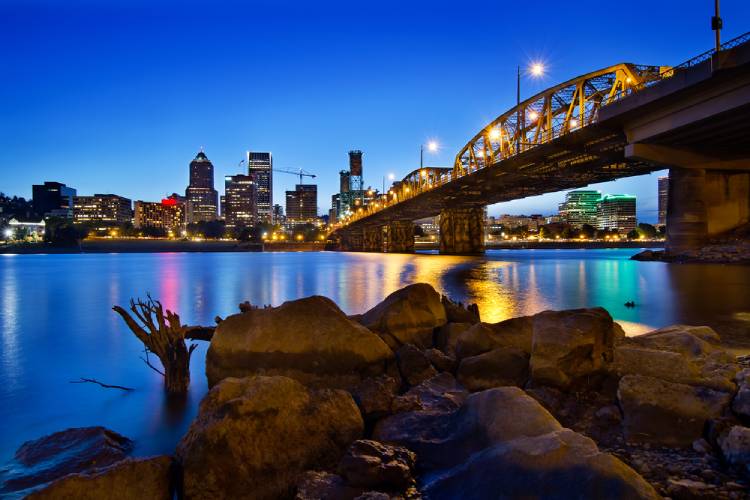 After taking into consideration factors such as commute time, bridge quality and public transit options available for residents, the city of Portland has made it to the top 10 list. The extensive public transportation options available in Portland extend to areas where you otherwise require an automobile. The light rail system recognised by locals as MAX (Metropolitan Area Express), and the two-line streetcar are the two major contributing factors to making commuting easy for residents of the city. The downtown areas and the streets surrounding the downtown vicinity are well-connected by the streetcar.
In addition to these modes, you also have the TriMet buses that cover a vast majority of the suburbs. The main intention of these modes is to encourage people to take up eco-friendly modes of transportation to save the city's air conditions. Another notable aspect of the transport is that the state of Oregon has recorded the highest bicycle commuting mode. Clearly, it goes to say that the efficient system of bike paths and lanes have definitely encouraged residents to cycle more often.
See also: Moving to Portland
---
Final thoughts
There are always a few common factors that allow residents to commute via non-car modes of transport in these cities. These can be accessible bike lanes, public transit with a wide reach, a good walkability score, light rail systems or other modes of public transportation made available. Cities with fewer cars on the road also tend to grow more cleaner and healthier. The obvious reasons here are lower amounts of clogged roads and pollution. Such efforts collectively help the environment and promote people to make less of their vehicles. All of the top cities have transit systems that allow residents to rely on public transportation. At the same time, there's assurance that it can be a breeze even without a car. You get to skip sitting in traffic, hunting for parking and most importantly, you save a good deal of that precious moolah. A well integrated transit system speaks for itself. In its essence, it not only works out to help residents, but it also ends up helping the environment.
See also: 10 Most Bike-friendly Cities in the U.S. | Most Eco-Friendly Cities in US