Moving to Philadelphia | 2022 Cost of Living and Relocation Tips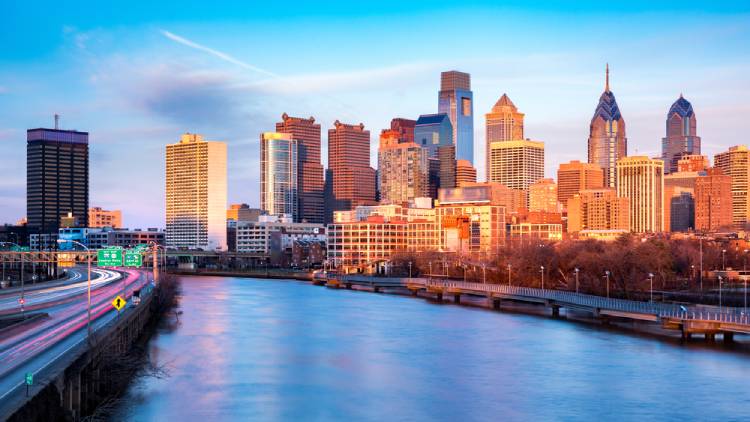 Philadelphia gained attention way back in the 18th century, becoming the location where the Declaration of Independence and the Constitution were both drafted and signed. Naturally, the Philly of today has several historical landmarks to visit. Add to this a rich culture, explosive food scene, tons of art and sports, and a dash of vivacity from its residents, and you get all the benefits of a major city with the costs of a small one. Philadelphia has a total of 25 neighborhoods, and there's a neighborhood for every kind of person in Philly.
With a rundown of the city as well as the basics of the neighborhoods, we've chalked up a guide to moving to Philadelphia. The good thing is irrespective of whether you're moving here from one of the bigger cities, or a smaller town, there's generally a spot to be found in Philadelphia. Read on to get an understanding of the cost of living in Philadelphia, and some relocation tips as well.
Background To Philadelphia
Philadelphia ranks 6th among the USA's most populous cities, making it one of the largest cities on the east coast. It has several attractions, most notably the Liberty Bell and the Independence Hall. Another big gem is the Philadelphia Museum of Art, boasting Neoclassical architecture and dating back to the 1920's. There's a lot of street art to be discovered, and its cuisine reflects its metropolitan nature with delicious diversity. It is also home to the infamous cheesesteak.
Location wise, Philadelphia is quite convenient. Washington D.C, Baltimore and New York are all within a 2-hour drive, or an even quicker train ride. That being said, Philadelphia has its share of traffic snarls. The remedy to this is its fantastic public transport system; you don't have to worry about not owning a car in Philadelphia. It has a great network of parks, and is 2 hours away from beaches and the Poconos. The Pennsylvania State Park system ensures you have plenty of trekking and camping options within proximity.
Transportation System In Philadelphia
Philadelphia is crawling with an efficient public transportation system that can take you to practically any corner of the city. The biggest thing you need to familiarize yourself with when considering moving to Philadelphia is SEPTA, the efficient, functional and affordable public transportation system of Philadelphia.
SEPTA stands for Southeastern Pennsylvania Transportation Authority. Catering to 1.3 million people each day, it is the USA's 6th largest public transportation system. Its train, subway, trolley and bus lines give visitors and residents an affordable way to get around in Philadelphia. They have a very useful website with maps and schedules, as well as an app so people can easily keep track of rides.
Regional Rail: There are three main stations all within Philadelphia's core – the Center City. There are also stations near famous landmarks, with the network running to the airport and the Amtrak service as well. The Norristown High Speed line also runs through Philadelphia, providing a quick way for people to get from point to point.

Subway System: The Market-Frankford Line (MFL) and Broad Street Line (BSL) make up the two subway lines that run through the city. While Market-Frankford runs on an east-west axis, Broad Street runs from North to South. MFL is locally known as the blue line and BSL is known as the orange line, due to the color of the seats and signs in the cars.

Trolley Lines: Philadelphia has 8 trolley lines that are both street level and underground. These connect the entire city and also pass through Center City.

Buses: There are more than 100 bus routes running across Philly, and some are Night Owl routes – 24/7 service!
Most of SEPTA's services are wheelchair accessible, and the buses have ramps that can be lowered to street level. Look up the stations on SEPTA's website to find out which ones are access-enabled. Keep an eye out for the access symbol next to the line name.
Philadelphia is also very easy to explore by foot. The city's founder William Penn is credited for the grid-street design, said to be the inspiration behind D.C's grids. Center City is at its heat-spanning 25 blocks between two rivers, the north/south streets are numbered and the east/west streets have tree names. Wheelchairs and strollers can use the curb cut-outs for convenience. You can also ride a bike in Philadelphia, just as easily. And for some fun, hop onto a horse-drawn carriage to see the historical sites in the city!
See also: Pennsylvania DMV Change of Address
Renting A Place In Philly – A Guide
Renting a one-bedroom apartment in Philadelphia is between $1,450 and $1,650. A two-bedroom apartment is around $1,700. Of course, when it comes to the different locations, the prices vary. Flats in and around Center City and University City are more expensive, with the average coming in at $2,600. Comparatively, those farther away from Center City are more affordable. Neighborhoods farthest from Center City like Spruce Hill, Fishtown and Manayunk, average at around $800.
Those living farther away from Center City will face longer commute hours. But, because of Philadelphia's fantastic public transportation system, this shouldn't prove problematic. Of course, you could always become a car-owner. But be warned, parking in Philadelphia can prove to be troublesome.
Cost Of Living In Philadelphia
Generally, the cost of living in any area depends on factors like your salary and career, and the type of house and locality you live in. We've chalked up an approximate cost of living in Philadelphia so you get a rough idea of the figures.
The cost of living in Philadelphia is cheaper than that of the other East Coast cities. There's different ranges to be explored with each of the neighborhoods, giving you some difficult choices to make. For the sake of an overview, the cost of living in Center City and the middle of the city is higher than the cost of living around the city fringes.
Your daily spending on groceries would be around $12 to $15. The list below shows the average prices of products.
Bread – between $3.50 to $4.50
Gallon Of Milk – $2 to $2.50
Carton of Eggs – $2 to $3 depending on size
Doctor's visit – $120 to $130
Dentist's visit – $100
A good meal outside can start at $15, and the prices just keep getting higher as the quality of the restaurants and bars improves. The cost of gas is $3 per gallon, and your energy bill could come to around $200 to $220. A monthly TransPass with SEPTA's key card is $96.00
Overall, estimated monthly costs for a single person would be anywhere between $1,500 and $2,000.
Understanding Philly's Neighborhoods
The first, and biggest relocation tip, is to understand the city you'll be moving into. With 25 different neighborhoods, it's practically impossible to give you a snapshot of all of Philadelphia. However, we've jotted down some of the more well-known ones, so you can get an idea of what's where, along with the housing prices according to PhillyMag.
Northern Liberties
Northern Liberties has all the makings of what happens when art adds its pizzazz to the place. It was once a manufacturing district, but was revitalized by artists in the 1990s. Its cheap studio space attracted them like moths to a flame. Today, Northern Liberties is known to be a hipster, trendy neighborhood. This is further complemented by funky restaurants and bars, chic boutiques and art galleries. The Market-Frankford elevated train line runs right through.
Median single-family house value: $451,800
Median monthly rent: $1,903
Fishtown
Fishtown is rapidly becoming one of the popular up-and-coming localities in Philadelphia. Once the hub for commercial fishing, it is now a hub for art and music. It provides a bustling contrast to the rest of the city's grid layout with narrow, winding streets. These are lined with row homes, bars and restaurants, independently owned businesses and art + music venues. Fishtown sits to the north of Center City.
Median single-family house value: $280,000
Median monthly rent: $1,511
University City
It is mainly the students and young professionals that flock to University City in West Philadelphia. The academic hub of Philadelphia is home to Drexel University, the University of Pennsylvania, and the University of the Sciences. University City has lots of shopping and dining choices to pick from, as well as music venues, parks and a movie theater.
Median monthly rent: $2,000
Chestnut Hill
Chestnut Hill is expensive, but is great for families. With a lot of family-friendly things to see, loads of parks and playgrounds. It's also in proximity to Fairmount Park, which is also home to the zoo. With public and private schools, and a free library, this is a homely neighborhood.
Median single-family home value: $580,400
Median monthly rent: $2,217
The Gayborhood
Officially recognized by Philadelphia in 2007, the Gayborhood is located in the Washington Square West neighborhood. You'll find plenty of LGBT–friendly bars and clubs around the place. It is marked with several pride flags, including pride-colored crosswalks!
Median single-family home value: $965,000
Median monthly rent: $1,626
Also See: 7 Best Neighborhoods In Philadelphia For Families | Top 5 Neighborhoods in Philadelphia for Singles and Young Professionals
Relocation Tips
Relocating can be as nerve-wracking as it can be exciting. While the prospects of a new beginning are encouraging, the chaos that comes with it can be hard to deal with. Brief and to the point, our relocation tips should make the process easier on you.
Chalk out a budget: No matter how rough or how many times you need to do this, chalking out a budget will help you narrow down on a lot of things.

Keep commute time in mind: When scoping the area for a new place, try to calculate how long it will take you to get to work. We recommend visiting it in peak hour traffic so you know what to expect.

Familiarize yourself with the city: After the rush of the first few days, it's time to step out and get to know the city. Start small with a stroll around the neighborhood. Figure out the public transport before you start/resume work so you go in prepared.

Label everything: Label your boxes with either a number or color code, and write down their contents on a 'master list'. This way, you know which few boxes need to be tackled first in order or importance after you move.

Get rid of the junk: Moving houses can actually be a good time to get rid of all that old junk you've gathered over the years. There's no better time to quit being a hoarder! The fewer boxes, the easier the process.
See also: 1-800-GOT-JUNK Pricing & Review

Start early: Don't shrug off the packing and moving process – packing in a rush compromises on smart packing that saves you more space. You'll be stressed and hurried. Try to make a timeline of weeks and tasks to get done each week so you approach it as calmly and as organized as possible.

Pick your movers wisely: Whether down the block or across the country, picking the right movers can help you be as least stressed as possible, and also save you some money! Luckily, we're here just for that.
See also: Best Out of State Movers in the U.S.
FAQs about Moving to Philadelphia
What Do I Need To Know Before Moving To Philadelphia?
Philadelphia is the biggest city in Pennsylvania and has a rich history. Its Penn grid-system makes it easy to navigate the city and its neighborhoods, as does its fantastic public transportation system. Summers get hot and winters are snowy in Philly, but there's always loads to do no matter the season. It costs between $1,450 and $1,650 to rent a one-bedroom apartment in Philadelphia, and the estimated monthly cost of living here is between $1,500 and $2,000.
What Part Of Philly Is Ghetto?
Certain sections of North Philadelphia and Lower Northeast Philadelphia are known for their higher crime rates and drug markets. There's also certain neighborhoods like Tioga-Nicetown, Allegheny West, Strawberry Mansion and Hunting Park that suffer from poverty and high crime rates due to lack of investments and depreciation post industrialization.
Is 100k A Good Salary In Philadelphia?
The cost of living in Philadelphia is 17% higher than the national average; a family of four will spend around $3,643.75 a month on expenses, while a single person will need to spend around $1016.02. Considering that the average salary of Philadelphians is $69k, a salary of $100k is a good salary to live in comfort. This salary gives you enough capital to take care of your essential purchases, savings, and expenditure on entertainment.
Where Should I Not Live In Philadelphia?
Philadelphia has a fairly high crime rate, and certain areas of the city have more crime than others. Many of these unsafe neighborhoods are located in North Philadelphia, like Allegheny West, Tioga-Nicetown and Strawberry Mansion. These areas of North Philadelphia along with Lower Northeast Philadelphia make up what's known as the Philadelphia Badlands. Avoid these neighborhoods and stick to the many friendly ones for a good experience.
Is Philadelphia Safe To Live?
Philadelphia has a worrying crime rate; the violent crime comparison per 1,000 residents is 9.12, higher than the national median of 4. Your chances of becoming a victim of a violent crime is 1 in 110. While this is certainly cause for concern, remember that Philly is a big city getting bigger by the day. Plus, when compared to other cities its size, Philly is actually comparatively safe. There's plenty of safe neighborhoods as well. Stay away from the worrisome corners of the city and practice basic safety precautions for Philadelphia to be the perfect city to call home.
What Is The Middle Class In Philadelphia?
According to an analysis conducted by Pew, people are considered to be part of the middle class if their household income falls within a certain bracket, divided by family size and estimated taking into consideration the cost of living. An individual earning $25,676 – $77,028, a couple with a household income of $36,311 – $108,934 and a family of 4 with a household income of $51,352 – $154,055 in the state of Pennsylvania is considered to be middle class. In 2010, middle-class family income for Philadelphia (67% to 200% of regional median family income) was $51,974 to $155,147.
Where Is The Cheapest Place To Live In Philadelphia?
As a general rule, the closer you are to the city center, the more expensive it'll be. Living in the suburbs at the fringes of the city is quite cheap, and due to Philly's good transportation you can manage your daily commute without a car of your own. Upland is one of the most affordable neighborhoods in Philly while Milford Square is a great place for families to raise children while saving up on costs. These are accompanied by New Berlinville, Douglas Township and Chester.
Where Should I Live If I Work In Philadelphia?
This depends entirely on where your office is located and the kind of cost of living you can afford to undertake. There's jobs scattered throughout the city but take into consideration your daily commute. If you have your own car, make sure you're near the main arterial streets that run through Philly. Living in the suburbs of Philly is cheap, and the public transit system ensures no one is really isolated in the city.
Conclusion
Philadelphia happens to be a great place to live, and can become your next home if approached right. Affordable and enjoyable, it is quite the gem on the East Coast. With our help, you can handle moving to Philadelphia like a pro.
See also: Best Moving Companies in Philadelphia | Moving from Boston to Philadelphia