Moving to Portland | 2022 Cost of Living & Relocation Tips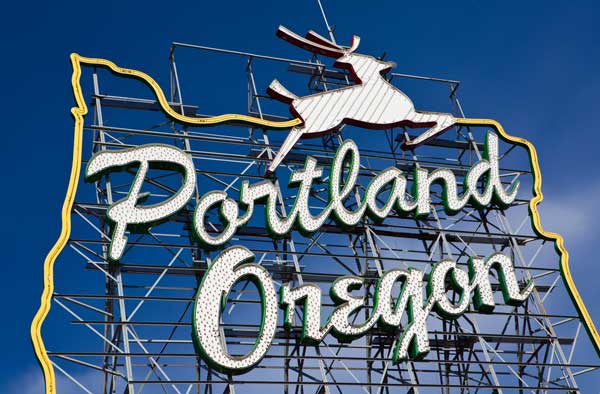 Everything You Need To Know When Moving To Portland, OR
Quite a large number of us might have thought about moving to another area at some point in our lives. While many people have considered moving abroad, most of them have traditionally focused on moving to a different state or city. There have been quite a few notable cities across the United States that have been quite popular to move to, for a variety of reasons.
Over the past few years, one city that's seen much of this has been Portland, Oregon, with this being because of several reasons. Prominent among these is that the city's economy is booming. With Portland quickly becoming a technology hub, there has been a wealth of new jobs created in the town in recent years.
This doesn't show any signs of slowing down, with the economy expected to grow quite significantly in the coming years. Coupled with this is the bustling social life that the area offers, which could be quite an attractive proposition for many people.
One of the last core reasons that many people have been flocking to the city is that it provides quite a large amount of scenic beauty. When added to the various amenities and other aspects of the town, this has made Portland one of the busier up-and-coming cities in the country.
However, this doesn't mean that anyone will be able to just up and move to Portland. Instead, there are a variety of factors that you'll need to consider before relocating. This is especially true if you plan on moving with your family. As such, it's highly recommended that you know as much as possible about the city before doing so.
Quite a large number of people might not know where to start with this research. Much of this could be because of how overwhelming it may seem. However, there are a few essential things that you should know before moving to Portland.
Facts About Living In Portland, OR
Naturally, there are quite a few things that you'll need to know before moving to Portland. Quite a significant amount of this could be focused on how much it will cost to live there, as well as what amenities it might offer.
The expenses that you should expect once you move to Portland could be somewhat higher than you might have anticipated. However, much of this could be tied to the various amenities that are on offer. Alongside this has been the economy, which has been going through a boom period. This typically means higher living expenses for most people in the city.
Despite this, there are a few areas that are much more affordable than you may have initially believed, which could be somewhat surprising. As such, this could balance out, especially when you compare it to many other bustling cities. Some of the more notable potential expenses that you should expect include:
Cost of Living: According to various studies, the cost of living in Portland is much higher than elsewhere. As the Best Places Cost Of Living Index highlights, the city ranks 147.8 based on a United States average of 100. This means that it's much more expensive than many other cities in the U.S.
Median Rent Prices: There's a large chance that you'll end up renting before you buy a place in Portland. As such, it's essential that you know the average rent prices in the city before moving there. The average rent for a one-bedroom apartment is $1,120, while this shoots up to $1,330 for a two-bedroom. While this might be a bit much for someone living by themselves, it could be manageable for someone living with a partner.
Average Household Income: The average household income across Portland is $53,230. However, this drops significantly for people living by themselves. With the economy in the city continuing to boom, however, it's expected that this will continue to improve in the coming years.
Utility Costs: This is a cost that's lower than many people may have anticipated, which makes it somewhat surprising. The average utility cost across Portland is $176.55 per month, with this being an approximate value for people living in a 915 sq ft apartment. Naturally, this will go up or down depending on the number of people you live with. This cost should include garbage, heating, electricity, water, and more.
Grocery Shopping Costs: While this will change drastically depending on your needs, there are a few notable averages for grocery shopping costs in Portland. Estimates suggest that it will cost approximately $3,573 for an adult over the course of a year. However, for a family of two adults and two children, this skyrockets to $10,529. Naturally, there will be a significant amount of leeway in this depending on you and your family's needs and where you shop, and much more.
It should also be noted that many of these are the average cost of living in Portland. As such, you could end up spending somewhat more or less, depending on your personal case. For example, if you're moving with a family, then you should expect that these expenses may typically be higher than what's mentioned above.
Tips For Relocating To Portland
If you're considering a move to Portland, then there's a large chance that you may want a few tips and tricks. While many of these will focus on the relocation itself, there are also a few things that you might want to know once you've moved.
There are quite a few obvious relocation tips that you might already be aware of. However, there are also a few things that you mightn't previously have known. As such, there are a few relocation tips that you should know.
The first of these is that it's recommended that you sell or donate as many of your belongings as you can before moving. This will cut down on all of the items that you'll be bringing with you, which should then reduce the overall costs involved in moving.
Alongside this, it could save you a significant amount of time and stress. Much of this will be seen in the hassle that you should avoid in packing and unpacking many of your belongings. Anything that you need once you're in Portland should be readily available, so there might not be any need to hold on to some belongings.
It could also be recommended that you change your address about a week or so before you move. While you'll naturally have to sort out accommodation in Portland first, this should be done as early as possible. This applies regardless of where you're moving to and could save you a significant amount of hassle.
The majority of this will be seen in making sure that you don't miss or lose any mail, as well as ensuring that you've everything set up properly. As such, you shouldn't need to worry about not getting any important mails. Alongside this, it's also worth canceling or updating any subscriptions early for much the same reason.
Another recommended tip, regardless of where you're moving to is to have one bag with all of your essentials in it. If you're moving with a family, then you might need a few of these, although you'll need to make sure that they're all clearly labeled. While there can be several reasons for this, there are a few that stand out more than others.
Perhaps the most notable is that you may be quite busy once you've moved to Portland. As a result, you might not have enough time to sort through all of your belongings in the first few days. This could mean that finding many of the things that you need might be difficult.
However, having all of these in one or two boxes could avoid all of this. By doing so, you should also be able to take your time unpacking the rest of your belongings without having to stress about finding something specific when you need it the most.
The Cost Of Moving To Portland
There can be quite a large amount of costs associated with moving to Portland. Quite a decent amount of this will focus on the moving costs themselves, which can often be much higher than you may have initially believed. However, this can often depend significantly on whether or not you use a moving company.
While these will typically be quite helpful when you're moving, then could cost more than you might have thought. Much of this will be related to how many belongings you'll be packing and taking with you during the move. As such, it's always recommended that you try to bring as little with you as possible.
Coupled with this will be the distance that you'll be moving. Typically, moving companies will charge much more if you're moving from one end of the country to another compared to moving across the city. This could have quite a significant impact on how much you might have to pay.
How much this will cost could vary from company to company. This could mean that it will be well worth getting a quote from several moving businesses before deciding on one.
Alternatively, you could rent a truck yourself and use this to move your belongings. While this is often much more cost-effective, it does mean that it will take much more time to do so. Should you choose this option, you'll need to think of some of the costs that may add up.
While gas for the journey is the most obvious of these, there may be a few others. For example, if the drive to Portland is expected to take a day or two, then you'll need to factor in somewhere to stay, food when you're on the trip, and much more.
Alongside all of the above will be the costs associated with getting an apartment or home, changing addresses, packing materials, and much more. While the deposit on somewhere to live shouldn't be too surprising, it's still something that you'll have to consider when doing so.
There may also be a variety of other unexpected fees associated with the move, such as updating banking details, and much more. This could mean that putting an exact price on how much moving to Portland will cost could be quite difficult. However, you should expect that it could cost several thousand dollars, especially once you've included a deposit on a house.
This will naturally be much more if you're buying a home in Portland while you're moving. However, many of these costs are somewhat similar to what you might have to pay when moving elsewhere.
Moving to Portland can offer quite a broad range of benefits, especially when it comes to potential jobs and all the amenities that it provides. As such, it's easy to see why many people have been flocking to the city in the last few years.
However, this doesn't mean that the move will be an easy one. By keeping the above in mind, you should be able to minimize the stress and hassle that's often involved in relocating.
See Also: 5 Best Neighborhoods in Portland OR for Singles and Young Professionals
FAQs about Moving to Portland
What Salary Do You Need To Live In Portland?
The average salary in Portland is $69k. Your salary will mainly go towards what is broadly the cost of living, which is 29% higher than the national average in Portland. For more context, a family of 4 will spend around $3,703.55 a month, while a single person will have monthly expenses of $1,043.25. You need a salary of around $69k, or enough for you to meet your monthly expenses to live comfortably in Portland.
Is Portland More Affordable Than Seattle?
Data shows that Portland is indeed more affordable than Seattle. The cost of living is around 29% higher than national averages in Portland, but is significantly higher at 49% over the national average in Seattle. Monthly expenses for a family of 4 in Seattle is around $4,255, while in Portland is $3,704. A single person in Seattle will spend around $1,186 a month on expenses, while one in Portland will spend $1,043.25. These differences are minor but noticeable.
What Is The Average Electric Bill In Portland Oregon?
The monthly bill for energy utilities of electricity, heating, water and garbage for a 915 square-foot apartment is approximately $174.97, and around $1300-$1600 a year. Overall, the average monthly residential electricity bill in Oregon is around $94.
Where Should I Not Live In Portland?
Portland has certain neighborhoods that are less safe than others, some of which are Parkrose, Hazelwood, Chinatown and Centennial. Avoid these areas, and if you're nearby, avoid going here in the night. Apart from this, choosing where to live depends on your job and daily commute. You don't want to have to walk a mile just to get onto public transport to reach work, and if you have your own car, make sure you live somewhere with parking.
Is Now A Good Time To Buy A House In Portland?
The housing market in Portland has constantly seen a rise in demand with no supply. This has led to expensive homes and high home values. The typical home value in Portland is currently $511,587, a figure that has seen a 10.6% raise over the past year. By the looks of it, the rates don't seem to be going down, so the best time to buy a house in Portland depends on you and your financial situation.
Why Is Portland So Popular?
Portland is a city with a distinctive vibe of its own, one that echoes a care for the environment, social responsibility, and also fun. Residents love beer and coffee as much as they love nature, and coupled with some more positives, Portland becomes a city that many are attracted to. According to a survey on the best cities to live in by U.S. News and World Report, Portland is the 6th best city for the year 2020-21. This survey compiles data that includes the employment and education quality, as well as cost of living.
See also: Portland OR: Suburbs Guide