7 Best Neighborhoods In Chicago For Families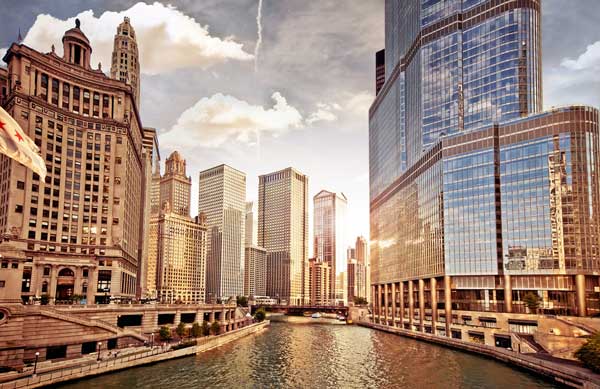 Also known as The Windy City, Chicago has a total population of close to three million, making it the third-most populous city in the US after New York City and Los Angeles. It's located on the banks of the stunning Lake Michigan in Cook County in northeastern Illinois. The freshwater lake is the most beautiful thing that you'll ever see. With a city of Chicago's size, you'll get everything from various places to work, places to live, huge skyscrapers, jaw-dropping landscape views, clean beaches, restaurants, cafes, and pubs to a rich history and culture.
A big reason why many people move to Chicago is that compared to the other major cities in the country, it's much more affordable to settle down. The city has a booming job market with opportunities available in every sector. The industries with the biggest number of job openings are publishing, manufacturing, financial services, and food processing. There are more than thirty Fortune 500 companies present in the city like Boeing, McDonald's Corporation, and Kraft Foods Group Inc. Also, there are plenty of public and private schools and top-notch universities everywhere. All of this definitely makes Chicago one of the best cities to live in with your family. Let's look at some of the best neighborhoods in Chicago where families seek residence every year.
Best Neighborhoods In Chicago For Families
Hyde Park
Right in the middle of the University of Chicago campus and the Museum of Science and Industry, you'll find the amazing neighborhood of Hyde Park with a population of close to 30,000. The uniqueness of Hyde Park lies in its awe-inspiring architecture that includes villas, beautiful mansions, rowhouses, workers' cottages, and Tudor and craftsman-style homes. This is an extremely affordable neighborhood and is considered among the best places in Chicago to raise a family. Apart from the renowned University of Chicago, the neighborhood has a huge number of excellent schools for your children like Ray Elementary School and the University of Chicago Laboratory Schools.
Near the famous 500-acre Jackson Park, the neighborhood is a highly diverse area in Chicago, the main reason for which is the University of Chicago. Hyde Park is also known for being home to former President Barack Obama. If you decide to go with Hyde Park, you'll get to enjoy some amazing public attractions like the Hyde Park Art Center, Frederick C. Robie House, and the DuSable Museum. The neighborhood is loaded with outstanding restaurants like Valois and The Promontory. In addition, there's a weekly farmers' market and community events like Hyde Park Holly-Day, Spring Hyde Park Garden Fair, and the Hyde Park Jazz Festival.
Median Home Value: $203,250
Monthly Rent: $1,588
Median Household Income: $37,404
Edison Park
Named after Thomas Edison, the biggest draw of Edison Park is its exceedingly low crime rate. Whenever people move from one place to another, safety is the top-most priority for them, especially for families. It's a tight-knit community with around 15,000 residents living and enjoying themselves together. Some of the regular community events are the Annual Irish Sunday Funday, Edison Park Restaurant Week, and Edison Park Fest. The neighborhood has got everything that you look for in your locality, whether it's the schools, family-owned restaurants, cafes, fashion stores, a golf course, and numerous parks. As far as housing is concerned, families have the luxury to choose from bungalows, condos, and single-family homes to Colonial-style homes with garages and yards.
The education options are great with plenty of public and private schools in Edison Park. A few of the high-quality schools include Edison Park Elementary School, Edison Elementary Regional Gifted Center, and Ebinger Elementary School. Also, the Chicago O'Hare International Airport is in close proximity to the neighborhood. Edison Park is an extremely peaceful area and always has a lot of entertainment options and activities for kids as well as adults.
Median Home Value: $352,500
Monthly Rent: $1,400
Median Household Income: $102,936
See Also: Chicago, IL: Surrounding Suburbs Guide
Beverly
Beverly is easily one of the best neighborhoods in Chicago to set up residence in, particularly for families. Anyone who is looking for a small-town feel in a big city with all the possible amenities must consider Beverly. Although the overall crime rate in Chicago is high, Beverly has a different story. It is safe to the extent that small kids can roam around on the streets and parks all by themselves. The real estate prices are on the higher side but there are a plethora of housing options available like Tudor and craftsman-style homes, luxurious mansions, and Frank Lloyd Wright houses. The amazing quality of life that the neighborhood offers justifies the slightly high cost of living. All the people in Beverly are kind and welcoming, so it won't take you long to forge friendships.
If you have kids and you're worried about their education, there's no reason to panic. Some of the well-ranked schools in Beverly are Morgan Park High School, Christ The King School, Beverly Montessori, Ridge Academy, St. Barnabas, and Kate Starr Kellogg Elementary School. There is no dearth of things when it comes to having a great time. You'll get to dine in restaurants like Kingston's Jerk Chicken, Franconello, and Beverly Bakery & Cafe. Also, there are two awesome breweries in the neighborhood called Open Outcry Brewing Company and Horse Thief Hollow. Since Beverly has Irish roots, you'll find a number of Irish pubs and events like the South Side Irish Parade. All in all, this neighborhood has enough activities for people of all kinds.
Median Home Value: $355,000
Monthly Rent: $1,488
Median Household Income: $54,640
See Also: Moving to Chicago
Streeterville
If you thought that all the desired neighborhoods in Chicago for families are located in the suburbs, you might want to consider Streeterville which is situated just next to the dreamy neighborhood called Magnificent Mile. Just north of the Downtown area, Streeterville borders the stunning Lake Michigan on the east and is among the most sought-after neighborhoods in the city for families as well as young professionals. Proximity to the lake means you'll get to enjoy the cool breeze during summers along with some mesmerizing views like the sunrise. You'll be exposed to a huge number of recreational activities and public attractions like Navy Pier (the most visited spot), Chicago Children's Museum, Polk Bros Park, Museum of Contemporary Art School, various restaurants, and splendid parks.
The housing options include mostly apartments in tall buildings and condos. Other services will be easily accessible to you like safe community playgrounds, underground parking, gyms, etc. You could often find yourself stuck in traffic or even with public transportation as the number of people in the neighborhood is huge (close to 34,000). Streeterville is served by various excellent schools, the best one being the Odgen International Public School. Apart from all the fancy restaurants and cafes, you can also spend time at Salvatore Ferragamo, Burberry, and Starbucks Reserve Roastery along Michigan Avenue.
Median Home Value: $465,000
Monthly Rent: $2,775
Median Household Income: $108,413
West Loop
West Loop has seen tremendous development in the last 20 years or so and today, it stands as the most upscale neighborhood in the entire city. It is surrounded by equally well-planned neighborhoods and is close to the Downtown region and the expressways. People living in West Loop have a lot of different options to choose from when it comes to housing. In fact, the neighborhood started gaining popularity when old warehouses were converted into luxury loft condos many years ago. The area is highly desirable for those who want to raise a family and is full of impressive streets and great public and private schools. A massive advantage that West Loop enjoys over most other Chicago neighborhoods is the fact that it has an extremely low crime rate. You won't have to worry about the safety of your children even if they are out on their own.
The neighborhood is served by a huge number of high-quality public schools like Noble, Chicago Virtual, Galileo, and Skinner West Elementary School. Bennett Day School and Chicago Grammer School are for you if you're looking for private schools. This is something interesting – you can become a member of Neighbors of West Loop or join a Facebook group called True West Loop in order to stay aware of the various community activities. The area is known for its out-of-the-world restaurants, some of which are Girl & The Goat and the burger joint Au Cheval. One of the most walkable neighborhoods in the city, West Loop has one downside – the green spaces are significantly less.
Median Home Value: $450,000
Monthly Rent: $2,427
Median Household Income: $121,982
Lincoln Park
Lincoln Park is located right in the middle of the North Branch Canal and the beautiful Lake Michigan in the northern part of the city. Home to around 75,000 residents, this neighborhood has a huge number of families, a lot of open spaces, and some of the top schools that Chicago boasts. If you aren't on a tight budget, this affluent neighborhood will be perfect for not just your kids, but also for your entire family. There are many kid-friendly places to visit and things to do like the museums, the North Avenue Beach, Lincoln Park Zoo, and the biggest park in the city called Lincoln Park. If you want to raise your kids in a neighborhood that is extremely walkable and has amazing recreational activities, there's no place better than Lincoln Park.
The neighborhood is known for its educational institutions, especially elementary schools. You'll have different options for schools like Abraham Lincoln Elementary, Francis W. Parker, British International, William H Prescott, Lincoln Park High School, and Alcott College Prep. As far as housing is concerned, there are vintage apartment buildings, beautiful brownstone and greystone homes, and condos with splendid views of the great Lake Michigan. There is no dearth of things to do with numerous restaurants, bars, clubs, boutiques, etc spread across this neighborhood.
Median Home Value: $604,000
Monthly Rent: $1,795
Median Household Income: $117,251
Logan Square
Logan Square has a population of around 85,858, a lot of whom are cool artists and musicians. Just north of Downtown Chicago, this neighborhood is surrounded by Kimball Avenue, California Avenue, Diversey Parkway, and Fullerton Avenue. One of the city's most diverse areas, Logan Square offers a beautiful blend of family-friendly amenities and a great nightlife scene. The only concern for the young families residing in this neighborhood is the continuously rising cost of living. But if you want to move in for a great experience, you'll have a few housing options like the traditional Chicago mansions and bungalows and regal greystone homes.
When it comes to the education of your children, there are many high-quality schools in Logan Square like Charles Darwin Elementary, Pulaski International, St. Sylvestors Elementary, Marine Leadership High School, and Kelvin Park High School. The trendy neighborhood also has a farmers' market, some amazing coffee shops, breweries, restaurants, and great public attractions like The Whistler, Lula Cafe, and Parson's Chicken and Fish.
Median Home Value: $460,000
Monthly Rent: $1,750
Median Household Income: $82,433
Things To Look Out For Before Deciding To Move To Chicago
The job market in Chicago is flourishing. There are numerous Fortune 500 companies in the city and people can find employment in any industry they want like healthcare, education, trade, transportation, auto manufacturing, biotech, information and technology, food manufacturing, financial services, etc.
It's a highly diverse city with different kinds of neighborhoods to choose from. Whether it's the amenities you're looking for or a house that fits in your budget, you're likely to easily find something in Chicago that best suits you.
Public transportation in Chicago is well-executed and taken care of. Plus, most neighborhoods score highly on the walkability test. Even if you don't own a car, there should be no problem.
Most of your time will be spent at the beautiful Lake Michigan. Get ready – all the beach lovers and watersports enthusiasts!
The overall crime rate in Chicago is high and worse than the national average. But there are a few neighborhoods that are relatively safe, so make sure to choose your residence wisely.
The tax rates and real estate prices are pretty high, which means the cost of living also increases. However, when compared to other major cities in the country like NYC, LA, or San Francisco, the cost of living in Chicago can be manageable.
You'll have to be extra cautious during winters since the weather gets severe in Chicago. But, you'll get to enjoy all four seasons, so make the most of it.
Also See: 5 Best Neighborhoods in Chicago for Singles and Young Professionals
Summing Up
The city of Chicago in Illinois is among the top cities in the US where people want to live and work. And that's not surprising since it provides a strong job market, top-class educational institutions, scenic beauty (courtesy Lake Michigan), a variety of houses, and great healthcare facilities. There are so many awesome neighborhoods for you to choose from that it's going to be a little difficult. But it's a nice problem to have! We sincerely hope that this article will play a role in shaping your final decision of selecting the best neighborhood in Chicago for your family. Good luck!
FAQs On Best Neighborhoods In Chicago For Families
Which Are The Most Affordable Neighborhoods In Chicago?
Some of the most affordable neighborhoods in Chicago are Tinley Park, Lansing, Richton Park, North Center, South Shore, Uptown, West Ridge, Oak Park, Monee, Midlothian, Round Lake Beach, Steger, Riverdale, and Park Forest.
Is Chicago Safe To Raise A Family?
Chicago has a violent and property crime rate of 9.69 and 25.49 per 1,000 residents, respectively. You might want to compare it with the national average which is 4 for violent crimes and 19 for property crimes. While some parts of the city are relatively safe, a few others might not be the best choice for families, so make your choice wisely.
What Is The Median Home Value In Chicago?
The median home price in Chicago is $312,489. There has been an increase of 9.2% in this rate from March 2021 to March 2022. The national average is above this as the median home price in the entire country is $337,560.
How Much Should A Person Earn In Order To Live Comfortably In Chicago?
The salary that's required to lead a comfortable life in Chicago in a one-bedroom apartment is approximately $51,000 a year. Always remember the thumb rule that you shouldn't be spending more than one-third of your salary on housing. This will help you plan your budget better.