Moving Budget Checklist – How to Make a Moving Budget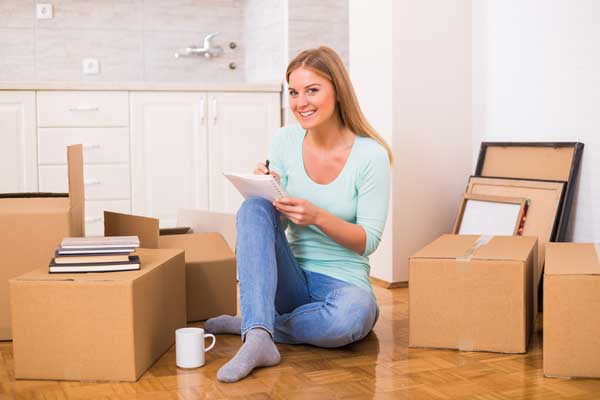 Moving can be expensive. Even if you're being transferred, and the company you work for is footing the bill, you may still have significant out of pocket expenses. That's why it's such a good to sit down well in advance of your move and compile a detailed moving budget checklist.
If you don't have much experience with the moving process, you might not even know where to begin. The line items that apply to you will depend on a lot of variables, like whether you are hiring a moving company or doing the job yourself, whether you have a big house full of furniture or a small apartment sparsely furnished, and how far you are going.
The following is a list of common expenses incurred by movers, both those who hire professionals and those who move themselves. Some of the most popular moving budget templates are also provided to help you get started.
If You're Hiring Professional Movers
Basic Moving Charge: If you're paying for the move yourself, it's a good idea to get several moving quotes to make sure you get the best possible price. The quotes you get should include labor and fuel. Your quote will vary according to how long the move takes and how big the crew is that moves you.
According to the American Moving and Storage Association, moving a household from one state to another costs an average of $4300 (1225 miles). Moving from one city to another within a state costs an average of $2300 (4 movers/$200 per hour). Both averages use 7400 pounds as their basis.
If you are moving locally you can figure it will cost you approximately $25 an hour per mover. This moving costs can vary depending on where in the country you live along with a number of other factors. Examples:
Efficiency apartment: $150-$250 for 2 movers working 3 – 5 hours
2 bedroom apartment: $375-$525 for 3 movers working 5 – 7 hours
3 bedroom apartment: $700-$1000 for 4 movers working 7 – 10 hours
Homes with 5000+ square feet: $1500 – $2000 and up
Extra Services: These are services that you request and that are not included in a basic quote. The movers will pack your belongings and provide the packing supplies for an additional fee. If you have specific packing requirements for appliances or fragile items like pianos and artwork, you will incur extra charges.
If you have a two or more story home, you may be charged a flight fee because the moving crew has to move furnishings up or down flights of stairs. You can also be charged a fee if the moving crew has to haul your belongings from your house to the van a more than normal distance. This can happen if you live in an apartment where parking is limited and the moving truck has to be parked some distance away.
Excessive Cargo: The more stuff you have the more it will cost you to move. If you have especially valuable items or large items, like a grand piano, that require extra care in packing, expect to pay more.
This is a good reason to go through your whole house and do away with anything you don't have any further use for. Donate everything that you can, have a yard sale and sell what has value, and toss the rest.
Insurance: You will get standard valuation coverage from your moving company. The federal government requires moving companies to offer you valuation options. This is not the same as insurance, however. The valuation coverage is the liability the company is willing to take on if your belongings are lost or damaged during the move. The standard moving policy will cover released protection value which is $0.60/pound for items, not full market value.
You can add full protection which gives you full coverage and repairs anything that breaks. It replaces broken items with like items or gives you full market value in cash. Full protection does not cover especially valuable items (those more than $100/pound).
You can opt for third party insurance which supplements valuation protection valuations, covers natural disasters, and will cover extraordinarily valuable items (over $100/pound).
Surcharges: Many moving companies will charge extra fees to move clients during peak periods, like weekends, holidays, and summer months. If you have some flexibility, consider moving during the off-season to save money.
Tipping: You should tip the moving crew if they do a good job. 5% of your total bill is appropriate and will be appreciated.
If You're Making a Do-It-Yourself Move
Truck Rental: You will probably need a truck if you have any amount of furniture at all. The size of the truck you need to rent will depend on how much furniture you have. How much the truck costs will depend on how far you are going and how long you need the truck.
Equipment Rental: You can rent the equipment you need to make your move, like dollies and padded moving blankets, from the truck rental company. It may be less expensive to rent the same equipment from a local hardware store if you are only moving a short distance.
Gas and Mileage: The truck rental company will require you to return the truck you rent with a certain amount of gas. You should factor this additional gas into your total fuel budget. You can estimate how much the gas is going to cost you by using the AAA gas cost calculator.
Other Moving Charges to Consider
Waste Container: If you have a large home and intend to discard a significant amount of items, you may need to rent a dumpster. The cost of the dumpster will depend on the size, the amount of time you are renting it, and how far the dumpster has to be hauled to your home and to the landfill.
Transportation: If you're driving the moving truck with your vehicle hitched behind, this cost will be minimal. If you're driving your vehicle across country to your new home, the cost may be significant. You should budget not only gas but mileage and wear and tear on the vehicle.
Food: There will be a time span between when your appliances are unplugged and packed and when they are unpacked and hooked up in your new home. During that time, you and your family still have to eat. Be sure to budget for meals for yourself and your family as well as any meals you provide for the moving crew.
Accommodations: Depending on how far you are moving, you may have to spend a night or more in a hotel, motel, bed and breakfast, or inn.
Vehicle Shipping: If you are moving a long distance, and have more than one vehicle, it may make sense to ship one or more of your vehicles. There are auto transport companies you can use that are often easier and cheaper than loading your vehicle onto the moving truck.
Storage Expenses
You may find that not everything fits in your new home. In that case, you will probably have to rent a storage unit. One of the easiest ways to determine what fits and what doesn't is to create a drawing of the new house with all the rooms and their dimensions. You can use that to decide how to configure the furniture.
Cost of Storage Unit: If you have extra items you don't want to get rid of, but don't have room for, you need to rent a storage unit. The cost will depend on the size of the unit. The storage company may require a security deposit that needs to be added to your budget.
Cost of Storage Container: An alternative to renting a storage unit is renting a storage container. Container companies will drop your container at your house and then pick it up and store if for you. Once you are ready to add the storage items to your new house, the company will deliver it to the new location.
Transportation: If you have to hire a truck to transport items to your storage unit, don't forget to add the cost to your budget. Even if you are transporting the items yourself or borrowing a truck from a friend, you may still incur extra expenses like gas and food.
Supplies: Add the cost of boxes and packing materials to the cost of storing your items. You may also need to purchase a lock.
Incidental Expenses
Child and Pet Care: If you have small children and pets it's a good idea to find a place for them to stay while the moving company is loading up your belongings. You risk pets and children getting lost or injured if you try to move with them underfoot. You will also need a place for them while you are moving into your new house. This will make the move much less stressful for everyone concerned.
Cleaning Services: Once everything is moved out of your house, it most likely will have to be thoroughly cleaned for the new family moving in. You will also want to clean your new home before the moving company gets there to unload. If you plan on doing these jobs yourself, budget supplies. If you are hiring professional cleaners, be sure to get several estimates so you don't overpay for the service.
Lost Wages: You will probably miss some work time during your move. If you aren't a salaried employee, you could be facing the loss of wages when you're absent from your workplace. Be sure to factor in the money you'll potentially lose during the move.
Moving In Expenses
Utilities: Utilities have to be turned off and on when you move. You will probably have to pay a security deposit, which could add up to several hundred dollars. In addition to electricity, you may be required to pay a deposit for cable and internet.
New Furnishings: Not everything is going to fit perfectly in your new home. You can probably get by with the living and dining room furniture, but if beds won't fit in the new bedrooms and washers and dryers won't fit in the laundry space, new furniture and appliances may be necessary.
If you have planned ahead and measured rooms before you arrive, you can solve this problem by budgeting for what you need and ordering it ahead of time.
Breakdown of Packing Supplies and Expenses
You probably won't be able to figure out exactly how much you will need in the way of supplies, but you can make a list of what will be needed. The list should include:
Packing boxes (You can dumpster dive for free ones or buy them at your local home supply store.)
Packing tape
Old newspapers, magazines, and other types of paper for packing
Labels and markers
Packing tape
Bubble wrap
Cardboard dividers
Moving Budget Templates
You can always manually create a budget list on a sheet of notepaper, but if you are computer literate, it's easier to use an app that allows you to keep the information online, share it with others if you need to, and amend it to suit your specific needs.
The following are some of the most popular moving budgeting apps around today.
Mint Budgeting
PocketGuard Budget
You Need a Budget
Goodbudget
Mvelopes
Moving doesn't have to be a nightmare or a traumatic experience. It requires preparation and planning to make it manageable. Creating a comprehensive moving budget checklist, and sticking to it, will go a long way to make the experience manageable and free of unpleasant surprises.