Is Moving During the Off-Season a Good Idea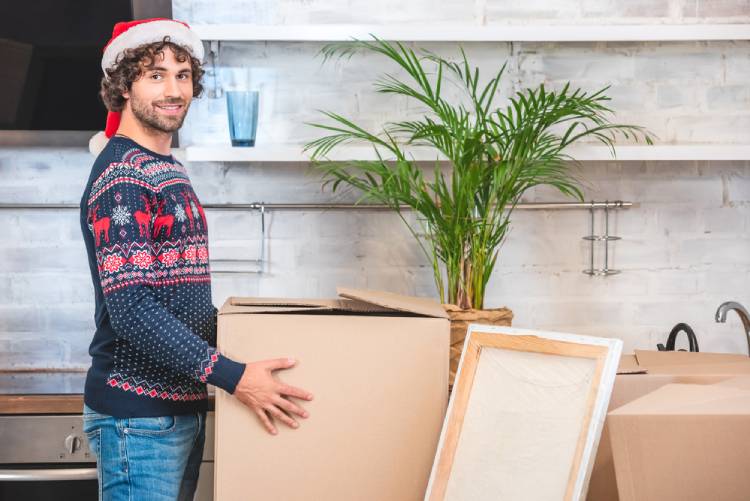 Starting from the month of October till the end of March is considered to be off-season for movers. This is when the industry chaos slows down and scheduling a moving company becomes much easier. Now that's something that shouldn't put people off, right? But it still isn't the preferred option for most families and individuals relocating.
By choice, a majority of people would rather wait out the winter than deal with the hassle of moving in snow. Now the dilemma is whether you should personally also not move during the off season like most people do or it is somewhat a good idea? We get that this is not an easy decision to take and there are several factors at play here, so let's look at the feasibility of moving in the off season.
What You Need To Know About Moving During The Off Season
The Weather is Unpredictable
Depending on the state you presently reside in, your winters might look completely different. If the region you live in receives light snow, no hailstorms, and you've rarely witnessed a full white Christmas, your movers will not have a difficult time on the road. Ideally, this makes moving during the off-season a better choice than having to deal with the scorching heat or sweating profusely.
But thanks to global warming we all know that the weather conditions have become super unpredictable in most states. This is why you'd have to constantly check the weather forecast and be flexible enough to change plans when the weather doesn't decide to cooperate.
So if there's a huge snowstorm on its way on the same day you set out to move, you'd know the weather doesn't want to play nice! You'll have no choice but to postpone the date. Sometimes it's not easy to take chances with the moving dates and in that case peak season is a safer bet.
See also: Moving During Holidays
Costs Are Low
Moving during the winter months is going to be considerably cheaper. Like we mentioned earlier, not everyone travels during the winter because of which there is less demand for moving companies. To lure in customers, movers come up with various schemes and strategies that would make that grand bill way lower than what it would look like in the peak season.
Be sure to scan for companies that offer the best discounts and deals before settling on a mover. Ultimately there is going to be less competition so you should play the cards in your favor and score a good quote.
Also Read: Best Time to Move
Your Movers Won't Be In A Hurry
A big upside of moving during the off season is knowing that your movers are in no hurry to rush your move. During the peak season, the most notable movers also end up making mistakes with belongings because the truck needs to be available for another house move on the same day. The summer heat and the number of homes to visit every day only makes things even worse for your mover.
At times your mover visits your home in a tired state and rushes the entire process so that they can attend to the next party. This is a scenario you don't need to worry about when you book in the off season. You tend to have the complete attention of your mover since they rarely have any other bookings. It's possible that your belongings will be much safer due to this aspect.
See also: Affordable Moving Companies in the US
Roads are Emptier
When you move during the peak season, everyone is on the road. Your rental truck would easily find itself stuck in bumper-to-bumper traffic. The main reason for this is that lease agreements are up, kids are on summer break and adults take a vacation, making it a convenient time to move homes.
During off seasons, there are fewer people moving and a countable set of rental trucks on the road, to an extent you get to have most of the road to yourself. But instead, you must be prepared to face delays if the road conditions are damaged due to the weather.
Also read: Moving Mistakes to Avoid
Disadvantages Of Moving During The Off Season
It Disturbs The School Year For Children
Moving house in the middle of a school year is not the most pleasant experience for kids. It's ideally best to give your child time to finish a year and then transfer them to a new school. If you have the option, make sure you're moving during the summer break.
The Real Estate Market Isn't At Its Peak
Most people purchase homes in the summer months and so the real estate market is not really at its most healthy state in the winter. You may have to sell your home for way less than you bought it because you couldn't find that potential buyer offering the best price for your house. But on the flip side, you may bag a great deal on the property of your dreams.
Cold Weather Makes It A More Risky Move
The potential for slip-ups to happen during the off season is slightly more because of the slippery driveway or a pathway could be. You have to be careful that you're hiring professionals who have worked in such conditions before or you're practically putting most of your boxes at risk. Ultimately this gives you less control over the quality of your move.
How To Prepare To Move During The Off Season
Tip 01 – Start Packing In Advance
The key to a successful move is starting the packing process at least 6-8 weeks before the moving date. Eliminate as much clutter as possible so that you're not paying a moving company to transfer things you don't need.
Tip 02 – Safeguard Your Electronics
At the time of packing, take extra care of your electronics, especially if the outdoor temperatures are very low. Appliances and electronics can get spoiled in extremely cold climates. Items like laptops or tablets must be kept warm in well-insulated cases.
Tip 03 – Be Prepared To Plow And Salt The Driveway
Even before the moving truck arrives at your location, make sure the path to your destination is clear of snow so that the truck can safely make it to your house. Also, keep salt ready to be thrown on icy sidewalks to make it less slippery to walk on.
Tip 04 – Start Moving Out Early In The Morning
Don't waste daylight and make hay while the sun shines. The earlier you start the sooner the truck will be loaded and on the road. Avoid scheduling the move at mid-day because you will lose plenty of precious quality time to haul the belongings into the truck. By starting early you'll be able to stay on top of everything.
Tip 05 – Wear Comfortable Clothes
If you're going to move in December, January, or February, make sure you're dressed for the cold. Sweater weather calls for chunky jackets, gloves, beanies, and good slip-proof boots that can withstand a harsh winter.
Tip 06 – Plan The Route Ahead Of Time
Chalk out the entire route you're going to take if you're driving yourself to your new home in a car. Find out more about the roads that are blocked or closed and figure alternate routes in advance so you're saving time when on the road. Also take your car for servicing and keep it prepped for the road trip.
Tip 07 – Set Up The Utilities Of Your New Home
For water, electricity, and internet make sure you call up respective utility providers days before the moving date to avoid walking into a cold and dark home. Especially if you're traveling with kids, make sure the internet is set up so you can have them sit and watch something as you prep up the bathroom and kitchen for the first night.
Also as you speak with your utility provider, request them to change everything from the previous owner's name to yours.
Tip 08 – Keep Hot Meals Ready
Keep yourself warm by having some hot meals. Run an errand for the ingredients needed to make a quick soup or hot drink so that you have the energy to handle the various tasks at hand. Pack these items in an essentials bag with all the other things deemed necessary for the first night in your new home.
Tip 09 – Consider Hiring Storage Container
A storage container is a weatherproof box that can be left for longer periods of time at your doorstep and is the perfect solution to unpredictable weather patterns. You can take your own time to pack the container at ground level. Once you finish loading it, the portable container will be ported to your new home. PODS, U-Pack, and Zippy Shell are some of the major companies that provide this service.
Tip 10 – Turn The Heat Off
On moving day, movers will be walking in and out of your home to haul your belongings one at a time on the truck. At this time it's best to keep the heat off to save costs on your energy bill. You can consider keeping just one room warm with an electric heater for that occasional break from the severe cold weather outside.
Ways To Save Costs Other Than Moving In The Off Season
One of the main reasons people choose to move in the off season is to cut down on the grand total estimated costs of moving. In case you can't afford to move during the off season, here are some other ways to save costs:
Evaluate And Reduce The Load
The lesser the load the lower the quote is going to be. At times we tend to hoard way more than required and this is why you must look at your move as the best opportunity to purge. Sell, donate, and recycle everything that you don't use and only take things that are absolutely necessary.
See also: How to Compare Moving Quotes
Pack Everything Yourself
There are various tutorials online as well as guides that can help you pack everything and anything you need. Instead of paying for the packing service, take the effort to pack everything you own by yourself. This way you are solely responsible for the manner in which you packed something that is precious to you and you also save a ton of cash.
Shop Around For Packing Supplies
You don't necessarily have to buy packing materials but at times you could find free boxes in good condition at various retail stores. You can also draft a very creative and compelling message on Facebook or other social media handles asking people you know to lend you materials they have for a lower rate. We suggest trying your luck for boxes at Facebook Marketplace and Craigslist.
Also Read: How To Find Free Packing Supplies
Use Amtrak
Did you know that you can ship a few of your boxes on Amtrak and then pick it up at the nearest railway station? This is another alternative and an inexpensive way to transport a few of your belongings that are taking up too much space on the rental truck. Keep in mind that there is no pick-up and drop service so you will personally need to drive to the station. Also, this only works if you're going to be living in close proximity to an Amtrak railway station.
Ask Your Mover For a Discount
Have you ever heard of the saying that if you never ask the answer will always be no? Well, the same idea applies here. Your mover may be ready to reduce cost but if you never ask, you'll think it's a no. We also recommend that you get estimates from at least 3 moving companies before confirming the one you want to go with. This way you'll be able to gauge the approximate costs and make sure you're not getting ripped off.
Final Thoughts
Moving during the off season is not that bad as it's made out to be. Barring the weather conditions, it could actually be a better time to move. You get to save money and there are fewer rental trucks on the road. Gauge the pros and cons we mentioned above, and you can make a decision on whether to move in the peak or off season.
FAQs
What Are The Busiest Months For Moving?
Most of the moves in the US take place in the summer months from April to the end of September. The weather is considerably pleasant, leases are up and students are on summer break, making it a convenient time for most people to move homes.
What Season Is The Best Time To Move?
Fall is considered to be the best time to move because you get to take advantage of better off season rates. It's also right before the winters take over several states in the US, so the weather won't be too harsh on your move.
What Is The Cheapest Month To Move?
Not many people move homes during the winter months and because of the low demand, moving companies offer great deals and special offers. If you want professional help but have budget constraints, your best bet is December, January, or February.
See also: Moving in the Rain