Moving During the Holidays – A Detailed Guide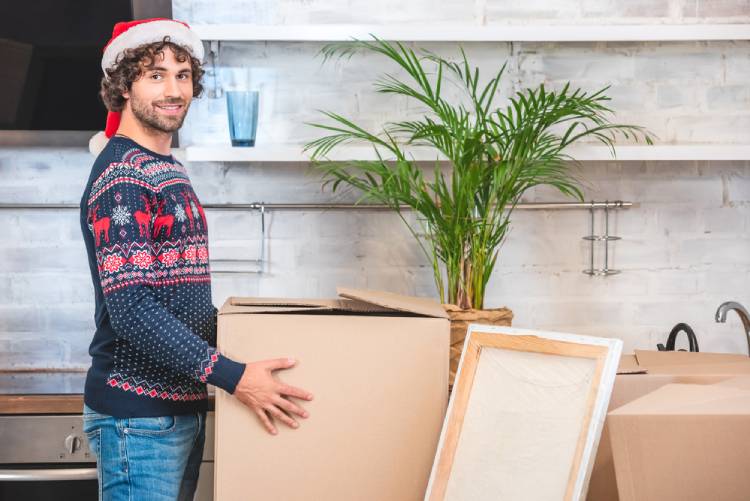 Many people consider holidays to be the most wonderful time of the year. But moving amidst the holiday hubbub could mean that you have to juggle too many things all at once. Between deciding what to pack, finding the right movers, keeping an eye on the budget, and finding the right presents, it's easy to feel like an overworked Christmas elf. However, the good news is that there are several ways to control how things should pan out for you just by staying well-prepared. To help you remain one step ahead of the game and ensure you're not fretting about the small stuff, we've got just the tips for moving during the holidays.
6 Tips For Moving During The Holidays
1. Carve Out A Plan
If you're going to be moving during the holidays, you have to be prepared to have double the amount of things to organize. You may find that you've blocked out your entire calendar with festive events and packing. However, the trick is to find a balance between the two. We recommend drawing a strict line for the amount of family visits and rituals you'll be able to host or attend. This way you can avoid feeling stressed out by both moving tasks and holiday rituals. If required, you could pencil out the days you have for festivities so you don't have to cancel celebrations altogether.
It's also completely normal to feel obligated to say yes to different holiday events. This could happen to you on more than one occasion. However, at times it's best to keep your moving interest at heart over the warm invitations. This way you prevent yourself from having too many things on your plate. Also, try to limit yourself as much as possible from making promises to friends and family that you know will be hard to keep.
Lastly, we suggest sticking to selecting ways of celebrating that are more doable and less demanding. Go for tried and tested dinner recipes and stores where you've always had luck finding the right gifts and supplies. This way, you save yourself from the mental gymnastics of deciding what to prepare for a family dinner or what to buy for your cousins.
2. Work On A Budget
Envision what you wish for your holiday budget to be like especially, since you'll already be shelling out a huge amount of money for the moving project. Plan ahead and only focus on things you'll really need to spend on. Remember that normal festivities demand not just your time but a lot of your money too. And you don't want to take this budget lightly. Setting a limit is crucial to avoid spurgling in the name of the holiday spirit. Even though most people tend to spend a fortune during holidays, you would want to cut things down a notch. In normal circumstances, it would probably be okay to not be this hard on yourself when it comes to the budget. However, you have to remind yourself that moving involves a lot of expenses. There's expenses associated with the cost of packing, buying supplies, hiring a truck, loading plus unloading charges and much more.
Also, since it's easy to lose track of where your money would be going, it's absolutely necessary to pick out designated areas where you would like to spend. You may feel obligated to give a gift, but a simple spreadsheet could help you keep track of whether you're overspending. Keep in mind that you could also make some extra cash by selling your clothes or well-kept items that you wouldn't be taking to your new home. Also, take advantage of shopping sales to keep your expenses budget-friendly.
3. Finish Administrative Visits In Advance
Post offices, banks, schools, county offices, motor vehicle administrative facilities are few of the places you'd probably need to visit during the moving process. However, it's only natural that most offices and staff take a break from their daily routine during the holidays. Hence, we'd suggest to pre-plan these visits well in advance so you're not left with your paperwork half done. This could actually be a hiccup that you can very much avoid only by spending some time to line up the visits in order of importance. Try to find out how business hours would change during holidays and adjust your schedule accordingly.
It's also possible that your landlord, doctor or boss may have gone abroad for a short trip during the holiday season. Walking into empty offices or disturbing someone who may want to remain out of touch during the holiday season may be counterproductive. So it's best to work out a way to request for transcripts, records, certificates or anything else to reach them via email or in person, way before the holiday season strikes. This way, you're eliminating any unnecessary stress from making its way into the holiday spirit for yourself and others. The holiday season is also a pretty sacred time for spending time away from an office desk, so ensure you've also taken your fair amount of leaves to prepare for packing.
4. Don't Do Everything By Yourself
This may sound obvious but give yourself the permission to ask family members, friends and neighbors for help. Although packing up boxes isn't as fun as putting up the ornaments and decoration, don't overburden yourself with all the tasks. A moving company could be your friend in need as well. Relieve yourself from the piles of things you'll need to complete by getting others onboard. Keep in mind that moving homes during the holiday season is not an easy task. And in case you can't commit to executing the move you visualized completely, we recommend having a plan B in place. This could mean reserving a storage unit in advance so you have the liberty to delay the task of unpacking. A storage unit could even help get you some more time in hand before you actually set up your home. Take a simple inventory of what you'd like to store so you know the size of the storage unit you'll require.
5. Send Out Festive Cards With Change Of Address
If you're going to be moving during the holidays, you get to send out seasons greetings cards along with your new address. If you wish to surprise friends and family members with the news, your christmas cards or holiday greeting wishes could do the work of making the big announcement. This way, you still get to enjoy the tradition of sending out well wishes cards, and you end up updating your loved one about your new address.
6. Book Flights In Advance
Ideally, it's best to book your flight tickets 62 days in advance during peak festive season. You'll want to book as early as possible to avoid losing out the flight you desire. By buying your tickets way too late, you could be paying too much and this could damage your moving budget.
3 Things To Consider When Moving During The Holidays
1. Weather Conditions
The weather can play a significant role during the holiday season and may be the sole factor that determines if you can move. There's a high chance that the climate is cold, snowy or below freezing during the holiday season. This applies especially if you're located in regions like the Midwest or the Northeast. Hence, it is necessary to keep a sharp eye on weather conditions, so that you can bundle up or postpone your move accordingly. You would also need to keep appropriate gear handy to clear the sidewalk and driveway when the truck arrives. Remember to also pack your essentials bag with warm clothes, sturdy boots, gloves and other layers of clothing. The weather makes things challenging, but on the plus side, rental rates could be significantly lower since not many people choose to move in the winters.
2. Traffic And Busy Roads
It's true that during the holidays, the roads tend to be way busier than usual. Hence, it's necessary to factor this in or things can take an unpleasant turn pretty quickly. To avoid being stuck in bumper to bumper traffic, we recommend avoiding any delays in leaving your home quickly. It's also absolutely essential to prepare for the drive by ensuring that the vehicle is serviced. If you would be renting out a truck, we suggest inspecting it for any damages before settling for the truck. Also, since you would probably be unfamiliar with driving a huge vehicle, try to leave home as early as possible, so you have most of the road to yourself.
3. Reserving Movers
Although summers are considered to be the peak moving season, the holidays aren't too far behind. Movers themselves encourage individuals to reserve services in advance, since they could be short on staff because of holiday commitments. Therefore, it's necessary to contact a moving company for quotes before the holiday season commences. We highly recommend scouting for quotes from a minimum of 3 moving companies so that you get yourself a good offer.
See also: List of Best Affordable Moving Companies in America
4 Advantages Of Moving During The Holidays
1. Low Prices and Less Competition
One of the biggest benefits of moving during the holiday season is that moving costs tend to be lowered. This is mainly because fewer people choose to move houses when the temperatures drop. It's no surprise that a huge percentage of people don't like dealing with shoveling snow and driving on icy roads. Which is why most moving companies tend to lure customers with off season rates. The opportunity to save on moving costs is probably a jolly reason to move during the holidays.
Con – Depending on the weather conditions of your state, the occurrence of snowstorms and blizzards could cause your move to be delayed. Also, driving a rental truck on roads covered with snow is a challenging task, especially when you have a truck full of your most valued possessions. The possibility of slipping with your belongings is also pretty risky. These are few of the downsides because of which people avoid moving in winters.
2. Rejoice In The Summer
The reward for enduring the struggles of moving in the holidays is the joy of having a nice warm summer to yourself. You get to experience the beautiful weather in your new home without having to worry about packing in the heat. If you spend winters indoors, unpacking could be a great activity to pass time and not seem like a burden. However, this comes down to your personal preferences.
3. Extra Hands To Help
Since most people have the opportunity to take leave during festive seasons, chances are you would have more support from family members. The holiday spirit could even work in your favour. Just the joy of having more people around to help babysit your kids or assist you with small tasks could reduce the load and stress of moving.
4. Clearance Sales
The holiday season is time for clearance sales, discounts and Black Friday deals. It's basically like hitting the jackpot when it comes to shopping. Clearance deals in particular are often a great way for you to take full advantage of renovating your new place with brand new furniture at a surprisingly low cost. It's also realistically much easier to purchase unique decor pieces, curtains and more, without burning a hole in your pocket. You can even go to the extent of blatantly asking for holiday discounts on services, so that you can strike a good deal on the items you wished to purchase.
2 Disadvantages Of Moving During The Holidays
1. Double The Amount Of Stress
The holidays are financially and emotionally stressful for a majority of people. And moving homes is also a big personal change where your emotions could wander all over the place. Therefore the combination and overlapping of both these events could seem unmanageable if you're not ready to take on the task. Not getting enough breaks from packing and festive tasks could lead to exhaustion of your overall well-being.
2. The Unpredictable Nature Of The Weather
If you're relocating to parts of the country that are cold during the holiday season, you may face quite a few challenges. Depending on the extreme nature of the weather, you may lose access to roadways to get your new home. When the snow begins to pile up, your moving truck runs the risk of getting stuck in the middle of nowhere. Snowstorms and blizzards are also things to watch out for while moving during the winter holiday season. Overall, the climate may or may not cooperate with you, so prepare yourself to be flexible about rescheduling.
---
Conclusion
To sum it up, moving during the holiday season may seem like a daunting task. But at the same time, you get to enjoy the benefits of paying relatively low moving costs. If you're running on a low budget, this could probably save you from paying exorbitant rates in the summer. However, keep in mind that you must be prepared to be flexible when it comes to facing all the challenges that come along with unpleasant weather conditions.
See also: Best Time to Move | What to Wear on Moving Day?
Then again, that's probably the flipside to saving a good sum of money. Maybe moving during the holidays is not the most convenient time, since office hours change and roads get clogged. But like we mentioned earlier, with the right amount of planning, you can stay organized enough to celebrate the holidays and the exciting milestone of a new house. With pumpy carols and festive songs to keep you company, things might not seem too bad.
Frequently Asked Questions
How do I move on holidays?
If you want to move during holidays, the first thing you need to do is plan your move beforehand. That involves planning a budget for yourself and booking your moving company. If it's a long distance trip, make sure you book your flight in advance. Don't forget to finish all your important legal work before you leave. Inform your friends and relatives about your new address in advance.
Do movers work on Christmas?
It depends on the moving company you're hiring as some moving companies do work on Christmas whereas others are closed. You can ask your moving company in advance and check if they work on Christmas. Christmas is one of the busiest times during the year when people travel and so it's better to avoid moving in that season.
Can you move house over Christmas?
Yes you can move your house over Christmas, just make sure you book your moving company well in advance. Since this is the season when a lot of people travel, you'll have to deal with traffic and because of that your moving expenses will be slightly higher than the average.
Should I move in December?
Yes you can move in December as your moving prices will be cheaper in winters compared to travelling in warmer months. Just make sure you check weather conditions and avoid moving to or from a place that experiences heavy snowfall.
What month is the best to move?
Summer can be considered as the best time of the year for moving as the schools are closed and you get to travel in nice warm weather. But moving in summer comes with slightly high moving expenses as a lot of people move in this season. If you want to save a few bucks on your moving expenses, you can move anytime in between mid September to April as the rates tend to slightly decrease during this time.
Is it better to move in December or January?
If you're planning to move in winters, December can be your best option as compared to January when moving companies increase their rates especially for New Year. You are more likely to get deals on your moving in December as compared to January.