15 Moving Mistakes to Avoid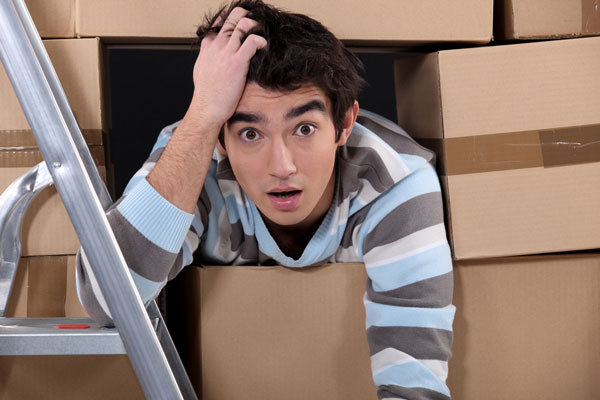 Moving can bring out the worst in us. From dropping a box of books on a foot to waiting for hours for a moving company to show up, relocation day is about as pleasant of a day as visiting the post office on tax day.
There are so many things that can go wrong with a move it is virtually impossible to escape from moving day, without at least a minor blemish smeared over your moving plans. However, you can make moving day easier to take by knowing about the moving mistakes to avoid.
Here is the long list of moving mistakes to avoid:
1. Lack of Moving Company Research
Just as with any trade business, you have to perform thorough research on any moving company that piques your interest. Start your research by accessing the web page devoted by the Better Business Bureau (BBB) to the mover. The BBB present customer feedback, including specific references to the shortcomings of a business. You should also refer to the BBB's rating for every moving company on your short list. A BBB rating of A+ means you have figuratively struck gold.
Any mover on your short list must be licensed by your state's Department of Transportation. You should also read the customer review left on sites such as Yelp and Google. You want to discover common themes like the level of customer service and the quality of equipment used by a moving company. The time it takes to perform moving company research goes a long way towards determining the success of relocating to another city. Here's a list of top 10 moving companies in USA for cross-country moving.
2. Failure to Network
Word of mouth advertising is alive and well. Despite the explosion of Internet resources for finding the right moving company, good old fashioned word of mouth advertising remains the most trusted option for hiring movers. Check with close family members first, and then branch out to talk with friends and professional peers. Some of the criterion you want to discuss include the willingness of the moving company staff to go the extra mile, as well as how a mover writes its moving contracts. Networking to find the right moving company will save you plenty of time and lower your stress level.
3. Procrastination is Contagious
Moving is a life event that fosters procrastination. Think about it. What would you rather do: Pack your stuff inside of boxes or take a long, relaxing walk through a city park? Moving certainly does not ramp up your motivation and in fact, it can become a daily rite of procrastination. Delaying the completion of one or more tasks on your moving to do list can lead to a frantic finish for your moving plans. Last minute attempts to land a pet moving service or putting off the request to forward your mail will cause you considerable anxiety and perhaps a lengthy delay for your moving plans.
4. Not Taking Measurements
You replaced the living room couch with a brand new couch that exudes comfort. The sofa easily fits through the door leading to the living room. Good for you, but you should be more concerned about whether the new sofa will fit through the door leading to your new living room. Forgetting to take measurements of rooms and doors is a common moving mistake that forces people to make drastic changes when it comes to placing furniture. Even if your new home is hundreds of miles way, you should take the time necessary to measure every open space to ensure your furniture layout plan works flawlessly.
5. Heavy Stuff in Large Boxes
It sounds more like a Saturday Night Live sketch, but you might be surprised to learn that far too many people put heavy items inside of large boxes. You want stuff that is heavy to take up the space provided by small boxes to give you a smaller area to steady your legs and place your arms around. Although you decided to go with the strongest cardboard moving boxes, placing heavy items inside of large boxes is a recipe for the boxes to rip apart. In addition, your back, legs, and shoulder will be vulnerable to strains and sprains.
6. Not Reading the Moving Contract
This is a major mistake, as not reviewing a moving contract can cost you hundreds of dollars. Less than ethical moving companies love to tuck hidden fees within moving contracts. Some of the hidden fees you should look out for include surcharges for extra cargo weight, as well as a penalty charge for traveling more miles than anticipated. Reading the fine print in a moving contract will help you avoid a common moving mistake.
7. Making Everything about Money
Moving is one of life's few events that should never be about pinching pennies to save a few bucks. Sure, it seems like a good financial strategy to rent a moving truck and/or recruit friends and family member to help with relocation. However, would you ask the same people to help you unclog the pipe leading from the bathroom. Unless you know a certified plumber, the answer is no. Hiring a moving company is much more than working with experienced professionals in the moving industry. It is also the best opportunity to cover your possessions fully with liability insurance.
On the Other Hand…
…you want to limit how much you spend on packing. Finding boxes to pack your stuff for relocation is as easy as taking the time to visit area businesses that leave empty packing boxes out by the dumpster. Businesses that leave boxes outdoors after unpacking inventory include restaurants, grocery stores, and electronic retailers. You can also inquire with the operator of office complexes where there is a central location for dumping the boxes left by businesses operating within the office complexes. Another way to save money on packing involves packing your own stuff. Packing is a costly add on expense many movers use to generate more revenue. Moreover, by packing your things, you take responsibility for the taking care of your stuff.
8. Forgetting to Take Inventory
You cannot simply pack your stuff and unload it at your new home. Even if you perform all of the packing, you need to make sure everything arrived from point A to point B in a timely manner. You accomplish this by taking a thorough inventory of your things before packing the first box. We do not mean every little thing, such as toothbrushes and toilet paper. You can buy smaller items on the fly. We are referring to every piece of artwork and furniture. Other personal items to inventory include recreational gear and equipment, as well as lawn and garden materials. Here's one helpful article about "Things People Forget to Pack When Moving", click here to read!
9. Not Labeling Bags and Boxes
What is the point of organizing the packing of your stuff, if you do not take the time to label each box and bag? Label your bags and boxes clearly by identifying your things within categories. For example, you should label a box containing your footwear with your name and the word "Shoes." Although using a sharpie is a form of labeling, you want to avoid the mistake of having to try to decipher ink that runs because of exposure to moisture. Use adhesive labels that will not come loose during relocation.
10. "Trust Us" Not Good Enough
You have probably dealt with shady businesses that like to say "Trust us. We've got this." Trust is something that is earned and if you are working with a mover for the first time, trust should be given after a successful move is made. Trusting a moving company too much can lead to missing possessions and the refusal to pay for the things damaged by moving company employees. This is another reason why you want to a detailed moving contract written for relocation.
11. Failing to Use Tax Breaks
Uncle Sam likes to provide financial incentives for moving. We do not know why Uncle Sam is so generous, but the fact remains you can take advantage of one or more tax breaks after you move. However, far too many people forget about the tax deductions, which can save you hundreds of dollars for large scale relocations. Before you move, check out the IRS website to determine whether you qualify for one or more relocation tax deductions.
See also: IRS Moving Deductions
12. Not Breaking Up Long Distance Moves
Yes, the urge is strong to complete a long distance move as quickly as possible. Actually, the time saving principle applies to moves of all lengths. It is just like a visit to the dentist; you just want to get it over with as soon as possible. Long distance moves that cover hundreds of miles should be performed over the course of at least two days. Trying to complete a long distance move all at once can lead to numerous mistakes that not only will cost you money, but also put you in harm's way. You want to be alert when you get behind the wheel of a vehicle. Do the right thing by spending at least one night at a hotel or even at the home of a friend or a family member. Professional long distance movers will always advice you to take breaks during the interstate relocation.
13. Showing Disrespect to the Moving Professionals
Disrespecting the moving team will cause tension that can hinder the completion of relocation. Instead of treating the professionals on the moving team as hired help, why not welcome them with open arms by offering refreshments or even offering encouragement. Making a good first impression matters if you want the moving company to go the extra miles during your move.
14. No Access to the Stuff You Need
Maybe you did such a good job of packing that you packed stuff you will need during relocation. Think about the empty feeling you will get when you cannot find your favorite toothbrush. Even worse, how will you feel when you need to access your Social Security card and it is nowhere to be found. The best way to avoid this moving mistake is to create a list of stuff to pack and unload at your new home and a list that contains everything you need to access during relocation.
15. Not Enough Bubble Wrap
When the time comes to pack fragile items such as vases, plates, and glassware, you realize you do not have enough bubble wrap to ensure the safe and secure delivery of your fragile stuff. Make sure you pack your fragile items first to have enough bubble wrap to protect delicate possessions. You can also order more bubble wrap than you think you will need to account for any under estimation of quantity needs. One last mistake to avoid, and we really should not have to mention it. Make sure to store explosive, flammable, and/or corrosive materials in a safe and secure location. Placing explosive, flammable, and/or corrosive materials inside of a moving truck is a violation of federal law, as well as a mistake that places you, your family, and the moving team in serious danger.
Update: Here's a recently published article about "Things not to do when hiring movers" https://9kilo.com/national-moving/things-not-to-do-when-hiring-movers
See also: Common Mistakes when Moving Nationwide