Things Not To Do When Hiring Movers


VanLines Inc
Secure Storage
Easy Booking Process
Fully Trained Employees
GET A QUOTE

Colonial Van Lines
Storage Services
Long-Distance Moves
Corporate Relocations
GET A QUOTE

Moving APT
Available Nationwide
Award-Winning Movers
Extensive Vetting Process
GET A QUOTE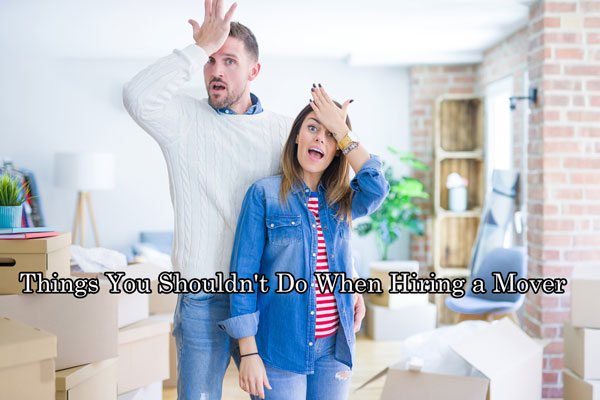 10 Things You Shouldn't Do When Hiring a Mover
If you are planning to move into a new home, hiring a moving company to help you carry out this move is incredibly important. When moving, it is always important to pick a good moving company that has positive reviews and which is operational in the areas that you are planning to move to. There are several lists and articles online to help you figure out exactly what to look for and what to consider when hiring a moving company, but most of the time and can be beneficial for your entire process. While these articles tend to tell you what you should do, they don't always let you in on what you shouldn't do. This often leads to scenarios that affect the ability of a person to have a smooth move, and can sometimes bring in unwanted tension during this transition to a new home.
In this article, we are going to go over some of the things that you shouldn't do when moving into a new home and hiring a moving company:
1. Not Getting A Variety Of Quotes
One of the biggest things that people tend to look at when trying to find a mover is the price. However, it is always important to take a look at the prices of multiple companies instead of just one. However, don't only look up their prices online. Most movers tend to have flexible prices depending on the kind of items that are being moved and the distance that they have to move it to. These prices can vary from one mover to another, which is why it becomes important to check with each of these movers before making your decision. The best approach for this is to call up each individual company and give them an estimate of the items that you will need to transport, as well as the starting and end destinations that they need to take it to. This s something that can be incredibly beneficial and can help you get the best deals for your move.
2. Not Asking The Movers To Visit Your Home Before The Move
Once you have selected a mover based on the quote that they have given you, it is important to ask them to visit your home before the move. Sometimes, you may need to pack up certain things with the help of the mover and would need to do some work to ensure that your items can be transported properly. Your mover needs to be prepared to carry out this work and should have the tools that they need it to do it well. Most of the time movers will have all the tools that they need to carry about every item within your home but it is always better to be sure just in case they don't. The best course of action that you can take when it comes to this is to call the movers one or two days prior to the move so that they can asses the things that you are planning to move.
3. Only Taking The Price Into Consideration
The price is usually one of the biggest factors that people take into consideration when trying to find a good mover for their move, but this shouldn't be the only factor you should look at when it comes to this decision. It is important to see different aspects of the business and understand the manner in which they operate. One of the first things you should be on the lookout for is the reviews that have been posted about the company. When going in for a mover, you always want a company that is well versed with this kind of work, and who are safe to leave your possessions with. The mover should also be familiar with the place that you are planning to move to and should have the right kind of transportation for the things that you are planning to move. You should also speak to a representative of the company to see how friendly they are and how easy they are to work with, especially because moving day can be rather stressful.
4. Not Clarifying Doubts
When getting ready for a move and hiring a mover, people always have doubts about the process and the movers that they are going to be hiring. When hiring a mover, it is always important to clear out all the doubts that you have and ask the mover all the necessary questions to help you have a better move. If you have any questions concerning the manner in which the company operates or the kind of pricing that they have, it is important to ask the company representative about it prior to your moving day so that you don't have to encounter any surprises in the middle of your move. The customer representatives of moving companies are generally familiar with some of the frequently asked questions that people tend to have and are always happy to clear up any doubts that you have. In fact, they prefer that you do this prior to the day that you are actually planning to move.
5. Not Being Familiar With The Entire Payment Structure
It goes without saying that the payment that one makes to the moving company is one of the major factors that impact a person's decision to go in for a company or not. Different companies tend to have different payment structures and different ratios of payment. No matter what company you plan to turn to, being familiar with their entire payment structure is important. This is also something that you should ask the company representative well before you actually move. This is because oftentimes, movers don't disclose all of the payments that one is required to make. This can often lead to situations where people have to pay additional amounts that they weren't familiar with, and which they didn't know they needed to pay. Always ask the company about all of the payments that you will be required to make, and specifically ask them if there are any additional amounts that you will have to pay over the quote that has been given to you.
6. Not Hiring A Licensed Company
If you search online for a moving company, you are bound to find hundreds of options to choose from with bases all over the country. The number for interstate moving companies might be less than those operating intrastate, but the options available are still enough to leave a person stumped about which one to choose. Opting for a good company should always be a priority, but the licenses that a company has is also incredibly important. One of the best ways to figure out if the company is operating within a grey area is to see the mode of payment that they are accepting. There are a good number of moving companies that claim to only accept payments in cash, thereby leaving no traces of these transactions. This is a red flag that you should immediately steer away from because of the repercussions that you can potentially face if you choose to go in for one of these moving companies.
7. Paying Before Unloading
Even the best moving companies can have those rare situations in which a person's goods get damaged through the course of the movie, and a person is, in some instances liable to be reimbursed for the goods that they have lost. However, it is important to check all of the goods properly when unloading your items to make sure that nothing has been damaged and nothing is destroyed in any way. While checking your goods is important, it is also important to not make any payments before unloading every item that you have carried along. There can also be instances in which the movers may have left behind a certain box or certain items, and it is important to make sure that every box that you loaded on has reached your end destination.
8. Leaving Valuables With Movers
Often, you may need to transport certain items that are incredibly high in value. Things like precious jewelry, expensive art and other kinds of high-value items are more prone to damage if not transported properly, and if they are not taken care of well during this time. It is generally advised that things like credit or debit cards, checkbooks, jewelry and other kinds of smaller high-value items should be kept with the individual to prevent any kind of loss and to make sure that it isn't left behind in any way. If you absolutely cannot carry them on you and need to send it in with the movers, make sure that it is packed well and kept in the safest manner possible. You can also note down the boxes that these items are in to make sure that they are safe and kept in a safer condition.
9. Not Managing Your Own Inventory List
The inventory is something that is incredibly important for anyone who is planning to move, and this is something that is often overlooked in spite of how beneficial it can be. You should always look to make an inventory of all the items that you need to move and should keep this list on you at all times through the course of your move. You can first start out by listing all the items into different groups. You can then note down which box number corresponds to the items. Don't forget to also mark the boxes to make it easier for you to identify what items are in each box. Often, people tend to leave the process of inventory management to the packers and movers, which can result in mix-ups and things getting left behind. It is important to take control of things on moving day, and making your own inventory and keeping track of everything that is going into the van for transportation is important.
Related Article: How to pack for a move?
10. Not Researching The Mover
Being aware of the kind of mover that you are hiring is important and something that you should pay attention to when trying to make a decision as to which moving company suits your needs the best. The best way to research the company you are thinking of choosing is to look up the reviews that the company has online. Most movers will list some reviews of clients who they have served, but the ones on the company itself will always be positive to boost the image of the company. In this instance, you should turn to sites that are independent of the company to see exactly what people are saying the experiences that they have had with the company that you are thinking of going in for. This can help you ensure that you get the best mover, and also have a smooth move to your new home.
See also: Tips for Hiring Quality Movers
Also Read: Most Difficult Things in Your Home to Move