How to Prepare for a Last-Minute Move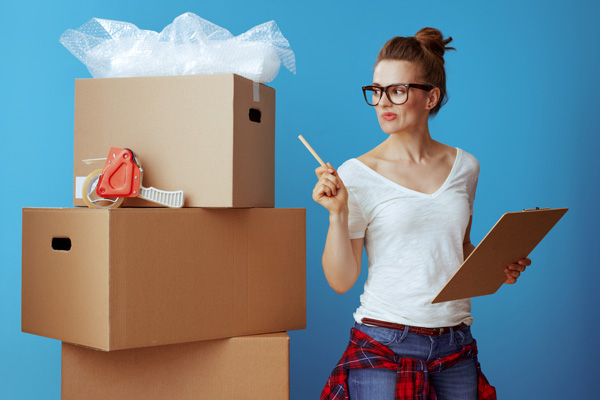 Moving under ideal conditions is a process that begins months in advance of the planned move. That is the deal in a perfect world.
Moving is often a process that gives little if any advance notice.
Think about moves that involve relocating because of professional reasons. Most employers react to personnel changes by moving employees to different locations. One day, an employee gives two weeks of notice for leaving the company. The next day, the employer informs an employee living in Chicago that she must plan for a move to Dallas in two weeks.
A last-minute move can also be on the table because of procrastination. Yes, putting off what needs to be done for a move is not as unusual as you might think. After all, who really wants to dive into the logistics of completing a move.
Whatever has put you behind the proverbial moving eight ball, we offer a few tips to make your last-minute relocation as easy to take as possible.
Mix Pain with Pleasure
No, we are not referring to the dropping of a heavy box on your foot. Pain is more of the pain in the…, well you know what we mean. Moving can be one of the most frustrating and aggravating events of life. Because of the pain and aggravation, many people put off completing essential moving tasks.
Procrastination
To limit procrastination during the planning and preparing for relocation, mix a little fun into your daily routine. Pack the glasses from the kitchen cupboards into a secure box, and then spend some time outdoors relaxing under the sun. Procrastination will increase the probability of you forgetting some important items to pack when relocating during the eleventh hour.
Create a to Do List
Moving is not one of those things that you want to wing it. The process of moving requires the development of a detailed and sequentially accurate list of things to do. By creating a moving to-do list, you define what needs to get done and in what order to complete each task. Just make sure to associate each moving task with a deadline date to give you the sense of urgency needed to complete your move on time.
For example, write down everything that needs to be packed and separate the packing part of your move into smaller and more manageable sub-tasks. Even a small sense of accomplishment can keep you motivated to continue down your relocation to-do list.
Logistics Matter
A last-minute move might make it seem virtually impossible to handle every logistical requirement. What do we mean about logistics? We are talking about receiving an accurate moving cost estimate, hiring the right moving company for your move, and buying every moving supply you need to pull off the eleventh hour relocation smoothly.
Many movers require customers to book reservations weeks in advance of a planned move. A last-minute move goes against the time constraints placed by most movers. If you need a moving company for the last-minute move, you might have to pay a premium for booking the reservation. Most employers take care of all the costs associated with employee relocation, including the higher costs of the last-minute move.
Downsize Your Stuff
Some of the things you need to do for preparing for the eleventh hour move are the same things you need to do for any move. One of the same tasks involves getting rid of some of your things. Moving cost estimates are usually based on cargo weight. The heavier your load, the more you can expect to pay for a move. To lighten the load, so to speak, you should get rid of the things you can do without.
See also: How to Downsize When Moving
You accomplish downsizing your possessions in two ways. The first way is to hold a yard or a garage sale as soon as possible after you learn about your last-minute move. This means you will not have the scheduling flexibility to hold a yard or a garage sale over the course of a weekend. You also might have enough time to promote the yard or garage sale. The second way to downsize your stuff is to donate it to a charity, such as Goodwill and the Salvation Army.
Time to Collect Moving Supplies
With your head spinning because the sands of time are running out on the preparation for the move, you might overlook one of the most critical tasks.
Moving Supplies
Even if you are pushed for time, you should take an inventory of your home or apartment to determine what you have on hand that you can use to pack your stuff. You can also negotiate terms of a moving contract to include the bundling of supply costs into the moving cost estimate. You will need to collect the following supplies in a short amount of time:
Boxes
Padding
Tape
Two-Wheel Dolly
Plastic Bags
Use a Moving Essential Bag
Moving in a hurry can cause considerable confusion, especially when it comes to locating the essential things you will need in transit to your new home. Before you start packing your stuff for the last-minute move, put aside a small suitcase or duffel bag for storing the stuff you will need during the move, as well as when you arrive at your new home. Some of the items that you can store in an essentials bag include toiletries, important documents, and electronic device chargers. Make sure to waterproof the crucial documents you need to access quickly.
Pack with Purpose
You have little if any time to spend planning how you want to pack your things. It is more important to ignore the organization required for other types of moves and concentrate on getting everything you want to take with you into boxes as quickly as possible. You still want to protect your fragile possessions, such as glasses and ceramic vases. However, things like clothes and recreational gear can go into boxes without hesitation. In fact, you should leave all of your hanging clothes on hangers and place the clothes in a section of the moving truck dedicated to loose clothing.
Here are a few tips on how to pack for a last-minute move:
Sort your things when you arrive at your new home
Use soft clothing to wrap fragile items
Label boxes using broad categories
Pack stuff going room by room
The last tip requires a little clarification. Since you are short of time, you should pack rooms one at a time. This will make the packing more time-efficient and give you the sense of accomplishment we talked about earlier of completing smaller tasks.
Have Plenty of Trash Bags on Hand
Although Murphy's Law is prevalent for almost any type of move, it is particularly relevant for last-minute relocation. One of the things that can go wrong and will go wrong involves running out of packing boxes. If you run out of packing boxes, there will be no time to collect some more. The answer to your packing box problem is trash bags. Trash bags work well for packing clothes and other items made with soft materials. Strong trash bags can handle the weight of carrying alarm clocks, electronic devices, and some of your kitchenware. Remember, time is of the essence, so you have to be creative in how you pack all of your stuff. Clear trash bags allow you to monitor the status of the stuff you pack within trash bags.
Delegate, Delegate, Delegate
Although completing a last-minute move requires a heroic effort, you do not have to play the hero by trying to do everything yourself. Moving of any kind is a difficult task made much more difficult when someone tries to do everything. Yes, you have little time to prepare for the last-minute move, but you should enlist the help of friends and family members to delegate some of the responsibilities associated with moving. Time-consuming tasks such as packing items in the kitchen cabinet should be assigned to someone else. Just make sure to assign tasks that will be handled by the right people. For example, you can have a friend experienced in handling electronic devices carefully pack your desktop computer components.
See also: How to Pack for a Move Quickly
Hiring a Mover is a Must
Getting a certified moving company on board in a short amount of time can be tough to do, but you should make hiring a professional mover a priority. With your time-strapped moving schedule, having a team of professional movers helps with relocation will speed up the moving process. This is a critical tip to implement when your moving date is a few days away. You can take care of some of the things on your moving to-do list, but when moving day fast approaches, you should consider handing over some of moving tasks to licensed and bonded professionals. If you are planning to move out-of-state, then this list of top-rated out of state movers will be helpful. This list of best out of state moving companies is carefully curated by moving and relocation experts at 9Kilo.com
Completing the last-minute move will generate a significant amount of stress and anxiety. Alleviate the stress caused by constant worrying, as well as the limit of time, by following a few tips that will help you learn how to prepare for the last-minute move.