How to Pack For a Move Quickly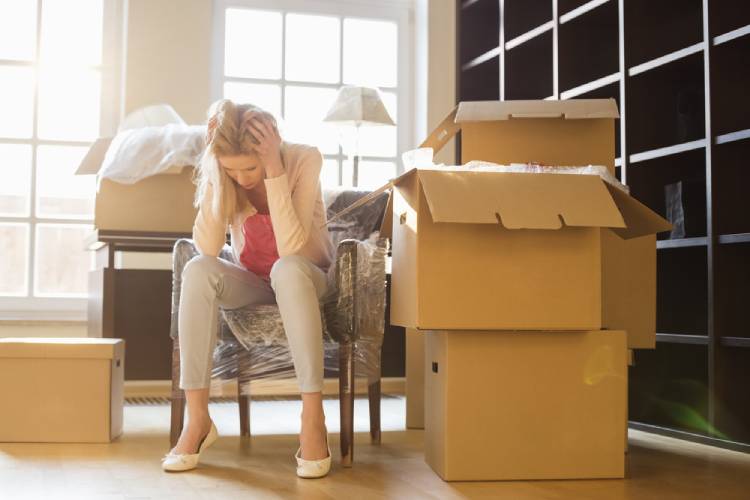 The stress with any move is inevitable and unavoidable, but it is so much worse when having to pack quickly. Whatever circumstance led you to pack for a move quickly, it may not be a welcome task. After all, your life will suddenly boil down to numbers and boxes, and you'll have to make some unpleasant decisions of leaving some things behind. Not panicking is easier said than done, but if you read through our guide on how to pack for a move quickly, the panic will definitely be replaced with calm, guided action.
Here's How To Pack Quickly For A Move
1) Acceptance: Understand that you have a limited amount of time on your hands, and you can't waste it by simply sitting by and stressing out. Accept that though the time is limited, it is still enough time to get things in order. When push comes to shove, we get down to the grind and get things done. Change that mindset from a passive worrier to an active do-er and get moving!
2) Essentials first: Before you get into a tizzy, head to the cupboard/safe that has all your important documents. These can include bank documents, cheque books, identity cards, and any such items of importance. Place them in a backpack and keep the backpack in a secure space that won't be turned inside out with the chaos of the move. Wear it at all times when the move is happening.
Read What to Pack First When Moving
3) Helping hands: Time to call in those favours and rally the family – you'll need the help! We recommend involving people who you trust and who you know are reliable. Avoid calling too many people, resulting in confusion and chaos that a crowd is bound to add.
4) Choose a moving company: How to choose a reliable moving company is tricky, and there's always a few do's and don'ts to keep in mind. In the rush of your limited time, these are not to be ignored. Rather, do your homework and pick a reliable moving company wisely. Quickly read up on how to pick a good moving company, or simply contact us for some quick service. Whatever you do, don't just run a Google search and hurriedly pick the first name you see.
5) Narrow it down: Now that two main essentials are out of the way, you can get down to the packing. Before you start to dump things into suitcases and bags, you have to narrow it all down to the items you'll be carrying and those that you won't. Clear out a space in a room to make this easier. Then, look at every item in the house. Consider the following when deciding if it stays or goes to make the process easier.
Consider sentimentality: You may want to hold on to things that have sentimental value. However, be stern with yourself and avoid getting carried away before you find that everything has some sentimental value or the other. This just brings you back to square one.
Consider its condition: Is the item in question old, worn down, soon to be replaced or can be easily replaced? If so, it needs to be left behind.
Consider when you last used it: If you haven't used it or worn it in the past six months to a year, it needs to stay behind. This applies to appliances, dishes and clothes.
As you're going through everything, sort them into bundles – to give away, to throw out, to pack, and essentials. Your essentials are items like your phone charger, laptop and its charger, important medicines and anti-allergens, and so on. Get a friend to drop off the items to be given away at one of the many donation centers.
5 Charities for Donation Pick Up
There are several centers that take in furniture, clothes, dishes, household appliances and more. This way, you get to help someone needy despite the chaos of your situation. Alternatively, you can also have them dropped off at a recycling center and tell your friends to head there to take their pick of the items.
1800-GOT-JUNK Review and Pricing
6) Make a list: Yes, you're in a terrible hurry and sitting down to make a list seems like a waste of time. But, having a to-do list is known to bring a sense of organization and control, whether it is in your day-to-day life or when tackling a task such as this. It is far from a waste of time, and will help you approach the packing in an orderly manner. List down the rooms in your house, break each up into smaller packing goals i.e what item in the room gets packed first.
Whether it is an overall checklist of things to get done (more packing boxes, inventory all items) or a list of more detail, jotting things down on a secure pad and keeping it accessible or on you will certainly help.
7) Find out what you can't pack: Every moving company has certain items that they will not shift. Make sure you get a list of these items. This way, you avoid wasting time and resources in packing up items that you'll be forced to leave behind on the last day.
8) Packing material: A well-known and easy way to cut corners on those moving costs is to try for free boxes and packing material from local businesses, family members and people who have recently shifted. However, unless you are absolutely sure of this option, we recommend not exploring it. Instead, shut a blind eye to the costs you'll incur and choose the secure option of purchasing boxes and packaging material instead.
You save on time; the boxes are new which means you won't waste time checking to see if they're dirty, or reinforcing their bases to make them sturdy enough for your items. Plus you always run the risk of accidents when using older, previously used boxes and material. The last thing you want is a hindrance of a box coming apart, or moving to your new home only to find half your items damaged due to old bubble wrap.
In addition to these more obvious items, stock up on some sturdy notepads and permanent markers. You don't want to be bang in the middle of things just to face a frustrating problem like your pen running out of ink. If you have a hard time acquiring bubble wrap, get a hold of wrapping paper and newspapers – they are also padding materials to ensure your belongings don't clank against each other in their boxes.
9) Create an inventory: Creating an inventory of the items you'll be moving is an important step that must not be overlooked. But instead of running around with pens and papers yourself, designate this to whoever is your second in command. If you'd rather see it done yourself, dictate items out while someone quickly jots it down. Remember, time is of the essence and efficiency is the need of the hour.
Alternatively, you can make the use of modern technology – take a photograph of the items instead. Click at the box's contents before they are sealed, and either get a printout of the photo to stick to the box, or write a number on the box that corresponds to the number of the photograph. Make sure there's enough brightness to see it all and that your photo is clear. Once this is done, ensure you write important instructions that pertain to the items in the box on the outside in clear writing with a marker (eg. Handle with care, Fragile items).
10) Code the boxes: This isn't so much to help you move as much as it is to help you unpack. After the harrowing rush of moving quickly, you want to be able to unpack and settle down into your new normal with relative ease. Coding your boxes can help with that. This simply involves marking the boxes according to their contents and importance. For example, use a green marker on all boxes packed with the kitchen items. Alternatively, write a big K on the side of the box. Just make sure you remember what color/alphabet stands for what so there's no later confusion.
How to Label Boxes for Moving?
In addition to this, label the boxes packed with essentials/important items that have to be unpacked first. This saves you the confusion of ripping open every box in the new house, desperately looking for everything you need immediately. Or even worse, realising that the things you need for your first two days are in the truck, scheduled to arrive in 3 days. Doing this ensures you have all your necessary things around you and you can open the other, less important boxes in a more relaxed manner.
Getting Down To Business
Now that you have all your preparation in place, it's time to tackle the actual task of packing everything. But follow our guide and stick by your written schedule and you'll do just fine.
Which Room To Tackle First
As with most tasks, your energy level and determination to get it done is highest at the start. This is why we recommend starting to pack with the toughest room. Follow our order of rooms and take it from here.
Start with the garage, basement or the attic – storage rooms with tons of different stuff, usually a bit of a challenge to pack.
After you tackle that, you can move to rooms like the library, the study, and the guest room – ones that are not used as often as the other.
Then, tackle the laundry room and the living room.
All of these should get done within 1 day. If you still have time to spare, pack up the closet. If not, do it first thing the next morning.
Move to your bedroom and your kids' bedroom if there is one. Remember to keep a spare set of clothes to be used, but pack everything else up as neatly as possible, including footwear and jewellery.
Pack up any sports equipment, decorative items, office supplies, books, and other oddities lying around the house.
Run a vacuum and clean your furniture and appliances that you intend on carrying with you to your new home. If there's any furniture that can be disabled, do it and safely pack the parts together in preparation for the move.
All of these should take a day. If you find tasks spilling over and generally seeming chaotic, take a look at your to-do list/schedule and re-work it to match your current position. Keep a constant eye on the deadline.
Lastly, pack up the remaining rooms; these should be all rooms filed with essentials. Start off with the bathroom, remember to leave behind small things that can be easily replaced! You can also use these for your last night in.
Pack up all the items in the kitchen, making sure that the appliances are safely packed in and can't break on the way.
Unhook all electronic devices and pack them up. Keep one laptop and charger, and your cell phone charger on hand. Alternatively, keep a filled portable charger with you.
Walk through every room in the house, check to see if you've accidentally missed out things lying right under your nose. Watch out for rugs, curtains, pictures hanging on walls, wall clocks.
Disassemble all the furniture which has that option.
Make sure you still have all your important documents tucked into a backpack, and your survival kit with you.
Additional Packing Tips
Packing with such limited time is strenuous, and all your time will be spent packing up. In a situation like this, you need all the help you can get. We've listed down additional packing tips that are sure to help a bunch. In an hour where you have less time to think, read through lists like this. Pick from the ones you need and get going.
Set the atmosphere: When you're packing in a hurry, your stress levels are bound to be skyrocketing. You'll be snappy, barking orders at everyone around. In a situation where stress can actually get you even more worked up, you need to give yourself some positivity. Grab a hold of a bluetooth speaker and put on some music. You may constantly need your phone to make calls or take photographs to inventory things so ideally attach it to something else.
Your friends or family are around helping you out – crack a few jokes and sing loudly to the songs playing. Aside from the chaos, you can make this something that you remember for a long time to come, and breaking a sweat with the people you love is a great way to bond with them, deepening your relationship even further. When you're all done and ready for the packers, give yourselves a break from the chaos and step out for some dinner. Just make sure to save the alcohol for after you've moved into the new home!
Be all packed when the movers arrive: No matter how small it is, do not leave anything unpacked. Avoid letting any packing work spill over onto the day the movers arrive. This way you are not only physically present, but also metally prepared. Free from the worry of the 'how to pack' question, your mind will be clear and focused. Leaving things for the last minute means you are running around trying to get things done while the movers are trying to do their jobs, creating more confusion and causing you to get unnecessarily worked up.
Keep your phone on you but only use it when the need arises. Ensure you're not the only person in the house when they arrive – grab a hold of someone and make them your second in command, and brief them on any important instructions, like which boxes go in first and so on.
Keep drawer contents intact: This tip is great for any moving situation, but especially useful when you're in a fix. Instead of painstakingly emptying out all the paraphernalia, wrapping each individual item and placing it in boxes, just keep them in the drawer itself. This saves you loads of time, packing material and boxes, as well as the time it'll take to unpack. Just ensure that the furniture piece doesn't become too heavy and weighted to carry and there are no fragile and easily breakable items. Pack it up with packing material so the items don't shift around, and firmly secure the drawer shut so it doesn't accidentally open.
How to Pack Pictures and Mirrors for Moving?
Keep clothes intact: You can also leave your clothes intact in the wardrobe by fastening sturdy garbage bags around them. Place them with their hangers into bags if that also helps.
Use old clothes as packing material: Running short of packing material? Or worried your more important items won't have as much left for them? Grab hold of all those old clothes that survived the 'donation' pile. This includes 'home wear', you know the type – those old tees that are too comfy to give away. Use these as padding between items wherever you find the need.
Give yourself breaks: Your body will be charged up on adrenaline and your mind will plague you for every minute 'wasted'. But this is an important step. The only way the move won't happen is if you burn out right in the middle of it. You are responsible for yourself above everything else after all, so make sure you give yourself some much-needed breaks. Ideally take a short break after you pack one room. Sit yourself down, preferably near a window, so you get some fresh air. Take a few minutes to gather yourself, hydrate with plenty of water, and snack on something, preferably an energy bar.
Try to get a good night's rest every night, especially the night before the move. Do not sacrifice meals for the sake of the packing. If the situation is dire, leave someone to pack while you take a meal break. Stop when you feel overwhelmed, and don't be afraid to ask for support when you need it, whether it is with a quick pep talk or a hug.
Get someone to watch the kids and the pets: The last thing you need is to have kids and pets running around and adding to the confusion. If your kids are old enough, you can keep them around to help out with the packing, especially when it comes to packing their own clothes and toys. But if not, just ask a friend or a parent and leave the kids and pets over at theirs for the day. This will reduce the confusion that they can unknowingly bring to the situation and also keep them away from any potential harm. Also, this is especially important for pets; the sudden upturning may startle them. They may seek shelter behind one of the many heavy boxes or run off in the confusion. Make sure they're out of harm's way.
Don't overstuff boxes: The stress of not having enough boxes is a real thing. But whatever you do, please don't overstuff boxes. You may pack it up and seal it as tight as you possibly can, but it could always tear open from the sides or the bottom. You also risk damaging your items in this way.
Don't sacrifice safety for speed: Hurriedly packing things sure gets it done faster, but the job will be shabbily done. Carelessly wrapping tape around bubble wrapped items and chucking them into the first box you see means you'll likely meet with a nasty surprise when the boxes are opened. Seeing your things broken when you're unpacking is a major mood and mental peace damper! Make sure everything is securely packed, even if it means taking the time to ensure it is.
Make use of suitcases: You're bound to be transporting suitcases, so why not use them? Pile things into your suitcases; we recommend books. A box full of books is ridiculously heavy to carry and the lack of a grip makes it even worse. The wheelies on your suitcase will help a ton with this. It offers easy mobility; just make sure that it isn't packed up a little too much and isn't too heavy. Alternatively, you can also pack up precious, fragile items in a suitcase – after the usual bubble wrap, wrap a blanket or sheet around it and cushion it between more sheets.
How to Pack a Suitcase for a Relocation?
Make sure it is neatly and securely tucked in with no wiggle room. More importantly, remember that there is something fragile there so you won't yank out the sheets when unpacking. Write a note and place it right on top of the sheets so it's the first thing you see when you open the suitcase.
Use adhesive paper/masking tape: There are alternatives to opt for if you'd rather avoid writing directly on the side of the box with a marker. An easy way to mark your boxes is to get printouts of all your labels on adhesive paper and just stick them onto the box. Or, you can use masking tape – its paper-like covering means you can easily write on it with markers and stick it onto the box. Above all else, remember this – no matter how much or how little time you have, it is always enough to slow down and progress through the problem in an organized manner. Finding the right kind of mover will ease all your worries on moving day. Thankfully, that's where we come in. Let us help you hire the best movers, read and follow all the steps above, and before you know it, the move will be done!