How to Pack a Suitcase for a Move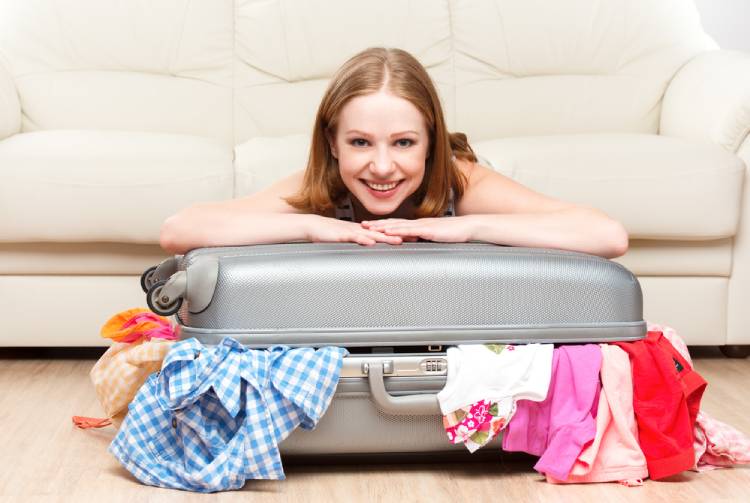 Knowing how to pack a suitcase for a move is as good as possessing the superpower of space management. The superpower which involves knowing the right way to pack. Understand that you need to factor in the size, shape, make, longevity and immediate importance of each item, among other things. Once you sort that out, it becomes easier to plan what goes in the cardboard box and what should be kept inside the suitcase.
Items like clothes, toiletries and medication, are the essentials. Ones which you would have immediate use for. So they should be kept inside a suitcase. You need them to be easily accessible. At the same time, you have to identify other essentials. You can't fit everything inside your suitcase. And it can be difficult to track your things with so many boxes to look into. This is where the importance of labeling your boxes comes into play.
You've got to plan and strategize how you pack a suitcase and how you pack the boxes. What you put inside both is equally important. Make sure you create clear categories of your belongings. Put each category of items together in one box. For example, cutleries in one box, household electronics in the other, etc. Also, don't forget bubble wrap is your best friend when packing. Not just to entertain you, but also to safeguard your belongings.
If you plan in advance, you won't have to dump everything in the 11th hour. Nobody likes wrinkled clothes, torn packets of medication or damaged goods in general. Especially when it's our own. So don't ever go berserk and just stuff as much as you can. You need a plan. Think of it as a rescue operation where you need to safely carry your troops to the extraction point.
Follow our methods and instructions on how to pack a suitcase for a move, without having to worry about your belongings.
11 Things to remember when packing for a move
1. The condition of your suitcase
Are the zippers functioning smoothly? Does the suitcase have cuts and holes? Is it strong enough to hold your belongings? If the answer to these questions are yes, your suitcase is ready for duty! There's no harm in double checking your suitcase thoroughly for seams and stitches coming off. Last thing you want is to be in a pickle, because your suitcase got too darn old and weak sitting in the attic.
2. Type of suitcase to use
For space purposes, a soft sided one works best. For durability, a hard shell luggage would be better. If you're moving to a longer distance, expecting a few bumps on the road or if the moving won't happen in the most ideal space or vehicle, you should certainly use a hard shell luggage. If you're not moving away anyplace too far, the type of suitcase won't make a huge difference.
Sure, soft sided suitcases are a bit more flexible. So you could argue that it helps stuff more things. However, you are not supposed to forcibly stuff things inside. The more pressure your suitcase has to take, the more it's at risk of experiencing wear and tear sooner. So if you do things right and use it well, it won't matter which type of luggage you use.
3. What goes in the suitcase?
As we mentioned earlier, what goes inside is just as important as how to pack a suitcase. Clothes, medication, toiletries, cosmetics, accessories and daily use handy electronics accessories should all go in. Apart from these, a couple of napkins and a towel should also be kept in the suitcase. That's it though. A couple of small packets of snacks can be exceptions. But that doesn't mean you go all guns blazing on the idea. Ideally, you should have snacks in the bag you'll be carrying with you, not your suitcase.
With clothes, there are some exceptions. We'll cover that below. Also, contrary to the popular belief, it's not a good idea to keep shoes and sandals in your suitcase. Unless you have multiple suitcases or very minimal clothes and other essentials. Footwear is best packed in a cardboard box that's easily accessible. Play strategically and wear multi-functional footwear while moving.
4. Create layers & sections of items inside your suitcase
This will not only help you use the space efficiently, but also access your things easily. Anything that you won't need on an immediate basis should be kept at the bottom. At the same time, you can create sections too. For example, socks and undergarments on one side, electronics and accessories on the other. You don't necessarily need to create little partitions. But create sections so things don't get jumbled up.
5. Packing Cubes can help with sections and save space
Keep in mind that this goes hand-in-hand with the 4th point. Packing Cubes are essentially small fabric bags which are thin and elastic in nature. Use these bags to create sections and categories for your clothes. Best part is, because of their elastic nature, it's easier to squeeze more inside these bags. So you can put undergarments & socks inside one, gym wear and sleep wear inside one or just whatever works for you. They are real space savers.
6. Roll most of your clothes
You would be surprised at how much space you can save by rolling your clothes. It's a very efficient technique for packing suitcases. T-shirts, denims, shorts, boxers, gym wear, sleepwear and undergarments should all be rolled. Shirts that you wear on a regular basis should be partially folded before rolling up. This packing method also helps you avoid wrinkles and creases on your clothes. With jeans, the trick is to first fold both the legs together, and then start rolling from the bottom part.
7. Foldable clothes
Bear in mind, foldable clothes are the ones which are fancy and you specially care for. Folded clothes should always be kept at the bottom. Not like they can't be rolled up. But just in case you're extra protective about these attires, you fold them. This category can include skirts, tops, starched shirts, dresses or anything else. However, you should never put blazers or suits inside your suitcase. Always hang them in a separate wardrobe box. Putting them in a suitcase not only takes up a lot of space, it also wrinkles them.
8. Essential on top, least important items at the bottom
Always remember this packing mantra. Your top side should ideally be divided into 3 parts. These sections would be for your clothes, your medications, toiletries, essential accessories and electronics. Keep clothes for the first 2 days, including a pair of socks. This would be the biggest section of the 3. The second section would be medication and accessories, like your cellphone charger, a belt, sunglasses, etc. The third would be for toiletries and cosmetics.
9. Packing your cosmetics & toiletries
It's very important to have a separate waterproof travel bag for your toiletries and cosmetics. In case of any of the liquids spilling over, you don't want that to ruin your clothes or any other belongings inside the suitcase. If the pouch or travel bag you have isn't waterproof, you can always cover the bag with plastic or any other waterproof material to avoid possible leakages. You should keep this bag on top, for both, ease of access and space management. Just easier to get it out once you've reached your new place.
10. If you have multiple suitcases
This is a good situation to have but you still have to be strategic about it. The essentials we've defined so far should all be inside one suitcase. This would be your primary suitcase. Your secondary suitcase should include a pair of shoes (the important ones), any additional clothes, accessories and smaller electronics. Do not forget to use a protective layer for your electronics. And also, it's a good practice to wrap your shoes in a paper bag or a fabric bag.
11. Plan as intricately as possible
Hope for the best and prepare for the worst. This is just a good way to be prepared. Have foresight into all that can realistically go wrong and account for those details in your planning. Some of the common problems that arise when moving are things getting misplaced, damaged or even lost. So make a note of all the boxes and suitcases, or maybe even click pictures of it all on your phone, so they don't get lost.
Add to your notes the total number of boxes and suitcases and the category for each. Anything that is important or very valuable to you, list down every single item in that category/box. The idea is to simply be aware of everything, so that tracking becomes easier.
For each box, make sure you've used sufficient protective layering like bubble wrap or thermocol.
You're ready to move now!
Just take care of these things and you'll find that packing a suitcase for a move is no rocket science. It's just good planning and organization. So if you're moving soon, don't worry. Follow these steps and you'll be fine.