Moving to Dallas | 2022 Cost of Living & Relocation Tips
Welcome to the "Big D."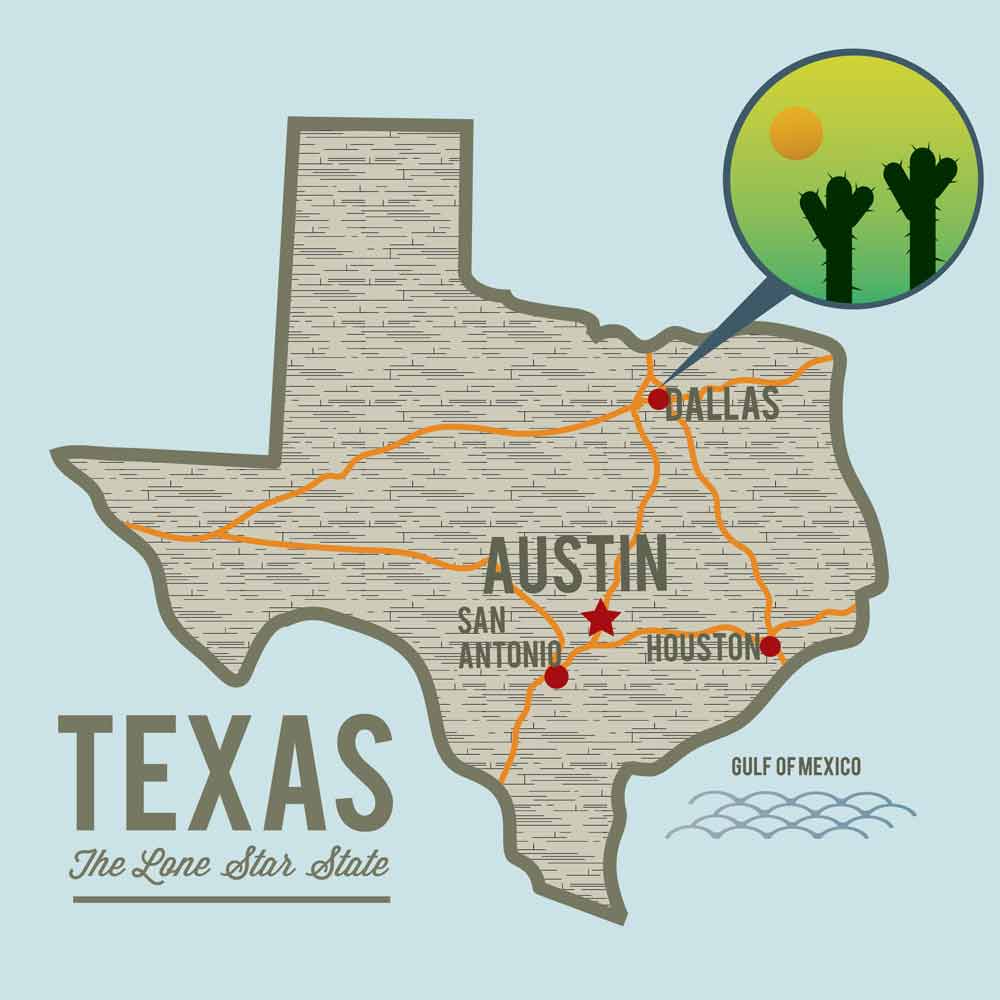 Known as the home of "America's Team," the National Football League Cowboys, Dallas, Texas is much more than a sports haven. Located in north Texas, the "Big D" is also home to the world-renowned Arts District, the Museum of Art, and the Crow Collection of Asian Art. The uniquely modern design of the Nasher Sculpture Center attracts visitors from across the globe.
Dallas is the 9th most populous city in the United States, but just the third largest in The Lone Star State.
Important Information for New Dallas Residents
The Dallas-Fort Worth-Arlington metropolitan statistical area (MSA) comprises a whopping 12 counties that include Dallas, Rockwall, and Tarrant. With nearly seven million people living within the 12-county MSA, the Dallas area bustles with high energy social and cultural amenities. Dallas is located in the Central Time Zone (CST) of the United States, roughly 250 miles northwest of Houston, around 200 miles south of Oklahoma City, and a little more than 300 miles north of the white, sandy beaches lining the Gulf of Mexico.
Sales tax-8.25%
Hotel tax-13%
Annual visitors-More than 48 million per year
Hotel rooms-Nearly 80,000 available across the MSA
Access – Centrally located within less than a four-hour flight from any major North American city. Dallas Love Field and Dallas/Fort Worth International Airports offer around 2,200 flights every day to destinations around the world.
Dallas Fun Facts
Birth of the frozen margarita machine
The entire Statute of Liberty fits inside of a closed Dallas Cowboys Stadium
First integrated computer chip invented
Dallas Arts District is the largest of its kind in the United States
Largest permanent model train exhibit in the nation
Trinity River Corridor Project is about ten times the size of famed New York Central Park
Largest MSA not located along a navigable body of water
Dallas Public Library is home to one of the few original copies of the Declaration of Independence
What are the Moving and Shipping Costs from Major Cities to Dallas?
The following estimates pertain to container shipping costs, not the cost of performing an entire move.
Los Angeles-$399
New York City-$358
Hong Kong-$1,506
Sydney-$2,493
Vancouver-$1,183
Dublin-$1,897
Housing Costs in Dallas, Texas
Dallas offers new residents a more affordable housing market than what is found in Texas cities such as Houston and Austin.
Home price per 10 square feet in Dallas-$3,000
Home price per 10 square feet in suburbs-$1,260
One bedroom apartment in Dallas-$800
One bedroom apartment outside of the city-$650
Average Dallas, TX housing costs rank as more affordable than the housing costs in cities like New York, London, and Paris. You can save money on housing costs in Dallas by sharing an apartment or a home, as well as choosing to live outside the inner belt of the MSA.
Food Costs
As you might have heard, residents of the "Big D' have hearty appetites for a wide variety of cuisines. In fact, Dallas, Texas, has more restaurants per resident than the same ratio that is applied for New York City.
Here is the average cost of food for different categories:
Gallon of milk-$0.53-%0.87
Dozen eggs-$1.85-$4.00
Bottle of Soda-$1.25-$2.50
Coffee takeout-$3.00-$5.00
Tab at a low cost restaurant-$10.00-$15.00
Transportation Costs for Dallas, Texas
Dallas is not known for operating a convenient public transportation system, which means area roads and highways are typically congested during the week, especially during the two rush hours. Dallas Area Rapid Transit (DART) manages the area's public transportation system. Here are the standard fares for DART as of June 2019:
Single adult-$2.50
One day adult-$5.00
7-day pass-$25.00
Month-long pass-$80.00
Cost of Going Online
In the United States, the cost of accessing the Internet is higher than in similar size cities located in Europe and Asia. The following Internet access prices are from the end of 2017 for the Dallas-Fort Worth-Arlington MSA.
Time Warner Spectrum-Starting at $44.99 a month for 100 mbps
AT&T-Starting at $40.00 a month for 45 mbps
Costs of Clothing
If you are moving to Dallas from a northern American city, you might be surprised at the humid, subtropical climate that defines the "Big D." Outside of January and February, Dallas, Texas can be a short sleeve shirt city for ten months out of the year. The average low temperature in January does not even reach freezing.
Here are a few prices for clothing in Dallas, TX:
Summer dress-$20-$65
Business shoes-$65-$130
Jeans-$25-$55
Running shoes-$50-$95
Are You Relocating to Dallas by Yourself?
Moving to Dallas, TX, can be a stressful event, especially if you are coming to the "Big D" on your own. However, Dallas offers new residents of the city several resources to make the transition as stress-free as possible.
Meetup Groups
Dallas is well known for the dozens of meetup groups that help new residents become comfortable with their newly adopted city. From joining a chess group to meeting fans of the Dallas Cowboys, there will be a meetup group that matches your hobbies and interests.
Events in Dallas, TX
One of the keys for integrating into the Dallas social scene involves participating in one or more of the local social and/or cultural events. Visit the following sites to get a glimpse of what is happening in the "Big D."
Tour Texas
Visit Dallas
TripAdvisor
For Families Moving to Dallas, TX
Dallas, Texas, is a powerful magnet for families wanting to live in a city that is home to world-renowned parks, theaters, museums, and art galleries. From theme parks to horse riding through hardwood forests, there is something for every family that is relocating to Dallas.
Medical City and Natural Beginnings are outstanding resources for families that have young children or are expecting to start a family in the near future. Dallas offers several family-friendly neighborhoods that include Bluffview, Oak Lawn, and Preston Hollow. After you move to Dallas and settle into the area, take a look at the following sites to find the right activities to enjoy with your kids:
DFW Child
10Best
Guide Live
Family Days Out
Also See: Moving From Los Angeles To Dallas | Moving From San Antonio To Dallas – Expert Tips & Advice | Top Neighborhoods in Dallas for Singles and Young Professionals
Relocating to Dallas for a Job
Work ranks as the number one reason why Dallas enjoys a healthy influx of new residents. The reason for the employment migration is because the "Big D" has a diverse economy that benefits from a vibrant high tech sector. If you want to move to Dallas, TX, for employment reasons, you can seek employment in bustling business sectors like banking, healthcare, medical research, and telecommunications. Of course, the energy sector remains the most vital business sector that drives the Dallas, Texas, economy.
Consider the following two factors, if you plan to relocate to Dallas for career reasons:
Salaries
Compensation for the same jobs in Dallas ranks higher than the national average for the same jobs. Even better, the cost of living for Dallas, TX, is lower than the national average. For more information on Dallas, salaries, check out Payscale or Glassdoor.
Where to Look for a Job
Although it is highly recommended to secure employment before moving to Dallas, Texas, you have many resources to access for finding a job.
Craigslist
Snagajob
Monster
Indeed
Career Builder
You can also Google "Dallas Employment Recruiters" to find a professional that specializes in helping new residents find a job.
Are you planning to move to Dallas, TX anytime soon? Just fill out the form on this page using "CALCULATE MY MOVE" button and get quotes from reputable national and long distance moving companies. At https://9kilo.com/ we offer nothing but the best for our clients.
See Also: Top Neighborhoods In Dallas For Families