Moving From San Antonio To Dallas – Expert Tips & Advice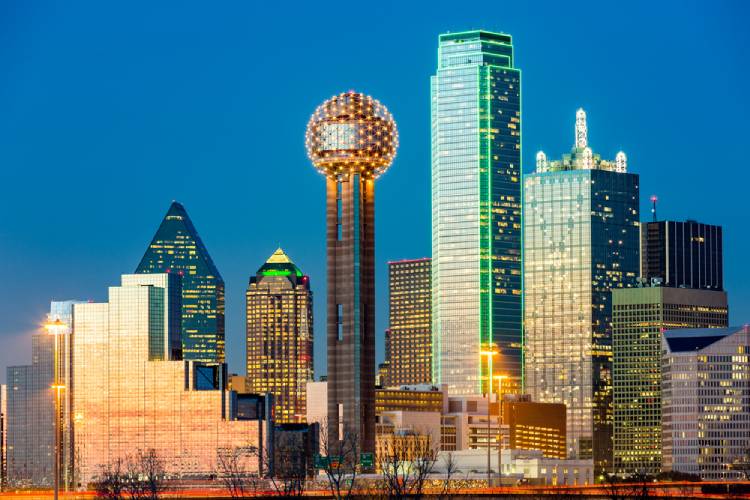 Due to whatever reason you have decided to move. It is a big change and requires a lot of strength and planning. This strength will surely come to use in adjusting to the new life in Dallas. Both San Antonio and Dallas are part of the state of Texas so the changes might not be that huge but they are still pretty significant and knowing them beforehand is a wise thing to do. The city of Dallas is a great choice and by the end of this article, you will know all the sufficient details that you should be aware of before moving from San Antonio to Dallas.
In Texas, you are in for an overwhelming variety of delicious food, vibrant culture, and gorgeous faces greeting you with a warm "Howdy!" San Antonio must have had that hometown feel and yes, "Go Spurs Go " (always), but the big city life and the accessibility of Dallas along with its rich history and culture is most likely to immerse you in a good way. Dallas also has the 5th largest LGBTQIA+ community in the U.S.A., so, diversity and inclusivity are a strong part of the city which adds to its overall appeal. Here are some of the significant things that you should keep in mind before you leave Texas or the Alamo City and move to the city of Dallas.
Factors To Consider Before Moving From San Antonio To Dallas
Weather Conditions
Coming from San Antonio, you must be a pro when it comes to bearing the heat as San Antonio is one of the hottest cities in the country during peak summers. However, Dallas is no less when it comes to the simmering heat. Both the cities have been on 'Hotter-than-heck' lists consistently for many years. Both the cities have long and oppressive summers, so climate-wise, it won't be too different for you. In Dallas, the summers are hot and muggy, the winters are cold and windy, but the city remains partly cloudy year-round with temperatures ranging from 39°F to 96°F and is rarely below 26°F or above 102°F.
Having lived in San Antonio, you'll know that winters in the city are short and mild with temperatures touching 77°F. Dallas winters which last for nearly 3 months are a welcome respite from the heat. January is the coldest month in the region, with temperatures ranging from 39°F to 57°F. You'll also encounter more rain in the city of Dallas than in San Antonio – 19.2% more rain, be precise.
Cost Of Living
You will need to pay more to be able to afford to live in the Big D – no, we aren't being gross – it's Dallas' cost of living we are referring to. While San Antonio's overall cost of living is more or less affordable, you will need to pay slightly more in the city of Dallas, especially because of housing and transportation. While San Antonio's score in the cost of living index is 91.4, Dallas' is 99.1. You'll be glad to know that both of these cities have a lower cost of living than the national average (score of 100), but Dallas is still going to be pricier than SA.
Buying A House
Buying a house is a big goal for many and though affordable, it isn't as cheap as in San Antonio. In fact, housing is approximately 22% more expensive in the city of Dallas than in San Antonio. According to Zillow, the median home value in San Antonio is $281,301 while in the city of Dallas, the rate comes around $302,809. Please note that home values also vary largely based upon the neighborhoods and the size of your home.
Renting A House
Renting is a preferred option by a huge crowd as it is a lot more convenient and flexible. As with buying a house, rents are high in Dallas as compared to the Alamo City. The average monthly rent for an apartment in San Antonio is $1,192 while you'd have to pay around $1,423 for an apartment of a similar size in Dallas, according to RentCafe. Rent, too, fluctuates depending on the size, locality, etc.
Utilities
You can save in this department because utilities in Dallas will cost you a bit less than in San Antonio. Basic utilities like electricity, heating, and water can cost you around $159.63 in Dallas while earlier you were paying around $189.9 (in SA). According to data from Numbeo, upon shifting, your mobile bill will be 19% cheaper while your internet bill will cost you 3.76% less as compared to San Antonio. But keep in mind that restaurant and grocery prices are higher in the Big D. Restaurant prices and groceries will be 4.74% and 13.74% higher respectively in Dallas than in San Antonio, so make sure to make those budgeting changes upon shifting.
Job Market
People move to Dallas for various reasons but one of the biggest reasons is its strong economy and blossoming job market. While San Antonio's economy falls back heavily on oil, tourism, manufacturing, healthcare, military, and gas, Dallas's job market has technology, defense, financial services, transportation, telecommunications as major fields contributing to its economy while providing high-paying jobs. The median household income in the city of Dallas is $86,393 with a poverty rate of 18.94% and several big companies have their headquarters in Dallas. Some of the biggest employers in the city are:
Bank of America
AT&T
American Airlines
Texas Instruments
Medical City
Lockheed Martin
Alcon Laboratories
Walmart Stores
Home Depot
FedEx
Within Dallas, Dallas-Fort Worth is one of the largest and best-performing job markets in the country. It is also a city that witnesses a monumental annual job growth which leads to the creation of multiple jobs and a robust economy. This is probably why the unemployment rate in Dallas is at just 3.9% while it is 4.3% in San Antonio, Texas.
Transportation
As you must know, the city of San Antonio was built for motor vehicles, hence everyone prefers to go around town in their own car or by renting one. You can definitely adapt to the same style of transportation in the city of Dallas too. But, in case you aren't a huge fan of spending a lot on your car and would much rather prefer public transportation as a means of going about the city, rest assured that Dallas will certainly give you comparatively better public transportation facilities than San Antonio.
There are two major airports in the city of Dallas which are well-connected through global cities and have domestic and international flights available. The Dallas Love Field (DAL) and Dallas/Fort Worth Airport (DFW) are the two airports out of which the latter is the bigger and more preferred one that suits tourists from all over the world. You can easily get a car/taxi or even buses to take you around the town from the airport.
The Dallas Area Rapid Transit is the transit system in the city which is also known as the DART. It has stations system-wide out of which 46 are located within the city and includes light rail and bus services to make it convenient to get around town. The public transport in Dallas is a lot organized, faster, and well-connected as compared to in the Alamo City.
Dallas' Strong Points
The city has a vibrant and inclusive community.
It boasts of great food and a wide range of fantastic restaurants.
Dallas has a thriving economy that is promising in terms of job prospects.
The neighborhoods in Dallas carry their own personalities and each has something distinctive to offer.
Dallas is a haven for artists and entrepreneurs alike.
It is also regarded as a high-end shopping destination.
The city can be described as a fine blend of simplicity and luxury.
Top Neighbourhoods To Move To In Dallas
Preston Hollow
You will never get tired of admiring the distinct beauty of neighborhoods in the city of Dallas. Preston Hollow is one such neighborhood that has a lot of things you can admire. The neighborhood offers a suburban vibe and has amazing restaurants, vibrant bars, and perfectly Instagram-worthy coffee shops. The neighborhood has been home to many prestigious and reputed residents like George W. Bush, former mayors Tom Leppert and Laura Miller, and professional golfer Lee Trevino to name a few so you can imagine how secured and well-equipped it must be. The neighborhood has a lot of beautiful green parks and if you can afford it, it can be a perfect and safe place to raise a family.
Median Home Price: $1,700,000
Monthly Median Rent: $1,404
Love Field
Close to the Love Field Airport of Dallas, Love Field is a neighborhood located in the northwest part of the city of Dallas. It is an extremely well-liked and busy neighborhood with a diverse population of residents. The crime rate in this area is almost non-existent making it a solid and safe place to live in. Love Field is mostly preferred by young professionals and business entrepreneurs.
The neighborhood offers an urban lifestyle where individuals prefer to rent out homes. Love Field lacks quality schools so it might not be the best for young families but it has amazing restaurants to explore and vibrant nightlife along with affordable rents attracting youngsters from every part of the world.
Median Home Price: $162,608
Monthly Median Rent: $1,253
Bluffview
If you prefer luxurious and upscale living, Bluffview can be the spot you call home. Fear not as there are no bluffs when it comes to the quality of living in this neighborhood. It can be an ideal place to build a home and raise a family in because it is home to some of the best private schools in the city of Dallas such as K.B. Polk Center for Academically Talented and Gifted and the Henry W. Longfellow Career Exploration Academy. The neighborhood is gorgeous and surrounded by stunning rows of beautiful trees. You are most likely to find big homes in this neighborhood with large yards making it a perfect place for family gatherings and for kids and pets.
Median Home Price: $1,975,000
Monthly Median Rent: $1,821
Far North Dallas
A strong community and a small neighborhood, Far North Dallas is a neighborhood in the city with a small population, pretty homes, and A-graded public and private schools. It is a safe neighborhood that can offer you diversity, good hospitals, and a familial atmosphere which is why it can be ideal for families or couples looking to build a home along with a family. You will find many ranch-style homes in this neighborhood and it also has strong social, economic, and political ties to two inner suburbs of Dallas; Richardson and Addison.
Median Home Price: $529,000
Monthly Median Rent: $1,458
Bishop Arts District
One of the most artistic and hip neighborhoods in Dallas, the Bishop Arts District is especially known for the Bishop Arts Theatre Center, a thriving nightlife, adorable and trendy independent fashion stores, and amazingly colorful street art. Living in Bishop Arts District will be ideal for artists and art enthusiasts alike wherein you will not run out of variety in art and food choices – ranging from Texas-style BBQ to Vietnamese Pho. If you decide to live in this neighborhood, trust us, you will never be bored as it has entertainment and art at every corner.
Median Home Price: $224,342
Monthly Median Rent: $847
Things To Take Care Of When You're Moving From San Antonio To Dallas
You will not get relief from the heat. In fact, on certain days, Dallas can be as hot as San Antonio and even more so. Therefore, do not let go of your comfortable cotton clothes and sunblock because you will continue needing them.
Be prepared to spend more on your overall cost of living.
Going out will offer you a lot more options in the city of Dallas but be prepared to spend more at restaurants as food isn't cheap in the city.
Certain areas and neighborhoods in Dallas have a high crime rate.
It might take you some time to let go of the homely feel of San Antonio and adjust to the culturally vibrant, modern, fast-paced Dallas life.
You might face the insane Dallas traffic on various occasions.
San Antonio to Dallas Moving Costs
The good part about this move is that you are moving within the state of Texas so the moving costs will not be as high as a long-distance move and you will have plenty of options when it comes to deciding ways to go about it. You can drive yourself and spend the minimum if you can handle the move yourself but if you have a lot of luggage and need help, hiring a moving company, for a full end-to-end move, can cost you anywhere between $1,300 and $4,500.
Also See: Moving to Dallas | Best Moving Companies in San Antonio | Top 7 Neighborhoods In Dallas For Families
Conclusion
We are sure that San Antonio was a city that must have felt like home but trust us, you are moving towards a much better and artistically promising lifestyle in the Big D. The city of Dallas is most likely to suit you well and it'll surely feel more pleasant and convenient because of its wonderful transportation system. Now that you are well aware of all the changes that you will be experiencing upon shifting, we hope that the moving process will be a joyride too!
FAQs About Moving From San Antonio To Dallas
Is San Antonio Hotter Than Dallas?
Both the Texan cities are pretty hot during peak summers and they also have long and humid summers. While there are 234 sunny days per year in Dallas, the city of San Antonio has 14 days less, so on average, it has 220 sunny days per year. There is no way to say if San Antonio or Dallas is hotter because they are both in the state of Texas and have pretty similar summer temperatures.
Is Dallas Or San Antonio Better To Live In?
Both these cities have their individual perks and charm and it is a matter of your personal preference. If you prefer a bright and artistic vibe, a thriving job market, and do not mind spending a bit more on the utilities, then the Big D can be your perfect new home. If you are a fan of a simple life and can tolerate crazy heat and basketball fever, San Antonio should continue being ideal for you.
How Long Does It Take To Move From San Antonio To Dallas?
San Antonio and Dallas are not too far from each other as both of them are in the Cowboy State. Moving from San Antonio to Dallas will be a short drive that will take you approximately 4 hours. If you are not a fan of road trips, you could always fly from the San Antonio International Airport to the Love Field Airport in Dallas as this would guarantee a much shorter travel time!
Also Read: Top Cheap Moving Companies in the USA | Moving from Houston to Dallas | Moving from San Antonio to Austin | Moving From Seattle To Dallas