Moving From Seattle To Dallas – Expert Tips & Advice


VanLines Inc
Secure Storage
Easy Booking Process
Fully Trained Employees
GET QUOTE

Colonial Van Lines
Storage Services
Long-Distance Moves
Corporate Relocations
GET QUOTE

Moving APT
Vetting Process
Award-Winning
Available Nationwide
GET QUOTE
Our Take
Price
Rating
Minimum Shipment Size
Storage
Booking Deposit
Cancellation Policy
Quoting Options
Discounts

Best Overall Value


GET QUOTE

2+ bedrooms




Free 30 Days




10%

Free up to 72 Hrs

Phone / FaceTime / Text

Senior / Same day Booking

Best Industry Reputation


GET QUOTE

1+ bedrooms




30 Days




20%

Free up to 72 hrs

Phone / Facetime

Seniors Discount

Best Customer Service


GET QUOTE

1+ bedrooms







Free up to 72 hrs

Phone / Virtual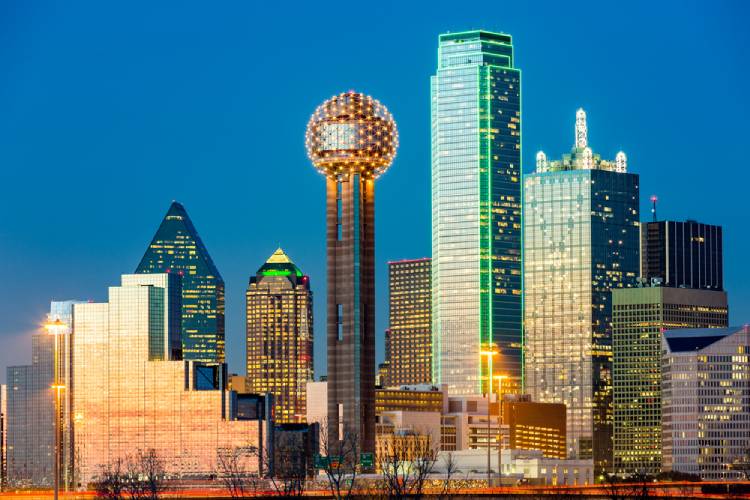 People move for various reasons and if you feel like you've seen all of Seattle and gained from all its offerings, then try moving to Dallas for a fresh and unique experience. You'll be introduced to many of the Big D's bustling and quiet neighborhoods, a rich sporting culture, and a diverse community to mingle with. In short, you'll never be bored with the lifestyle in Dallas since it's vibrant and welcoming.
But there are certain aspects of Dallas that you need to know before making the switch. You should know how sturdy its economy is, how good the weather is, and how affordable it is in comparison to Seattle. We answer these questions and more through this article on everything you need to know before moving from Seattle to Dallas, so scroll on to know more!
Factors To Consider Before Moving From Seattle To Dallas
Weather Conditions
Summers in Dallas is hot and humid, all thanks to its humid subtropical climate. They can get to desert-type temperatures as well, and maybe this can be a bit of a letdown for you since you're coming from Seattle's pleasant summer temperatures.
Dallas does experience heat waves during the peak summer season, so you need to watch out for those. In addition, you'll also have high humidity and hot air due to Dallas' proximity to the Gulf of Mexico. Take a look at the temperatures of Seattle and Dallas and see the varying differences yourself.
Here's the difference in temperature that you can expect during peak summers:
Seattle in July – Average temperature falls in the range of 57°F to 75°F.
Dallas in July – Average temperature falls in the range of 78°F to 97°F.
Winters in Dallas are warm but pleasant. They're much drier than Seattle's rainy and gloomy winters, so in this regard, Dallas earns a few brownie points in comparison to the Emerald City of Seattle. However, due to Dallas' closeness to the Gulf of Mexico, this city is not a stranger to freezing rain. Check forecasts and minimize heading out during the rainy season since the roads in the city generally get slick and dangerous to travel on.
Here's the difference in temperature that you can expect during peak winters:
Seattle in January – Average temperature falls in the range of 36°F to 46°F.
Dallas in January – Average temperature falls in the range of 37°F to 56°F.
Cost Of Living
Apart from Dallas's aesthetics and history, its cost of living is another factor that you need to consider. And if you're moving from Seattle, you'll be glad to know that you're going to save some amount of money by living in Dallas because Dallas is 15% cheaper than Seattle! Factors such as the cost of groceries, real estate, and transportation are much more affordable in Dallas than in Seattle.
Dallas also has a sales tax rate that is much lower than the sales tax rate in Seattle. That means that clothing – and shopping in general – is much cheaper in Dallas as compared to Seattle, so now you can finally shop till you drop! To give you a better context, a branded pair of jeans in Seattle would cost you roughly around $55, but that same pair would cost you approximately $52 in Dallas. That would be a 5% decrease in prices in Dallas as compared to Seattle.
Let us take a look at some other factors that influence Dallas' cost of living.
Buying A House
If your dream of buying a house was not fulfilled in Seattle, you can finally fulfill that wish in Dallas because the cost of houses in Dallas is 67% lower as opposed to the prices of houses in Seattle. thus making it one of America's most affordable cities to own a house in. Sounds shocking, right? That is because Dallas has a higher supply and lower demand for homes. Also, Dallas has ample land to construct new homes on, as opposed to Seattle not having adequate space for new constructions.
Take a look at the difference in median home values in Seattle and Dallas to judge better:
Median Home Value in Seattle: $932,382
Median Home Value In Dallas: $302,809
Renting A House
If buying a house is not on your checklist, you can at least rent one. Just like house prices in Dallas, renting is also more affordable in the city as compared to Seattle. To give you figures, renting in Dallas is 27% cheaper than renting in Seattle. For a 2-bedroom home, you would pay a monthly rent of around $1,913 in Dallas while, for an apartment of much the same size and amenities, you'd have to pay nearly $2,650 every month in Seattle.
Utilities
When it comes to the cost of utilities, you would pay just 2% higher utility bills in Dallas than in Seattle. This is because summers in Dallas are hot and humid as opposed to summers in Seattle, which are temperate and pleasant. Dallas' peak summer season requires proper air-conditioning and cooling and that's why electricity bills in Dallas tend to be a bit higher.
For a 900 sq. ft. apartment, the average monthly utility bill in Dallas – including electricity, heating, cooling, water, and garbage – would cost around $163, whereas the average utility bill in Seattle would be around $159 per month.
Job Market
If you're looking for job opportunities, then Dallas could be added to your list of potential cities to find employment. Its financial and industrial sectors take the cake of the economy as they provide thousands of job opportunities to the masses and contribute wealthily to the net GDP of Texas. Although there might be competition, finding lucrative jobs in this city won't be much of a problem due to the multiple business avenues it creates. Dallas' other forms of creating job opportunities are via their defense, information technology, transportation, and telecommunication avenues.
Here are a few of Dallas' major players in the market that have consistently been providing economic growth and job opportunities in the city:
AT&T
Tenet Healthcare
ACS Enterprise Solutions
Essilor Of America
Affiliated Computer Services
Stanley Auto Group
Interstate Batteries
On the other hand, Seattle has a booming economy with its hands stretched in the aerospace, retail, and information technology sector with its unemployment rate at just 2.9%. Dallas' unemployment rate stands at 4.50%, but it is a major decrease from its previous unemployment rate of 7.40%. This just shows that Dallas continues to improve the job market so that its residents can make a substantial living by working in any of their industries.
If you live in Dallas, you'll earn a bit less than the average of what a Seattleite earns. But that won't be of much concern since Dallas' cost of living is low, meaning you won't have to spend much on groceries, transport, or even rent.
Median Household Income In Seattle: $92,263
Median Household Income In Dallas: $52,580
Transportation
Dallas is mainly a car-driven city since it's more convenient and efficient. And many gas stations dot the whole of Dallas, so you won't have to worry about frantically searching for a gas station when your fuel gauge hits the reserve marker. The only downside is the traffic you'll be caught in, especially during rush hours. Ensure that you leave work a bit early to account for the waiting time in traffic.
If you're flying into Dallas, you have the Dallas-Fort Worth International Airport (DFW) and the Dallas Love Field Airport majorly serving the Dallas area. If you live near Downtown Dallas, you can stop at the Dallas Love Field airport since it's much closer to that part of the city. The DFW is one of the country's most bustling airports that cater to a wide variety of domestic and international airlines. If you ever have to travel to Paris, London, Amsterdam, or Munich, you can easily take a direct flight from DFW to reach your destination.
As far as public transportation is concerned, Dallas does have a few decent options. Here are they:
Dallas houses the country's longest light rail system also known as the Dallas Area Rapid Transit (DART). In addition to light rail, DART has an extensive network of buses as well that connect to Dallas' major neighborhoods. If you ever sicken of driving or don't own a personal vehicle, the DART system will take care of your commuting needs.
Dallas has a range of ridesharing options such as Uber, Ola, Lyft, and DiDi. Just by a tap of a button, you can avail of them to get you to any of Dallas' neighborhoods.
If you want to experience Dallas uniquely, you can always travel by the McKinney Avenue Trolley. This M-line trolley consists of revamped trolleys that operate all 12 months of the year and is not funded by the government. This system connects you to Downtown Dallas from McKinney Plaza, touching a wide array of cultural sites including the Dallas Museum of Art, the Nasher Sculpture Center, and the Crow Museum of Asian Art.
Dallas' Strong Points
Dallas has a low cost of living. You'll be seeing more greens in your wallet if you choose to live in this city.
Buying a house in Dallas is relatively cheaper than in Seattle. If purchasing a house is not ideal, you can rent one, which is also significantly cheaper in Dallas than in Seattle.
If you're moving to Dallas for job opportunities, then you're making a wise choice because this city has a lot to offer. Many Fortune 500 companies are based in this city as well, so there's a high chance of bagging a lucrative role in an industry of your choice.
Dallas is served by a reliable and efficient transportation system called DART. It's efficient, reliable, and a great option for those who don't own a vehicle.
Top Neighborhoods To Move To In Dallas
Preston Hollow
When it comes to housing options, Preston Hollow's lanes are blessed with an abundance of them. Located near the peripherals of North Dallas Tollway and Walnut Hill Lane, this neighborhood caters to an upscale style of living, as can be seen in its house rates. If you're looking to settle here with family, know that Preston Hollow is home to some of Dallas' top-rated private schools. So, you don't have to worry about your children not getting the quality of education they deserve. Also, to add a bit to the elite lifestyle, Mark Cuban and former president George W. Bush are just a few of the many famous names that live(d) in this posh neighborhood.
Median Home Value: $1,029,772
Monthly Median Rent: $1,902
Lake Highlands
Lake Highlands is a much quieter neighborhood than most of the ones mentioned on this list. So, this makes it feasible for retirees or couples who want to stray away from the bustle of city life. To top that, you have Lake Highlands spoiling its residents with a vast number of biking trails, parks, and serene hills. And you're getting all of this for a median home price that's not that heavy on the wallet! Home to numerous top-rated schools and close to the tranquil White Rock Lake, Lake Highlands is the perfect neighborhood to experience small-town living in Dallas.
Median Home Value: $378,932
Monthly Median Rent: $1,193
White Rock
White Rock is home to numerous biking trails and Dallas' sole lake. And many people have been moving to this neighborhood to take advantage of White Rock's pristine and scenic outdoors. Many Tudor-style homes decorate the sidewalks of White Rock along with a variety of parks and shopping areas. Several of Dallas' reputed schools are situated in this neighborhood, so you don't have to search too far for high-caliber education for your children. Homes closer to the lake are a bit more expensive than the average home value in the area, but the calming views you get with them are definitely worth the price.
Median Home Value: $441,616
Monthly Median Rent: $1,884
Uptown Dallas
If you want to live in a more urban setting, then Uptown Dallas should be one of your choices. The crime rate here is relatively low and the people in this bustling neighborhood are some of Dallas' friendliest. You won't need a vehicle to get you around Uptown since all important amenities are close by. From restaurants and cafes to boutiques and supermarkets, Uptown is very walk-friendly. If you're a fitness geek, the streets of this neighborhood have numerous biking and running trails for people to enjoy. Anyone looking to start a family or spend their golden years of retirement can reside in the beautiful condos of Uptown.
Median Home Value: $559,064
Monthly Median Rent: $1,762
Bishop Arts District
Located just a few minutes from bustling Downtown Dallas, Bishop Arts District is one of America's creativity-rich neighborhoods. From numerous art galleries to museums documenting some of the country's most inspiring events, this neighborhood is meant for those who want to live in an added scene of artistic diversity. The various murals adorning the alleyways of Bishop Arts District add a certain flair to the character of the neighborhood. If you just walk on its sidewalks, you will find many chic boutiques, flashy pubs, and flavorful restaurants lined here. All these factors make the Bishop Arts District a vibrant and interesting neighborhood to live in.
Median Home Value: $224,342
Monthly Median Rent: $1,095
Things To Take Care Of When You're Moving From Seattle to Dallas
Dallas is mainly a car-friendly city, so you won't be surprised to know that traffic is a bit of a problem here. Be prepared to face longer waiting times in congested traffic during rush hour.
Dallas' summer heat is blistering, especially during the peak summer months. Keep your fridge stocked with chilled beer to combat the heat!
Due to its intense summers, air-conditioning constitutes a huge chunk of the utility bill. Hence, you'll see higher utility bills throughout your stay in Dallas.
Also See: 5 Best Neighborhoods in Dallas for Singles and Young Professionals
Seattle To Dallas Moving Costs
A long distance move is going to cost quite an amount of money since there are many factors involved. Dallas is 2,081 miles from Seattle and the moving cost will vary anywhere between $1,583 to $6,305. However, that is just a rough estimate and should not be taken at face value. Factors such as distance, size, time, and location of the move play an important role in influencing the costs as well.
Another factor that depends on moving costs is the method you choose to move. You can hire a professional moving company who will take care of all the aspects of moving. Or, you can rent a truck or a moving container and do the work yourself. The former option is a bit expensive but is less strenuous, whereas the latter two are cost-efficient but a lot more stressful. For such long distance moves, it's better to hire a professional moving company since they take care of the heavy work, allowing you to focus on other important elements of your move.
For a 3-bedroom apartment, here are a couple of rough estimates: a professional moving company, a moving container, and a rental truck would cost you to move from Seattle to Dallas.
Professional Moving Company: $2,600 – $6,305
Moving Container: $2,833 – $4,310
Rental Truck: $1,582 – $2,284
Summing Up
Dallas is not a bad city to move to as this city does have its moments. Its real estate is affordable, its culture is diverse, and its economy is booming as well. On the other hand, you'll have to be careful of its congested traffic, and harsh summer weather. However, the state of cities changes from time to time so better be well-versed in the latest news of Dallas. Do a thorough study and we're sure you'll be able to come to a proper decision in the end. So, best of luck and happy moving!
FAQs About Moving From Seattle To Dallas
How Much Does It Cost To Move From Seattle To Dallas?
You will pay around $1,583 to $6,305 to move from Seattle to Dallas. However, factors such as distance, time, location, and size of the move are important elements that influence the net price as well.
Is Dallas Cheaper Than Seattle?
Dallas is 15% cheaper than Seattle! This is all thanks to the Big D's affordable housing, transportation, groceries, and lenient taxes. Be prepared to save more money if you choose to live in this city.
Why Is Dallas So Popular?
Dallas has a lot to offer! From vibrant cultural activities and sporting events to a vast array of chic restaurants and museums, Dallas is an attraction to many visitors. Living in this city is indeed a unique experience and we're sure you'll enjoy all of its offerings.
Also See: Cheap Movers In The USA for 2022 | Top Neighborhoods In Dallas For Families