Moving from San Antonio to Austin – Expert Tips and Advice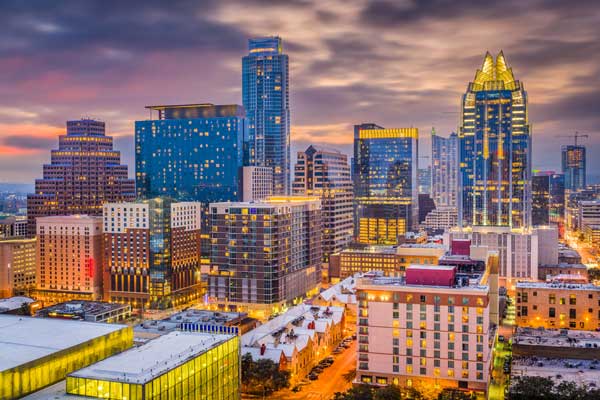 The state capital, the heart and home of Texas University, and adorned by stunning hills and lakes. Yes, we are referring to the city of Austin which, if you're reading this article right now, is going to be your new home. Let's begin by saying that you've made a pretty good choice. The City of Violet Crown will not only offer you the most impeccable views of the sunsets across the hills but it will also provide you with almost everything you could possibly look for in a city to create a home there.
The city of San Antonio must have offered you a lot of memories that you will carry in your heart while the movers carry your luggage. Both the cities are a part of the state of Texas so the changes will not be too surprising for you but many things vary when you shift cities, even within the same state, and that's why we're here. We will take you through all the things you should know while moving from San Antonio to Texas so you get only the good surprises and are prepared for the unpleasant ones.
Factors To Consider Before Moving From San Antonio To Austin
Weather Conditions
Both the cities have hot summers, so in terms of weather conditions, you will face a massive change. While in San Antonio, the summer temperatures can reach approximately 75°F to 95°F, in the city of Austin too, summers are dry and temperatures range from 75°F to 96°F.
Both the cities have short winter seasons that last around 3 months with temperatures falling between 43°F to 64°F in both. You can experience rain in any season in the city of Austin just like in the city of San Antonio. Keep yourself hydrated because be it in San Antonio or Austin, you aren't going to escape the Texas heat.
Cost Of Living
As you are used to the affordable housing and low costs of living in San Antonio, Austin can be financially expensive. Now that you have decided to move for better, it is important for you to know that Austin has a higher cost of living as compared to San Antonio, which is primarily owing to the housing situation there. To simply put it, you would need around $4,322 in San Antonio while you will need at least $5,300 to maintain the same standard of living in the city of Austin, under similar living conditions.
While San Antonio has a low score of 89.7 in the cost of living index, Austin has a score of 119.3. Considering the national average to be a score of 100, you can identify the proportional difference between the living expenses in both these cities. Here is a further detailed description of how much you will be spending in Austin as compared to San Antonio:
Buying A House
Housing and real estate will be prime factors that will weigh heavy on your bank account once you move to the City of Violet Crown. While the median home value in San Antonio is merely $281,301, which is pretty affordable, it is three times the sum in Austin, at $655,862. So, you can obviously think for yourself before deciding to make this big decision. Though you can certainly get cheaper houses in different neighborhoods as prices vary greatly based upon the location, market, and size of your house, overall, housing is going to be an expensive affair in Austin, Texas.
Renting A House
In terms of renting, Austin is more expensive than San Antonio, as with buying a house. Rents can vary greatly based on various factors but be prepared to spend comparatively higher in Austin than you did in San Antonio. While you were paying around $1,192 in San Antonio as the median monthly rent, the median monthly rent in Austin is around $1,690.
Utilities
In this domain, you will save some bucks in Austin because overall utilities are cheaper in Austin as compared to San Antonio. While you were spending $194.12 on your monthly utilities in San Antonio, you will only spend around $143.97 in Austin. According to Numbeo, your internet and mobile bills will also be cheaper in Austin. While you spent $0.20 for 1 minute of prepaid mobile tariff in San Antonio, you will just send $0.6 in Austin for the same. You can get an internet connection for around $65.11 in Austin for which you were paying $66.71 in San Antonio. Though, keep in mind that groceries and restaurants will be more expensive in Austin. You will spend 6.29% more on restaurants and 13.75% more on your groceries as compared to San Antonio.
Job Market
Austin is a big hub when it comes to business and entertainment, hence it has a bigger and more flourishing job market and a stronger economy compared to the laid-back city of San Antonio. While the city of San Antonio has a median household income of $70,778 with an unemployment rate of 4.30%, Austin has a much higher household income of $102,876 with an unemployment rate of just 3.20%. In terms of job opportunities, you are certainly making a better choice by shifting to this city.
Big manufacturing, telecommunications, business, and financial services, defense and security, information technology, etc. are some of the biggest areas that support Austin's economy while offering high wages. You can also find plenty of opportunities in the artistic, offbeat, and entertainment industries. If you are on the hunt for a job, here are some of the biggest employers in Austin:
IBM Corp
Walmart Stores
Applied Materials Inc.
Dell Inc.
Girling Healthcare Inc.
Samsung Austin Semiconductor Llc.
National Instruments Corp.
Time Warner Cable Inc.
Transportation
You are moving towards a far superior place in terms of transportation because not only is Austin cheaper as compared to San Antonio in terms of public transportation but it is also a great city to bicycle in, which is preferred by many. Though, if you prefer traveling by rail, sadly there is no rail transit in the city, as Austin is a driving city and almost 83% of its population drive around in their cars. Walking in the city is also good as it ranks 29th in the most walkable Texas cities. A single bus ride costs $1.50, and a day pass would cost you $2.50.
Do not fret just yet if you prefer public transportation because Austin's public transportation system includes CapMetro buses and Metro Rail trains that run between Downtown Austin and suburbs such as Leander and Downtown Austin. Austin's public Capital Metro Bus System serves a population of more than 1 million in its 535-square mile service area. With a system of more than 1,600 bus stops and 82 routes, Central Texas is served by local, MetroRapid limited-stop, MetroFlyer, MetroExpress, and the University of Texas shuttle routes.
Transportation modes arent just limited to the buses and light rail as the city of Austin also has a bike-sharing and scooter-sharing program that includes the B-Cycle and Jump Bikes. In terms of air transportation, there are various airports in Austin but it has only one main passenger airport which is the Austin-Bergstrom International Airport. It is one of the biggest airports in the city with the Barbara Jordan Terminal being the airport's main terminal which has a total of 34 gates, six of which are capable of handling international flights. You can easily get various modes of public and private transportation from the airport to reach your home.
Austin's Strong Points
Austin has a strong economy.
It boasts of an inclusive and friendly environment.
It is a haven for entertainment lovers and artists
The city is known for hosting plenty of opportunities for new businesses.
Austin is famed for being liberal, hip, and weird – in the best possible way!
Austin, Texas is known for its fantastic and varied cuisines and food culture.
The city is excellent in terms of its educational infrastructure.
Austin is generally regarded as a safe city.
Top Neighborhoods To Move To In Austin
Mueller
As we move towards modernization, mindfulness becomes essential while making choices and the neighborhood of Mueller can be that one wise, conscious choice you make as it is a sustainable, transit-oriented community. If you're an environmentally conscious individual, you will find many like-minded individuals and young families in the neighborhood. Not just that, Mueller also has a wide range of adorable homes, shopping spots, restaurants, and parks for you to maintain a healthy lifestyle.
Median Home Value: $456,000
Monthly Median Rent: $1,582
Cherrywood
An ideal, stunning and quiet neighborhood to raise a family in while also being able to enjoy the outdoors and fun events such as the various parties and concerts that are held in the locality, Cherrywood will prove to be the amazing cherry on the cake of your life. With some of the best-rated schools in Texas including Maplewood Elementary and the McCallum High School within walking distance, adorned by gorgeous parks and a thriving community for artists, living in Cherrywood will be a wholesome and safe experience for you and your family. You will also find affordable yet quirky homes in this neighborhood.
Median Home Value: $486,000
Monthly Median Rent: $1,521
Allandale
If you enjoy peace but do not want to give up the perks of comfortable urban living, the neighborhood of Allandale might just be the one for you as it offers you the best of both worlds. Lined with tall and beautiful trees yet built with updated homes, Allandale has it all. It can be a perfect place to raise a family in as this neighborhood has a strong community and family-friendly atmosphere. The majority here own their homes and you will find many restaurants, bars, and big parks around while also living in safety. Burnet Road is one of the main commercial lines located in Allandale where you can find ample dining options that include creative taco joints and even pubs to relax and unwind.
Median Home Value: $765,000
Monthly Median Rent: $1,285
Downtown
If you enjoy all things business and entertainment, Downtown Austin is the place for you. It is one of the most happening neighborhoods in the city of Austin with a thriving community and rich history. Downtown Austin is also home to the Texas State Capitol and the Driskill Hotel which are considered architectural landmarks from the Victorian period. The area is located at the north of the Colorado River and if you are thinking its lively nature makes it dangerous, you are wrong because it is also a safe place to be and live in. Most residents in Downtown Austin prefer to rent their homes because of the young aspiring crowd and living here will offer you a complete urban experience surrounded by many happening bars, restaurants, pubs, and great outdoors.
Median Home Value: $680,000
Monthly Median Rent: $2,543
Hyde Park
A neighborhood that not only offers you all the perks of a modern resident but one that also has significant historical and architectural value, Hyde Park offers you fine examples of Victorian architecture, and what better than getting to live in one of those stunning homes, right? Hyde Park is located in central Austin and you will be in for an aesthetic treat here because this neighborhood is lined with big, gorgeous trees on the side and cute cafes and coffeehouses to help you with your daily grind.
It is known as the heart of Austin and if you enjoy hip vibes and beautiful homes with artsy neighbors, Hyde Park should be the one you call home. Hyde Park is just a few blocks away from the University of Texas so you will find a vibrant student crowd here and well, you will encounter many adorable dogs on your strolls too. Perfect, right?
Median Home Value: $690,384
Monthly Median Rent: $1,040
See Also: Top 5 Neighborhoods in Austin for Singles and Young Professionals | Popular Neighborhoods In Austin For Families
Things To Take Care Of When You're Moving From San Antonio To Austin
Austin has a pretty bad traffic problem and public transportation isn't its strongest suit either.
Make sure to have a parking permit before hiring a moving company and moving to Austin. You can simply get a temporary parking permit from the Texas Department of Motor Vehicles which will save you a lot of unnecessary trouble.
The Texas heat will follow you in the state capital too but you can easily learn ways to beat it and we are sure you must be a pro after living in San Antonio.
The housing costs will be expensive in the city of Austin.
The hippie haven in Austin can overwhelm you with its vibrant culture and lip-smacking food but we don't think you should worry about it much.
San Antonio To Austin Moving Costs
The biggest price you pay for moving is relinquishing your peace of mind and, of course, the high moving rates you'll have to fork out to hire the help you are certainly going to need. The good part about moving within the state is that you can eliminate many unpleasant surprises like the sky-high moving rates for long-distance moves and you can also DIY the move if you have a really small place and don't require a lot of help. If not, then moving companies are there for your rescue.
The San Antonio to Austin moving costs will depend upon the quotes of the moving company, the size of your move, and how much help you actually require but approximately, an end-to-end move can cost you anywhere between $1,400- $4,000. Make sure that the moving company has reliable reviews, is licensed, and bonded, with no hidden charges.
See also: Best Moving Companies in San Antonio
Conclusion
Living in the state capital has its own perks and we are pretty sure that you will enjoy the decision of living in this hippie haven. We are also sure that you will be able to contribute to Austin's motto of 'Keep Austin Weird'. You will feel the political shift after moving to the state capital as the city is a lot more liberal and inclusive as compared to the conservative ideology dominating the city of San Antonio. Just manage your expenses wisely, starting from the moving stage itself, and everything else will be as pleasant and flowy as the winds in Austin.
FAQs About Moving From San Antonio To Austin
Is It Better To Live In Austin Or San Antonio?
Both the cities have something going on for them and come with their own set of pros and cons. Which city suits you better clearly depends upon what you prioritize. Austin and San Antonio both have booming job markets, cultures, places, and parks but Austin is much more liberal and modern when compared to San Antonio.
If you are looking for a place to raise a family and align with the conservative ideology and simple affordable living, San Antonio will suit you because, in terms of real estate and cost of living, it is more affordable. Living in Austin will cost you about 33% more than living in San Antonio but if you prefer a diverse, vibrant, and inclusive atmosphere to build and raise a family in and can afford the slightly raised expenses, Austin should be the one for you.
Which City Is Safer, Austin Or San Antonio?
You are moving from San Antonio to Austin so you should be happy to know that your future home city is a very safe place – even more so than San Antonio. The city of Austin is a great pick due to many reasons but the city has a very low crime rate too. Austin, with a violent crime rate of 2.8 (per 100,000 residents) is, by far, one of the safest among Texas cities. Robbery is one of the crimes that account for less than 20% of all violent crimes in Austin. Therefore, you'll be safer here than you were in San Antonio.
See also: Top 10 Safest Cities in the U.S.
Is Austin TX expensive?
Austin falls under a moderately expensive category if we look at the overall expenses, including the cost of living, housing, and rents. Whether Austin is expensive for you or not depends greatly upon which neighborhood you choose and what your budget limitations are. Generally, because of its flourishing job market, Austin offers high wages so the high cost of living can be managed. To give you a fair idea, the median home value in Austin is around $655,862, which is a lot higher if you compare it to the median home value in the state of Texas which is $281,301.
See also: Moving From San Antonio To Dallas