Moving to Austin | 2022 Cost of Living & Relocation Tips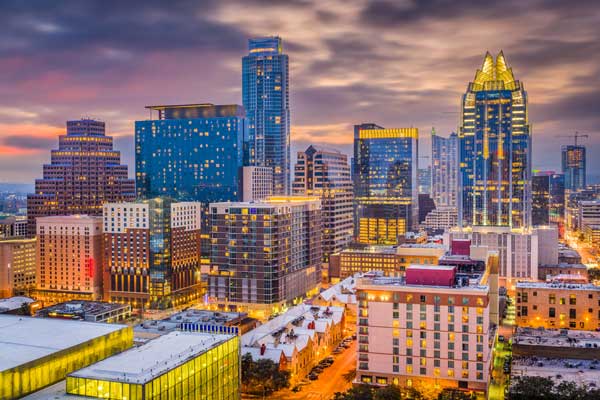 Moving To Austin, TX: A look Into Why You Should Make The Move and How To Do It
Introduction
Let us be clear, the commentary in the blog has been selected by those who have made this move. A lot of people think about moving to Texas, in particular, to Austin. Time to dive right in and illustrate the seven reasons why you should consider moving to the Lone Star state, particularly, Austin.
7 Benefits Of Moving To Austin
1) The first thing to talk about is the economy. Over the past few years, there has been a steady decline in unemployment (3.34% to be exact). As of 2012, there has been a 22% growth in jobs.
We say that because some of you might be moving for a job, or you are looking for a job. The point is, you will have better luck trying for a job in Austin, particularly if you find work in one of the more sustainable fields.
2) You will also find a higher quality of life. You will also find a lower cost of living. Some of you might shake your head on how the two can relate. The two can relate, but you need to find a place where that is achievable.
Austin provides a great balance of low rent and good home values. That means, even if you have to live in a lower-income place, you will still find high value and a decent place to live. There are not a lot of places where you can achieve both.
3) Time to talk about the median home investment. Some of you might be able to invest in a home that sits on the median line ($245,000). Now, you look at some of the other states, and you will find a median line of close to $300,000. That is why Austin, Texas could be a perfect fit for some of you.
Those who are making that kind of money will have better luck being able to pay your rent and other bills on time. In other places, you will have to scramble and save.
The average rent for a one-bedroom apartment in Austin is about $1,000 a month. In some places, for example, here in Florida(where I live), you have to pay double for a one-bedroom.
The average income is about $75,000. You can pay all your bills and have money left over on that. That is not the case where I live. $75,000 a year sometimes does not make a dent.
4) The average cost for extras, including eating out and going to the gym, cost about $10-40. You need to keep in mind that it will cost more if you want to go to some high-end place, but not by much. A domestic beer costs less than $5.
In Florida (where I live, it costs double that for drinks. It costs tripe that for eating out. I am only saying that for comparison. That way you have something to think about when you make your move.
5) Austin is not called the "Green City" for nothing(just as we are not called the "Sunshine State") for nothing. Austin has been called and remains one of the most energy-efficient cities in the country. That is not an accident either.
Austin has been named number three out of the top ten cleantech cities. Once again, this is for comparison use only. It gives you an idea of what you are getting into when you move there.
6) The next stop on the list involves education. Do you know someone who attends the University of Texas in Austin? They are attending one of the most valued colleges in the country, according to Princeton's Review.
The University of Texas also is among the top ten highest single enrollment for colleges in the country. Keep in mind that this relates to college life. There is another discussion about what happens at the high school levels and below. Needless to say, Austin is one of the best overall.
7) There are a lot startup companies that got their start in Austin. Places like SpareFoot, RetailMeNot, and Spice Works all got their start in Austin. Are you aware of the company, Indeed? They got their start in Austin too.
You might want to try a position at one of the companies. You might already be working there. You can request a transfer before you move. That way you have a job waiting for you when you arrive. There are not a lot of people who get that lucky.
Austin offers a lot of great benefits. It would be a shame to waste the opportunity if offered the chance.
Tips On Moving There (To Austin, TX)
Here is a guide on what to expect and how to get there before, during, and after you move to Austin, TX.
1) Most people use their cars, or some kind of transportation. Austin is famous for its Metro services. The three highways you need to become very familiar with are Interstates 183, 1, and 35. There are others, but you need to concern yourself with those in particular.
Interstate 183, 35, and 1 are similar to our I-4 and I-95, here in Florida. Once again, I say that only for comparison, seeing as how Texas is very close to our borders.
You can park your car at one of the parking garages for about $1.20 per hour. Austin also has lift rides like Uber, Lyft, and RideAustin.
RideAustin will cost more per mile compared to the other two. It also depends on who far you go. Say, for example, you are not moving far away(From Baton Rouge, Louisana to Austin. Texas. You make a dry run for the day or weekend. Come down to Austin and experience the lift rides before you move there. That way you get a feel for how things are. That way you will know how to handle yourself when you do move.
2) Are any of you foodies? You are going to love the food. Austin is well-known for its cuisine. You will become addicted to the breakfast tacos(or so I have heard). The best place you can get them as at Veracruz All Natural. That endorsement comes from the people who have moved there and those who are full-time residents.
The queso dip is another popular choice for residents and those moving there. The best place to go is Torchy's Tacos. It is a simple little Tex-Mex chain. They have a lovely Green Chile Queso for just under $6.00. What did we tell you? The food is cheap and of high quality. You will go back for more.
3) There is a nightlife atmosphere in Austin. Now, it also depends on what you consider "nightlife" as to whether or not you will enjoy it. You will find both hard and light liquors. The two main categories are vodka and other hard liquors and beer.
Austin loves beer. I doubt you can find wine in any of the establishments, but you might. Ask someone. All we are saying is you better be prepared to ask for beer. Austin Beerworks and the (512)Brewing Company are the two main ones, though there are a few other places.
You will have to go to Tito's or Nine-Banded Whiskey if you want something hard. The choice is yours. One word of advice, do not think about ordering a vodka and tonic in one of the beer joints. One of the newer residents found out the hard way.
FYI:
The people in Austin love to go see shows, maybe even some dancing. The two best places to let your hair down are Broken Spoke and The White Horse. Do you like hardcore clubbing and music? The Continental Club is going to be your best bet.
There is also shopping. You will find everything from thrift shops to high-end boutiques. It just depends on where you want to go and how much money you have.
4) The cost of living has its pros and cons. Like we mentioned earlier, it does cost less than, say, New York, Florida, or California, some increases are happening. The cities cost more to live in than other places.
You can go online and Google some of the information yourself. It is better to be prepared financially for anything unexpected.
Say, for example, you want to live near the city, but, not in the city because of the high rent. You will want to try the downtown or the surrounding areas. That gives you access to everything the city offers and public transportation without the high rent prices.
5) Are you moving by yourself? You will notice a stark contrast between Austin and New York. Let's just put it this way, Austin is more interested in making friends and newcomers welcome. New York could care less. In other words, you should find a friendliness in Austin that you do not find in other places.
6) Are you moving there without a job? The two big fields you will probably find work in before any of the others are the hospitality and the tech field.
There is a big boom in the tech field. Employees are always needed. The same thing is true in the hospitality field.
FAQs about Moving to Austin
Is It Worth Moving To Austin Texas?
Austin has plenty to make it a great city to move into and call home. For one, the cost of living is 3% lower than the national average. Add to it the fact that healthcare and groceries are also both cheaper than the national average, and the job market is thriving. There's plenty of employment opportunities, and the recent tech boom adds to this. Finally, top that off with an abundance of parking, plus a well connected public transit system, and a booming cultural scene.
How Much Do You Need To Live Comfortably In Austin?
The average salary of someone living in Austin is $71k. Your salary should be enough for you to incur a monthly expenditure of around $825.62 if you're an individual, while a family of 4 will have monthly expenditures of around $2,914.08. Considering $71k is the average salary, you need to earn about that much, or at least enough for you to cover your expenses in Austin.
Where Should I Not Live In Austin TX?
Mlk, Riverside, Saint Johns, Rosewood and Parker Lane are some of the 'bad' neighborhoods in Austin, with a slightly higher crime rate. Overall, Austin is a pretty safe city, especially when compared to other cities its size.
What Are The Pros And Cons Of Living In Austin TX?
Living in Austin has several pros, some of which are the comparatively low costs of living, a great cultural and music scene, good food and good public transportation. But the music and culture, specifically the Austin City Limits Festival held every fall in Zilker Park, can attract a large number of people flocking to "The Live Music Capital of the World". Austin also has its share of traffic, and the summers can get hot, humid and muggy.
What Is The Highest Paying Job In Austin Texas?
Obstetricians, gynecologists, surgeons, and physicians are some of the highest paid professions in Austin, earning upto $255,430 in a year. Some of the top employers are Dell, IBM Corporation, Apple and General Motors Corporation.
What Are The Bad Neighborhoods In Austin?
Few of the troublesome neighborhoods in Austin are Riverside, Mlk, Saint Johns, Parker Lane and Rosewood. There are also certain pockets of Central and Southeast Austin that have slightly high crime rates.
See Also: 5 Best Neighborhoods in Austin for Singles and Young Professionals
Is It Cheaper To Live In Houston Or Austin?
Austin's cost of living is 3% lower than the national average and its groceries and utilities are each 12% lower than the national average. Houston seems to show similar statistics, at least for the cost of living (2%) and groceries (13%). Utilities however are 11% higher than the national average. A family of 4 in Houston will have a monthly expenditure of around $2,863.04, similar to the slightly higher $2,914.08 in Austin. Overall, both cities seem to have around the same rates and life in both is similarly priced.
Is It Hard To Get A Job In Austin?
It's generally easy to get a job in Austin, and the city is home to several employers like Dell, Intel, Google, 3M, Facebook, PayPal and Cisco. The seasonally adjusted unemployment rate in Austin was at 6%, and it dropped to 5.1% in December 2020.
What Is The Cost Of Living In Austin TX?
As previously stated, the cost of living in Austin TX is 3% lower than the national average. An individual in Austin will have a monthly expense of around $825.62, while a family of 4 will spend around $2,914.08. A gallon of milk costs $1.70 and eggs cost $1.59 a carton. Overall, groceries and utilities cost 12% lower than the national average, while healthcare costs 1% lower than the national average.
---
Conclusion
Everyone goes through the newcomer's stage, no matter where you move. You will find your groove as things adjust. It will not take long before Austin will feel like home.
Related: Austin, TX: Surrounding Suburbs Guide | Moving From San Francisco To Austin – Expert Tips & Advice | Best Neighborhoods In Austin For Families