Moving From San Francisco To Austin – Expert Tips & Advice


VanLines Inc
Secure Storage
Easy Booking Process
Fully Trained Employees
GET A QUOTE

Colonial Van Lines
Storage Services
Long-Distance Moves
Corporate Relocations
GET A QUOTE

Moving APT
Available Nationwide
Award-Winning Movers
Extensive Vetting Process
GET A QUOTE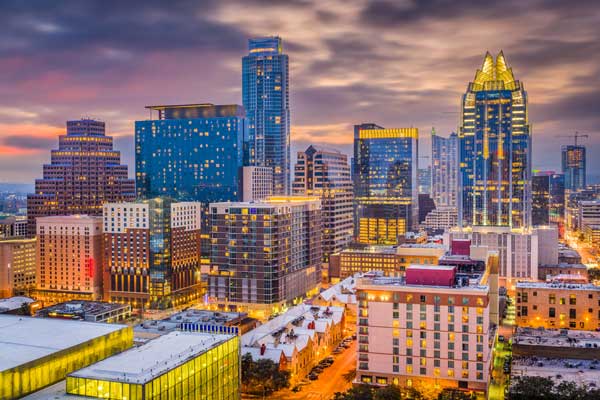 It's difficult to say goodbye to a city that boasts the Golden State Bridge as its crown jewel. However, all goodbyes lead to hellos, and what better greeting than the Texas capital Austin! What's so fantastic about it, you might wonder? A thriving tech economy, a nationally popular music scene, and a superb educational system, all at a lower cost than San Francisco. So, to know in-depth about the kind of lifestyle Austin has in store for you, keep reading this informative article.
Factors To Consider Before Moving From San Francisco To Austin
Weather Conditions
As you know San Francisco is surrounded by water on 3 sides due to which the weather throughout the year remains pleasantly cool. In SF, you can expect temperatures to fall in the range of 45°F to 72°F throughout the year. In Austin, you'll need to start getting used to high humidity and high temperatures that cross 72°F and go up to 95°F on average.
Austin city is known to have intense skull-scorching summers that can really test your resilience at times. To know what weather you'll be experiencing in Austin, here is a comparison of the same with the city you're currently living in.
Here's the difference in temperature that you can expect during peak summers:
San Francisco in July (the hottest month) – Average daily temperatures range from 56°F to 69°F.
Austin in August (the hottest month) – Average daily temperatures range from 73°F to 94°F.
As you can make out for yourself, Austin trumps San Francisco when it comes to scorching summers. This is because of the combined prowess of heat AND humidity, which makes a 93 degrees temperature feel like at least 100 degrees at times! The summer season in Austin lasts about 3.5 months on average with the temperature touching the 105°F mark on many occasions.
Fortunately, the winters in Austin are short, mild, and comfortable, which serve as a nice break from the sweaty weather during the rest of the year.
Here's the difference in temperature that you can expect during peak winters:
San Francisco in January – Average daily temperatures range from 48°F to 59°F.
Austin in January – Average daily temperatures range from 46°F to 66°F.
Both these states enjoy mild winters so you won't have to put on those huge snow boots every time you step out of the house. You will rarely see snow making an appearance during the 3 months this city enjoys winters.
Few Things To Bear In Mind About Austin Weather:
Make sure your air conditioner is in perfect running condition because come summer season, it is going to have to run in overdrive at times!
Although Austin does not fall under the wettest city category, it does rain quite a bit around May and early June. So, make sure you have your shield, the umbrella, out and ready to fight the downpour around this time.
The best time of the year to plan outdoor activities and picnics is during the Spring season. The sun is in a pleasant mood around this time and lets you enjoy your Capri-sun peacefully.
Cost Of Living
Not to bash the city but moving from San Francisco to practically any city is going to be a lot less expensive. This is due to the fact that San Francisco is among the top 3 most expensive cities in the entire country. If we compare the cost of living between the two cities, San Francisco is 88.6% more expensive than Austin. The reason behind this difference is the exorbitant house costs in the former city. To help you further clear the cloud, here is a more detailed comparison between the two states in terms of housing and utilities.
Buying A House
As compared to San Francisco, instead of using your savings, you can actually save a lot of money when it comes to buying a house in Austin. Mind you the housing prices in Austin are still well above the national average but since we are comparing these two cities, things are looking up for Austin. To give you an idea of the housing costs in both these states, here is a quick comparison for the same.
Median Home Value in San Francisco: $1,545,059
Median Home Value in Austin: $639,839
Renting A House
Using the national average rent of $1,650 as a guide, you'll pay $1,695 in Austin, which is nearly on pace with the national average. This will come as a huge sigh of relief as the median rent in San Francisco is $3,250 which is almost double of what you will be paying in Austin.
Utilities
When it comes down to the basic monthly utilities, you would be paying a reasonable amount in Austin despite your air conditioner putting in extra hours of work during summers. Your average utility bill (Heating, Electricity, Cooling, Garbage, and Water) will read $147 per month in Austin while the same will cost around $183 in San Francisco.
Speaking of daily expenses, earning that bread (a loaf) in San Francisco will put you down $4.35 while the same will cost you $2.97 in Austin. A gallon of milk is priced at about $2.55 in San Francisco, whereas you will be paying $1.70 for it in Austin.
Healthcare is another aspect where you will see a sizable difference between both these states. While it is 20% higher than the national average in San Francisco, healthcare costs in Austin stand 1% lower than the national average. Your next doctor's appointment doesn't seem so wallet-wrenching now, does it?
Also See: 4 Most Livable Cities in the U.S. for 2022
Job Market
Coming down to the economic pages of Austin, the technology sector has been the major force in driving the city's economy upwards. High tech is the future and there are magnificent job opportunities in this industry. This is probably why the state capital also sees a large influx of young professionals and entrepreneurs.
Apart from that, the city also scores big points in the entertainment, finance, and healthcare sectors among others. So, if you are seeking job opportunities in the city of Austin, here is a list of the biggest employers that could help you narrow down your search.
Some Of The Largest Employers In Austin Are:
Dell
Tesla
Whole Foods Market
Accenture
AMD
IBM
Oracle
Apple
If we talk about the unemployment rates in the two states, San Francisco has a decent enough standing at 3%. Whereas, Austin takes the cake with a slightly lower rate of 2.7%. Being such populous and famous cities, both fare well when compared to the national average unemployment rate of 4%.
Speaking of income, it's highly possible that your paycheck won't be seeing the same numbers as they did in San Francisco. On the bright side, the low cost of living in Austin, won't require earning in 7 digit figures to live comfortably. To paint you a digit picture, here is a comparison between the two cities in terms of median annual income.
Median annual income in San Francisco (According to Payscale)- $103,000
Median annual income in Austin (According to Payscale) – $74,000
Also read: Top 10 Largest Cities In Texas
Transportation
The striking contrast between the two states when it comes to transportation can be seen in their dependency on cars. While San Francisco's extensive public transportation system will take care of all your commute requirements, getting around Austin is best done via private cars. But not all hope is lost, Austin does have its fair share of transport means other than private cars. To give you an idea of what your commuting options will be in this city, here is a list for the same.
Capital Metro – This agency provides multiple public transportation systems throughout the city. MetroBus, MetroExpress, and MetroRapid are the major bus service systems under its belt.
Amtrak – The nation's common rail service has its station in Downtown which aligns with the Texas Eagle train route.
Biking – The city unapologetically boasts of its bike-friendliness as it should. You will find a number of bike-sharing services. Capital MetroBike is a popular service around the Downtown area.
Walking – Nothing beats the pleasure of exploring a place on foot. With a walkability score of 42, Austin is the country's 30th most walkable large city.
Austin's Strong Points
Despite the above-average cost of living, an average Austinian earns well enough to not let his decent lifestyle get interrupted by monetary stress.
It has an excellent tech culture that is helping its economy take huge strides in the right direction.
The average educational qualifications of this city are quite high, which is proof of the excellent educational systems this city provides. The University Of Texas has an immense role in this noble cause.
Called the "Live Music Capital Of The World", Austin has numerous music venues that witness large crowds gathering for their favorite artists. Rock bands are the most common kind of bands found in the city.
Also read: Austin, TX: Surrounding Suburbs Guide
Top Neighborhoods To Move To In Austin
Hyde Park
Situated just north of the University of Texas, Hyde Park is Austin's first planned suburb. You can gauge its historical value from this fact alone. If you are one for the quaint architectural structures, Hyde Park is going to be the number one contender on your list. The city is also a great place for wine connoisseurs looking to give their tongues a taste of elegance every once in a while. The Vino Vino Restaurant is one of the best when it comes to having exquisite quality wines in the city. Though the house pricing in this neighborhood is on a much higher side, the kind of luxury you will experience here will be unparalleled.
Median value of homes: $874,101
Median rent: $1,732
Barton Hills
How often do you get to relish mother nature's treasures in a city that advances at a breathtaking pace? Barton Hills will let you experience this on a regular basis should you decide to move here. With a beautiful creek bisecting the neighborhood, an evening walk under the systematically lined trees will be no less than an aesthetic movie scene. Built in the early 1930s, this neighborhood has its historic essence to be marveled at. At the same time, its hip modern constructions are often a topic for young architects. The cherry on top? The people around here are outgoing and friendly in nature. So, you will have no problem blending in here.
Median value of homes: $523,010
Median rent: $1,883
Cedar Park
If you are looking for a neighborhood that provides a classic suburban feel, then look no further. Cedar Park is one such peculiar area located at the northwest edge of the city. It is also known for being an ideal neighborhood to raise a family. One of the reasons for it is its excellent public schooling systems. The famous H-E-B Center, which is home to the Texas Stars of the American Hockey League is right here in Cedar Park.
Median value of homes: $590,000
Median rent: $1,665
Allandale
If there is any neighborhood that stays true to the "go local" ideology, it's Allandale. The core strength of this area is that the community of people relentlessly support each other's business, be it local shops or even restaurants. You will find a rare quiet and calm vibe around this part of the town despite being surrounded by the commotion of the busy city. Its close proximity to the Downtown area makes it an ideal relocation destination.
Median value of homes: $483,000
Median rent: $1,477
Downtown Austin
Located in the heart of the city, Downtown has everything that you would look for in an urban neighborhood and more! With its luxurious houses and premium garden-style condos, elegance oozes out from every part of this neighborhood. It goes without saying that the housing costs here are going to be fairly higher than most of the neighborhoods in the city. The nightlife here will have you dazzled, with multiple music venues, top-notch restaurants, and various activities to indulge in.
Median value of homes: $735,101
Median rent: $3,130
Also See: Moving from Chicago to Austin | Best Moving Companies in San Francisco | Top Neighborhoods in Austin for Singles and Young Professionals
Things To Take Care Of When You're Moving From San Francisco To Austin
Your belongings obviously hold great importance and hence, you shouldn't trust them with just about anyone. What that means is, while hiring a moving company, it is important for you to do a thorough background check before letting them relocate your items.
A timeless piece of advice – Get moving quotes from at least three different moving companies to understand the market rates. Seal the deal with a moving company only if it caters to all your relocation needs within your budget.
To make sure you don't spend excess money on moving costs, plan your move during the off-peak season when you have a multitude of moving companies available with flexible moving date options. The last thing you want is to pay double the money for something which could have been avoided with a little advanced planning.
Last but not the least, your moving budget will dictate your mood in the following days of the move. So, make sure you have a solid budget in place to avoid a dystopia of sorts!
San Francisco To Austin Moving Costs
A lot goes into ensuring a smooth cost-effective relocation from one city to another. And with a long-distance move of this enormity, you need to be mindful of a few things to make sure you don't spill more than you ideally should on moving costs. Your average move from San Francisco to Austin will cost you around $2,648 – $6,412. However, this cost may vary depending on a number of factors. Below is a price list factoring in the different kinds of services you can avail of for a 2-3-bedroom apartment.
Full-service moving company – $3,550 – $5,500
Moving Container – $3,020 – $3,813
Freight Company – $2,950 – $3,730
If you choose any of these alternatives for your relocation, this should give you a good sense of how much you'll be paying. Hiring a full-service moving company is a great alternative if you don't mind spending a little more money. If you're on a limited budget, though, consider doing things like packing, unloading, and unpacking to save on extra costs.
Conclusion
Now that you have a good sense of what your life as an Austinite would be like, it shouldn't take you long to book your tickets and travel to this side of the country. We guarantee that the vibrant and lively city of Austin will exceed all your expectations.
FAQs About Moving From San Francisco To Austin
Is Austin More Expensive Than San Francisco?
No, when you compare the two cities, the cost of living in San Francisco is 88.6% more than that in Austin.
Why Are Californians Moving To Austin?
The major reason behind Californians moving to Austin is the exorbitant housing costs in California. The median home value in the city is well over a million dollars!
How Much Does It Cost To Move From San Francisco To Austin?
An average move from San Francisco to Austin will cost you anywhere in the range of $2,648 – $6,412. However, this cost can be reduced by implementing various cost-effective methods.
See Also: Top Cheap Movers in the USA | Moving From NYC To Austin | Moving From Boston To Austin | Moving from San Francisco to Chicago | Moving from San Francisco to San Diego