10 Most Expensive Cities in the US
When you think of expensive cities, names like San Jose, Washington, Seattle, New York and Los Angeles probably come to mind right off the bat. Well, these alpha cities have a long history and reputation of being expensive. And just like premium brands, terms like 'brutal' are used to define the expenses here. There's even a possibility that you'll need a six-figure income to live comfortably in some of these cities. However, don't be taken aback by these statements.
Although the expenditure in expensive cities burns a big hole in your wallet, in your heart you'll truly know that it is a great trade off. Expensive cities share one thing in common. They offer residents a chance to grow rich in culture, greater job opportunities, a promising standard of living, high-per capita income, a cosmopolitan lifestyle and much more. This is probably why a vast majority of the population are drawn to these places.
Having said that, the downsides are that you'll definitely need to work on ways to deal with the skyrocketing prices for rent and housing. When we turned to data, the cost of utilities also played a huge part in determining if the city is expensive. The amounts you pay for services, transportation, internet, energy, water and gas all contribute towards the overall cost of living. And these are few of the metrics taken into account for the list below.
Things To Know About Living In Expensive Cities In The US
If you ask us, the word expensive in itself is a pretty relative term. Two people living in New York, which is one of the most expensive cities in the US, would have two dramatically different monthly incomes and bills. For instance, a single person's monthly expenditure could go upto $8,000. But depending on the lifestyle changes you make, the same bill can drop to around $2,500. By this we wish to convey that yes, it's true that prices are hitting the roof in these cities. And you probably may cross off a few cities as places to avoid. However, all these cities are both expensive and affordable at the same time. Because of which millions and millions of people take the leap of moving to these cities.
But we know you're probably thinking about how expensive can it really really be? So, let's get down to the list.
Top 10 Most Expensive Cities In America
Here is the list in order of highest prices to high.
1. San Francisco, California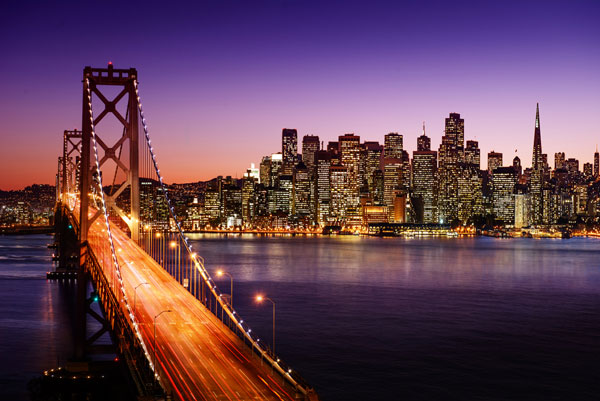 The multi-faceted city of San Francisco makes it to the top of the list. The cost of living here is the highest in the entire nation. It is believed that you require a sum of roughly $12,370 per month to live comfortably in this city. Among all the regions, do note that the closer you want to live near the Bay Area, the more expensive it gets. However, the perks of living here is plenty. It is the epicenter of the tech industry and you get great exposure to different cultures.
There's several types of neighborhoods to suit one's taste. But do note that if you're thinking of buying a home, it's unlikely that prices will be way below the 1 million mark. Because of this, a huge majority choose to rent out spaces near city centers. Also, depending on the job role you nail down, you can expect to annually earn between $100,000-$175,000. Besides Google, Facebook and Apple, it is possible to find companies that pay well. And that's the secret to how the average person in San Francisco survives.
Median value of home – $1,403,197
Median rent – $3,700
Median Household Income – $104,552
2. New York City, New York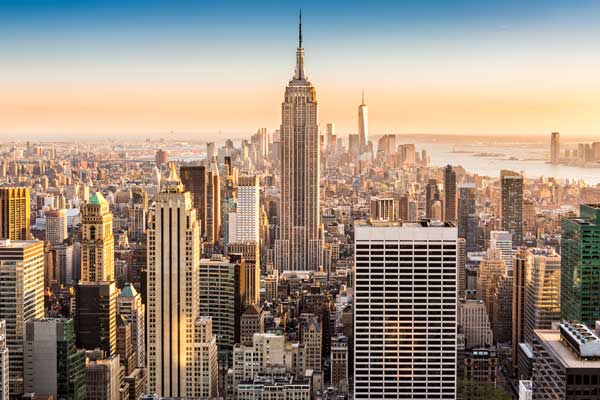 Being a New Yorker is surely a dream for millions. It is not just the thrill of living in a large city with the hustle and bustle, but the spirit of the people that draw people to move to New York. More than 8 million people occupy the city, despite it being expensive. So, there's surely ways to live comfortably, even if you're making less than six figures a year.
To give you a price perspective, you can expect monthly expenses to fall in the range of $2,550-$7,500 per month. Similarly, annual salaries should possibly be in the range of $60k-$70k to live 'comfortably'. However, do note that rental and housing costs in Manhattan are relatively way higher than the rest of the city. Tribeca, Midtown Manhattan and Hudson Square are some of the other expensive parts of the city. If you're rolling any six-figure amount into your bank account, it is considered that you're way ahead of the game.
Median value of home – $645,143
Median rent – $3,500
Median Household Income – $60,762
3. Oakland, California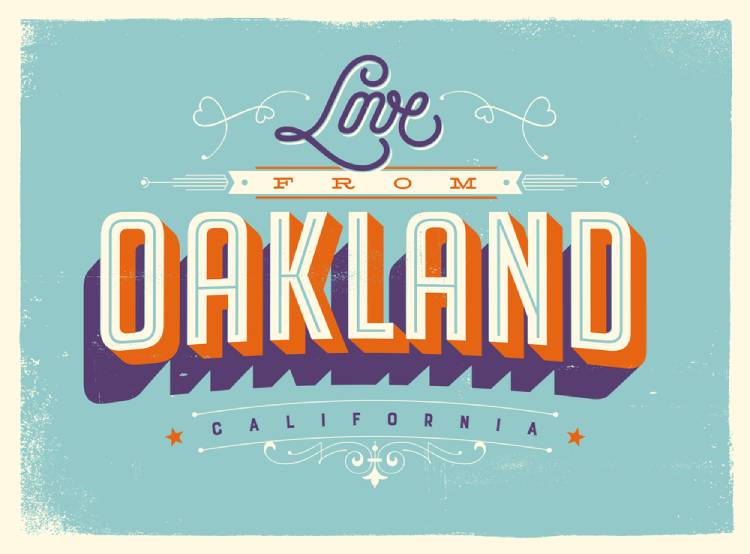 If you're looking for a cosmopolitan city with a diverse culture, Oakland is the best place to be. The good news is that it is relatively less expensive, because the per capita income is stronger. This helps withstand the high prices of living in this city. To provide you with a rough figure, it is considered that 65k-75k is a decent annual income. While monthly expenditures could range from $1,000-$1,500. So, there could be a good margin to save.
The other advantages of moving to Oakland is that you're part of the Bay area which is the heart of the state. You also have access to efficient transit options, a vibrant nightlife and an incredible coastline. It is situated just 20 minutes away from San Francisco and gets to feed on most of the things enjoyed in San Francisco. So, if you love the vibe of San Francisco but don't love how expensive it is, Oakland could be your next best bet.
Median value of home – $813,680
Median rent – $2,850
Median Household Income – $76,469
4. Boston, Massachusetts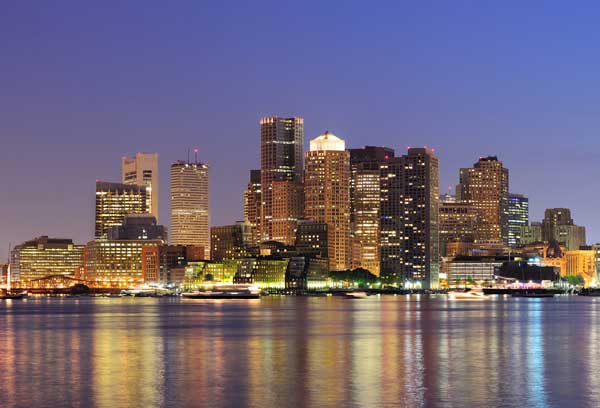 Boston is home to some of the best educational institutions (Yes, Harvard) in the country. And it's also been ranked as one of the most expensive cities more than a couple of times. So we guess it is safe to say that Boston is wealthy and wise. On an average, a good annual salary for most jobs in the state is roughly 65k-70k. And to live more than comfortably, the median household income should be approximately $77,378. On the other hand, a single-person estimated monthly cost is $3,727-$4,545. This means there's surely room for savings depending on the lifestyle choices you make.
The perks of living in Boston are that it is a highly walkable city and you would be home next to world-class institutions. The city also has a vibrant culinary scene and lively neighborhoods. These are few of the many reasons why people are ready to pay the cost of living in Boston.
Median value of home – $660,377
Median rent – $2,500
Median Household Income – $65,883
5. Washington, D.C.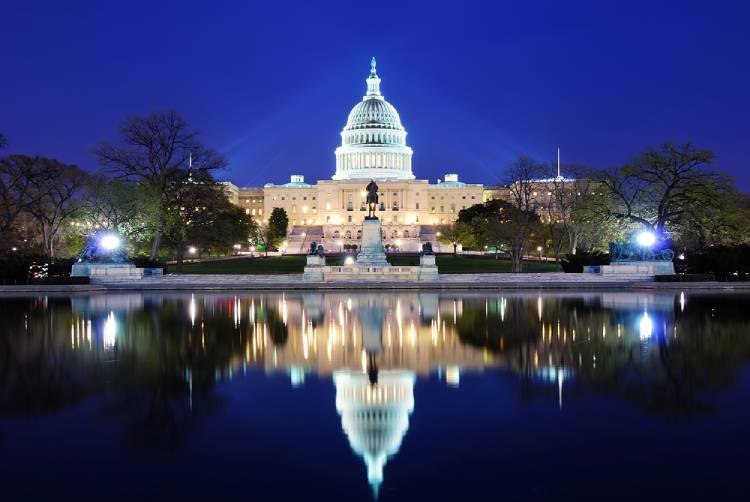 For some, it is the prestige of living in the capital city, while for others it is the multitude of job opportunities. The city is filled with wonderful possibilities when it comes to enhancing your career. A testament to that is the city being ranked the third best place in the nation for young professionals. The average salary in Washington, D.C tends to be roughly between 65k-75k. So practically speaking, that makes it easier to sustain the high standard of living in the city.
A little digging on the town will reveal that the city is brimming with job opportunities. Especially if you wish to work for the government, this city could be for you, since the federal government is the largest employer of this region. Healthcare, finance and education are the other booming industries of the city.
Median value of home – $645,455
Median rent – $1,995
Median Household Income – $82,604
6. San Jose, California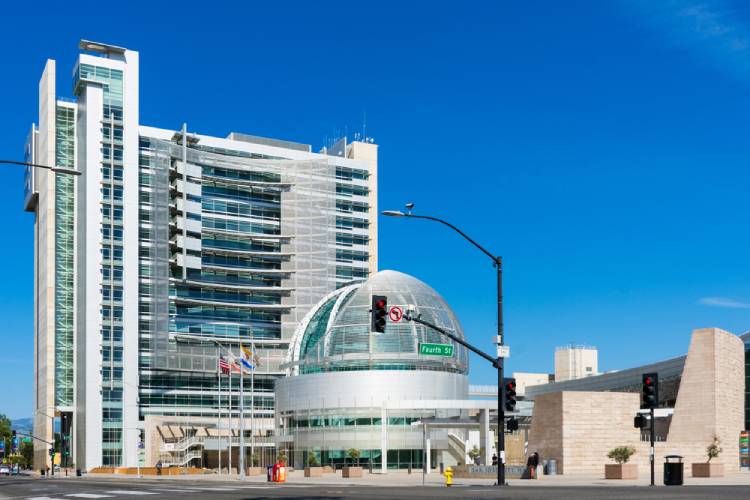 San Jose is situated in close proximity to Silicon Valley, because of which it should be no surprise that the tech industry here is exceptional. The city also enjoys great weather as it receives roughly 300 days of sunshine. However, when you look at the numbers, it can be pretty expensive to live in this modern and futuristic city.
The median value of homes crosses the 1 million mark. And on an average, it is considered that even 85k annually could at times not be enough to live comfortably in San Jose. However, it still may be worth pursuing the move here, especially if you want to achieve 'The Silicon Valley Dream'. Also, on the plus side, the whole area of San Jose is large, so there are definitely hidden gems where real estate is what one could term 'inexpensive'.
Median value of home – $1,063,519
Median rent – $1,970
Median Household Income – $104,234
7. Seattle, Washington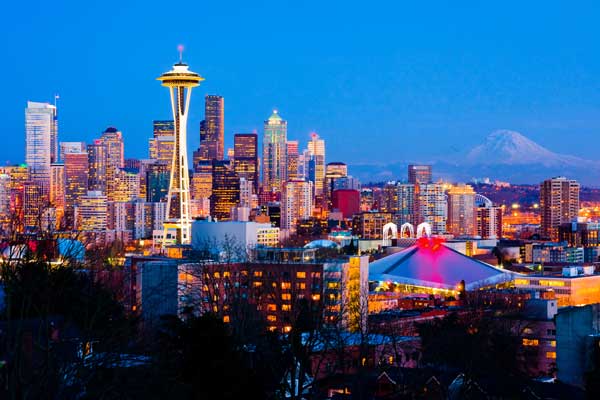 Of the many things that Seattle is popularly known for, a technology hub with both Amazon and Microsoft running their headquarters from this city is probably the most remarkable one. Apart from the countless job opportunities, you would also have the chance to escape the city hustle and bustle into the lap of nature. The city is attractive because you are spoilt with choices when it comes to enjoying the outdoors. It is easy to maintain a work-life balance when you have recreational spots around you.
On an average, an 70k-80k salary is considered a decent amount to live comfortably. But if you're willing to spend time commuting and live in neat little suburbs, you could find more bang for the bucks you put in. Since the city is huge, you can always find pockets of lifestyles that suit your needs.
Median value of home – $783,969
Median rent – $1,930
Median Household Income – $85,562
8. Honolulu, Hawaii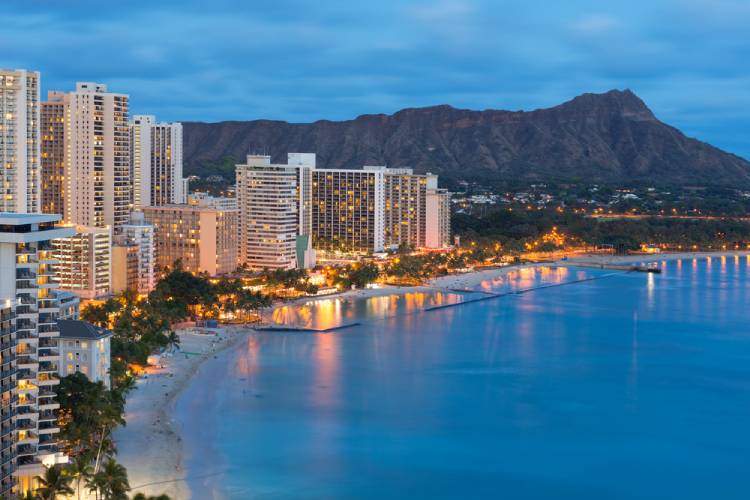 Even the thought of relocating to Hawaii in general is going to be a very lavish move to make. You're probably going to have to prepare to say Aloha to really expensive prices. Although it has a very appealing vacation-like lifestyle and laid back atmosphere, living here comes at a cost. Part of the expenses are mainly linked to Hawaii being an island. And well, life on an island is just going to be ten times more expensive than a mainland region.
That being said, lots of people move to Hawaii in hopes of finding the paradise life it offers. And it is true that the state and its cities are naturally beautiful. But, how much can you expect to pay? Well, this is the tricky part. Because the city of Honolulu is huge and depending on whether or not you wish to live a mainland lifestyle, things may or may not seem expensive. This is the main factor that determines the cost of living in this 'paradise'.
Median value of home – $727,673
Median rent – $1,494
Median Household Income – $73,447
9. Los Angeles, California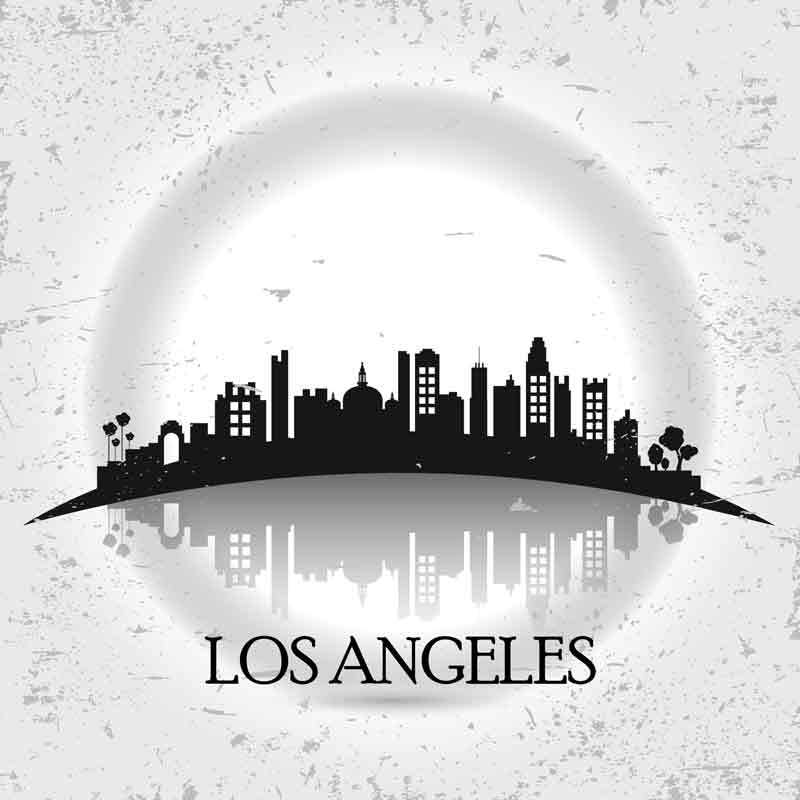 Now the city of Los Angeles doesn't come across as expensive….(Wait for it) only when you compare it to the ones that made it to the top of the list. On an average, you would need somewhere between 75k-90k to live comfortably in the sprawling southern city of Los Angeles. But at the same time, there's a possibility that you can live comfortably within the $3,000-$4,000 per month range without rent. However, if you choose to live in a nice part of the city, like Santa Monica or West Hollywood, your living cost could easily go upto 10k a month.
But if you wish to be part of a diverse entertainment industry, Los Angeles could be the place for you. The city is also known for its year-round wonderful weather and creative communities. Los Angeles also offers young professionals with great opportunities to hustle. So if you plan your finances well enough here, it is possible to live a fulfilling life in this city.
Median value of home – $788,122
Median rent – $1,376
Median Household Income – $58,385
10. San Diego, California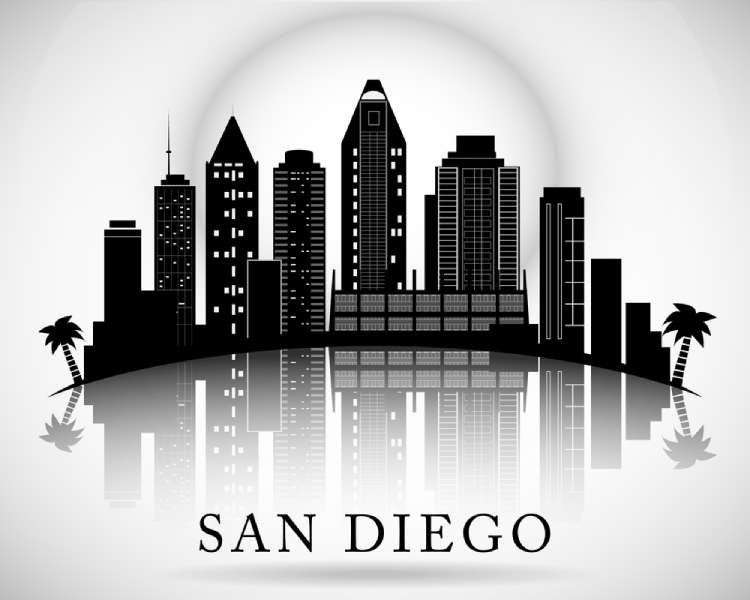 Just two hours away from Los Angeles, we have San Diego which made it to the bottom of the list. This probably means it earns the title of being the least most-expensive city. So, that's probably good news for those considering moving here.
To give you a perspective on costs – on an average, you can expect your monthly expenses to fall in the range of $2500-$3500. Housing has definitely been shooting up, but it's pretty far from crossing the million mark. Great weather, incredible beaches and getting to be part of the culture of California are some of the top advantages of living here. When you weigh these advantages against the expenses, to an extent things seem pretty reasonable.
Median value of home – $693,605
Median rent – $1,611
Median Household Income – $75,456
FAQs about the Most Expensive Cities in America
What cities have the highest cost of living?
San Francisco in California tops the list when it comes to cost of living. So according to PayScale, it is an incredible 80% higher than the national average! The median income of a household here is about $95K, but a good chunk of it would be spent on housing. The average home value in San Fran is a whopping $1,385,625, according to Zillow, while renting an apartment would set you back by about $3,111, according to RENTCafe.
You're probably unsurprised to see New York City in this pricey hall of fame. BestPlaces estimates the cost of living index of the Big Apple to be 187.2, which is much higher than the US average. While everything is on the much pricier side here, it's housing that would put sizeable dents in your wallet.
There's no denying that Honolulu, Hawaii sounds a great place to move to. But with an average individual salary of $31,146 may not justify the high cost of living here. While healthcare is somewhat close to the national average, living in Honolulu means spending a ton on housing and utilities.
What city has the highest rent?
If you're planning to rent a house or an apartment in San Francisco, be prepared to shell out a ton of money. According to RENTCafe, you'll be spending an average monthly rent of $3,111 here for a 740 sq ft apartment.
What state has the cheapest rent?
With an average monthly rent of about $970, West Virginia is the most affordable state in the US when it comes to renting a house or an apartment.
What cities have the cheapest rent?
Springfield, Michigan has an average monthly rent of a mere $674.
In Derby, Kansas, you'll be paying $748.Columbus, Ohio, has a low monthly rent of $985.
---
Conclusion
If you're considering moving to an expensive city, we'd highly recommend to streamline your finances so that you're not overwhelmed by the expenses. The average price points we've shared with you in this list is just to give you a faint picture of how expensive things get. Also, when you weigh it against the pros and median annual income, chances are you'll see things in a different light and not be intimidated by the costs.
See also: 15 Cheap Cities to Move to | 8 Most Expensive States to Live in