Moving From Boston To Austin – Expert Tips & Advice


VanLines Inc
Secure Storage
Easy Booking Process
Fully Trained Employees
GET A QUOTE

Colonial Van Lines
Storage Services
Long-Distance Moves
Corporate Relocations
GET A QUOTE

Moving APT
Available Nationwide
Award-Winning Movers
Extensive Vetting Process
GET A QUOTE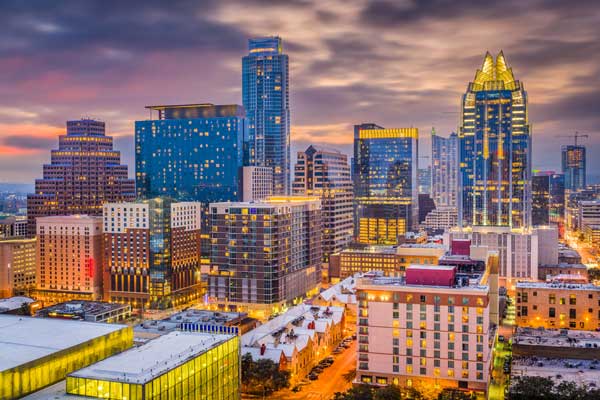 Let's face it, a buzzing metropolis is noisy, has lots of crowds and traffic yet some of us would pick it over a quiet sleepy town any day. That's exactly the case with Boston and Austin. Both cities are the capital of their respective states and are able to give residents the joy of calling a huge metropolis home.
By moving from Boston to Austin, you'll enjoy having the convenience of a big city such as great public transportation, good food, and tons of work opportunities. Austin is surely seeing a regular influx of people from all parts of the country, a sign that it checks many boxes for an ideal location to move to. In order to back these claims with some facts and information, keep reading the article below.
Factors To Consider Before Moving From Boston To Austin
Weather Conditions
Weather in Boston is not stagnant throughout the year as the city experiences transitional weather conditions. Austin on the other hand is known to have boiling temperatures for the most part of the year. The open fields under direct sunlight in Austin will feel like a giant frying pan during peak summers!
While the winters in Boston are a joyous time for residents to enjoy snowboarding and other such activities, Austinites barely feel the need to wear their snow boots come winter. To provide you with a more crisp weather comparison between the two cities below is a gist of the same.
Here's the difference in temperature that you can expect during peak summers:
Boston in July (the hottest month) – Average daily temperatures range from 63°F to 77°F.
Austin in August (the hottest month) – Average daily temperatures range from 73°F to 94°F.
Looking at the numbers above, it seems quite clear that the highest temperature in Boston during summers is basically the lowest temperature in Austin. During the warmest days (temperatures reaching even 100°F at times) in Austin, you will feel like being on a hot date with the sun itself. So, unless you have a knack for challenging extreme hot weather conditions, consider staying indoors around this time till you get used to the summer temperatures.
Here's the difference in temperature that you can expect during peak winters:
Boston in January – Average daily temperatures range from 23°F to 36°F.
Austin in January – Average daily temperatures range from 46°F to 66°F.
Similar to a competitive dual, Boston takes the win when it comes to cold weather conditions. Whereas, Austin, falling in the warmer spectrum of the scale very rarely sees snowfall and has fairly mild and comfortable winter weather in its short stint.
Few Things To Bear In Mind About Austin Weather:
The short and mild winter weather in the city might disappoint a few, but it does try to compensate with the good amount of rainfall it receives during the months of May and June.
The peak summer season in Austin is no joke and can really harm your skin if you don't take the necessary precautions. Go out less frequently around this time and get your air conditioner to work!
March to May or September to November is probably the best time for you to get out of the house when the sun goes a little easy on you and lets you enjoy your time in the natural air outside.
Cost Of Living
Relocating to a city that is not Boston is certainly going to be easy on the pocket since Boston ranks among the top 1% of the most expensive cities in the world. So, if you compare it with a city like Austin, where the cost of living is 36.5% less expensive, it does make sense to consider a move to Texas's capital city. While we are on the subject of expenses, let us take a closer look at just how much you are going to spend on housing expenses in Austin as compared to that in Boston.
Buying A House
Signing on the bottom side of that sale deed and getting your hands on the house keys is a feeling which can rarely be matched. However, cities like Austin might make you wait for a while to get experience the feeling. Although the housing costs in the city are a few degrees below Boston's prices for homes, it is still fairly expensive to own a house in Austin. To give you a clearer picture, below are the median home prices in both these cities.
Median Home Value in Boston: $710,670
Median Home Value in Austin: $639,839
Renting A House
Everyone loves a simple math problem if it is in favor of saving money and these two cities provide you with a similar equation when it comes to renting a house. The median rent in Boston sits at a mammoth $3,560 while the same is about $1,695 in Austin. The difference is clear as day, you'll be paying half the price in Austin of what you have been paying in Boston. The national average rent being $1,650, Austin is not far off from it and hence, proves to be an affordable city for people looking to rent an abode here.
Utilities
Coming down to the nitty-gritty of your life in Austin, you will find yourself saving quite a few bucks on utility costs as compared to that in Boston. To broaden than already wide smile, let us look at the numbers. For a gallon of milk, you'll be paying $3.65 in Boston, while the same will see you spend $1.70 in Austin. A loaf of bread is priced at $3.17 in Boston and $2.97 in the Texas capital city.
Your average monthly utility bill (Heating, Electricity, Garbage, and Water) will read $147 while the same is costing you around $200 in Boston. This difference of about $50 makes a huge difference in your monthly expenses especially when you are on a tight budget.
Lastly, where the healthcare costs in Boston are 35% higher than the national average, the same is just 1% above the national average in Austin. Go ahead, you can have your moment to ponder over just how much you've been spending on healthcare in Boston.
Also read: Austin, TX: Surrounding Suburbs Guide | Top Most Livable Cities in the U.S.
Job Market
You know it is a modern and evolving city if it values and promotes the tech industry at the highest levels. Because let's face it, technology in the coming years will comfortably dethrone almost any major industry from the first position. So, it is safe to say that this industry is a dominant force in driving the city's economy in the right direction. Now, if we talk about the other industries that play an important role in the city's economic growth, then finance, entertainment, biomedical, and pharmaceutical industries make it to the list. So, if you are on the lookout for a job in this booming economic city, below are a few top companies you could try out.
Some Of The Largest Employers In Austin According To Zippia Are:
Oracle
Tesla
IBM
Apple
Whole Foods Market
Accenture
Dell
AMD
Speaking of the unemployment rate, both these cities manage to stay well below the national average of 4%. While Boston's unemployment rate positions itself at 3.30%, Austin emerges as the clear winner between the two with an impressive rate of just 2.7%. This is proof of how well this city is doing in terms of providing job seekers with the employment opportunities they need.
As you must have pictured it by now, the cost of living in these cities is not something that everyone can afford. Having said that, the high median household income in Boston and Austin makes it a little easier to spend a decent lifestyle. But with a bonus of no-income-tax policy in Texas, Austinites have a slight edge over Boston in this regard. Take a look at the below comparison between the two for the same.
Average Household Income In The Two Cities:
Median annual income in Boston (According to Payscale)- $81,000
Median annual income in Austin (According to Payscale) – $74,000
Transportation
Though you might have heard that the best way to move around Austin is by car, the city has a good amount of alternatives for you to reach your desired destinations. Not to mention the ever-so-increasing gas prices which will cost you a fortune should you travel by car regularly in this city or any part of the country for that matter. To give you an overview of what options you could avail of when it comes to commuting in the city, have a look at the list below.
Amtrak – You can hop on the nation's most common railroad passenger service which has its station in Austin's Downtown area. You can avail the Texas Eagle line here that travels daily between Chicago and San Antonio.
Capital Metro – Responsible for most of the transport services in the city of Austin, this agency spreads its wings with the bus services of MetroExpress, MetroRapid, and MetroBus throughout the city.
Taxis – Although the traffic in this city is something that will irk you on your bad days, availing of taxi services is still better than driving your own car and having to worry about the parking spaces. Popular taxi services like Uber, Lyft, Ztrip are popular choices in the city.
Biking – If you prefer the old-fashioned healthy option to wander about in the city, Austin is a great place to partner you in it. The city takes pride in its bike-friendly nature thanks to the multiple biking trails you'll find here.
Walking – Ranking among the top 30 most walkable cities in the country, Austin will not let you down when it comes to strolling around the city on foot!
Austin's Strong Points
The strongest weapon in the city's inventory is the no-state income tax policy. Nothing beats the joy of getting the full value of your work in your hands at the end of your shift!
The strong educational roots of this city bear fruits in the form of higher educational qualifications than the national average.
The tech culture is one of the many reasons young professionals and entrepreneurs look forward to residing in this city.
Bring out your guitar, put on that long rock-metal-band hair wig, and get ready to be a part of one of the hippest music cultures in the country. Named as the "Live Music Capital of the World", you will find a music event happening in just about every part of the city.
Top Neighborhoods To Move To In Austin
Mueller
An up-and-coming neighborhood, Mueller is already a preferred moving destination for young professionals and families. This sustainability-oriented community focuses on house designs that are resource-efficient and have minimal to no toxic materials used in the process. The neighborhood also has its hands full in green initiatives which help provide a better lifestyle for its residents. If you are looking for an environmentally friendly neighborhood, then Mueller is one such area you need to check out.
Median value of homes: $850,000
Monthly median rent: $1,600
Rosewood
One of the best places to reside in the entire state of Texas is this captivating neighborhood called Rosewood. You will find a good blend of urban and suburban feel which will only make you live here for even more years! The food scene in this neighborhood is something that quite literally everyone in the city talks about. Don't believe us? Google Rosewood and you will find a plethora of restaurants and eateries on the first page itself. So, if the foodie in you wants a place to call home, Rosewood is the ideal choice!
Median value of homes: $640,000
Monthly median rent: $2,155
Downtown Austin
A fairly expensive part of the city, Downtown Austin makes up for it in just about every aspect. Be it the luxury lifestyle or the nightlife which is the talk of the town, there is no shortage of amenities in this neighborhood. If you don't mind digging a little deeper in your pockets for an extravagant lifestyle, it is worth moving to Downtown.
Median value of homes: $735,101
Monthly median rent: $3,130
Allandale
Another neighborhood that is close to the Downtown area of the city is Allandale. The peculiar feature of this neighborhood is its tight-knit community. No matter what endeavor you take up, the residents will always be right beside you, supporting and encouraging your business through thick and thin. A community of such caring people is what makes a place even great. The affordability in this neighborhood is the icing on the cake which makes it an even more desirable moving destination!
Median value of homes: $483,000
Monthly median rent: $1,477
Barton Hills
Having a natural landscape already in its name, Barton Hills is that scenic neighborhood one searches for at the time of relocation. Living in this part of the town will bring you closer to mother nature as you breathe that fresh crisp air across the entire neighborhood. It also has historic architectural beauties that are a sight to behold. It makes for a perfect place for art enthusiasts looking for inspiration to paint their canvas with magic!
Median value of homes: $523,010
Monthly median rent: $1,883
Also See: Best Neighborhoods In Austin For Families
Things To Take Care Of When You're Moving From Boston To Austin
The distance between these similar-sounding states is about 1,962 miles. When it comes to moving, when you see such a distance cross the 4-digit mark, give the baton to a professional moving company to ensure the safety of your belongings.
But since not every moving company that claims to be professional is really professional, you need to conduct solid research on the background of the one you choose to get in business with.
Before shaking hands with the first company you come across, make sure you have at least three different moving estimates from multiple moving companies to get an idea of the current market rates.
Once you zeroed in on the company, get rid of all the unwanted items that you won't be needing in your new home. This will save cargo space, in turn saving you quite a few bucks in the long run.
Even if it is $1 or $100, money saved is money earned! In order to save some, consider cost-effective options like packing your items yourself, selling unwanted items, moving during off-peak season (October to April), and last but not the least, prepare a solid moving budget to keep track of every expense you incur and to limit extra spending.
Boston To Austin Moving Costs
Moving from an expensive city to a slightly less expensive, yet costly city over a distance of nearly 2,000 miles is not something you can pull off under a thousand bucks or two. Your average move from Boston to Austin is bound to come somewhere close to the $2,800 – $7900 range. Although this moving cost can definitely be brought down if you carry out some money-saving techniques before and during the whole process.
Hiring the moving company well in advance should be your first priority since last-minute hiring will see your wallet drown in surge charges. Consider packing your items on your own to save on packing costs the professional mover might charge you for. If you wish to go for a DIY move, planning the route, traffic, and weather will save you time and gas money to be precise.
Conclusion
Living in a state capital city is always a source of pride for inhabitants, and Austin being the city in question, just adds to that pride. So, future Austinite, are you ready to experience the vibe of this vibrant city that a sizable population proudly calls home?
FAQs About Moving From Boston To Austin
How Much Does It Cost To Move From Boston To Austin?
Your average move from Boston to Austin will cost you around $2,800 – $7900. Though this cost can change depending on factors like moving location, time of the move, and the kind of services you avail of.
Is Boston More Expensive Than Austin?
Living in Austin will see you spend about 36.5% less than what you'll be paying In Boston for a decent lifestyle.
What Are The Benefits Of Moving To Austin?
A city with a lively music scene, exquisite food culture, and excellent job opportunities, it is safe to say that Austin has benefits a plenty. The city also enjoys a low unemployment rate and has an absence of income tax.
See also: Moving from Boston to Florida | Moving from Boston to Atlanta