4 Most Livable Cities in the U.S. for 2022


VanLines Inc
Secure Storage
Easy Booking Process
Fully Trained Employees
GET A QUOTE

Colonial Van Lines
Storage Services
Long-Distance Moves
Corporate Relocations
GET A QUOTE

Moving APT
Available Nationwide
Award-Winning Movers
Extensive Vetting Process
GET A QUOTE
Made out of 50 states, the US not only offers the promise of the American Dream but is also a dream place to live for many. It is only fair if you want to pick the best city to live in when you do shift to the US because, as they say, You Only Live Once.
Whether you are contemplating moving to the US to start a family or are from another country aiming to build your dream of living in America, you deserve the best and we are here for you. We have done all the necessary research and have curated a list of some of the best cities in the US along with the factors that give them this title.
What Makes Any City The Best To Live In?
The word 'best' can be very subjective and although your definition of best might be made up of some specific variables, there still remain various standards that overall contribute to making any city the most livable. Here are some of the factors you should definitely look at before making a decision about which city to move to:
Climate
A pleasant climate can make or break a city's overall value. The best cities have a moderate climate where it's neither too cold nor too hot so people can live conveniently year-round.
Job Market
People often decide to move to an entirely new city in pursuit of a good job as this becomes a factor that is often worth the move. The job market directly affects employment opportunities and the economy so it is best to look for a city with an established or blooming job market to ensure a safe future.
Quality Of Life
The quality of life that you deem sufficient is subjective but elements like the surroundings, services, restaurants, culture and rent prices are some of the factors that determine it. You should always look at these factors and where your city ranks in terms of providing high standards of living to its residents before deciding to relocate.
Cost Of Living
How much you earn versus how much you spend is the basic math formula that determines your living cost. It is better to move to a city where household incomes are higher than the overall cost of living, otherwise your life will just be a never-ending hustle to meet the bare minimum and make both ends meet.
Education
Where your desirable city ranks in terms of education is also an important factor that makes any city livable. The quality of education and schools can be the biggest push or pull factor for people who are looking to settle in a new city. Make sure to look at the overall education system and determine the feel of the area before finalizing a place to live.
Top 4 Most Livable Cities in America
Other than the factors mentioned above, there are various other factors that make a city ideal for living like minimum household income, net margin, housing, etc. Here are our top 3 picks based on these particular standards so that you can select the best city to live in based on your preferences: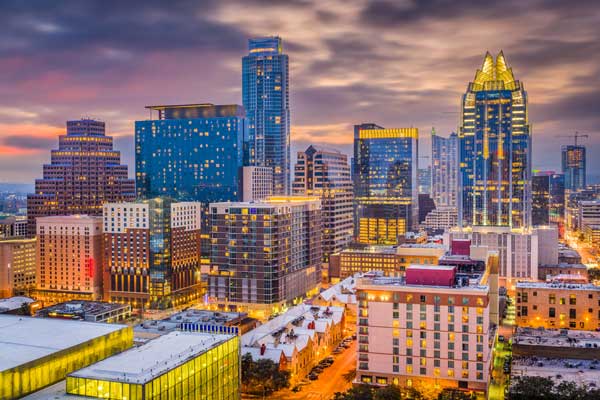 Austin is ranked as one of the best cities to live in the US by many global websites such as the US News Best Places to Live List – 2021-22. Austin is the state capital of Texas and is an inland city which borders on the Hill Country region. Austin offers you the best in terms of culture, education, and living conditions.
One of the many reasons people are drawn towards Austin, Texas is because it is a vibrant place to be. It is also home to the University of Texas flagship campus and has a huge job market with plenty of job opportunities. The city also tops for higher education and area schools are just one of the many reasons people move here and decide to stay well past graduation. Austin is also moderately safe when it comes to crimes as compared to other cities in the state.
Austin has a population of just over 2 million people which also makes it an ideal pick for a peaceful environment. This is probably the attractive feature due to which Austin also gains about 150 new residents every day. Because of all the rankings and hype, Austin has become a moderately expensive place to live in with a median home cost of around $378,300 and a median household wage of $71,100. If you want to rent a house, it will be comparatively cheaper because the median rent in Austin is $1,334. The city, also known as Hippie Haven, has plenty of urban and suburban areas for you to select from and will certainly be an ideal city to raise a family or start a life in.
Texas is known for its pleasant climate which Austin has inherited. It belongs to a humid subtropical climate under the Koppen Climate Classification. This climate is characterized by long, hot summers and short, mild winters, with warm spring and fall transitional periods. The culture of Austin is vibrant and is globally known for its eclectic live music scene centered around the country which is why Austin's quality of life score is 7.3, making it the best city to live in the US in terms of quality of life. Austin also has a 9.0 for both desirability and net migration.
Also Read: Relocating from San Francisco to Austin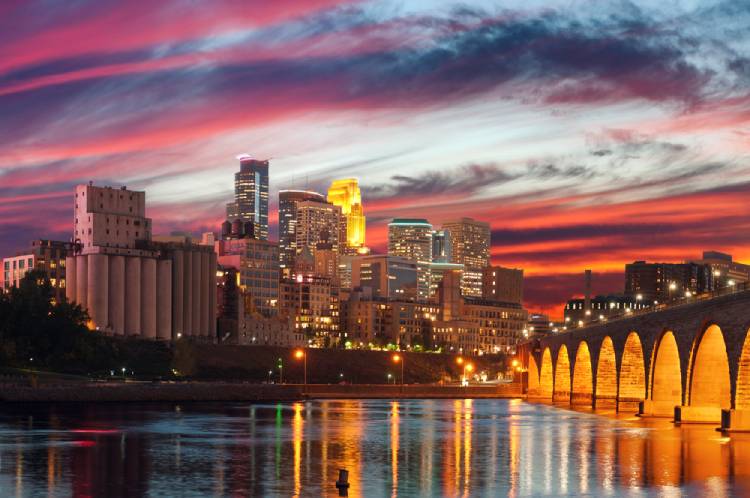 Built around the beautiful Mississippi, Minnesota, and St. Croix Rivers, Minneapolis-St. Paul are the twin cities which are also the two largest and most populated cities in the state of Minnesota. Minneapolis is also one of the safest cities from natural disasters and St. Paul is known for its Science Museum of Minnesota. Both the cities come together and form the large metropolitan area known as Minneapolis-St Paul which can be an ideal pick for you to raise a family in or even to start one on your own.
Not only is it an incredibly safe place but it is also blessed with the best climate and natural settings with numerous parks and a lot of greenery. The climate of the Twin Cities falls under the hot-summer humid continental range without a dry season category. A feature of the humid continental climate in the United States is that the weather can be unpredictable with extremes occurring in many phases of measurements.
The cost of living is lower in St. Paul as compared to Minneapolis but both these cities have a lot to offer in terms of high standards of living. The majority of the population of the twin cities are liberals and the areas offer a supremely urban feel. The public school systems are above average. If you are a fan of restaurants, St. Paul has various amazing restaurants along with the famous Rice Park, while Minneapolis has a wide range of restaurants, nightclubs, bars, music venues and a much livelier and younger crowd. The twin cities have the second-largest economy in the entire midwest with a magnanimous job market.
Sports and fine arts make a huge part of the Twin Cities which is one of the thirteen American metropolitan areas to have teams in all four major professional sports, i.e, Baseball (MLB), Football (NFL), Basketball (NBA), and Ice Hockey (NHL). The average rent for a house in Minneapolis is $1,635 while for St. Paul, it is comparatively cheaper at $1,375. If you decide to buy a house in Minneapolis, the median house rate is $299,900 while the median value for a house in St. Paul is, once again, cheaper at $276,247. The median annual household income for the metropolitan area is $104,900. Both the cities have a strong educational system with many public and private schools. Saint Paul Public Schools is the state's largest school district and serves approximately 38,380 students. Whichever city you pick, you will get a slice of rich culture and great food along with a pleasant and safe environment.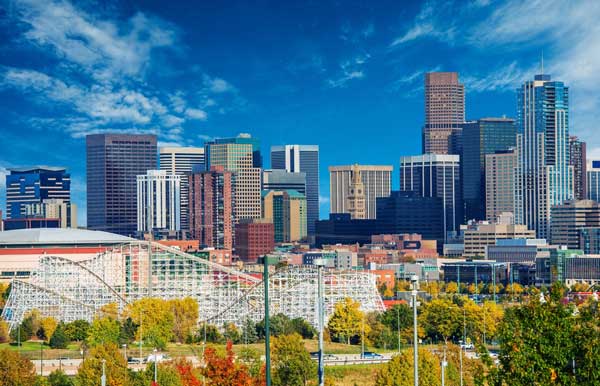 Denver is a city in the state of Colorado and is also the capital of the state. Known as the Mile High City, Denver can be an incredibly exciting place for you to live in especially if you are a fan of the outdoors. Denver offers a perfect amalgamation of urban sophistication and outdoor adventure and is known for its art, culture, food, music, and sports in the Rocky Mountain region. Denver has managed to emerge as a cultural hub due to its thriving restaurant scene and outdoor brilliance and has managed to beat even Austin in many of the rankings for best places to live in, in America.
Individuals need variety and the biggest bane of many cities in the US is their extreme climatic conditions. This is why Denver is a popular choice. Denver has a semi-arid continental climate and is partly dry. The interesting part about Denver's weather is that it is also affected by the mountains nearby which leads to fluctuations in its weather and humidity. However, the best part about Denver is that it has all four seasons with clear distinctions which is only the start of the variety that Denver can offer.
In terms of quality of life, Denver is ranked at 40th out of 60 cities by Numbeo with an overall index score of 168.96. It is ranked among the most educated states in the country with at least 38% of Coloradans having at least a bachelor's degree. Denver has a really strong public school system and DPS has won national honors for their work with kids, families, and educators. If you plan to buy a house in Denver, the median house price is $5,25,000 while the average monthly rent is $1,877. The median household income annually in the city is $75,646 which is more than the average median household income of the US, making it a perfect city to carve a home out of.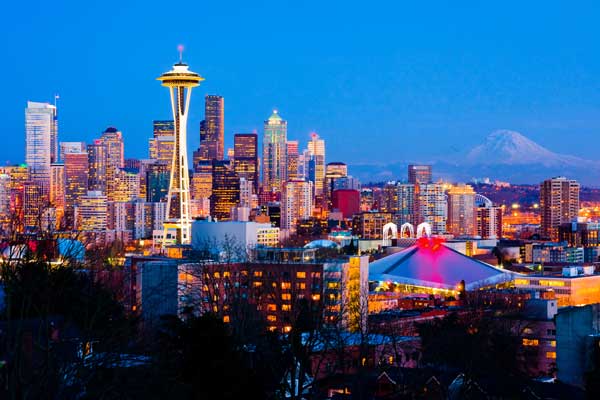 If you are a fan of water and want a city close to the coast, Seattle can be your ideal pick. Seattle is a city in the state of Washington and is a nature lover's delight-spot as it is surrounded by water, mountains, and vast forests. Seattle has a temperate climate and is classified in the Mediterranean zone. However, some sources put the city in the oceanic zone. Seattle has cool, wet winters and mild, relatively dry summers, covering characteristics of both.
Seattle has a population of 755,936 and is home to the larger-than-life coffee culture the city is famous for. Seattle is also renowned for its grunge music scene, hiking, kayaking, and various other general outdoor lifestyles. It is the perfect place to settle and raise a family in because it offers a high quality of life and has one of the highest median household incomes–$102,486. The median housing price is $839,000 while the average monthly rent is $1,928 which is comparatively high, but again, one that the overall household income justifies.
Seattle offers the perfect blend of nature and tech and is the largest city in the state of Washington while being home to the headquarters of tech giants like Amazon and Microsoft. Seattle is known for some of the biggest global brands like Starbucks hence it has a huge job markets that generate many employment opportunities.
In terms of education, you can not have a better city than Seattle because of its brilliant education system. Most Seattle families are literate and due to the tech influence, education is also revolutionized making the coffee capital of the world also the most literate city in the US Buying a house in Seattle is relatively easy as the median house price is $749,600. The median household income in the city is $81,000. If you want to rent a house in Seattle, the average rent that you would have to pay is $2,197. Seattle can be a really nice and safe city for you which has the best of all the worlds to offer so you can certainly consider it.
Choices can differ from person-to-person and what we recommend might not always align with your ideas but our recommendations of the most livable cities are based on standard data and relevant rankings. Though we have mentioned only the best 3 cities, there are plenty of others entirely worth beginning a life in, a few being Colorado Springs, Fayetteville, Des Moines, San Francisco, Portland, Raleigh, Durham, etc. These are all great cities with amazing surroundings and rankings which you can consider as an option for settling. Always check for reliable rankings, climatic conditions, and job market before deciding your future home city. We wish you ease in this adventure and a moving journey that is smooth as it is memorable.
Also See: What State in US Has The Least Natural Disasters
FAQs On Most Livable Cities In The US
What State Is Best To Raise A Family In?
Where you decide to raise your family depends entirely on your priorities and preferences. The overall state of Massachusetts is considered one of the best states for families. Families tend to value education, overall income, transportation, and affordability, and Massachusetts excels in all of these areas. It is the seventh-smallest state in the United States and has a median household income of $81,215.
Which US city has the highest quality of life?
When you consider quality of life, Boulder City in the state of Colorado tops many rankings. According to the US News and World Report, Boulder offers the highest quality of life because of its flourishing local job market, housing affordability, and the area's appeal in attracting new residents. The city is located at the foothills of the Rocky Mountains in northern Colorado. Downtown's pedestrian Pearl Street Mall includes gorgeous art galleries, cafes, restaurants, and boutiques.
What Is The Most Moved To State In 2021?
Vermont is the most moved to state in 2021. Vermont is a state that is located in the northeastern United States. It is the most moved to state because it is known for its natural landscape that is primarily forested. The city is a part of the New England region with a population of around 647,378. The charm of a simple small-town life with a wonderful education system and affordable housing are some of the primary reasons behind making Vermont the most preferred state to live in.
See also: Best States to Live in
See also: Cheap Moving Companies for Your Upcoming Relocation