Moving from Boston to Atlanta – Expert Tips and Advice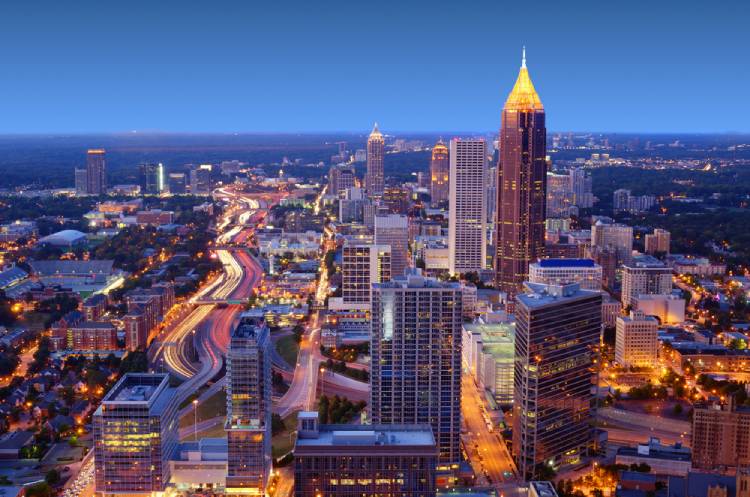 Boston has a unique culture, historic buildings, and a charming lifestyle that most people would yearn for. Here, you'll find great amenities right from luxurious homes to fine dining options. But anyone who lives here will agree that such a great standard of living comes with a high cost of living. This has been one of the reasons why people living in Boston are considering moving to another city.
If you're looking for a good city to live in, Atlanta can be one of your best options. Just like Boston, Atlanta is also a charming city with great history and many city-like amenities. Its warm climate and good economy have influenced many people into moving here. Planning to move from Boston to Atlanta? Then you should definitely keep reading as we've covered everything you need to know in our moving from Boston to Atlanta relocation guide.
Factors To Consider Before Moving From Boston To Atlanta
Weather Conditions
The climate in Boston is known to be continental where summers are warm while winters can be really cold and snowy. Here, there is a collision of air masses coming from both the Gulf of Mexico and Canada. So, that leads to an unstable climate in Boston wherein the city experiences bad weather on certain days.
Speaking of weather conditions, Atlanta has a humid subtropical climate. Unlike Boston, Atlanta is known to have warm sunshine days throughout the year. But if you're planning to reside here, you'll have to bear with the frequent rains and thunderstorms in the city.
While Boston has warm summers, summers in Atlanta can be really humid and muggy. If you think you'll miss kayaking and water cruising in Boston after moving to Atlanta, you can still be at ease. That's because Atlanta too has many things to offer to its residents during summers like summer music festivals and several botanical gardens for a summer hike.
Here's the difference in temperature that you can expect during peak summers:
Boston in July – Average temperature ranges from 66°F to 82°F.
Atlanta in July – Average temperature ranges from 71°F to 89°F.
Winters in Boston are very cold and severe with frequent snowfall. In Atlanta, winters are quite mild as compared to Boston. During the nighttime, Atlanta has foggy weather and the winds from the Gulf of Mexico and Canada often lead to sudden drops in temperatures during winters.
Here's the difference in temperature that you can expect during peak winters:
Boston in January – Average temperature ranges from 23°F to 37°F.
Atlanta in January – Average temperature ranges from 35°F to 53°F.
Few Things To Bear In Mind About Atlanta Weather:
One of the many perks of living in Atlanta is that you get to enjoy the four distinct seasons of summer, spring, fall, and winter.
The best weather in Atlanta is during the spring and summer months when the residents can enjoy many recreational activities in the various gardens and parks of the city.
You won't be able to survive summers in Atlanta without a glass of cold ice tea. That's because the average temperature tends to be around 79°F and the city also experiences a rise in temperature of almost 90°F during summers.
Atlanta experiences an average of 4.5 inches of rainfall during the fall season. One of the most popular things residents enjoy during fall is watching the leaves of trees change their color in Stone Mountain Park.
Cost Of Living
Cost of living is undoubtedly one of the most important factors that will help you determine whether you can afford to live in a particular city. That's why it's always best if you prepare a moving budget for yourself. One thing is certain if you're relocating from Boston to Atlanta, it's not going to cost you a bomb to meet your living expenses in the city. That's because the overall cost of living in Boston is almost 48% higher than the national average, while Atlanta is 1% lower than the national average, as per Payscale. Let us take you through your different living expenses in both cities.
See also: The Lowest Cost of Living Cities in the U.S.
Buying A House
One must definitely consider the real estate market in a city before moving there. After all, an expensive real estate market can certainly create a big hole in your pocket. In Boston, the housing market is known to be quite expensive as it is the capital city of Massachusetts. Atlanta, in spite of being the capital city of Georgia, has a relatively cheap housing market compared to Boston.
Here's what the median house cost will be like in both cities:
Median House Cost in Boston – $718,756
Median House Cost in Atlanta – $395,088
Renting A House
Now buying a house can be a dream for many, but we all know that not all dreams are affordable, right? So, if you think you can't afford to buy a house, don't let that frown settle on your face. You can always rent a house if your budget doesn't allow you to buy one. As mentioned above, the housing market in Atlanta is quite cheap in comparison to the housing market in Boston.
Here's what the median rent will be like in both the cities:
Median Rent in Boston – $2,900
Median Rent in Atlanta – $2,130
Utilities
When it comes to utilities, you'll be spending a lot less in Atlanta than you spent in Boston as your basic utility costs. To give you an insight into the utility costs in Atlanta, we've compiled the data shared by Payscale.
Let's take a look at how much you'll be spending on your grocery items. For your morning cup of coffee and omelet, a gallon of milk and a carton of eggs will cost you around $2.04 and $1.90 respectively. If you like a toast with your coffee, you'll be paying $3.50 for a loaf of bread in Atlanta. On days when you wish to feast upon a hamburger in a restaurant in Atlanta, you'll be paying around $4.46 for a hamburger.
Your electricity and phone bill will also be included as your basic living costs for which you'll have to keep aside $143.01 and $152.45 respectively, in Atlanta. To get around in the city, if you're relying on your own private vehicle, you'll have to pay $2.64 for a gallon of gas. All in all, moving from Boston to Atlanta will definitely serve as a breather for your pockets as the overall cost of living is much cheaper in the latter city.
Job Market
In terms of the job market, Boston is known to be one of the cities with the most powerful economy in the U.S. One of the reasons for it is the city's diverse economy that mainly comes from its education, biotechnology, finance, and trade sectors. On the other hand, Atlanta, being the capital city of Georgia, has a strong economy that is largely contributed by its technology, manufacturing, broadcasting, and media industries.
Here's a list of some of the top industries that operate in Atlanta:
Delta Air Lines
The Coca-Cola Company
GE Energy Management Services
BellSouth Enterprises
Cox Media Group
The Home Depot
UPS
Now that we've taken you through how the economy looks in both cities, let's have a look at the unemployment rate in both cities as shared by BestPlaces. Boston has an unemployment rate of 6.2% which is slightly higher than the national average of 6.0%. In Atlanta, the unemployment rate stands at 5.3% which is less than both the national average and Boston city.
To help you understand the income range, we've listed below the median household income in both cities:
Median Household Income in Boston – $54,485
Median Household Income in Atlanta – $46,439
Transportation
One of the many things Boston is known for is its great transportation system wherein the public transportation is managed by MBTA (Massachusetts Bay Transportation Authority). When it comes to transportation in Atlanta, the city also has a good transportation system, mainly the heavy rail rapid transit system. The public transportation in Atlanta is managed by the MARTA (Metropolitan Atlanta Rapid Transit Authority). Right from a heavy rail system to buses, MARTA offers many options for the commuters in Atlanta.
Here's a list of the different transportation options available for commuting in the city of Atlanta:
MARTA-Rail
MARTA-Bus
Atlanta Streetcar
The Buc (shuttle service)
Xpress, CobbLinc, Gwinnett County Transit (bus services)
Atlanta Beltline trails (bicycle and pedestrian trails)
Hartsfield-Jackson International Airport, Dekalb Peachtree Airport, Fulton County Airport (major airports)
Atlanta's Strong Points
Thriving economy
Warm climate throughout the year
Plethora of many cultural cuisines
Diversity in population
Affordable cost of living
Charming neighborhoods
Many cycling and biking trails for a leisure ride
Top Neighborhoods To Move To In Atlanta
Midtown
Midtown is one of the most sought-after neighborhoods in Atlanta city. Here you'll find a vibrant arts district, which makes it one of the cultural hubs of Atlanta. You'll find various city-like amenities right from recreational parks to many restaurants here. Moreover, the place is also known to have a good public transportation system. To name a few favorite spots in Midtown, Woodruff's Art Center and Atlanta's Midtown Mile are places that residents enjoy exploring.
Median Value Of Homes: $370,000
Monthly Median Rent: $2,659
Buckhead
If you're looking for a luxurious neighborhood in Atlanta, Buckhead might be just the place for you. There are plenty of luxurious homes and mansions here for you to choose from. The place is also known for its exotic restaurants and designer shopping stores. No wonder it's also recognized as the 'Beverley Hills of the South'. Buckhead is also the home of many famous Hollywood celebrities. Who knows, maybe you'll bump into Robert Downey Jr. or Vince Vaughn in one of the restaurants here?
Median Value Of Homes: $447,000
Monthly Median Rent: $2,200
East Atlanta Village
East Atlanta Village is known to be one of the most affordable and safest neighborhoods in Atlanta. Here, you'll find everything you need – a farmer's market, exciting nightlife, coffee shops, and many breweries. When it comes to the real estate market, the place has many Victorian-style homes, townhomes, and many other housing options for you. Overall, East Atlanta Village has a bohemian vibe to it that the residents take pride in. Some of the popular places that the residents here love to hang out in are Glenwood and Brownwood Park.
Median Value Of Homes: $445,000
Monthly Median Rent: $2,331
Summerhill
Summerhill is one of the most diverse, popular, and beautiful neighborhoods in Atlanta. The competitive real estate market and the fact that the neighborhood is in close proximity to some of the best restaurants, shopping centers, and recreational areas are among the main reasons why this neighborhood is a popular choice for people moving to Atlanta. One such popular place here which is often flocked by Summerhill's residents is the Georgia State Stadium. Here, you'll find many rental homes and apartment complexes that you can consider living in.
Median Value Of Homes: $640,000
Monthly Median Rent: $2,385
Old Fourth Ward
Old Fourth Ward is one of the historical neighborhoods of Atlanta where Martin Luther Jr. once grew up. Today, it's a revamped place that is most sought after by young professionals and families. That's because it has an art district, retail stores, and many open spaces for its residents to relax and enjoy. The residents here love taking a stroll at Ponce City Market and the Renaissance Park Atlanta, both being the two most popular tourist attractions in Old Fourth Ward.
Median Value Of Homes: $560,000
Monthly Median Rent: $2,296
Things To Take Care Of When You're Moving From Boston To Atlanta
The distance between Boston and Atlanta is almost 937 miles. When it comes to such long distance moves, it's always a wise choice to seek help from professional movers. Whether it's the disassembly of your furniture or packing your belongings, you can rely on them to pack and transport your belongings safely.
To ensure that your moving company is legit, you need to do a thorough background check. We suggest that you check the company's website and find out whether the company is licensed and insured. Don't forget to check the company's reviews on Better Business Bureau and Google Reviews.
It's no secret that everyone looks for an opportunity to save a few bucks on their moving costs. And there's no better way to do it than getting rid of your unwanted items. So it's best if you make a home inventory and decide what things you want to take along with you.
Speaking of saving money on your moving costs, the time of your move is another important factor that can increase or decrease your moving costs. You can choose to plan your move during the off-peak season (October to April).
Boston To Atlanta Moving Costs
Keep in mind that the distance from Boston to Atlanta is almost 937 miles. So, your average moving cost for a move from Boston to Atlanta will fall in the price range of $3,000 to $6,000. There are many things that will influence your overall moving cost. The date and time of your move, the exact location of your new home, and the kind of services you ask for will affect your moving costs to a large extent. So, if you don't want your pockets to go empty, you can choose only the services you'll be needing like loading and unloading. Otherwise, the best budget-friendly option would be planning a DIY move.
See also: Top-rated Movers in Boston MA
Summing Up
Atlanta, the capital city of Georgia is certainly a great place to live in with many affordable neighborhoods, great culture, and pleasant sunny weather. If this city ticks off all the boxes for you, you can start planning your move here. Don't forget the importance of hiring the right movers for which we're here to help you.
FAQs About Moving From Boston To Atlanta
Is Atlanta A Good Place To Move?
Atlanta or 'The City of Forest' is one of the most popular cities in Georgia. The city is full of walkable neighborhoods and amenities like amazing dining options, plenty of housing options, and an affordable cost of living. So, if all of these things are what you wish for in a city, then Atlanta is a good place to move to.
What Are The Benefits Of Moving To Atlanta?
Some of the benefits of moving to Atlanta are as follows:
Thriving job market
Relatively low cost of living
Excellent outdoor recreational spaces
An amazing sports life
Charming neighborhoods
Plenty of festivals
Diverse culture and people
How Much Should I Save To Move To Atlanta?
The average cost for your move from Boston to Atlanta will be in the range of $3,000 to $6,000. If you're planning to live there, you'll need to save enough money for your rent and other basic expenses like groceries and other utilities. It's recommended that you save at least three months' worth of living expenses before moving to a new city.
Also Read: Moving From Boston To Los Angeles | Moving from Boston to Florida | 5 Best Neighborhoods in Atlanta for Families