7 Best Neighborhoods In Austin For Families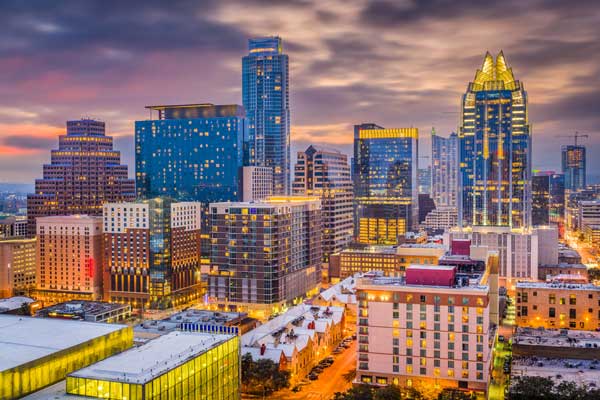 Serving as the capital of the state of Texas, Austin is a beautiful city located in the central part of the state, along with the River Colorado. Austin was established in 1839 and named after the man who is known as the Father of Texas – Stephen F. Austin. Counted among the top cities in the country to settle down in, Austin offers its citizens a high quality of life, a flourishing job market, brilliant schools and universities, amazing places to eat and drink, countless entertainment options, stunning beaches, and parks. Austin is also the greenest city in Texas.
Interestingly, 'Keep Austin Weird' is the popular slogan in the city which is among the safest and happiest in the US. No wonder thousands of people move to Austin every year. If you are among those planning a move with your family, here are some of the top neighborhoods in Austin for families.
Best Neighborhoods In Austin For Families
Cherrywood
Home to nearly 5,000 people, Cherrywood is located in the heart of the city, just around three miles away from the Downtown area. It's bordered by Manor Road, Airport Boulevard, Wilshire Boulevard, and Interstate 35. In the 1980s, Willow Brook, Schieffer Place, French Place, University Park, and Avalon were the areas that were combined to form Cherrywood. The highly desirable neighborhood is extremely peaceful and its residents include families, professionals, service workers, retirees, and couples. Due to the presence of the University of Texas campus nearby, a lot of students look forward to making Cherrywood their home. When it comes to housing, you'll get quite a few options like ranch-style homes, wood-frame homes, Craftsman cottages, 2-story stucco duplexes, and single-family homes.
The neighborhood is served by the Austin Independent School District and some of its top schools are Maplewood Elementary School, Campbell Elementary School, Kealing Middle School, Lamar Middle School, and McCallum High School. Cherrywood is an affordable and safe neighborhood with plenty of things to do and places to visit with family and friends like the Mueller Lake Park, Thinkery, Blue Starlite Mini Urban Drive-in, Cherrywood Coffeehouse, Truffled Devil Eggs, etc.
Median Home Value: $723,500
Monthly Rent: $2,181
Median Household Income: $50,254
Downtown Austin
With a population of over 12,000, the Downtown area is the central business district of the city. It's located just north of the Colorado River and is surrounded by Lamar Boulevard in the west, Martin Luther King Jr. Boulevard and the University of Texas in the north, Lady Bird Lake in the south, and Interstate 35 in the east. This is the perfect place for families who are looking forward to experiencing an upscale urban lifestyle. If you want to buy your own house in the area, you'll be getting quite a few options to pick from like luxury condos, small garden-style apartments, and single-family homes. The real estate prices in Downtown Austin are high compared to other areas of the city but the high quality of life is always worth it.
The neighborhood is served by the Austin Independent School District and there are ample public and private schools for your children. Some of the best ones are Mathews Elementary School, Richards School for Young Women Leaders, and Austin High School. In Downtown Austin, you'll get to enjoy a number of recreational activities such as biking, kayaking, and paddleboarding. Also, there are countless great restaurants, coffee shops, museums, theaters, and music venues for you to enjoy with your family.
Median Home Value: $777,500
Monthly Rent: $2,745
Median Household Income: $127,782
Allandale
Established in the 1950s, Allandale is home to just over 10,000 people and is located in the north-central part of Texas. It's bordered by Burnet Road, MoPac Expressway, 45th Street, West Anderson Lane, and neighborhoods such as Brentwood, Crestview, Northwest Hills, Rosedale, and North Shoal Creek. An extremely walkable and peaceful suburban neighborhood, there is a strong sense of community and a low crime rate in Allandale. Also, there is an active association to keep the people aware of what's going on in the area. Housing is quite affordable in Allandale with a wide variety available like duplexes, mid-century modern homes, Craftsman-style homes, luxury condos, and single-family homes. Most of these were constructed in the 1950s and 1960s.
A lot of top-rated schools serve the neighborhood including Gullet Elementary School, Highland Park Elementary School, Lamar Middle School, and McCallum High School. Known for its lush green parks and gardens, Allandale is loved by people of all age groups and demographics. A few of the best public attractions are Beverly Sheffield Park, Northwest Recreation Center, Lake Austin, Northwest District Park, and High Five Entertainment.
Median Home Value: $789,000
Monthly Rent: $1,535
Median Household Income: $84,779
Travis Heights
Travis Heights is one of the oldest neighborhoods in the southern part of the city and is bordered by Lady Bird Lake in the north, Interstate 35 in the east, Congress Avenue in the west, Oltorf Street in the south, and Fairview Park stretching from the west side of Blunn Creek to South Congress Avenue. The highly walkable area boasts a great blend of peaceful, hip, and unconventional vibe for its residents to enjoy. The culturally diverse population consists of families, students, young professionals, and long-time residents. Apart from the apartment buildings and condos, there are beautiful mansions that were built in the early 1920s. The streets of this neighborhood are filled with huge trees, so there's also a lot of greenery in this neighborhood.
The Austin Independent School District serves Travis Heights and a few of its best schools are Sanchez Elementary School, Fulmore Middle School, and William B. Travis High School. Also, there is the Texas School for the Deaf in this neighborhood. You'll have the option to easily reach SoCo (South Congress Avenue) which is a major shopping district and has a vast variety of shops, restaurants, bars, clubs, music venues, etc. Home Slice Pizza, Guero's Taco Bar, and Perla's Seafood are a few of the people's favorite restaurants. A trek to the Town Lake will give you the chance of trying biking and kayaking or even enjoying a picnic with your family.
Median Home Value: $1,350,000
Monthly Rent: $1,918
Median Household Income: $78,861
Northwest Hills
Northwest Hills is also known by the name Far West after one of its main streets called Far West Boulevard and is located in the northwestern part of the city. Set on a hilltop, this high-end and family-friendly neighborhood is surrounded by roadways RM 2222, Loop 360, Spicewood Springs Road, and MoPac Expressway. The stylish neighborhood is best known for its unending natural beauty in the form of stunning panoramic views, clean streets, hills, and massive trees. As far as housing is concerned, the residents (mostly families and students) have various options to choose from like ranch-style homes built in the 1960s, condos, townhouses, single-family homes, apartment complexes, and Tuscan Villas.
For the education of your children, you have a huge number of well-ranked schools such as Blue Ribbon School, Doss Elementary School, Murchison Middle School, Hill Elementary School, and Anderson High School. Major shopping centers like The Arboretum and The Domains are easily accessible and among the favorite public attractions for the residents of Northwest Hills. Children can indulge in activities such as hiking and biking at Bull Creek, Bright Leaf Preserve, and Mount Bonnell. Some of the best restaurants include Chez Zee American Bistro, The Eldorado Cafe, Jack Allen's Kitchen, and Broken Egg Cafe.
Median Home Value: $941,000
Monthly Rent: $1,628
Median Household Income: $86,333
Crestview
Located in the north-central part of the city, Crestview has a population of close to 10,000. It's surrounded by West Anderson Lane, Burnet Road, Justin Lane, North Lamar Boulevard, and neighborhoods such as Wooten, Allandale, Brentwood, and Highland. Just a short drive away from the Downtown area, this neighborhood attracts families and young professionals in large numbers because of its tranquil environment and small-town feel. Having said that, the residents of Crestview enjoy all the necessary amenities and facilities that the rest of the city does. If you're looking to buy your own house, there are old homes that were constructed between the 1940s and 1960s, ranch-style homes, mid-century homes, and small to medium-sized contemporary homes.
The schools that are present in Crestview include Redeemer Lutheran School, St. Louis Catholic School, Victory Christian Center School, Northwest Montessori House of Children, and Capitol School of Austin. Just farmland till about a few years ago, this neighborhood is among the most sought-after areas to settle down in owing to its educational institutions, local businesses, restaurants, pubs, music venues, etc.
Median Home Value: $857,000
Monthly Rent: $1,610
Median Household Income: $63,387
Avery Ranch
A neighborhood located in the northwest corner of the city, this master-planned community spreads across an area of 1,800 acres and there are more than 4,000 homes present. Around 20 miles north of the Downtown area, Avery Ranch is surrounded by the city of Cedar Park and the neighborhood of West Round Rock. This neighborhood is one of the fastest-growing areas not just in Austin, but in the entire country. Particularly popular among families with children of any age, Avery Ranch is extremely safe and has a perfect mix of urban and suburban lifestyles. You have options like contemporary condos and single-family homes when it comes to housing.
In addition, there are numerous elementary, middle, and high schools in the neighborhood such as Challenger School, Abacus School, Rutledge Elementary School, Henry Middle School, Vista Ridge High School, and McNeil High School. Apart from all of this, there are countless options for outdoor activities. You'll get to enjoy the area's hiking and biking trails, tennis courts, an 18-hole golf course, basketball courts, swimming pools, playground, restaurant, healthcare facilities, and shopping centers. Brushy Creek Lake Park and Kelly Reeves Athletic Complex are two of the best community parks in Avery Ranch. For the sake of the foodie in you, don't forget to visit The Rotten Bunch, Smokey Mo's BBQ, and The League Kitchen & Tavern.
Median Home Value: $675,000
Monthly Rent: $1,764
Median Household Income: $117,803
Things To Look Out For Before Deciding To Move To Austin
Texas is the second-highest contributor to the US economy after California and Austin, being the capital city, has a huge role in it. The city has a robust job market with sectors like hospitality and tourism, healthcare, lifestyle, science and technology, education, and financial services. The biggest employers include Amazon, Apple, Google, Facebook, Oracle, and IBM. Also, Austin is considered one of the best cities for startups.
The city experiences a subtropical climate with mild winters and severely hot summers. There are as many as 228 days of sunshine in a year, 35 inches of rain, and no snowfall in Austin.
Texas is one of the nine states in the country where there is no income tax charged. So moving to Austin from another state would mean you save a few bucks on your taxes too.
Austin has more live music venues than any other place in the US and regular music festivals are held like Levitation Music Festival, South by Southwest, and Austin City Limits. And this is the reason why the city is called The Live Music Capital of the World.
Traffic congestion is a problem like in most major cities. Whether you're traveling for work or for leisure purposes via public or private transportation, you'll have to take this into account.
Summing Up
Whether families, professionals, students, or retirees, Austin has a great number of neighborhoods for everyone. The city doesn't have a very high crime rate and apart from the traffic issues, there are not many negative aspects to Austin. There's nothing that the city doesn't offer its citizens. From education and jobs to fun things to do, you'll get a great number of options. You can also choose your neighborhood depending on whether you want to be in the middle of the hustle and bustle of the city or in a more peaceful environment for your family.
Also See: Best Interstate Moving Companies in the USA
FAQs On Best Neighborhoods In Austin For Families
How Much Should A Person Earn In Order To Live Comfortably In Austin?
The average salary in Austin is around $71,000 per annum. You can live comfortably in the city if you can earn this amount. The monthly expenditure of a single person in the city is around $825 and for a family of four, it is approximately $2,915.
Where Can I Raise A Family In Austin?
Some of the most affordable and family-friendly neighborhoods in Austin are Allandale, Hyde Park, North Burnett, Windsor Hills, Garrison Park, McKinney, Pleasant Valley, Sweet Briar, and Riverside. All of these neighborhoods have some of the best amenities that are perfect for families.
Is Austin Safe Enough To Raise A Family?
Austin has a violent and property crime rate of 4.88 and 38.04 per 1,000 residents, respectively. While the violent crime rate in Austin is close to the national average, the property crime rate is comparatively higher. However, many parts of Austin are absolutely safe to raise a family, so you just need to choose wisely.
What Is The Cost Of Living in Austin?
Austin has a cost of living index of 119.3 which is slightly higher than the national average of 100. Also, it's higher than the overall cost of living in the state of Texas which is 93.9 Although you'll have to spend a little extra on utilities, gas, water, groceries, etc., you'll enjoy a greater quality of life in Austin.