Moving From NYC To Austin – Expert Tips & Advice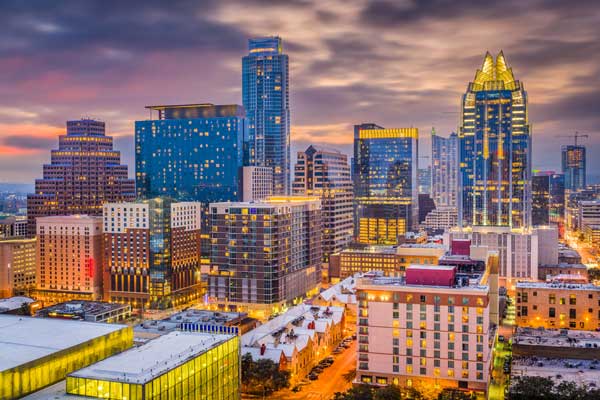 From Seinfeld and I Love Lucy to FRIENDS and How I Met Your Mother, if you're thinking of an American sitcom, chances are that they're set in the glorious city of New York. While the land of the Big Apple has been just one slice of the American Dream and everything the country encapsulates, we should never forget that there are other up-and-coming American cities that are blooming in terms of economy and culture and becoming close contenders for the position of the best city in America. Yep, we're talking about Austin, Texas.
Located in Travis County in Texas, today, Austin is regarded as Silicon Hills for the sheer number of tech start-ups that are making this Texan city their home. Home to the famous Tex Mex burger, fried chicken, and the blossoming live music scene, Austin is truly a feather in Texas' cowboy hat. If you've had enough of the hubbub surrounding New York City, and want a taste of what Austin has to offer, read on ahead to know everything you would need to know before moving from NYC to Austin.
Factors To Consider Before Moving From NYC To Austin
Weather Conditions
Both New York City and Austin are classified as having a humid subtropical climate with summers that can get quite hot and wet, breezy winters. If you've lived your time in NYC, then we're guessing that you're used to the sultry summer temperatures that range between 50°F and 90°F. Winters in the Big Apple oscillate between 32°F and 40°F, sometimes dipping down to 20°F in January, which is the coldest month in the region.
Winters in Austin are pleasant and chilly with temperatures averaging around 40°F to 50°F, with December temperatures sometimes falling below freezing. But once the summer sets in, then the region nearly boils as the temperatures sky-rocket to approximately 100°F! You get brief transitions into fall and spring, with pleasant yet warm temperatures. One thing you'd have to keep a lookout for is that Austin is known for its proclivity towards occasional droughts and floods. Water crises are also not new to the region.
Cost Of Living
NYC is not NYC for nothing. Even dreaming here comes at a price. As per PayScale, the current cost of living in the city is an astounding 129% higher than the national average. In fact, as of today, New York City is the most expensive city to live in, in the United States of America. This is where we swoop in and make your day: Austin's cost of living is around 3% lower than the national average. Roughly speaking, a single adult living in Austin would have to earn around $55,186 to live comfortably. This means that not only are you not going to be spending additionally on food, utilities, and housing after shifting to Austin, but you are also going to be saving a whole lot of money simply from this difference. All hail the tax-friendly state of Texas – where you don't have to pay income taxes!
Buying A House
More than a long-term investment, a house in America is a sign that you've made it. It signifies a stable, lasting future and an abode where you and your family can remain safe and make memories in. Even if you've nurtured a dream of being a homeowner, we're sure that NYC's jaw-dropping housing rates would've sent you reeling back in shock. While Austin's housing market is said to be one of the most expensive in the country, according to MarketWatch, you would have to fork out nearly 84.4% more to buy a house in NYC when compared to the former. The median home value in Austin is $639,839, as per Zillow.
Renting A House
For those who live paycheck-to-paycheck and enjoy the relative financial respite of renting over buying, Austin is going to prove to be a budgeting boon when compared to your stay in the Big Apple. The average monthly rent in Austin is just $1,690. For an apartment that is much the same size and offers similar amenities in New York City, you would have to pay nearly $3,250 – the rates climbing even higher in the posher neighborhoods of Tribeca, Manhattan, and NoHo.
Also See: Best Neighborhoods To Live In Manhattan
Utilities
Regardless of whether you're living alone, with friends, or with family, utilities are something one cannot live without. It is integral to know how much you'd have to spend on utilities every month to budget your paycheck accordingly and to ensure a minimum standard of living. With regard to utilities, we've got some pretty sweet news: While NYC's cost of utilities is nearly 25% higher than the U.S. average, Austin's utility expenses are almost 12% lower than the country's average, denoting yet another aspect where you'd be saving up monthly.
Let's get into the details, because what are we if not sticklers for details? For one month of basic utilities (electricity, heating, cooling, water, and garbage), you would have to pay around $145 in Austin. While this sum would vary depending on your consumption, locality, and the area size of your apartment, it is safe to say that utilities are fairly inexpensive in the state of Austin. Groceries also cost comparatively less than the national average in this Texas city – 12% less to be precise.
Job Market
New York City is not just the hub of Wall Street & Technology, it is also home to multiple Fortune 500 companies and has a thriving economy that depends on the fields of media, advertising, tourism, healthcare, medicine, universities, and real estate. But just as vibrant as the job market in the city is, the high rates of competition in NYC makes it difficult for people to land the job of their dreams and this, in turn, makes it difficult for them to support the exorbitant living expenses that living in the city entails. The current unemployment rate in NYC as of December 2021, is 5.1%.
Austin, on the other hand, is one of the best cities to be in terms of standards of living and job prospects. It is regarded as one of the most start-up-friendly cities and is currently home to some of the biggest names in the tech industry, including Apple, Facebook, and Canva. Other industries that contribute to this promising city's economy include education–owing to reputed universities like the University of Texas at Austin, technology, biotechnology, pharmaceuticals, fresh and packaged foods. Even despite the global pandemic, this little city in Texas had earned the position of the second-best performing job market among the top 50 metropolises in America. The unemployment rate in Austin is currently at just 2.9%.
Did you know that the popular dating app Bumble was launched in 2014 with Austin as its home base and currently has a net worth of nearly $582.2 million? However, we hope that, along with love, you also find a job worth loving in the city of Austin. Some other tech contenders that are hiring in Austin include:
SecureLink
Active Prospect
Logic Monitor
3M
Amazon
Bigcommerce
eBay
BazaarVoice
Unity Games
Transportation
While Austin has a pretty solid public transportation system, ultimately, like most cities, it is a car-friendly city. However, we're aware that sometimes it's a struggle to even scrape by and that for most of us who are either environmentally (or budget) conscious, buying a car is out of the question. NYC is a city that has one of the most accessible public transportation systems in the entire country, with fantastic rail and bus transportation. However, do not worry because this move is not going to affect your public transport prospects all that much. Frequent air-fliers in Austin can breathe a sigh of relief as the Austin-Bergstrom International Airport is the second-largest growing airport in the country.
Austin's public transit system is known as the Capital Metro. With a minimum pass that costs $13.30, you could access most of the major spots in the city, including the Convention Center, the University of Texas at Austin as well as the airport. Austin's light rail system could be accessed through the CabMetro smartphone app. While it is pretty affordable with day passes that cost just $2.50, you should know that the city's light rail has limited operation during the weekends.
If not a car, then you could opt for either Lyft or Uber. Ride Austin and Yellow Cab Austin are two of the cab-sharing initiatives that the city is part of, that you could also avail. Public taxis are available at all hours of the day in the city and it's also great to be explored on foot if that's your kind of thing. Another interesting mode of transportation that could be chosen is the Austin BCycle which is a bike-share program (primarily in the downtown area) that allows you to obtain passes to rent bikes.
Austin's Strong Points
No personal income tax.
Thriving tech and job market.
Highly educated population.
Affordable housing.
Experience all four seasons.
A great Southern cuisine
A fantastic music venue for live, rock and roll, country, and Tejano music.
Top Neighborhoods To Move To In Austin
Downtown Austin
The perfect blend of nature and the hum and thrum of the city life, Downtown Austin is where you should be if you want the best of both worlds. Not only is it decked in vibrant trekking and hiking trails and lots of natural beauty, but there is also a wide range of clubs, restaurants, and music bars in Downtown Austin to make sure that your weekends in Texas never get too boring! It is a step away from the Fire Museum and Upstairs Circus for those days when you just want a taste of the South. You could also explore the region through Austin Duck Adventure. Don't know what we're talking about? Find out for yourself in Austin!
Median Value Of Homes Sold: $680,000
Monthly Median Rent: $2,300
Mueller
With architecture and planning that is slightly more modern, Mueller is the place for you if you love the open space and the airy nature of Texas living. Be it for office spaces, condos, apartments, or single-family homes, Mueller has something for everyone. It is done up with sustainability in mind and is known for being extremely transit-friendly. Although welcome to all, we would suggest the planned town of Mueller specifically for families with kids, because not only is it a stone's throw away from the University of Texas at Austin but it also has the Dell's Children's Medical Center and the children's museum called the Thinkery, all located quite close by. If chosen, it is going to be an unforgettable home for you and your family.
Median Value Of Homes Sold: $863,000
Monthly Median Rent: $1,582
Cherrywood
If the name sounds like something out of a French novel, you won't be too let down by the houses in Cherrywood–also referred to as the French Place neighborhood–in Manor Road, East Austin. It is an idyllic neighborhood that is centrally located with large bungalows, ranch-style houses, and stuccoed duplexes, all for the taking. Its close proximity to restaurants like El Chile, Star Seeds Cafe, and Hoovers and fantastic educational infrastructure with schools like Keeling Middle School and McCallum Middle School makes it a family-oriented neighborhood; more paradise than property!
Median Value Of Homes Sold: $700,000
Monthly Median Rent: $1,438
North University
For students in Austin, there is no better neighborhood than North University. Filled to the brim with vibrant restaurants, cafes, and parks as well as great nightlife, you'll find North University your own personal haven if you're struggling under the demands of being a University student. Not only does it have a very young, eclectic population, but its great commute options, dog-friendly nature, and low crime rate make it a student fave in the city. You could also spend your weekends eating yummy Vietnamese food in Sip Pho or trying meat tacos at the variety of taco places in NU – if your student budget allows for it!
Median Value Of Homes Sold: $425,000
Monthly Median Rent: $1,208
Also See: Tops 4 Livable Cities in the U.S. | Austin, TX: Surrounding Suburbs Guide | Popular Neighborhoods in Austin for Singles and Young Professionals
Things To Take Care Of When You're Moving From NYC To Austin
The summers are a lot more brutal in Austin than in NYC, so pack lots of lightweight cotton clothing and look for apartments with air-conditioning. The large number of public swimming pools might make your summers easier in the region!
Austin is known for high traffic, although this might not faze you after living in NYC.
Despite a fairly good public transportation system, Austin is a car-friendly city. So if you can afford it, you should consider buying a car while in the city.
Before moving, make sure to get a temporary parking permit for your moving vehicles as, without one, you could be fined for parking on Austin roads.
Since this is Texas we're talking about, and since Austin is located in Texas, guns and gun violence continues to be an issue in the city.
NYC To Austin Moving Costs
Uprooting your entire life from a location before planting it elsewhere is anything but easy. This task is made more difficult by an interstate move. While you might find yourself wondering if you could do the move yourself to save some bucks, we would suggest you against such funny thoughts. It is always smarter to hand over your moving business to a trusted, licensed company so that you're free to go through the finer aspects of the move.
While moving expenses are plenty and depend significantly on the nature and volume of your belongings, exact distance, and the number of bedrooms, it would cost you anywhere between $3,100 to $5,500 to move from New York City to Austin. Always book a moving company's services on weekdays as you are more likely to get open slots and as it would be cheaper than it would be on weekends.
See Also: Top Interstate Moving Companies in the USA | Moving From San Francisco To Austin | Moving From Boston To Austin
Summing Up
Austin's informal slogan is 'Keep Austin Weird.' If you're a fan of offbeat cities that place great emphasis on education, job opportunities, and culture, then you're going to fall in love with Austin. While we're sure you'd struggle to forget the magical NYC after your brief stint there, we hope that we've convinced you that there are other cities out there that can prove to be just as mesmerizing and fruitful as NYC – if not more!
We hope that this guide has answered all your questions about the City of the Violet Crown and wish you a move as pleasant as it is unforgettable. And yes, don't ever forget the mantra: Keep Austin Weird!
FAQs On Moving From NYC To Austin
What Salary Do You Need To Live In Austin?
While Austin is by no means as expensive as NYC, or even close, it is far from being the cheapest American city. Austin offers great housing and real estate options and also costs less in terms of utilities and groceries. On average, a single adult would have to earn around $53,225 annually to lead a comfortable life in Austin, Texas.
What's The Worst Thing About Moving To Austin?
If you're someone who prefers the relative safety of the cold, and love being curled up in winters, you'd have a bone or two to pick with Austin summers. The heat is often unbearable and temperatures soar up to 100°F on some days. Extreme summers sometimes lead to droughts and heatwaves. So make sure to pack loads and loads of sunscreen, lightweight clothing, and drink plenty of water to keep yourself from getting dehydrated.
What Is The Distance Between NYC And Austin?
Austin is located nearly 1,742 miles away from the city of New York.