Moving from San Francisco to Chicago – Expert Tips and Advice


VanLines Inc
Secure Storage
Easy Booking Process
Fully Trained Employees
GET QUOTE

Colonial Van Lines
Storage Services
Long-Distance Moves
Corporate Relocations
GET QUOTE

Moving APT
Available Nationwide
Award-Winning Movers
Extensive Vetting Process
GET QUOTE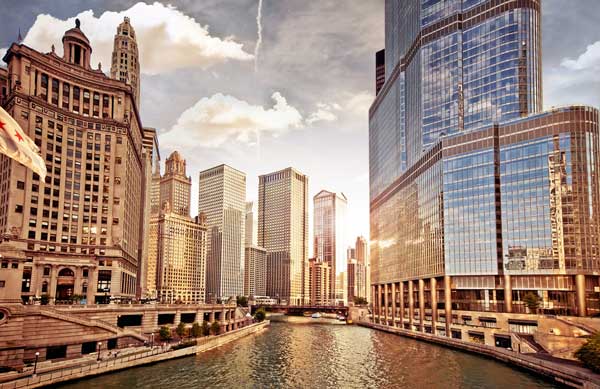 Don't like the sun in San Francisco anymore? Well, then moving to Chicago in Illinois might just be the right thing for you. Chicago is one of the most unique and beautiful cities in Illinois. A thriving job market, lakeside location, and friendly people are some of the things that Chicago has to offer to all those who relocate here. No wonder a lot of Californians have migrated to this city in recent years.
Now before you get all pumped up and excited about what Chicago has to offer you, you can't deny the fact that moving can also be a challenging experience. Planning to move to this Windy City? We've covered everything you need to know about moving from San Francisco to Chicago. Let's get started!
Factors To Consider Before Moving From San Francisco To Chicago
Weather Conditions
The weather differs to a great extent in the cities of San Francisco and Chicago. You'll experience a warm Mediterranean climate in San Francisco, whereas Chicago has a humid continental climate. The temperatures in San Francisco are moderated by the cool waters of the Pacific Ocean towards the west and by the cool currents of the San Francisco Bay in the northern and eastern parts of the city. Chicago, on the other hand, is a city that gives its residents four distinct seasons of winter, summer, spring, and fall to enjoy.
When it comes to summers, San Francisco has long and arid summers wherein the city experiences brisk winds from the shores. In Chicago, summers are humid excluding the areas near the lakeside. Much of Chicago's weather during summertime is influenced by Michigan lake.
Here's the difference in temperature that you can expect during peak summers:
San Francisco in July – Average temperature ranges from 56°F to 70°F.
Chicago in July – Average temperature ranges from 70°F to 82°F.
In terms of winters, San Francisco has mild and wet winters wherein the city experiences rainfall in the months of December to mid-March. Chicago's winters are totally opposite as the city experiences really cold and snowy winters. So, you'll definitely need puffy coats to keep yourself warm during the harsh winters in Chicago.
Here's the difference in temperature that you can expect during peak winters:
San Francisco in January – Average temperature ranges from 46°F to 57°F.
Chicago in January – Average temperature ranges from 22°F to 33°F.
Few Things To Bear In Mind About Chicago Weather:
During winters, Chicago experiences a lot of snowfall. So, to avoid getting trapped in the mini-lake from frozen slush on the ground, don't forget to buy yourself waterproof snow boots.
Chicago has warm and buzzing weather during springtime. That's one of the best times to visit the numerous parks in the city and go on trails along the lakes here.
Spring and fall both last for a short duration in Chicago, so you should make the most of these times and enjoy all the recreational activities that you like.
Cost Of Living
Before you shake hands with your movers and plan your move to Chicago, you need to get an idea of all your expenses in the city. These expenses include your housing costs and basic utilities like food and electricity. San Francisco and Chicago both have a lot to offer to their residents. That being said, the cost of living is on the higher end in both cities. We've listed down your basic expenses in both cities to help you gauge your overall cost of living.
Buying A House
One of the most important things to consider when moving to a new city is the real estate there. When it comes to housing costs, Chicago is way cheaper than San Francisco. This means you'll be able to afford a much bigger house in Chicago than you would with the same amount in San Francisco. To help you understand your housing costs in both cities, we've given you a precise comparison right below:
Median House Cost in San Francisco – $1,579,000
Median House Cost in Chicago – $309,270
Renting A House
Not always can people afford to buy a house. There's no need to spend your entire fortune on just your accommodation in the city. You always have the option of renting a house if you can't afford to buy one. The relatively low rents and housing costs in Chicago as compared to San Francisco are among the many reasons why people are moving to Chicago.
Here's what your median rent will be in both cities:
Monthly Median Rent in San Francisco – $3,244
Monthly Median Rent in Chicago – $2,091
Utilities
When it comes to utilities, San Francisco is more expensive than most other cities in the U.S, including Chicago. Let's take a look at some of your basic utility costs in both cities as per the data shared by Payscale. You'll have to spend around $182.92 and 194.98 per month on your electricity and phone bills respectively in San Francisco. Your electricity and phone bills in Chicago will cost you around $151.23 and $161.21 on a monthly basis. As you can see, Chicago is relatively cheaper than San Francisco in terms of your energy and phone bills.
Food is another basic necessity that you spend your money on. In San Francisco, a gallon of milk and a carton of eggs will cost you $2.49 and $2.33 approximately. On the other hand, a gallon of milk and a carton of eggs will cost you around $2.10 and $1.96 respectively in Chicago. So, it's clearly evident that even food is cheaper in Chicago than in San Francisco. Overall, your pocket will have a breather in terms of expenses when you're moving from San Francisco to Chicago.
Job Market
It's not a secret that San Francisco has one of the largest economies in the U.S. The city has a diverse economy with manufacturing, finance, technology, and healthcare being the dominating sectors. But that doesn't make Chicago's economy and job market any less good. The finance, trade, aerospace, manufacturing, and healthcare industries contribute greatly to the city's overall economy. In spite of such a diverse economy, Chicago has an unemployment rate of 9.0%, whereas San Francisco's unemployment rate stands at 5.4% which is relatively low as shared by BestPlaces.
Although Chicago seems to have a high unemployment rate, there are many top employers in the city that have several corporate facilities that have expanded over the years. To give you an insight into the city's top employers, we've listed down some of the best companies that operate here.
Top-notch companies that operate in Chicago:
Walgreens
Baxter International
Abbott Laboratories
Mondelez International
Boeing
Harrisburg Medical Center
McDonald's
If you want to plan a budget for your living expenses in both cities, along with checking out for jobs, you also need to know about how much you can earn. Don't worry, we've listed down the median household income in both cities to make things easier for you.
Median Household Income in San Francisco – $78,378
Median Household Income in Chicago – $47,831
Transportation
When it comes to transportation, both San Francisco and Chicago have tons of transit options for you. The major transportation in San Francisco is by Muni Metro that is carried out by SFMTA (San Francisco Municipal Transportation Agency). Apart from that, the city also has the popular BART (Bay Area Rapid Transit) that you can consider to travel to various parts of the city. Just like San Francisco, Chicago, too, has various transportation modes that you can consider to get around the city. The city's public transportation is managed by Chicago Transit Authority (CTA).
Here are some of the main airports and transit systems you can avail of to get in and around Chicago:
O'Hare International Airport
Midway International Airport
Metra Electric Line (South Bend to Chicago)
Blue Line (Chicago O'Hare International Airport to downtown)
Red Line (North and south parts of the city via the downtown area)
Chicago Water Taxi
Shoreline Water Taxi
One of the perks of living in Chicago is that a majority of neighborhoods and places within the city are easily accessible by bike lanes. So, you can rely on your bicycle to get around in the city while marveling at the beauty the place has to offer you.
Chicago's Strong Points
Diverse economy
Friendly neighborhoods
Home to many sports like rugby, baseball, football, hockey, etc
Several museums, zoos, and parks for recreation
Exotic food
Good transportation system
Many high ranked hospitals
Affordable lifestyle
Top Neighborhoods To Move To In Chicago
Lincoln Park
If you're looking for a place that has a good quality of life and friendly communities, then Lincoln Park in Chicago is just the place for you. You'll find old brick houses, antique stores, boutiques, and several restaurants in the neighborhood. The place has attracted a lot of families to moving here as it's home to Lincoln Park Zoo, Lincoln Park Conservatory, and many other tourist attractions. To add up to that, the city is also home to several major institutions like DePaul University.
Median Value Of Homes: $687,480
Monthly Median Rent: $1,780
Hyde Park
Hyde Park has been one of the best neighborhoods to live in Chicago for several reasons. First of all, the place is home to historic places like the University of Chicago and the Museum of Science and Industry. When it comes to real estate here, you'll find plenty of Victorian-style architecture and unique homes. The residents of Hyde Park take pride in the Hyde Park Jazz Festival celebrated here as it's become a popular tourist attraction.
Median Value Of Homes: $289,000
Monthly Median Rent: $1,588
Lakeview
Lakeview is a beautiful neighborhood situated in the north of Chicago and is bordered by Lake Michigan. This is the perfect place for all those who love baseball. That's because it's the home of the most talked-about Wrigley Field. Don't worry if you're not a baseball fan, the place has tons of other things for you. Lakeview is best known for its LGBTQ+ Pride Parade, music festivities and parades, Halloween parties, and many other events. Whether you're young or old, you can rest assured that you'll never get bored if you choose to live in Lakeview.
Median Value Of Homes: $468,682
Monthly Median Rent: $1,578
River North
River North is one of the most attractive and vibrant neighborhoods in Chicago. The place has tons of art galleries, dining options, dance clubs, bars, and entertainment venues that the residents enjoy exploring. So, if you're looking for a neighborhood that has an urban feel to it, River North is among the best neighborhoods in Chicago. Some of the popular attractions in Chicago like The Wrigley Building, Marina City Towers, as well as the Trump International Hotel & tower are located in River North.
Median Value Of Homes: $474,256
Monthly Median Rent: $2,045
West Loop
West loop resides along the western bank of the Chicago River. What was once a warehouse center is now a neighborhood with tons of luxury homes and apartments. The place has everything you'd want in a city. Right from housing options, restaurants, art galleries to bars, you'll find all kinds of modern amenities in West Loop. The place is also home to major companies like Boeing and Ogilvie Transportation Center. All of this has made it an ideal place for families and young professionals.
Median Value Of Homes: $419,838
Monthly Median Rent: $2,111
Also read: Top 7 Neighborhoods In Chicago For Families | Top Neighborhoods in Chicago for Singles and Young Professionals
Things To Take Care Of When Moving From San Francisco To Chicago
The distance between San Francisco and Chicago is almost 2,127 miles. Since this is a long distance move, you'll need movers to carry out your move efficiently. We recommend booking a moving company well in advance to avoid any moving-related hassles later.
One of the many things to be mindful of when planning your move is your valuables. That's why a home inventory is a must. It will help you get a clear idea of the number of items you want to take along with you and you can also get full value protection for your valuables from your moving company.
A moving budget will help you understand how much you'll be spending on your move. So, it's best if you make your budget before starting to plan your move. We suggest you get moving quotes from at least 3-5 moving companies. That way, you can decide which company can offer you the best services and whether they fit into your budget.
If you can't afford to hire movers, you can always plan a DIY move. For that, you can choose to hire movers only for loading and unloading your items. Otherwise, you can choose to pack all your belongings yourself and rent a truck with a driver to transport your belongings to your new destination.
San Francisco To Chicago Moving Costs
Let's not forget that your move from San Francisco to Chicago is a long distance one. So you can expect your moving company to give you a moving estimate on the higher end. On average, your move from San Francisco to Chicago will cost you between $2,500 and $4,000. This will depend largely on factors like the size, date, and time of your move and the location of your new destination.
Your moving company will also take into account the services you ask for when giving you a moving estimate. For example, if you ask for packing materials and services along with loading and unloading services, then you can expect your moving costs to be on the higher end. Likewise, if you choose to pack your belongings yourself and seek help only for transporting your belongings, you can save yourself a few extra bucks.
Summing Up
San Francisco and Chicago are both great places to live in. In Chicago, there are plenty of things to do. A thriving job market, many restaurants, and historic sites are all things that make Chicago one of the best places to live in the U.S. If you think this city has everything you want, you can consider moving here. We're here to help you find the right movers to make your moving process a seamless experience.
FAQS On Moving From San Francisco To Chicago
Is Chicago Cheaper Than SF?
Chicago's overall cost of living is almost 23% higher than the national average. When it comes to San Francisco, it is 80% higher than the national average. Although both cities have a high cost of living, Chicago is relatively cheaper than San Francisco.
Is Chicago A Good City To Move To?
Chicago's overall cost of living is almost 23% higher than the national average. This includes housing costs and other basic utilities. The city is also known to have really cold winters with frequent snowfall. But keeping all of this aside, Chicago has a good job market and great transportation facilities. So, if you think the city ticks off all boxes for you, then Chicago is a good city to move to.
What Salary Do You Need To Live In Chicago?
It's no secret that the utility costs are on the expensive side in Chicago. So, if you want to meet your basic living expenses like food, healthcare, and rent, you will need a salary of around $50,000 or more. For a comfortable living in the city, a median household income of more than $50,000 will suffice in Chicago.
See also: Moving from San Francisco to Los Angeles