Moving from San Francisco to Los Angeles – Expert Tips and Advice


VanLines Inc
Secure Storage
Easy Booking Process
Fully Trained Employees
GET QUOTE

Colonial Van Lines
Storage Services
Long-Distance Moves
Corporate Relocations
GET QUOTE

Moving APT
Vetting Process
Award-Winning
Available Nationwide
GET QUOTE
Our Take
Price
Rating
Minimum Shipment Size
Storage
Booking Deposit
Cancellation Policy
Quoting Options
Discounts

Best Overall Value


GET QUOTE

2+ bedrooms




Free 30 Days




10%

Free up to 72 Hrs

Phone / FaceTime / Text

Senior / Same day Booking

Best Industry Reputation


GET QUOTE

1+ bedrooms




30 Days




20%

Free up to 72 hrs

Phone / Facetime

Seniors Discount

Best Customer Service


GET QUOTE

1+ bedrooms







Free up to 72 hrs

Phone / Virtual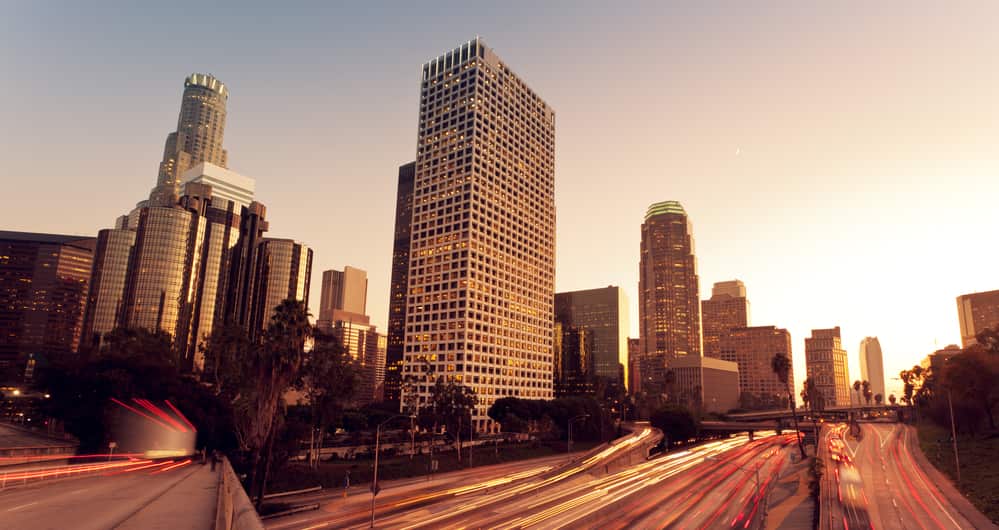 Are you being transferred by your company or looking for a change or just gearing up for the 2028 Summer Olympics that are going to be held in Los Angeles? It could be anything as long as it keeps you as excited as you are right now. Of course, it's going to be hard to bid adieu to the spellbinding Golden Gate Bridge and the historic cable cars of San Francisco but that's how it works, right? You're always going to have to miss out on something. And secondly, it's the City of Angles you're moving to. Home to nearly 4 million people, Los Angeles is the second-largest city in the US. It's the heart of the entertainment world and the American film industry due to the presence of the biggest movie studios.
Also, the famous city is known for its robust job market and unending opportunities, especially in the technology industry. Los Angeles gives a lot of reasons to the people from the rest of the country and the world to move in. The culturally diverse city is particularly hailed for the stunning scenic beauty it offers. With the mountains right next to the ocean, hikers and bikers enjoy the most. In this article, we list down the factors that will play a role in your move from San Francisco to Los Angeles.
Factors To Consider Before Moving From San Francisco To Los Angeles
Weather Conditions
San Francisco has a Mediterranean climate where summers are cool instead of warm. On the other hand, the climate of Los Angeles can be described as subtropical. This means that the people experience mild, rainy winters and hot, sunny summers. For most parts of the year, the weather remains pleasant for people to move around and enjoy all the outdoor activities. However, March, April, May, September, October, and November are considered to be the absolute best months to enjoy to the fullest.
On average, the US gets 205 sunny days every year. This is much lower than what both the cities in the state of California experience. While San Francisco gets 259 days of sunshine annually, the people in Los Angeles enjoy 284 sunny days. San Francisco receives 25 inches of rainfall and no snowfall at all. On the other hand, Los Angeles receives about 16 inches of rain with none of the snowfall as well!
Let's have a look at the difference in temperatures during peak winters:
January is the coldest month in San Francisco and the average temperature is 45.5°F.
January is the coldest month in Los Angeles with an average temperature of 45.2°F.
Here's the difference in temperatures during peak summers:
September is the hottest month in San Francisco with an average temperature of 69.9°F.
August is the hottest month in Los Angeles and the average temperature is 85°F.
Cost Of Living
After Hawaii, California is the second-most expensive state to live in the US. Although both the major cities are way over the national average, you might be delighted to know that you're going to save quite a lot of money if and when you move from San Francisco to Los Angeles. In the cost of living index, San Francisco scores a massive 269.3 which is more than twice the national average (100). On the other hand, Los Angeles has a cost of living index of 173.3 which is still above the national average but way below San Francisco. The housing prices are the main reason why the cost of living is so high in both cities.
Buying A House
Los Angeles beats San Francisco when it comes to buying a house. According to Zillow, the median home price in Los Angeles is $944,651. There has been an increase of 16.1% in this rate from January 2021 to February 2022. And if this seems ridiculous to you, the home value in San Francisco is an astounding $1,579,000. It might bring a smirk to your face when we tell you that the median house price in the entire country is $331,533.
Renting A House
If you prefer the option of becoming a renter in Los Angeles, the average monthly rent for a studio apartment is $2,107 while for a 1-bedroom apartment and a 2-bedroom apartment, it's $2,924 and $3,947, respectively. A few of the best places in the city to look for rental apartments are Westwood, San Pedro, Koreatown, Mar Vista, Lake Balboa, Echo Park, and Historic Filipinotown.
In case you were wondering what the rental prices in San Francisco look like, here they are. The city's monthly average rent for a studio apartment is $2,423 while for a 1-bedroom apartment, it's $3,304 and for a 2-bedroom apartment, it's $4,493.
Utilities
Since some of you would like to know what all is included in utilities, these are the basic services that are required to keep your home or business running efficiently like groceries, water, gas, electricity, internet, cable TV, etc. The average utility bill for the people of Los Angeles is $211 which is surprisingly lower than the monthly national average of $236. In San Francisco, the average bill for utilities is $275.
Job Market
Out of all the 50 states in the country, California has the highest GDP — $3.12 trillion in 2021. The various sectors that have contributed to the growth of the state are trade, tourism, agriculture, entertainment, technology, manufacturing, and education. Giants like Google, Facebook, and Apple have their headquarters in California.
The median household incomes in San Francisco and Los Angeles are $123,859 and $71,358, respectively. The unemployment rate in Los Angeles is 4.2% while it's 3% in San Francisco. Top-performing industries in Los Angeles are manufacturing, healthcare, government, tourism, financial services, entertainment, media, etc. Some of the city's top employers are the University of California LA, Kaiser Permanente, Northrop Grumman, and the Los Angeles Unified School District.
Transportation
If you've never before been to Los Angeles but have heard negative comments about its traffic, allow us to set the record straight. It's all true. Especially the rush hours — 7 am to 10 am and 4 pm to 7 pm are the worst. Also, you must have a car if you want to live in this city. It's the best way to move around. Los Angeles is spread over 500 square miles and for a major city, public transportation is not as well planned as you would expect. The Los Angeles County Metropolitan Transportation Authority (LACMTA) is in charge of the buses, light rails, and subway services in the city.
The Los Angeles Metro System has as many as six rail lines helping the residents get from one point to another. These are:
The Metro Expo Line (light rail) connects the Westside to Downtown, Hollywood, South Bay, and Long Beach.
The Metro Red Line (subway) serves Downtown, the Mid-Wilshire area, Hollywood, and San Fernando Valley.
The Metro Purple Line (subway) also provides services throughout Downtown, Wilshire Boulevard, and Western Avenue.
The Metro Gold Line (light rail) connects Pasadena and East LA, meeting the Red and Purple lines at Union Station.
The Metro Blue Line (light rail) connects Long Beach and Downtown LA, where it meets the Red and Purple lines.
The Metro Green Line (light rail) runs between Norwalk and Redondo Beach.
Also, Metrolink is a regional commuter rail service providing services to Los Angeles and the surrounding areas. As far as bus services are concerned, there are close to 200 different lines of local, rapid, express, and BRT (bus rapid transit) services. Some of the major bus lines are:
Metro Local (orange)
Metro Rapid (painted red)
Metro Express (blue)
Metro J Line (Formerly known as the Silver Line)
Metro G Line (Formerly known as the Orange Line)
Another efficient option is ride-sharing. Companies like Uber and Lyft are in operation throughout the city.
There are five commercial airports in Los Angeles. The most important one is the Los Angeles International Airport (LAX). It's the world's seventh busiest airport. The other airports are Ontario International Airport, Bob Hope Airport, Long Beach Airport, and John Wayne Airport.
Los Angeles' Strong Points
Weather: The southern part of California is among the best places when it comes to weather. Los Angeles has a Mediterranean climate where it doesn't get too hot during summers. The city experiences pleasant weather right through the year.
Entertainment: A paradise for creative minds, Los Angeles has no dearth of options for entertainment, from music and movies to museums, exhibitions, and festivals.
Diversity: You'll find people from different backgrounds from the Hispanic/Latino population to Caucasians.
Job Opportunities: The city has a healthy job market with plenty of opportunities available in sectors like entertainment, healthcare, government, manufacturing, etc.
Top Neighborhoods To Move To In Los Angeles
Downtown LA
Home to approximately 85,000 people, Downtown LA has seen tremendous development and gained a lot of popularity in the last twenty years. It had become a town with abandoned buildings and houses before things got back to normal and how! One of the most transit-friendly and walkable neighborhoods, Downtown is also known for its outstanding nightlife.
The eastern part of the area is called the Arts District where you'll find the Japanese American National Museum, Angel City Brewery, Greenbar Distillery, Porter Junction Cafe, etc. The western part has the Staples Center which is home to Lakers, Clippers, and Kings along with the Grammy Museum.
Median Home Value: $700,000
Monthly Median Rent: $2,695
Culver City
Culver City is also known as the Heart of Screenland because of its film and TV production and has a population of 39,563 people. There are a number of highlights to its name, the biggest ones being Sony Pictures and MGM Studios. Other than that, giant companies like Apple, HBO, and Amazon Studios have also set up their offices here. But Culver City is a highly desirable place to live in because of its diverse culture, safety, and the kind of job opportunities it creates. The result is youngsters and families are moving to this neighborhood in large numbers. You'll also find some top-class restaurants, bars, and cafes.
Median Home Value: $1,406,840
Monthly Median Rent: $2,969
Echo Park
Located in close proximity to Downtown, Chinatown, and Silver Lake, Echo Park is home to 40,000 people. Whether you're a baseball fan or not, make sure you visit the stunning Dodger Stadium at least once. The neighborhood offers something for everyone whether you're a sports enthusiast, nature lover, or someone who just loves to chill. The Victorian-style craftsman houses and lush greenery will only add to your overall experience of living in Echo Park. In addition, you'll get to enjoy the amazing nightlife, restaurants, cafes, music venues, etc.
Median Home Value: $782,566
Monthly Median Rent: $2,423
Koreatown
There are 124,281 people living in Koreatown. As the name suggests, a lot of Korean immigrants started moving to this neighborhood in the 1960s because of the affordable real estate. Just like many other neighborhoods in Los Angeles, Koreatown has also seen days that everyone would want to forget, and just like the rest, everyone has put those days behind them. Koreatown has the largest Korean population outside of Korea. The main attraction of this area is its huge diversity of options to eat and drink.
You'll need a lot of time to get your hands on each and every cuisine there is. Start with Park's BBQ, Beverly Soon Tofu, and Soowoon Galbi. Koreatown's central location makes it easy to move around Los Angeles. If you're moving in with your family, there are plenty of schools in Koreatown like Los Angeles Elementary Schools, Berendo and Virgil Middle Schools, and Harold McAlister and West Adams Preparatory Senior High Schools.
Median Home Value: $794,000
Monthly Median Rent: $2,190
See Also: Top 5 Neighborhoods In Los Angeles For Families | Top Neighborhoods in Los Angeles for Singles and Young Professionals
Things To Take Care Of When You're Moving From San Francisco To Los Angeles
As part of your research, read a lot of customer reviews on the internet before finalizing your moving company. Contact a minimum of three movers for quotes just so that you have options to choose from.
The moving company that you lock the dates with should be registered with the US Department of Transportation.
You'll most likely be charged based on how heavy your shipment is. It would be a good idea to discard the items that you can, particularly the heavier ones.
Make an inventory of all the items you're getting moved. When your mover arrives at your new house, check if each and every item is there or not.
Keep all your important documents and paperwork safely with you all the time. You cannot afford to misplace any of it.
San Francisco To Los Angeles Moving Costs
The distance between the two cities is just under 400 miles which isn't too much. Hence, you won't have to spend thousands of dollars on the moving process. However, you must get started with researching moving companies as it will require you to invest quite some time and there is a huge lot of options out there.
See also: Best Moving Companies in San Francisco
Here's the approximate cost of moving a two-bedroom apartment from San Francisco to Los Angeles:
Professional Moving Company: $1,755 to $3,172
Moving Container: $1,586 to $2,138
Rental Truck: $645 to $867
Conclusion
When you move from San Francisco to Los Angeles, you'll have a look at a lot of factors (like we have covered in this article) that will have an impact on your decision. Los Angeles ticks all the boxes as far as the most important factors are concerned like the job market, diversity, climate, cost of living, quality of life, etc. Thus it's safe to say that Los Angeles is a great city to settle down in whether you're moving alone or with your family. In fact, you're sure to have an amazing experience for as long as you put up in the city.
PS: If you're not a sports fan, there's a chance that you'll go on the path of self-discovery and change.
FAQs About Moving From San Francisco To Los Angeles
Is Los Angeles Safe?
Los Angeles has a violent and property crime rate of 7.44 and 22.51 per 1,000 residents, respectively. This is worse than the national average which is 4 for violent crimes and 19 for property crimes.
Does Los Angeles Receive Snowfall?
No, the city does not receive any snowfall at any point of the year. It gets around 16 inches of rainfall which is still less than the national average of 38 inches.
How Much Does It Cost To Move From San Francisco To Los Angeles?
Hiring a professional moving company to move a two-bedroom apartment from San Francisco to Los Angeles costs somewhere between $650 and $3,200. This amount does not include any additional services you might want like packing, unpacking, and packing materials.
See also: Moving from San Francisco to Chicago | Moving from San Francisco to Austin | Moving From Boston To Los Angeles | Moving from San Francisco to Seattle