5 Best Neighborhoods in Los Angeles for Singles and Young Professionals


VanLines Inc
Secure Storage
Easy Booking Process
Fully Trained Employees
GET QUOTE

Colonial Van Lines
Storage Services
Long-Distance Moves
Corporate Relocations
GET QUOTE

Moving APT
Available Nationwide
Award-Winning Movers
Extensive Vetting Process
GET QUOTE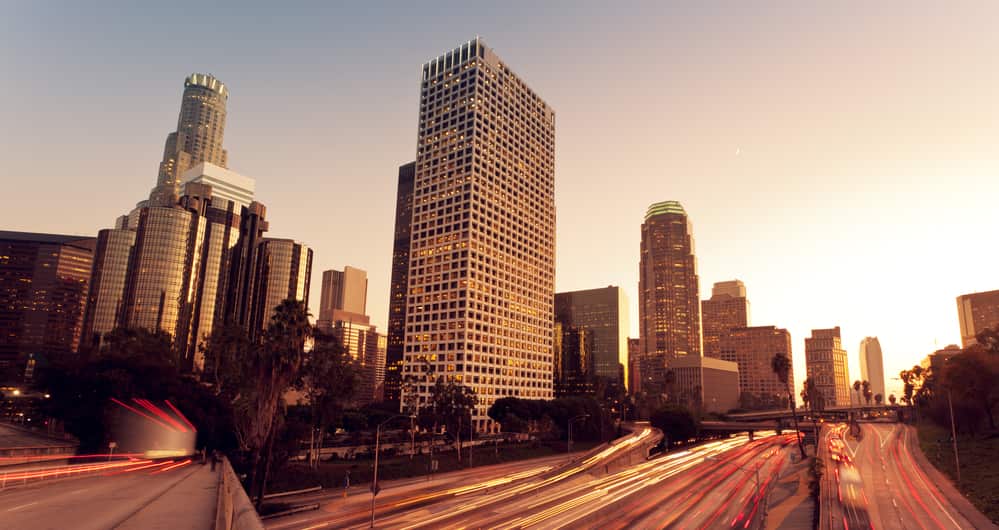 Anyone who has ever tried to find a place to live in Los Angeles knows that it can be daunting. It can be tough to know where to plant your roots in a city as vast and diverse as Los Angeles, especially if you're single or professional looking for the right neighborhood vibe. With so many different neighborhoods to choose from, it can be tough to decide where to settle down. When it comes to finding the best neighborhood in Los Angeles for singles and young professionals, there are a few factors you need to take into consideration. The city is vast and diverse, has a great nightlife scene, plenty of job opportunities, and a wide range of attractions that can keep you busy on weekends. If you're single or a professional, and you are looking to shift to Los Angeles, here are some of the best neighborhoods in LA for you to consider. Each one offers its own unique set of attractions and amenities, so you'll find the perfect fit for your lifestyle.
Keep reading for more information about each neighborhood!
1. Loz Feliz
Los Angeles is a large city located in southern California. The Los Angeles metropolitan area is home to over 18 million people, making it one of the most populous metro areas in the United States. Los Angeles is a diverse and dynamic city with many neighborhoods to explore. One of these neighborhoods is Loz Feliz. Loz Feliz is located in the northeast corner of Los Angeles, just south of Griffith Park. The neighborhood is home to various businesses and attractions, including Los Feliz Village, a pedestrian-friendly shopping district. Loz Feliz is also known for its lush parks and tree-lined streets. The area is also home to several popular restaurants and bars, making it lively. If you're looking for a taste of Los Angeles culture, check out Loz Feliz.
Things to Do In Loz Feliz
Check out the Greek Theatre, which hosts performances from up-and-coming bands and global superstars such as Elton John and Sting.
At Griffith Observatory, learn about the cosmos with telescopes, live shows, and informative displays.
Spend a day relaxing at Griffith Park Pool and enjoy the mild Los Angeles weather.
Take a trip back in time to the 1920s by going to one of the historic Los Feliz 3 Cinemas.
Make new friends at Skylight Books' Coyotes Book Club meetings.
At one of Los Angeles' top restaurants, Fred 62, savor breakfast dishes like the Biscuit Bomb Breakfast Sandwich or the Bossa Nova Waffle.
At Home Restaurant, you can make creative variations on traditional comfort foods like the Short-Rib Pot Pie, Tequila Lime Pasta, and Jerk Pork Chops.
The Southern Pecan Pie and Peanut Butter Cream Pie are two delicious selections from House of Pies to satisfy your sweet tooth.
At Harvard & Stone, you can unwind with various smooth Martinis from the day.
Median Home Price: $740,684
Median Rent: $1,407
Crime Rate: (Calculated annually per 100,000 residents)

Assault- 141.9
Murder – 3
Robbery – 127.1
Burglary – 1,058.4
Theft – 1,259.4
Motor Vehicle Theft – 517.4
2. Silver Lake
Los Angeles is a large city with many different neighborhoods, each unique character. One of these is Silver Lake, located just east of downtown. Silver Lake is known for its hipster vibe and eclectic shops and restaurants. It's also a popular spot for outdoor activities like hiking and biking. The neighborhood is home to several parks, including the Silver Lake Reservoir, a popular place for walkers, joggers, and picnickers. The neighborhood is home to many bars, clubs, restaurants, art galleries, and shops. Silver Lake is also a popular spot for stunning views of the Los Angeles skyline. If you're looking for a taste of Los Angeles' unique culture, check out Silver Lake.
Things to Do In Silver Lake
Stroll around Silver Lake Reservoir to admire the lovely water and interesting homes.
At Silver Lake Dog Park, you and Fido may make new pals while you hide in the sun.
Get bike repairs—or a new and improved bike—at Coco's Variety to get ready for your next cycling adventure.
You may learn to embroider, produce your candles, and paint with watercolors at Makers Mess. During the games at The Red Lion Tavern, catch all of the action while noshing on a Spaten Lager and Pretzel Platter on the patio.
Rick's Drive-In & Out serves up Chili Fries and a Cheeseburger to satisfy your late-night munchies.
Get a Spicy Tuna Rice Bowl or The Shoyu on Fire Ramen at Silverlake Ramen. Wood Silver Lake Pizza & Pasta's Roasted Veggie and Rapini & Sausage Neapolitan pizzas are fantastic.
At Cha Cha Lounge, challenge your pals to a foosball game while sipping on a Sir Perry's Pear Cider or Racer 5 IPA.
Median Home Price: $608,859
Median Rent: $1,380
Crime Rate: (Calculated annually per 100,000 residents)

Assault- 126.9
Murder – 5.9
Robbery – 67.9
Burglary – 1,053.9
Theft – 997.8
Motor Vehicle Theft – 478.2
3. Hollywood
Los Angeles is a vibrant, cosmopolitan city with a rich cultural heritage. One of the most iconic and renowned areas of Los Angeles is Hollywood. This neighborhood is home to some of the most famous studios and movie theaters globally, and it has been the setting for countless films and TV shows. Hollywood is also a popular tourist destination, where visitors can see the Walk of Fame, visit historic landmarks, and shop at exclusive boutiques. While Hollywood may be best known for its association with the entertainment industry, it is also a thriving residential community with a diverse population. Every year, hundreds of movies and TV shows are produced in Hollywood. The area is also home to many celebrities. In addition to being a major center of the entertainment industry, Los Angeles is also a hub for fashion, art, food, and architecture. Hollywood is worth visiting whether you're interested in its storied history or contemporary culture.
Things to Do In Hollywood
The Warner Bros. Studio Tour in Burbank is a must-see for film enthusiasts visiting or living in Los Angeles. The tour will take visitors through some of the film lots and studios where classics like Casablanca and Batman were created.
The Walk of Fame was founded in 1958 when the first brass stars were put on the sidewalk on Hollywood Boulevard. You can always visit the Walk of Fame and check the brass stars put on the sidewalk, including the star of the famous Michael Jackson.
With your friends, you may go to Los Angeles' Universal Studios, a film studio and a theme park, enjoy the rides or learn about the making of the movies or behind the scenes at the film studio.
Visit the TCL Chinese Theatre, Hollywood's most iconic landmark. It has been the site of many red-carpet movie premieres and features handprints, footprints, and autographs of some of the biggest names in Hollywood history.
You can also visit Griffith Observatory, which offers an amazing view of Los Angeles and the Hollywood Sign. The Observatory is also a planetarium with shows about the cosmos running every half hour.
Suppose you want to have fun or dance or like hippy crowds. You should visit the Hollywood Bowl, which hosts musical events or visit the Hollywood and Highland Center, a huge cultural center with many shopping centers, restaurants, hotels, etc.
Visit the Hollywood Wax Museum, which has wax figures of your favorite stars like Nicole Kidman and Sandra Bullock, and classic stars like Marilyn Monroe, George Clooney, James Bond, etc. Or the visit to the Museum of Death. The museum is dedicated to all the criminals, serial killers, and execution tools. They have also exhibited coffins and body bags, the art of autopsy, death cults, and other things these criminals were indulged in.
There are many places to eat and spend time with your friends in Hollywood, like the Hard Rock Cafe, where you can listen to some classic American songs and eat burgers or feast on French dishes in Petit Trois.
Try Tao for some really good Pan-Asian food, or go to Yamashiro, an iconic restaurant in Los Angeles with an amazing view.
Median Home Price: $797,027
Median Rent: $1,473
Crime Rate: (Calculated annually per 100,000 residents)

Assault- 481.1
Murder – 6.6
Robbery – 507.4
Burglary – 1,213.2
Theft – 2,243.7
Motor Vehicle Theft – 492.9
4. Westwood
Westwood is one of the most desirable neighborhoods in Los Angeles. It's home to a lively mix of people, including students, young professionals, and families. The area is well-connected, with plenty of public transportation options and easy access to the freeways. And, of course, it's close to all the best that Los Angeles has to offer, from the beach to the mountains. There's something for everyone in Westwood. The neighborhood is home to various shops, restaurants, and entertainment options. There are plenty of parks and recreation facilities for those who like to stay active. And for those who want to relax and enjoy the good life, Westwood has no shortage of luxury hotels and resorts. If you're looking for a place to call home in Los Angeles, Westwood should be at the top of your list.
Things to Do In Westwood
During a UCLA Bruins basketball game at Pauley Pavilion, memorize the lyrics to Sons of Westwood to join in the chant with the crowd.
At Hammer Museum, explore the rotating exhibitions or participate in a friendly ping-pong tournament.
At Holmby Park, challenge your pals to a game of lawn bowling. Westfield Century City is a huge outdoor shopping mall with everything from major-brand shops to boutique retailers, a few minutes east of the Santa Monica Foothill Freeway.
At Fellow, enjoy Winter Squash Agnolotti and Kanpachi Crudo while dining in Los Angeles.
At Shamshiri Grill, enjoy delectable Mediterranean dishes like Lamb Shawarma Platter and the Fillet of Salmon Kabob.
Saffron & Rose Persian Ice Cream sells three flavors of ice cream: Orange Blossom and Green Tea, which are guaranteed to please.
Median Home Price: $854,491
Median Rent: $1,832
Crime Rate: (Calculated annually per 100,000 residents)

Assault- 48.1
Murder – 1.8
Robbery – 58.1
Burglary – 495.9
Theft – 793.7
Motor Vehicle Theft – 110.8
5. Venice
Venice is a neighborhood located in the western part of Los Angeles, California. Venice was founded in 1905 as a seaside resort town. It was an independent city until 1926 when it merged with Los Angeles. Venice is known for its canals, beaches, and Venice Beach Boardwalk. The Venice Beach Boardwalk is a two-and-a-half-mile pedestrian path that runs along the beach. It is one of the most popular tourist destinations in Los Angeles. Venice is also home to several tech startups nicknamed "Silicon Beach." The Los Angeles Unified School District serves Venice. Venice High School is a public high school in Venice. Venice is bordered by Santa Monica to the north, Mar Vista to the east, and Playa Vista to the south and east. Venice is also home to several art galleries, shops, and restaurants. The area has a long history as a center for the arts and continues to be a popular destination for both locals and tourists alike.
Things to Do In Venice
The Venice Canals provide a unique perspective on the world-famous beachfront neighborhood of Venice. Take a stroll through these three canal-lined blocks of Dell Avenue.
Enter the Mosaic Tile House and explore the colorful tiles and paintings done by Cheri Pann and Gonzalo Duran. You can see the place from noon to 3 pm. However, you will have to make an email reservation.
Although the city's beach culture is well-known, the area's most fashionable block, Abbot Kinney Boulevard, has some of Venice's best boutiques, galleries, eateries, and bars (most notably for Felix and Gjelina).
Visit the Butcher's Daughter for kinds of pasta or salads. Or you can visit the Wanderlust Creamery for a bite of unique flavored Ice-Creams.
If you are health conscious and want to eat healthier food, try the kale and quinoa salad with shredded chicken at Tocaya Organica or Blue Bottle Cafe for some fizzy drinks or really good coffee.
Median Home Price: $1,601,029
Median Rent: $2,260
Crime Rate: (Calculated annually per 100,000 residents)

Assault- 543.5
Murder – 14.1
Robbery – 306.9
Burglary – 1,306.6
Theft – 2,303.5
Motor Vehicle Theft – 523.8
Living in Los Angeles
Some things to keep in mind before relocating to Los Angeles include the following:
LA is a huge city with a population of over 4 million people. It can be very overwhelming and congested, so be prepared for noise and traffic.
Living in LA is high, especially if you're looking to live in a desirable area. Expect to pay a lot for rent and necessities.
There's no shortage of things to do in LA, but it can be tough to meet new people. It's important to get out and explore the city, and don't be afraid to strike up conversations with strangers.
The weather in LA is beautiful, but it's also very hot and dry. Be sure to stay hydrated and take advantage of the many outdoor activities available.
Los Angeles is a culturally diverse city with something for everyone. There's always something new to see and do, so embrace the experience and enjoy everything this city offers.
Traffic is notoriously bad in LA, so be prepared for long commute times. Try to avoid driving during peak hours, and consider taking public transportation or carpooling when possible. Parking can also be a challenge in Los Angeles, so be sure to factor that into your budget and plans.
Also See: Los Angeles, CA: Surrounding Suburbs Guide | Best Moving Companies in Los Angeles, CA
Conclusion
Los Angeles is a great city for singles and young professionals. The cost of living is high, and traffic is a major downside, but the city has a lot to offer in terms of entertainment, dining, and nightlife and is a great place to call home. There are many neighborhoods to choose from, each with its unique vibe. Whether you're looking for a laid-back beach community or a more urban environment, you can find it in Los Angeles.
FAQs
What is the best neighborhood in Los Angeles for singles?
There is no one-size-fits-all answer to this question, as the best neighborhood for singles in Los Angeles will vary depending on your individual preferences and lifestyle.
What are the best restaurants in Los Angeles?
There are countless great restaurants in Los Angeles, but our favorites include Tocaya Organica, Blue Bottle Cafe, and The Butcher's Daughter.
What is the best shopping in Los Angeles?
Again, there are many great options for shopping in Los Angeles, but we recommend checking out Abbot Kinney Boulevard for some of the best boutiques, galleries, and eateries in the city.
What are the best things to do in Los Angeles?
Los Angeles offers something for everyone, but some of the best activities include exploring the Venice Canals, visiting the Mosaic Tile House, and strolling down Abbot Kinney Boulevard.
What are the famous places to visit in Hollywood, LA?
Some of Hollywood's most popular tourist destinations include the Warner Brothers Universal Studios, the TCL Chinese Theatre, and the Hollywood Walk of Fame.
See Also: Top Out of State Movers in the America