How Much Do Long Distance Movers Cost?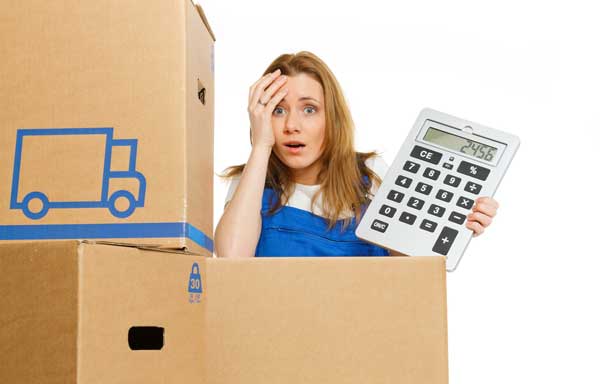 Moving can be costly. You know the price movers throw at you, but there may be hidden costs. We've got some things to think about during your long distance move so you can create a realistic moving budget.
The Overall Answer
There is no cut and dry answer when it comes to long distance moving costs. The overall cost will depend on how far you're moving, how much you do yourself, how much labor the movers must do for you and/or the weight and amount of your items. You're usually hiring by weight, distance, labor and time. Hiring movers takes a lot of this stress off of you. You don't have to spend hours packing your boxes, taking them up and down stairs and carrying them to the vehicle. The cost is worth every penny for your sanity, and your muscles will thank you.
Average Moving Prices
If you're moving locally under 100 miles, most movers have a price on average for two movers of about $80 to $100 per hour. If you're moving long distance, this cost can be much more. You need to calculate a few thousand dollars due to travel, labor and time. Pricing also depends on the size of your home and if you have stairs. Moving a large three bedroom home might cost up to about $1,000. This is not including any heavy items or packing services. If you're getting the movers to pack up all of your belongings, you'll pay for the extra time and labor.
Additional Long Distance Moving Costs
There are a few things to your movers may have additional costs for. If you live in an apartment or townhouse with a lot of stairs, you will probably be charged for those stairs. The movers also need adequate parking so if they have to walk a long way to get to your home, there may be a charge. If you have specialty items, plan to pay more. These are items like large, bulky items. Hot Tubs, Pianos and grandfather clocks fall under these things. Movers will not move chemicals or liquids many times. Be ready for this.
What Is Full Service?
There are different levels of moving service help. If you want to sit back and do nothing, you can do a full service move. This means the company first takes inventory of all of your belongings. Then they pack these belongings with bubble wrap. They do all of the labor packing and unpacking. Everything is done in a professional manner so that your items aren't harmed in the process. You will have a list of each item and each box. You can help as little or as much as you want to fluctuate the cost of your movers. Remember, you're paying for labor and time of the movers and packers. It's up to you if you want the cost to be as little or as high as it can be.
The Weight
Most long distance moving companies charge by weight. A typical one bedroom apartment, on average, is about 2,000 pounds. This is give or take, of course. This would equate to an average of about $1,000 to $1,400. A three bedroom home is usually about 9,000 pounds. This brings the average price to about $4,500 to $6,000. This is before you calculate in the cost of the mileage and any extra labor.
The Size Of The Truck Rental
Many people rent a truck to move long distance. These costs usually range from about $1,200 to $2,100. This cost depends on the size of a truck. You will also pay for the mileage, which is usually on average for pricing about 1,250 miles. If you plan to tow your car, you will pay on average an additional $1,300 to $1,800. These prices do not include the cost of hiring movers to help with loading and unloading the truck. If you do this, expect to pay an additional $60 to $120 per hour.
Moving Insurance Cost
You're putting your belongings on a truck trusting people with your things in a long distance move. You may want to think about getting moving insurance. Most companies offer a standard protection insurance plan at no additional cost, but it might only cover a minimum weight. This means they won't have to pay for many broken items. It's up to you if you choose to purchase this moving insurance.
The Date
Your moving date will be a busy day. The movers can cash in on this day if they chose. May through September is a very busy time for moving companies. They may increase prices during this time. They may increase fees up to 20 percent as well during their peak period. Holidays and weekends are also busy times for movers. If you can move during the week, your prices are usually lower.
Beware Of Hidden Costs
You've probably heard it a thousand times. A friend gets a moving quote, but when they come to do the job, that quote has tripled in cost. Movers like to throw last minute things at them. They'll say you didn't include certain items or you didn't explain you had such a large home. To alleviate this issue, make sure you are honest about all of your belongings. Most moving companies will provide you with a non-binding or a binding estimate for the weight cost of your belongings. The final weight might be more so the non-binding cost comes in so it might be more than your estimate. A binding estimate means the moving company must stand by those numbers. If you throw in items at the end, this is on you and will increase the price.
Moving Fraud
Don't let moving fraud happen to you. Never get a quote over the phone without the movers visiting your home. They need to see the space and how much "stuff" you have for a rough estimate. If they refuse to write you an estimate and insist on word of mouth, run for the door. Never sign a blank contract. Always read your contract. Never pay before the move in cash. Always check reviews to ensure you are working with a reputable company. While there might be a few negative reviews, make sure every single review isn't negative.
What Should I Save Now?
Besides moving your actual items, there's other things you need to consider when saving money for a long distance move. If you move out of state, you need a few things as well. Save about $5,000 to move the house itself. Then think of packing supplies which should run between $100 and $350. Your car registration will be $15-$300 depending on the state and type of car. Your new driver's license will be $10-$100.
Cut Your Cost
One thing you can do to cut your overall cost is get rid of things before the move. Since you're paying for weight, get that weight down! Purge your items by cleaning out your debris. Clean out old items and old clothing. Declutter room to room. Donate all of the furniture you no longer use as well. Sell nice items online. Host a garage sale so you're ready to face your new chapter with more of a blank slate. Your furniture may not even fit your new home, so it might be smart to start fresh once you get to the new home.
Moving Discounts
You have to remember there's nothing out there that just too good to be true. In the end, coupons don't always work. There are discounts for some people. If you have a AAA membership, you may be eligible to receive special moving discounts. Some companies offer military discounts for long distance moves. Check out your moving company's website to find out if there are any moving discounts you may qualify for. Don't fall for scams in the process of trying to save a few dollars.
See also: AAA Discounts on Moving Services
Moving Costs Deductions
Always save your receipts because moving costs might be tax-deductible. Once you get to your location and go through your items, you might want to donate the things you no longer need to charity. If you donate them before the move, save that receipt. Itemize all of your belongings. Also record their cash value on the receipt. You can claim a tax donation on these items. If moving for work, these expenses may also be tax-deductible. You cannot deduct meals you ate during the cross country move, but you can deduct the expenses if they fall under a few things. You must move close to the start date of your job. You also have to meet the time and distance test according to the IRS Form 3903.
See also: IRS Moving Expense Deductions
Get Moving Quotes
There's a hundred different moving companies out there all trying to get your business. Talk to a few of these companies to get a moving quote. They may all offer different services with different prices. If you hire a random person off the street, be ready for issues. Stick with the professionals to ensure your time and money is well spent. Each moving company will send a representative to your home to give you a quote. Be honest with them about all you need to move so you don't get sudden costs tacked on at the end. Remember the attic, basement and storage areas.
Moving long distance has many different pricing options. You're packing up your whole life in a truck so you want it to be done the right way. Save your back and your sanity by getting a good moving company to help you begin your new chapter of life.
Frequently Asked Questions
What Is The Cheapest Way To Move Long Distance?
Moving the DIY way is the cheapest way to move long distances, but since it's a long distance move, it'll be very challenging. You can look into alternative ways of lowering your costs like doing the packing yourself instead of opting for a full service move, purchasing cheap moving supplies, getting free boxes, and getting your friends and family to help instead of hiring labor. Negotiate a job relocation package if you're moving for a job, and make sure you move in the off-season to get discounts and lower rates.
Who Is The Cheapest Long Distance Moving Company?
There are several affordable moving companies that do long distance moves like International Van Lines, Atlas Van Lines, American Van Lines, Colonial Van Lines and more. A moving company may be cheap, but make sure they're reliable and licensed. Since it's a long distance company, make sure they have an MC (Motor Carrier) license; this gives them the authority to cross state lines when moving. Also make sure you ask family and friends for their recommendations since word of mouth goes a long way.
What Is The Best Moving Company For Long Distance?
There's no monopoly on the best moving company for long distance moves, but there's several ways to narrow down on who can be the best for you. Certain green flags like licenses from the DoT (Department of Transportation), an MC license, FMCSA (Federal Motor Carrier Safety Administration), positive customer reviews, and clarity when you speak with them will help you in with this process.
How Far In Advance Should You Schedule Movers?
The rule of thumb is to schedule movers at least 2 months or 8 weeks in advance. This gives both parties enough time to prepare for the move. Some movers even necessitate a period of time before which they need to be informed of any moves so find out about this in advance.
How Long Does A Long Distance Move Take?
Of course, this depends on how far you have to move. Normally, moving trucks cover around 400 – 500 miles each day. Your move could take between 10 and 15 days to get done, and even longer or shorter in some cases. Your shipment could reach you anywhere between 3 and 21 days, or longer.
How Much Are Movers Per Hour?
Local moves, normally charged by the hour, can be between $500 to $2,000 in total. This is because your hourly rate can be as low as $50 an hour to as high as $200 an hour. Plus, these estimates are for a move without additional services like packing and unpacking. In such cases, you can be charged another $30 to $70. Two workers working on a one-bedroom apartment for around 2.5 to 3 hours can charge $150 – $450, while a 2 to 3 bedroom apartment with 3 to 5 workers will take 6 to 10 hours and cost $600 to $2,000.
Also See: 6 Best Long Distance Movers In New Rochelle