Moving from San Francisco to San Diego – Expert Tips and Advice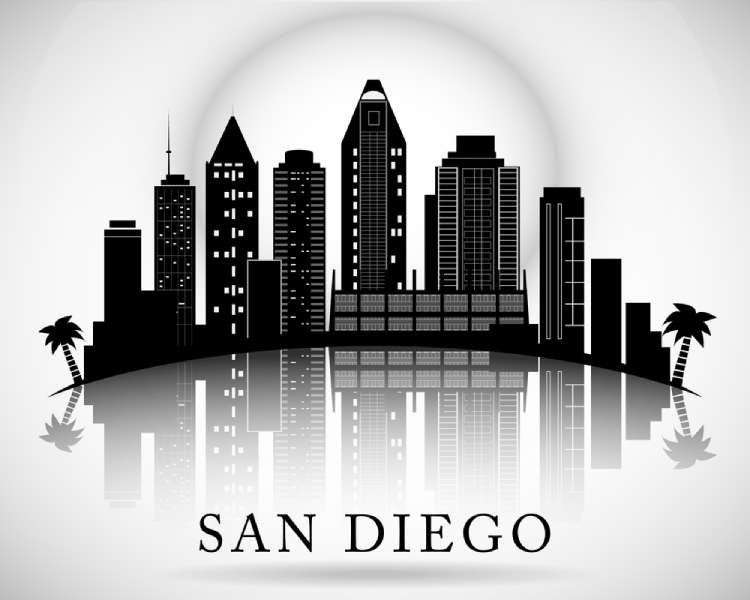 We see a small update in your playlist. Is that 'I left my heart in San Francisco' as your latest addition? It's a good one and who wouldn't miss this splendid city and its beautiful cable cars or the astonishing Golden Gate Bridge. But hey! San Diego is just as willing to take care of your heart as San Francisco did till now, and maybe better. Who knows?
Home to over 1.4 million people, San Diego is often referred to as America's Finest City since it's one of the country's best cities to live in and retire. The Californian city is located just south of Los Angeles and just above the Mexican border with the Pacific Ocean to its west. The median age of the city is 35 and hence, it's a paradise for young professionals to look for work with abundant opportunities available. There's a lot more to San Diego than just being a beach city — perfect weather throughout the year, high quality of life, top-class educational institutes, warm and friendly residents, natural beauty, etc.
Now let's find out what you need to know before moving from San Francisco to San Diego.
Factors To Consider Before Moving From San Francisco To San Diego
Weather Conditions
San Francisco experiences a Mediterranean climate where summers are not as harsh as you would expect them to be. On the other hand, the climate of San Diego can be defined as arid sub-tropical with mild, rainy winters and warm, sunny summers. The weather remains pleasant right through the year and you can step out to enjoy anytime without worrying about the temperatures.
Let's dig a little deeper and compare the two cities of California. San Francisco gets around 259 sunny days a year which is a little less than San Diego's 266 days of sunshine. These numbers are way ahead of the national average which is 205 days. Neither of the cities receives any snowfall at any point. While San Francisco receives 25 inches of rain, San Diego gets only 12 inches.
Here's the difference between the cities in temperatures during peak winters:
January is the coldest month in San Francisco and the average temperature is 45.5°F.
December is the coldest month in San Diego with an average temperature of 45.3°F.
Here's the difference in temperatures during peak summers:
September is the hottest month in San Francisco with an average temperature of 69.9°F.
August is the hottest month in San Diego and the average temperature is 80.2°F.
Cost Of Living
California is just second when it comes to the most expensive states to reside in the US, Hawaii being the first one. We've got some great news for you guys. Since the cost of living is probably the most important factor to think about while moving from one city to another, you'll be happy to know that San Diego is significantly cheaper than San Francisco. In the cost of living index, San Francisco has a score of 269.3 while San Diego has it at 160.1. Yes, both are way above the national average of 100 but imagine how much you'll be able to save after moving to San Diego. The extremely high housing prices is the biggest reason for the high cost of living in these two cities.
Buying A House
Here comes the difficult part. According to Zillow, the median home value in San Diego has gone up by a massive 26.2% from January 2021 to February 2022 and today stands at $944,228. And this is huge considering the fact that the price all over the US is $331,533. But hold your breath till we talk about your current city San Francisco. The median home price in your city is beyond imagination at $1,579,000. If you're still interested in homeownership, can we be friends, please? No? Okay.
Renting A House
This is the next best option for those who cannot afford to buy a house in San Diego. In case you want to become a renter in the city, here are some figures. The average monthly rent for a studio apartment in San Diego is $2,465 while for a 1-bedroom apartment, a 2-bedroom, and a 3-bedroom apartment, it's $2,989, $3,736, and $4,597 respectively. There are many top-notch neighborhoods to become a renter in the city like Linda Vista, Mission Valley, Hillcrest, Mount Hope, Logan Heights, etc.
If we talk about San Francisco, the city's monthly average rent for a studio apartment is $2,423 while for a 1-bedroom apartment, it is $3,304 and for a 2-bedroom apartment, it's $4,493.
Utilities
The average utility bill in the country amounts to around $236. San Diego has the slightest advantage with an average bill of $232. In San Francisco, the average bill for utilities is $275.
Job Market
As far as GDP is concerned, California is the country's number one state with the highest GDP of $3.12 trillion in 2021. The state attracts people from all over the world because there are that many opportunities. California is where Apple, Google, and Facebook have their headquarters. The most successful industries in the state are entertainment, tourism, agriculture, trade, technology, and manufacturing. The median household incomes in San Francisco and San Diego are $123,859 and $85,507, respectively.
Let's look deeper into the job market in San Diego. With its proximity to the Pacific Ocean and the presence of the military, the largest industry in the city is defense. US Navy, Marine Corps, Northrop Grumman, and General Dynamics NASSCO are the biggest employers in the defense sector. Apart from this, healthcare and education also offer great opportunities with its major employers being The University of California San Diego, Sharp Healthcare, Kaiser Permanente, etc.
Transportation
The San Diego Metropolitan Transit System (SDMTS) is the public transport service provider for the city. It looks after the operations of buses, light rail routes, and freight railways. You'll also have the options for pedicabs, waterfront shuttles, and Amtrak trains in order to get from one point to another in San Diego. Having said that, you'll need a car if you move to this city and if you want to make your life easy.
Buses: There are close to 100 fixed-route buses along with 9 BRT (bus rapid transit) routes. The fixed-route services include urban, rural, local, express, and premium express routes.
San Diego Trolley: This is the city's light rail transit network that is managed by San Diego Trolley Inc. (SDTI), a subsidiary of the SDMTS. It covers a total distance of 53.5 miles with 53 stations. The routes are:
The Blue Line operates between the UTC Transit Center, UC San Diego, Downtown San Diego, and the international border at San Ysidro.
The Orange Line operates between Downtown San Diego and the eastern suburban areas of El Cajon and La Mesa.
The Green Line operates between Downtown San Diego, Old Town, Mission Valley, San Diego State University, El Cajon, and Santee.
The Silver Line operates around Downtown San Diego.
San Diego has one major airport: the San Diego International Airport. There are two non-commercial airports as well called Montgomery-Gibbs Executive Airport and Brown Field Municipal Airport.
San Diego's Strong Points
Weather: None of your plans is going to depend on the weather since it remains pleasant at all times. Even if you're not an outdoor person, San Diego's weather will force you to just step and for a stroll. It never gets too hot or too cold.
Beach Life: The city has 70 miles of coastline and you have several options like sunbathing, swimming, surfing, beach sports, etc. There are further categories for beaches: family beaches, scenic beaches, surf beaches, party beaches, and resort beaches.
Diversity: San Diego is the country's 8th largest city and home to more than 1.4 million people. There are people from different backgrounds, for example, Hispanic origin. The city is close to Mexico which also has its impact. The two major languages spoken are English and Spanish.
Job Opportunities: More important than everything else, the job market is flourishing in San Diego which means that even if you start looking for a job after reaching the city, there's no need to panic, especially if you're into healthcare, military and defense, hospitality, manufacturing, and transportation industries.
Top Neighborhoods To Move To In San Diego
Hillcrest
The neighborhood of Hillcrest in San Diego is home to 34,700 people. Located close to Downtown and Balboa Park, Hillcrest is best known for its safety, walkable streets, splendid restaurants, bars, cafes, nightlife, and the fact that it's an LGBTQ+-friendly neighborhood. If you're moving in with your family, the neighborhood has numerous brilliant public schools. Don't miss out on the San Diego Pride since it's one of the biggest pride parades in the entire country. You won't come across a more friendly neighborhood than Hillcrest. While there are different farmers' markets every week, the one held on Sunday is the most popular.
Median Home Value: $749,900
Monthly Median Rent: $2,648
North Park
With a population of 33,175, North Park is located to the northeast of Downtown San Diego and right next to Balboa Park. The neighborhood spreads across just three square miles. This is probably the one area where you won't feel the need to have a car as everything is within walking distance. You'll have the luxury of beautiful traditional homes, restaurants, breweries, and shopping centers. The easy-to-navigate neighborhood organizes a free event called the Festival of Arts every month. When you reach North Park, don't forget to visit the North Park Recreation Center and the San Diego Indoor Soccer Center.
Median Home Value: $685,000
Monthly Median Rent: $1,938
Ocean Beach
Where could a neighborhood called Ocean Beach be located? Ten points to everyone who could find the answer. The unbelievably relaxed neighborhood is chilling on the shoreline with the Pacific Ocean and is extremely popular among surfing enthusiasts. Apart from beach lovers, the quiet neighborhood is loved by those with their families. The reason is that they have multiple options for some excellent schools for their children. The whole area is suited for those who like to walk. Beaches, restaurants, grocery stores, shops, etc. can be reached on foot from wherever you live. In addition, activities like swimming, fishing, and sunbathing are awaiting you there!
Median Home Value: $1,134,000
Monthly Median Rent: $2,150
La Jolla
We deliberately kept the most stunning neighborhood for the last just to make sure that you're still here. La Jolla is not just the most gorgeous looking neighborhood but it's also one of the most expensive. With a population of 32,486, the seaside area sits just northwest of Downtown San Diego. Not only families, but everyone loves La Jolla because of its safety, scenic beauty, palm trees, sandstone canyons, top-rated schools, awesome places to eat and drink, etc. Another major attraction is the La Jolla Underwater Park where you'll have the time of your life as you prepare yourself for scuba diving, kayaking, and snorkeling.
Median Home Value: $2,212,500
Monthly Median Rent: $3,020
Also read: 5 Best Neighborhoods in San Diego for Singles and Young Professionals
Things To Take Care Of When You're Moving From San Francisco To San Diego
It's highly recommended that you read a lot of customer reviews on the internet before finalizing your moving company. Contact a minimum of three movers for quotes just so that you have options to choose from.
You'll rest well if your mover is registered with the US Department of Transportation.
It would be a good idea to discard the items that you can, particularly the heavier ones because you'll most likely be charged based on the weight of your shipment.
Make an inventory of all the items you're getting moved. When your mover arrives at your new house, check if each and every item is there or not.
Keep all your important documents and paperwork safely with you all the time. Losing anything is not an option.
San Francisco To San Diego Moving Costs
You'll have to put in the effort to look for a trusted local mover. Although the distance of approximately 500 miles between the two cities is not the biggest, there's no harm in being extra careful and being prepared in the best possible manner.
Here is the approximate cost of moving a two-bedroom apartment from San Francisco to San Diego:
Professional Moving Company: $1,762 to $3,170
Moving Container: $1,586 to $2,137
Rental Truck: $638 to $866
See also: Best Moving Companies in San Francisco for 2022
Conclusion
The biggest plus-point of San Diego is its weather. We can't stress enough on this but we really want to. Not many cities in the US offer a pleasant climate all the time. Due to the presence of a large naval base, the government is a top employer in the city. Plus, there are plenty more industries for you to find work in. High quality of life, a healthy job market, open spaces, beaches, golf courses, and excellent education options make San Diego one of the most desirable cities not just in California, but in the entire country. With a plethora of bars and nightclubs all over the city, its nightlife will have your attention. Why else would they call it America's Finest City?
FAQs About Moving From San Francisco To San Diego
What Is San Diego Famous For?
San Diego is best known for its 70-mile long coastline and the beautiful beaches that come along with it. Some of the most amazing public attractions are The Old Globe Theatre, San Diego Zoo, San Diego Safari Park, LEGOLAND California, and SeaWorld San Diego.
How Much Does It Cost To Move From San Francisco To San Diego?
Hiring a professional moving company to move a two-bedroom apartment from San Francisco to San Diego will cost somewhere between $640 and $3,250.
How Safe Is San Diego?
San Diego is safer than most of the major US cities. It has a violent and property crime rate of 3.88 and 18.10 per 1,000 residents respectively. This is even better than the national average which is 4 for violent crimes and 19 for property crimes.
See also: Moving from San Francisco to Los Angeles | Moving from San Francisco to Chicago