Moving to San Diego | 2022 Cost of Living and Relocation Tips


VanLines Inc
Secure Storage
Easy Booking Process
Fully Trained Employees
GET QUOTE

Colonial Van Lines
Storage Services
Long-Distance Moves
Corporate Relocations
GET QUOTE

Moving APT
Available Nationwide
Award-Winning Movers
Extensive Vetting Process
GET QUOTE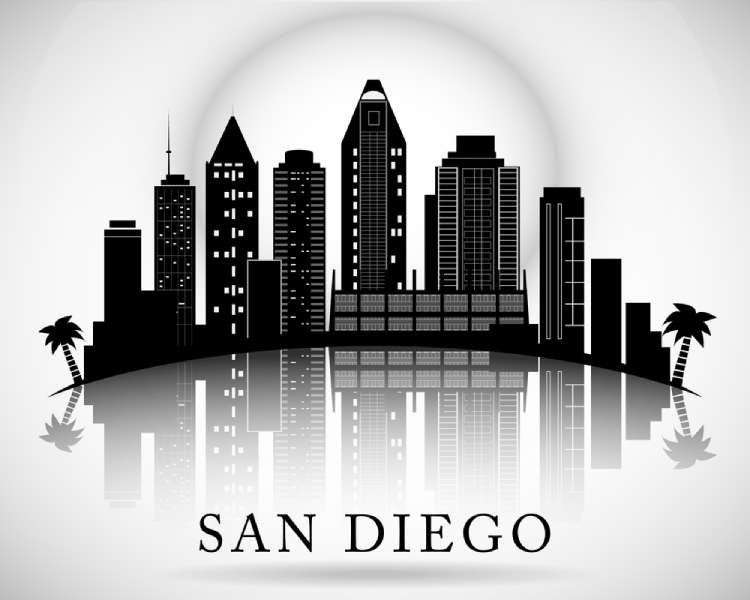 Top 10 Reasons Why Moving to San Diego, CA Might be Right For You
Ever see yourself moving to sunny California? Perhaps a little piece of heaven called San Diego could be the next place you call home. With mostly sunny days throughout the year and approximately 70 degrees, San Diego has a population of happy and friendly inhabitants. Especially during harsh winter months when most of the country is covered in snow, you'll be glad you made the move.
San Diego offers a lot more than beautiful weather. The city has been called "America's Finest City" around the world. It is located in Southern California right on the Pacific coast and is the 8th largest city in the United States. San Diego is a cultural, economic, and scientific hub. It is also home to the U.S. Navy base. It is a city that offers great job opportunities, diverse entertainment, indoor and outdoor recreational activities, water sports, and allows for day trips to Mexico because it is near the border. It is no wonder why so many people dream of moving there.
The population of San Diego will soon reach 1.5 million and it continues to grow as the popularity of moving to California steadily rises. The World Population Review reports that the city's population has always increased or stayed the same since 1860, but has not decreased. This means that every year, it continues to grow, and by 2050, the population is estimated to reach 1.9 million people.
Let's look at the top 10 reasons why relocating to San Diego might be a good move for you.
1. Weather
This is probably the most popular reason. The climate has been compared to the Mediterranean. Summers are dry, winters are not too cold, and there is low precipitation. Due to its varied topography, the city also has multiple microclimates. Without a doubt, San Diego has some of the best weather in the United States. It has consistent temperature and cloudless skies all year round. Although it may get below 50 degrees, it is rare you'll see extremely cold temperatures on any given month. If you don't tolerate cold weather, San Diego is a great solution for you. You'll barely have to check the weather because chances are that it is very nice out for just about any activity.
2. Innovation
San Diego has a history of innovative companies such as Illumina, Dexcom, and Qualcomm. Recently, more companies have made San Diego their home including Apple and Amazon. There are biotech and tech startups, healthcare organizations, and even craft beer brewers. No matter the industry, San Diego is full of major companies. You are sure to find anything you're passionate about here.
3. Arts & Entertainment
From concert halls to performing arts, and museums, the city's arts culture is never boring. You'll find venues like the House of Blues, The Old Globe, San Diego Museum of Art, La Jolla Playhouse, and many other places you can explore. The city's navy pier houses the USS Midway Museum, which is a floating aircraft carrier. The museum gets more than one million visitors per year and holds private events.
Every year, San Diego hosts Comi-Con International filling the city with characters and celebrities. The city has "small-city" energy although it is quite large. There are tons of events no matter what suits your fancy.
4. Beach
Having access to the beautiful California beaches is another obvious reason for those who like being close to the ocean. There are 70 miles of coastline and some of the most amazing sunsets on the water. Even during the winter months, the beach allows for water sports and normal activities. You'll find kayaking, surfing, snorkeling, and of course, the comfortable option of relaxing under your umbrella.
5. Universities
San Diego is home to several well-known universities such as San Diego State University, Cal State San Marcos, Point Loma Nazarene, University of San Diego, and UC San Diego. All offer excellent undergrad and graduate programs. Tough exams and deadlines are much easier to cope with from a sunny quiet spot in nature or a cozy coffee shop. The city is home to many students that appreciate an active lifestyle.
Top-Rated San Diego Colleges
University of California, San Diego CA
University of San Diego, San Diego CA
Point Loma Nazarene University, San Diego CA
San Diego State University, San Diego CA
California State University, San Marcos CA
National University,La Jolla CA
Miracosta College, Oceanside CA
San Diego Mesa College, San Diego CA
California College, San Diego CA
John Paul the Great Catholic University, Escondido CA
Top-Rated San Diego Schools
Preuss School UCSD, La Jolla CA
Canyon Crest Academy, San Diego CA
Mt. Everest Academy, San Diego CA
Westview High, San Diego CA
River Valley Charter, Lakeside CA
Del Norte HIgh, San Diego CA
The O'Farrell Charter, San Diego CA
La Jolla High, La Jolla CA
Torrey Pines High, San Diego CA
6. Culinary Scene
The city is filled with exquisite world-renowned restaurants and vibrant farmers' markets. You can choose a new destination every day and diversify your nutrition as much as you want. If your like to dabble in the kitchen, you'll find plenty of fresh local produce at very reasonable prices. The climate of California and proximity to Mexico makes this region very accessible to fresh and delicious food. Because the city is only located 17 miles away from the Mexican border, it features plenty of authentic Mexican food. If you're adventurous, you can take a day trip to Mexico, just be sure to bring your passport!
7. Craft Beer
San Diego is proud to be known as "America's Craft Beer Capital". Popular breweries such as Stone Brewing Company, Green Flash, and Ballast Point have attracted tourists who like to visit for beer tours. Imagine tasting a variety of what people say is the most delicious beer in the country. This city never runs short on local brews, you can have a beer that is only sold locally.
8. Location
If you live in San Diego, on the southwest coast, you'll be near amazing destinations such as Los Angeles, Joshua Tree, Las Vegas, Mexico, San Francisco, and Disneyland. You'll also find a good train system in case you want to make your trip more relaxing and scenic.
9. Attractive Nightlife
At night, the city transforms into a vibrant place full of bars, pubs, dance clubs, and cocktail lounges. Even the beach is an exciting place to visit at night with pop-up beach parties. If you're into dancing, you'll find many genres and dance studios throughout the distinct neighborhoods.
10. Safety
Despite its proximity to the Mexican border, San Diego is reported to be one of the safest large cities in the United States. The crime rate is low, however, your safety is a concern on the beach and doing outdoor activities, so be sure to educate yourself before heading out on your adventure.
San Diego Relocation Tips and Costs
Current locals that moved to San Diego have the best moving tips. This could be helpful advise to consider:
– Choose your neighborhood carefully and avoid areas that are prone to mudslides or forest fires.
– Get a vehicle with good emission standards because cars must pass a strict smug test.
– Update your vehicle registration and driver license immediately to benefit from being a local.
– If you have a dog over five months old, you will need to get a license.
– Hire a reputable moving company to keep your belongings safe and you relaxed.
Relocation costs vary depending on where you are coming from and what method of transportation you use. Create a budget for your move by visiting an online moving cost calculator. It will even help you estimate shipping costs for certain items. For example, the average cost of moving from Chicago to San Diego is about $3,000.
Moving Alone vs. Moving with Children
Moving alone compared to moving with family presents different needs. If you live solo, you may want to create a close-knit circle of friends you can count on to help you and keep you company. Living alone in a big city can be challenging for many, especially if you're not used to traveling or living by yourself. It is advisable to start making connections before you move.
On the other hand, raising a family in San Diego can be much fun, it is a perfect place for kids. You'll find quality schools and many after-school programs. The crime rate is low and there are many options for both public and private schools. The San Diego Unified School District has ranked very well.
Cost of Living and Taxes in San Diego, CA
Whether you buy or rent, housing costs in San Diego can be expensive compared to other places. The housing market has increased in value in the past two decades. A studio apartment in San Diego will run you at about $1,400/month. You'll have to examine your financial options and decide if renting or owning your home is best for you.
California is known for having expensive taxes, but property taxes in San Diego are quite low at an average of 0.76 percent. You can check out an online tax calculator to get an idea of how much taxes you'll pay there.
Prices of food are reasonable, you'll have access to fresh produce to keep yourself healthy, which is worth doing as healthcare costs are 64% higher than the national median.
We hope this article helps you explore San Diego as an option for relocating. Take your time investigating all important factors. Stay organized and plan your move well so that the relocation can be an enjoyable experience. Seek professionals that will give you sound advice to help you with your transition. Connect to people that have already made the move, perhaps some of your friends have. Embrace the move and see it as a fun adventure. Once you're there, you'll be happy to call San Diego your new home.
FAQs about Moving to San Diego
How much should I save before moving to San Diego?
Before you move to San Diego, know that the cost of living in the city is higher than most US cities, so you will have to come in with a substantial amount saved. You should ideally have an amount of $20,000 saved to last you for a period of 6 months if you don't splurge. It's what you would need if you're moving to San Diego without a job. Do keep in mind that this savings should be independent of your moving expenses.
How much money do you need to live comfortably in San Diego?
If you're a single adult then your annual income will have to fall around $75,000 for you to live comfortably in San Diego. On the other hand, if you're a family of four, this estimate rises to $150,000 annually.
What should I know before moving to San Diego?
San Diego is a hub for young professionals with a job market that's thriving. Just so you know, defense/military and tourism are two of the primary contributors of the city's economy. So, it should come as no surprise that San Diego has the second highest population in California. You should note that the cost of living in this vibrant city is high but not as high as other tech hubs in the country. Also, since the city shares its borders with Mexico, the culture and food in San Diego does have a lot of Mexican influences.
Is LA cheaper than San Diego?
No, in fact, the cost of living in LA is 8.2% higher than in San Diego! This can be attributed to higher housing prices and higher sales tax.
Is San Diego more expensive than New York?
No, in fact living in San Diego is much cheaper. You're definitely saving 20% to 25% of your income if you live in San Diego, CA! To put things into perspective, San Diego's cost of living as per PayScale is 44% higher than the national average. On the other hand though, New York's cost of living is a staggering 129% higher than the US national average. Housing, utilities, healthcare and groceries are all more expensive in New York.
Where should I not live in San Diego?
Kearny Mesa, Marina, East Village, and Midtown District are some of the most unsafe areas in San Diego. According to ESTA, Crime in Kearny Mesa is as frequent as 14,291 per 100,000 residents a majority of which are petty thefts.
How dangerous is San Diego?
As compared to other American cities, San Diego's crime rates are significantly below the national average. However, it's not the safest, and your chances of becoming a victim of some form of crime are 1 in 42.
Should I rent or buy in San Diego?
Rent if you want the flexibility to move when you wish, and buy a home if you want to make San Diego our base for the foreseeable future. Remember though that housing costs in the city are high and renting is always cheaper than buying, unless you're doing well financially.
What is considered middle class income in San Diego?
An income that falls between $76,000 and $200,000 annually can be considered a middle class income for those living in San Diego. Similarly, an income between $180,000 and $220,000 annually falls under the upper middle class bracket.
What is the best month to visit San Diego?
You can visit San Diego in any month that falls during the spring or fall since temperatures are at their best and crowds are low. These include the months between March to April and September to November.
What airport do you fly into for San Diego?
You will have to fly into the San Diego International Airport. It's the most convenient and is located in the northwest region of Downtown San Diego.
Is rent expensive in San Diego?
Yes, renting in San Diego might poke a hole through your pockets. The average rent in the city stands at $2,179 for a one-bedroom apartment which is way higher than the national average of $1,463.
What is the richest part of San Diego?
Little Italy, North City, and La Jolla are the richest parts of San Diego. Average rents in these areas range from $3,200 to $3,500 per month.
What is the cheapest area to live in San Diego? Chula Vista, Balboa Park, and Mira Mesa are three of the cheapest areas to live in San Diego. Not only are housing costs lower than San Diego's averages, but other amenities are also available for a cheaper price.
See also: Best Moving Companies in San Diego | Moving from Seattle to San Diego | Best Neighborhoods in San Diego for Singles and Young Professionals