Moving from Chicago to Austin: Expert Tips and Advice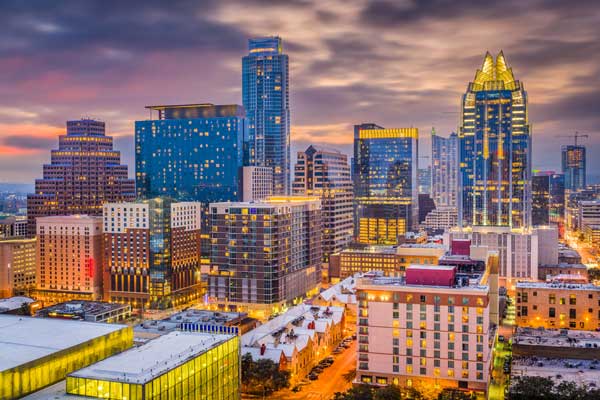 Many people move to Chicago with dreamy eyes and stay there for a long time as it offers a top-notch urban metropolitan living experience with midwestern values sprinkled into it. However, one day you might want to move out to a place that will give you the chance to change your lifestyle and explore a different side of your personality. All of this might sound rather appealing and if it does, then you might be already looking for the right city to move to.
You can never be wrong when you decide to move to Austin from Chicago. Not only will you experience a drastic change in the weather but you also will get to be a part of its unique and vibrant culture. Austin has been listed as one of the best US cities and you will soon find out why! Bidding farewell to Chicago might seem difficult but there are a lot of things to look forward to when you move to Austin! Go ahead and find out what expectations you should have from your life in Austin!
Factors To Consider Before Moving From Chicago to Austin
Weather Conditions
If the Chicago winters are getting unbearable for you and warmth is what you seek, Austin might just be the place for you. Although Chicago experiences all 4 seasons, the residents have a hard time dealing with its winters. Just to give you an idea, Chicago gets so cold during winters, schools often close down as the weather is deemed too dangerous for the commute.
On the other hand, Austin is sunny for the most part of the year. You can get used to clear blue skies if you move to Austin. The weather is great for swimming almost throughout the year, isn't that great? Austin winters are mild and rarely do the residents have to use their snow boots. Springs and autumns are when Austin really shines.
You have to know that you won't be able to survive Austin summers without your air conditioners. The heat gets brutal and you have to do everything you can to keep yourselves cool. But does it get really bad? Let us find out!
Here's the difference in temperatures that you can expect during peak summertime:
Summers in Austin (June to September) – Average high temperatures fall in the 71°F to 97°F zone.
Summers in Chicago (June to September) – Average high temperatures fall in the 78°F to 93°F zone.
Although there is not much difference in the summer temperatures in Austin and Chicago, you have to remember that Austin summers are much more difficult to deal with. Due to the location of the city, the scorching heat can make summers in Austin feel super dry and long. In contrast, Chicago summers tend to be a much-welcomed break from their cold winters.
Here's the difference in temperatures that you can expect during peak wintertime:
Winters in Austin (December to March) – Average temperatures fall in the range of 43°F to 68°F.
Winters in Chicago (November to March) – Average temperatures fall in the range of 22°F to 43°F.
Winters in Austin and Chicago are as different as night and day. Austin winters are rather mild and the cool climate is loved by most of the locals. Austin seldom receives snow. In fact, the city receives only 1 snowy flurry on an average every year. On the contrary, Chicago winters are as brutal as they can get. The temperature sometimes crosses the 0°F mark and people avoid going out of their houses. They wait for summer to arrive so that they can come out, organize and celebrate various cultural events, and have a blast.
Few Things To Bear In Mind About Austin Weather:
The year-round weather conditions are in the 43°F to 97°F zone for Austin. Meanwhile, the year-round weather conditions are in the 22°F to 83°F for Chicago.
Spring is the best time to visit Austin. The pleasant weather and the blooming flowers certainly improve the moods of the locals.
Austin receives a lot of rainfall in May and the weather is pretty humid during that month. Don't forget to carry your umbrellas because summers are when the downpour happens.
Cost Of Living
If you have saved up for a couple of years, a move to Austin would not be financially stressful for you. Although living in Austin is more expensive than living in Chicago, it is still a manageable change in expenditure. You can expect to see an 11.6% rise in your expenditure when you move to Austin from Chicago.
What factors make Austin more expensive than Chicago? Well, the most important factor to consider here is the housing cost. Housing costs are 61% cheaper in Chicago as compared to Austin. Just to give you a better idea about this, here are the median prices in Austin and Chicago.
Median home price in Austin: $369,000
Median home price in Chicago: $229,100
On the contrary, Austin really shines when it comes to taxes applied to the residents. Austin is situated in the state of Texas and Texas exempts its residents from paying the state income tax. Similarly, the sales tax levied by Chicago is higher than what Austin asks its residents to pay.
Additionally, you can also expect to spend less in Austin when it comes to food and groceries. However, the difference isn't much as food and groceries in Chicago are only 0.5% cheaper than in Austin.
It would be wise for you to save a little bit before moving to Austin because apart from housing, utilities are also expensive here. The cost of utilities is 6.8% more in Austin as compared to Chicago. You might have to be mindful about how you use your utilities in order to bring down your expenditure. To add to that, commuting in Austin is exceptionally expensive. You will end up spending 20.6% more while commuting in Austin.
Lastly, you will end up spending 4.2% more on healthcare in Austin than in Chicago. However, the difference isn't that drastic and you will be able to get your money's worth as Austin houses three of the best hospitals in Texas. Overall, buying a house in Austin can get a little bit stressful but apart from that, you will certainly be able to get by fine in this city.
Job Market
To be honest, the economies of both Austin and Chicago are booming and there are a lot of jobs in both cities. However, it is also true that the economy of Austin is growing at a much faster pace than the economy of Chicago.
There is no dearth of tech companies in Austin. In fact, the job market of Austin is exploding with opportunities because of the software and technology sector. Many industry leaders like Dell, AMD, Facebook, Google, Intel, Paypal, Apple, etc., have been hosted by the city. The cluster of these tech companies has been called the Silicon Hills as the tech industry ended up generating many jobs in Austin.
Chicago's tech sector is booming as well and it has generated a lot of jobs for the locals. Although the tech industry in Austin is developing at a faster pace, it is quite interesting to note that the percentage of tech jobs in Chicago is higher than that of Austin. What exactly is the reason for that? Well, the answer is rather straightforward. Chicago has more tech jobs just by the virtue of its size.
There is a strong entrepreneurial spirit that runs through the residents of Austin. We say this because Austin has been the place of birth of many startup companies like Spiceworks, SpareFoot, and RetailMeNot.
After reading all this, it would be quite natural to assume that Austin offers employment opportunities mainly in the tech sector. But you couldn't be more wrong. Here are some of the industries that offer various types of jobs to the locals of Austin:
Healthcare
Education
Entertainment
Business
Government
Space technology
Finance
Like Austin, Chicago also has a lot to offer when it comes to its tech sector. But the main income earned by locals of Chicago comes through the manufacturing sector. The city has recently witnessed a rise in its construction activities and that has been a major generator of jobs. At the same time, there are a lot of employment opportunities in the transportation, publishing, printing, and financial trading sector.
Austin is often portrayed as an expensive city but that's far from true. The cost of living here is rather low when it's compared to how much the locals earn. Here is the average household income of Austin and Chicago residents.
Median household income in Austin (according to BestPlaces) – $63,717
Median household income in Chicago (according to BestPlaces) – $52,497
The unemployment rate in Austin is comparatively less as well. Only 2.6% of the Austin population is unemployed. Meanwhile, 4.5% of the Chicago population is still unemployed. A single person must earn about 22k annually to live comfortably in Austin. If you are a family of 4, you need to make at least $51,600 annually if you want to live a comfortable life.
See also: Detailed Guide about Moving to Austin TX
Transportation
Although most Chicagoans prefer to commute by their cars, the extremely well-established network of public transportation systems allows locals to not rely on their cars to commute. To add to that, Chicago also encourages its locals to walk or bike instead of driving their cars.
On the contrary, about 83% of Austin residents use their cars to commute. Living without a car in Austin might make your life difficult (depending on where exactly you live). This is because public transit options are restrictive even though they are very affordable and efficient.
Austin is known for its traffic; you will get stuck for a while when driving down its roads. However, we would still recommend using public transit (if possible). Apart from cars, here are some of the ways in which the locals of Austin can get around in the city:
Capital Metro: This is one of the finest public transit systems in Austin that will make your commute easy, cheap, and efficient. CapMetro operates a 32-mile rail line and more than 80 bus routes.
Metro Rail: This is a 26-mile line that runs between Downtown and Leander on the weekdays. On weekends, the line runs between Downtown and Lakeline.
On Foot/Biking: Austin is a pedestrian-friendly city. It has also developed several biking trails for its residents. In fact, about 9% of its residents prefer to commute by either walking or biking.
Taxi: You can always choose to download a ridesharing app like Uber and Lyft and choose to travel in a taxi.
How you choose to commute completely depends on you. Although not owning a car might make sense for some people, there are certainly some areas that are not very well connected by public transit. You will have to figure out a way to run your daily errands if you do not own a car. We would recommend using the beautiful sidewalks and bike trails instead of driving as not only is it healthier, it will also save a lot of time and money in the process.
Education
Best Schools in Austin
Eanes Independent School District
Leander Independent School District
Dripping Springs Independent School District
Nyos Charter School
Lake Travis Independent School District
Best Colleges in Austin
The University of Texas at Austin
St. Edward's University
Concordia University Texas
Southwestern University
Texas State University
Austin's Strong Points
Lots of job opportunities.
Higher income.
One of the greenest cities.
Great college education.
High quality of life.
Delectable cuisine and excellent restaurants.
Live music capital.
Beautiful weather (most of the times)
Great place to start a business.
Friendly locals.
Top Neighborhoods To Move To In Austin
1. South Austin
South Austin is where you should live if you love to explore and participate in new activities on a daily basis. The neighborhood has the right blend of older establishments like ranch homes and modern, uniquely built homes. Most of the locals still jam to the 'Keep Austin Weird' vibe!
There are long strips of bars, restaurants, shopping centers, music venues, etc., in the neighborhood of South Congress that will keep your life interesting here. There is no limit to what you could do with your free time here. You could awaken your inner cowboy at Allen's boots, feast on tacos at Guero's, or even buy some Mexican artworks. We strongly recommend living here.
2. Allandale
Living in Allendale allows you to interact with all sorts of people, be it excited youngsters or happy families (young and old). The location of this neighborhood is rather beneficial for its residents. It is situated just a couple of minutes away from Downtown which is the most happening part of the city.
Many families have been living in this neighborhood for generations. Many people have grown up together because of which the locals often know each other. However, that isn't a reason to worry because the locals are quite friendly and make you feel as if you are one of them once you move there. There are several lovely restaurants in the neighborhood as well. If living in a close-knit community is what you wish to do, Allendale is the place for you.
Median Home Price: $762, 556
Median Rent: $ 999
3. East Austin
East Austin is truly the trendiest and one of the most diverse neighborhoods in the city. Endless food trucks, bars, and small coffee shops are what keep things interesting in this neighborhood. East Austin has been subjected to rapid development because of which it has grown in popularity.
Whether culture and history appeal to you or the hipster urban lifestyle, you will never be disappointed in East Austin. The perfect location of this neighborhood results in the locals having easy access to the Downtown, Lady Bird Lake, and other hotspots of the city. There are many new condos and single-family homes that have come up in East Austin which makes now the best time to move to this neighborhood.
Median value of homes: $594,244
Median Rent: $1,756
4. Hyde Park
Who doesn't love to stay in a neighborhood that has beautifully architectured homes (Queen Anne, Victorian, Craftsmen, etc.) lined up in its streets? That's exactly what Hyde Park is. The charming houses and the well-maintained laws bring out the historical side of this neighborhood.
Staying in Hyde Park comes with its benefits. Not only are you staying and enjoying the perks of urban living in Austin, but you also get to enjoy the small-town feel when you enter Hyde Park. The neighborhood is located north of Downtown. It is quite well connected to the other parts of the city by bus. There is plenty of space for you to ride your bicycles if you wish to commute in that way as well.
Median Home Price: $730, 094
Median Rent: $1,437
Things To Take Care Of When You're Moving From Chicago to Austin
Create a schedule for your move and try adhering to it strictly. Make sure that you have your house, utilities, and job in order before you move out to the city.
Take your personal traveling plans into account before you hire any kind of movers. If you plan to fly to Austin, you might need your movers to ship your car as well. Bundle up your move and auto transport to score cheaper deals.
Donate, sell and get rid of those belongings that you no longer use. The lesser the weight of the move, the cheaper it will be.
It is advisable to do your research before choosing to hire a particular moving company as not only will you be able to choose the best company, but you will also be able to avoid scam companies.
Ensure that you have insurance before you move. A move from Chicago to Austin is a big one and you do not want to face any monetary loss just because you didn't bother to purchase insurance.
Stay within your moving budget by moving during the off-season (September-April). Similarly, money can also be saved if you choose to move on a weekday instead of a weekend.
See also: Best Moving Companies in Chicago IL | Moving From NYC To Austin | Top Neighborhoods in Austin for Singles and Young Professionals
Chicago to Austin Moving Costs
Chicago and Austin are far away from each other. That's why you should be financially prepared as you will have to shell out a considerable amount of money from your pocket. Accurately predicting the cost of your move would be next to impossible because each move is unique. The final price of your move depends on various factors like the size of your house, the time of your move, and most importantly, the type of your move.
The cheapest way to move is renting a moving truck and DIYing the entire move. However, if money isn't a huge concern and convenience is what you value the most, hiring professional full-service movers would be the way to go! Want to find a middle-ground? We recommend renting out a moving container as it is neither too expensive and nor too cheap.
You can expect to spend anywhere between $1,000 – $6,000 depending on how you choose to move. Let us give you an idea about how much you can expect to spend by choosing to move in the following ways:
Moving company: $1,630 – $5,950
Moving container: $1,799 – $3,858
Freight company: $1,330 – $2,903
Truck rental: $1,081 – $1,871
Don't forget that there will be some additional costs incurred during your move. For instance, you might have to purchase moving supplies, pay taxes, purchase gas, etc. Make sure that you set some money aside for your personal traveling needs. In order to finance this move, it would be extremely wise to start saving up as early as possible. There is nothing better than anticipating a move far in advance and getting enough time to prepare for it.
Conclusion
Although you might bid farewell to Chicago with a heavy heart, moving to Austin is one of the best things you can do for your family, career, social life as well as health. Why Austin witnesses a huge number of inbound moves certainly isn't a mystery. Who wouldn't want to stay in a city that values nature, has wonderful weather, and offers career growth opportunities? Assuming that you are ready to move to Austin already, start planning your move right away and enjoy it to the fullest!
See also: Best Moving Companies in USA | Moving From San Francisco To Austin | Moving From Boston To Austin – Expert Tips & Advice
FAQs
Is Austin cheaper than Chicago?
No. Chicago is cheaper than Austin by 11.6%. You can certainly expect a rise in your expenditure when you move to Austin. Chicago scores points for affordability when it comes to transportation, utilities, and healthcare. However, what makes Chicago more affordable is the housing cost which is 61% cheaper than that in Austin.
See also: 15 Cheap Cities to Move to
Is Downtown Austin a good place to live?
Located in Travis County, Downtown is indeed a great place to reside. It is the best place to live for those who seek to experience the dense urban lifestyle and the most happening part of the city. You can choose to spend your time visiting the different restaurants, bars, coffee shops and parks that it has to offer. To add to that, residents of Downtown tend to have a liberal mindset. We believe that one will definitely enjoy staying in Downtown Austin.
Is Austin a good place to move to?
Austin is one of the best places in America. The weather, housing prices, and cultural scene are all outstanding reasons for moving there! With so many different options available, it's easy to find just what you're looking for when considering where to move in Austin.
How long does it take to drive from Chicago to Austin, Texas?
It takes an average of 16 hours and 49 minutes to drive from Chicago to Austin, Texas.
How far is Chicago, Illinois, from Austin, Texas?
Chicago and Austin are about 977.35 miles apart.
What salary do you need to live in Austin?
With a median income of $63,717 and an average rent price at around $1,508 per month on Craigslist and groceries costing approximately one-fourth more than the national average. It will cost you about $98K to live comfortably here!
What are the pros and cons of living in Austin, TX?
Primarily, the pros of Austin are that it's a very diverse and eclectic city which means that there are plenty of opportunities for food and drink. The seasons change here quickly, making things constantly fresh, alive, growing. The drawbacks to living in any large city would be traffic and affordability, so both would be considerations when looking for housing. If you're an outdoorsy person, though, none of these should deter you!
See also: Moving from Chicago to Seattle