Moving from Chicago to Seattle: Expert Tips and Advice


VanLines Inc
Secure Storage
Easy Booking Process
Fully Trained Employees
GET QUOTE

Colonial Van Lines
Storage Services
Long-Distance Moves
Corporate Relocations
GET QUOTE

Moving APT
Available Nationwide
Award-Winning Movers
Extensive Vetting Process
GET QUOTE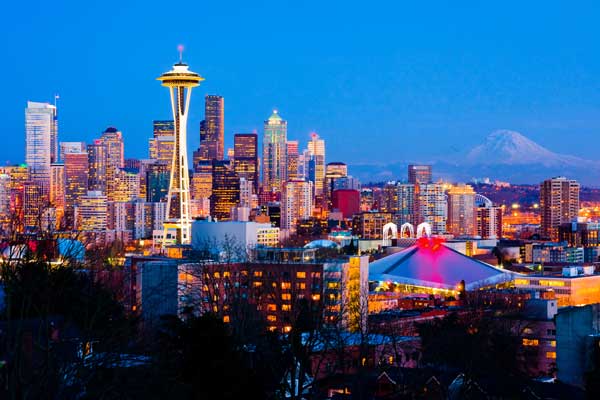 It is quite common to feel exhausted about getting stuck in a monotonous, unhealthy lifestyle. Sometimes you feel like abandoning it all, moving to a completely new place, and redefining your entire lifestyle. That's what several Chicagoans have been feeling lately. Many have also been packing up everything they own and moving to Seattle, the Emerald City that entices those who look for a healthy lifestyle and a successful career.
Moving from Chicago to Seattle is literally a cross-country move, you have to cross the entire country to reach Seattle. Life in Seattle will be a whole new ball game for the people from Chicago. The hilly lifestyle, living in a commercial and a cultural hub, and getting to enjoy the outdoors to its fullest is something that will appeal to most Chicagoans. If you are one of those who want to move to Seattle from Chicago, let us tell you about how your life is about to change!
Factors To Consider Before Moving From Chicago to Seattle
Weather Conditions
If you want to replace your winter coats with raincoats and umbrellas, you will give several bonus cookie points to Seattle. One thing that really irritates a lot of Chicagoans is its harsh and sub-zero winters. Chicago winters are so cold that even schools are closed due to dangerous weather and one can say that the locals go into hibernation.
However, one cannot forget about how beautiful and upbeat their summers can get. The arrival of hot and humid temperatures is accompanied by several lively cultural festivals that celebrate their food, music, and history.
On the contrary, Seattle has a reputation for having grey, cloudy skies for a major part of the year. To be honest, the weather is much more beautiful than how it is portrayed in movies and shows. Yes, it does rain a lot here but the amount of rainfall it receives is at par with the national average of the country.
To add to that, all the rainfall it receives ensures that Seattle has a lush, green landscape that looks extremely beautiful. The best time of the year in Seattle has to be the spring and the summer season. The temperatures are mild and the skies are clear. Many locals enjoy hiking, going on biking trips, and walking through the charming streets of the Emerald City during the summers.
Here's the difference in temperatures that you can expect during the summer months:
Summers In Chicago (June to September) – Average temperatures fall in the range of 78°F to 93°F.
Summers In Seattle (July to September) – Average temperatures fall in the range of 59°F to 79°F.
Although both the cities are moderately humid, Chicago receives a lot more sun than Seattle. This is because it is situated at a higher altitude. Summers in Chicago are hotter than those in Seattle.
Here's the difference in temperatures that you can expect during the winter months:
Winters In Chicago (December to March) – Average temperatures fall in the range of 22°F to 43°F.
Winters In Seattle (November to March) – Average temperatures fall in the range of 37°F to 53°F.
Chicago is known to have crossed the 0°F line several times in the past and it is no secret that winters in this city are harshly cold as compared to the ones in Seattle. Seattle receives a lesser amount of snowfall than Chicago which makes the winters in this city bearable. Seattle is more about rain than snow. December is the coldest and November is the rainiest month in Seattle.
Few Things To Bear In Mind About Seattle Weather:
Speaking about the year-round weather, the temperature in Seattle falls in the range of 37°F to 79°F. On the other hand, the temperature range for Chicago is 22°F to 83°F.
Winters in Seattle are cold and rainy as well. Although Seattle expects to get only 2 snowy days every month in winter, don't forget to carry an umbrella as it will surely rain a lot at that time.
Seattle is at its loveliest during the summers when the outdoor activities can be enjoyed to their fullest. Most of the visitors often arrive here in May for the pleasant weather, cultural festivals, and fairs.
Cost of Living
Moving decisions are majorly based on whether you can really afford to live in the new place of residence. You have to know that there will be a drastic change in your expenditure as the cost of living in Seattle is almost 61% more than that of living in Chicago.
The major cause for this difference in living costs is the cost of housing in Seattle. Seattle houses are extremely expensive, they are more than 200% costlier than Chicago houses. To add to that, you will have to pay a hefty property tax, the percentage for which depends on the size and location of your house. Have a look at the median home prices in both the states in order to get a better idea about your housing expenditure:
Median home price in Seattle: $714,400
Median home price in Chicago: $229,100
The residents of Seattle don't have to pay a state income tax, which is relief from having to constantly spend money on something or the other. To add to that, you can expect to spend less on utilities in Seattle than in Chicago, and that too by a huge margin (25.9% cheaper, to be accurate).
Another plus point of living in Seattle is that healthcare isn't overpriced here. You can expect the healthcare system to be cheaper here when compared to the national average. Visiting doctors and getting medical care is 6% cheaper in Seattle than in Chicago.
Commuting in Seattle is surprisingly cheaper. Chicago is 0.7% more expensive when it comes to transportation because of some obvious reasons. Most of the people end up driving their cars rather than going for public transport. One also gets stuck in traffic here. Parking spaces are difficult to find and are super expensive as well. On the other hand, Seattle is one of the bike friendliest cities in the USA. Many people choose to bike, walk or use public transport while commuting.
The costs of living in Seattle shoot through the roof again when it comes to food and groceries. Seattle is known for having extremely delicious food but that it isn't very cheap. You can expect to spend about 11.8% more on food in Seattle than what you used to spend in Chicago.
Overall, life in Seattle will most probably cost you a fortune unless you are extremely wealthy. There is no point in sugarcoating this information. Housing cost is the main culprit for this. However, if you already have a place to stay in Seattle, moving here wouldn't be that financially stressful. You would be able to live comfortably in Seattle after all.
Job Market
Why do so many people move to Seattle anyway? One of the main reasons that end up attracting several people to Seattle is its job market and career growth opportunities. Although the economy of Chicago is growing rapidly, it still hasn't managed to beat the developed economy of Seattle which clearly is a winner here.
This is because Seattle is a major technological hub. Many tech giants decided to settle here which resulted in the creation of numerous jobs here. If you visit Seattle, there is a high chance that every other person you interact with works in a reputable company like Amazon, Zillow, Expedia, Microsoft, etc.
There is a huge scope of job growth in this city and this scope for growth is more in Seattle than in Chicago. To add to that, the following industries contribute the most to the GDP of Seattle:
Clean Tech
Biotech
Manufacturing
Maritime
Life sciences and global health
On the other hand, Chicago mainly earns its bread through the manufacturing industry. Construction work has been in full swing in the city and it employs several individuals at a time. Apart from this, the printing, publishing, financial trading, transportation, information, and tech services sector offer many job opportunities to Chicagoans.
Both cities have pretty strong economies but Seattle has the least number of unemployed people. The unemployment rate in Seattle is 2.9% as opposed to 4.5% in Chicago. You will also end up earning a lot in Seattle as compared to Chicago. This is rather obvious as the cost of living in this city is several times higher as well.
When it comes to household incomes, you can expect to see a huge gap between how much the residents of both the cities end up earning. Have a look at how much the residents of both the cities end up taking home each year.
Median household income in Seattle (according to BestPlaces) – $79,565
Median household income in Chicago (according to BestPlaces) – $52,497
A single adult who earns about 45k annually can survive in Seattle. However, there is a high chance that they will have to cut some corners and might not be able to live comfortably. To live comfortably and luxuriously in Seattle, a single adult needs to earn about 72k annually. You can certainly expect your expenditure to rise if you live with your families in Seattle.
See also: Moving to Seattle – Relocation Guide
Transportation
There are plenty of ways to get around in Chicago as well as Seattle. Although most people drive their cars in Chicago, the best way to commute here has to be via public transportation, especially by the L Train. The L Trains will provide you with the speediest services and help you to reach any corner of the city at affordable rates. Other than these, walking, biking, buses, Metra rails, and taxis are used by people to get around in the city of Chicago.
On the other hand, driving around in your own car has been the most popular and efficient way of commuting in Seattle. The hilly landscape is easier to navigate with your car and there are plenty of cheap parking spaces available anywhere in the city. Not only this but there are many other ways to travel across and explore the city of Seattle and here are some of them.
Bus: The King County Metro Bus operates on uncountable routes across the city. Although the bus fee can be a little steep, traveling by bus is time-efficient nonetheless.
Link Light Rail: The Light Rail connects the University of Washington to the airport. It also makes several stops along the way. The Light Rail operates only one line in the city.
Seattle Streetcar: The Seattle Streetcar runs throughout the day and you can expect to travel by one, at any given point in time. It currently runs only two routes namely, the South Lake Union Streetcar and the First Hill Streetcar. However, the residents can expect the Streetcar to operate along two new routes very soon.
Monorail: The Seattle Center Monorail runs between the Seattle Center and Westlake Center Mall.
Water Ferries: The ferry system in this city is one of the most extensive ones in the nation. It connects Downtown Seattle to several remote or distant places like Bremerton, Bainbridge Island, and Vashon Island.
Taxi: Taxi services like Uber operate round the clock across the city.
Apart from this, walking and biking have been one of the most popular ways to get around in Seattle. This is a walkable city. The city is compact, the places you need to get to are in close proximity to your houses. The breathtaking landscapes, charming streets, and pretty sidewalks tend to motivate a lot of people to commute in eco-friendly ways and maintain a healthier lifestyle.
Education
Best Schools In Seattle
Mercer Island School District
Bellevue School District
Bainbridge Island School District
Lake Washington School District
Northshore School District
Best Colleges In Seattle
University of Washington
Seattle Pacific University
Pacific Lutheran University
Seattle University
University of Puget Sound
Seattle's Strong Points
The fastest-growing economy and a booming job market.
Has maintained several greenspaces for the locals and is eco-friendly as well.
One can enjoy a variety of outdoor activities like biking, kayaking, swimming, parasailing, hiking, etc.
Intense sports culture.
Heaven on earth for coffee and beer lovers.
A lot of rain ensures that Seattle remains green and fresh.
Most educated city.
One of the best public transport systems.
Hosts several festivals that celebrate music, arts, cinema, etc.
Top Neighborhoods to Move to In Seattle
1. Ballard
Ballard is that part of Seattle that has a lively nightlife and several youngsters flock to the waterfront bars regularly. One can find Ballard towards the north of Downtown. The natives of this place belong to a rich ancestry of Scandinavian sea-faring villagers. The neighborhood offers Seattleites a home with hip and trendy restaurants just around the corner. To add to that, the sandy beaches and the view of the majestic mountains makes life worth living here.
Median value of homes – $849,475
Median rent – $1,945
2. Downtown Seattle
This neighborhood is situated at the very heart of the city. The stunning skyline formed by the high-rise apartment buildings and sky-touching commercial structures can take your breath away. Living here actually equates to living in the most happening part of the city. Needless to say, many iconic places like Pioneer Square and the Pike Place market are a part of this neighborhood.
Many museums and music venues are scattered across different parts of this neighborhood. One can surely live a healthy lifestyle here because it is pointless to drive through its crowded lanes. In this case, biking or walking is the way to go!
Median value of homes – $770,719
Median rent – $2,177
3. Capitol Hill
Capitol Hill is one of the most populated areas of the city and that too for the right reasons. The neighborhood is famous for being accepting of the LGBTQIA+ population. Many people belonging to this community prefer to settle here. One can find several indie coffee shops, nightclubs, and gay bars in this neighborhood. Living here surely is a lot of fun.
To add to that, Capitol Hill houses some of the best restaurants in the city. The neighborhood is essentially paradise on the earth for foodies and you can always find their restaurants working at their full capacities.
Median value of homes – $739,123
Median rent – $1,595
4. Bell Town
Bell Town is snuggled between some of the most iconic places like South Lake, Pike Place Market, and Puget Sound in Seattle. The location of this neighborhood is beneficial for the residents as it is quite well connected to the other parts of the town. To add to that, it also offers the locals the choice to choose the public transit option of their liking. It is also a very walkable neighborhood.
Bell Town is filled with numerous entertainment options for the residents of Seattle. The nightlife of the neighborhood is as upbeat and lively as it can get. From famous entertainment venues like The Crocodile, hip restaurants and bars, and high-rise condos, Bell Town has it all.
Median value of homes – $563,344
Median rent – $1,295
Things To Take Care Of When You're Moving From Chicago to Seattle
Chicago and Seattle lie on two opposite ends of the country. Not planning for the move well in advance would be a foolish thing to do. A move this big requires you to start planning some months in advance and understand what you would need to do when you go through this massive move.
You will have to figure out how you will get to Seattle along with booking your movers. Set some money aside for your personal traveling needs. Additionally, it is possible that your stuff will reach Seattle after or before you reach, so make the necessary arrangements.
If you choose to fly to Seattle, don't forget that you will have to get your car shipped to Seattle, if you own one. There is a possibility that your mover will give you a discount if you bundle your auto transport and move.
Don't settle for the first mover that offers you quotes. Try to get quotes from more than 3 movers. Evaluate which mover is offering you the best services at the lowest cost and then make your choices accordingly.
A long-distance move like this one will surely cost a lot. Moving during the off-season is a great way to cut some costs. Downsizing your move and getting rid of unnecessary possessions is another way to save some money on the move.
Chicago to Seattle Moving Costs
Moving from Chicago to Seattle isn't going to be cheap so let us directly cut to the chase. The average cost of the move would range between $2,800 – $4,400. Now, the cost of your move depends on several factors like the time of your move, the size of your house and so forth. However, the most important factor that determines the cost of your move has to be how you choose to move.
Although hiring professional movers is the most convenient way to move, it is also the most expensive way. A moving container move will cost a little bit less and a DIY move (rental truck) is the cheapest of all. Do make sure that you get quotes from all the different types of companies, weigh your pros and cons, and then make a decision regarding the type of your move. Let us now have a look at the average cost of moving according to the type of move.
Moving Company: $1,680 – $8,930
Moving Container: $1,900 – $4,894
Freight Company: $1,710 – $4,920
Truck Rental: $1,149 – $2,083
All these costs might overwhelm you. After all, spending thousands of dollars isn't a joke. But don't forget that there are certain ways in which you can bring the price of your move down. Make sure that you do most of the work by yourself and get rid of stuff that you don't need. Try to score discounts from your mover and try to understand the breakdown of the quote offered to you to avoid getting scammed.
See also: Best Moving Companies in Chicago | Moving From Los Angeles To Seattle – Expert Tips & Advice| Top 8 Neighborhoods In Seattle For Families
Conclusion
Living in Seattle is ridiculously expensive, there is no room for argument there. That's why it is crucial to get an idea about your financial situation before you make any decisions. Many people move to the city as they want their careers to grow. You can rest assured that although living in Seattle is expensive, you will get paid well (at least more, in comparison to Chicago).
Moving to Seattle will also be accompanied by a major change in your lifestyle. All we want to say is, make sure that you are well informed and up to date with everything you need to know before deciding to move from Chicago to Seattle.
FAQs
Is it more expensive to live in Chicago or Seattle?
Living in Seattle is more expensive than living in Chicago and the major reason for this is the cost of housing in Seattle. Living in Chicago is almost 61% cheaper than living in Seattle.
Is Seattle safer than Chicago?
The crime rate is much lower in Seattle than in Chicago. This is especially true when it comes to murder. There are 23.8 murders per 100k population in Chicago and there are only 2.7 murders per 100k population in Seattle. Most of the residents of Seattle are well-off and also more educated. These could be the main reasons why Seattle is safer than Chicago.
Is it better to live in Chicago or Seattle?
Unlike Chicago, Seattle's population has a higher education level, and the city is safer. It also offers nicer weather in summer and winter than Chicago does.
How much should I save to move to Seattle?
According to Seattle Met, Seattle is a major city, so you should expect to save at least $70K before moving there. The area runs pretty high on the cost-of-living index – the 9th most expensive out of all! Find out where you're planning on living and plan for about 1/3 of your total income being spent just towards rent in this neighborhood because it's THAT pricey up north!
What is a good salary in Seattle 2021?
The average annual pay for an Average job category person living in Seattle will earn $66,835 per year.
Is Seattle bigger than Chicago?
With more than 2.7 million people and counting, Chicago is the most populous city in Illinois (and third-most-populous for all of America). On the other hand, Seattle has a population of over 780 thousand with about 6% growth each year. The two cities are statistically different in size, but they share some similarities; their downtowns have lots to offer, such as restaurants, nightlife spots, and culture centers that attract visitors from nearby areas like St Pete or Spokane.
What is middle-class income in Seattle?
City income levels vary greatly, but you may be looking at a range of $47,000 – $64,000 as a middle-class income in Seattle.
Is it expensive to live in Seattle?
Living in Seattle is twice as expensive as the national average of the United States; also, housing costs have been shooting up for years.
See also: Top-rated Movers in America | Moving from Chicago to Austin TX | Moving From Phoenix To Seattle | Moving from Seattle to Chicago