Moving From Phoenix To Seattle – Expert Tips & Advice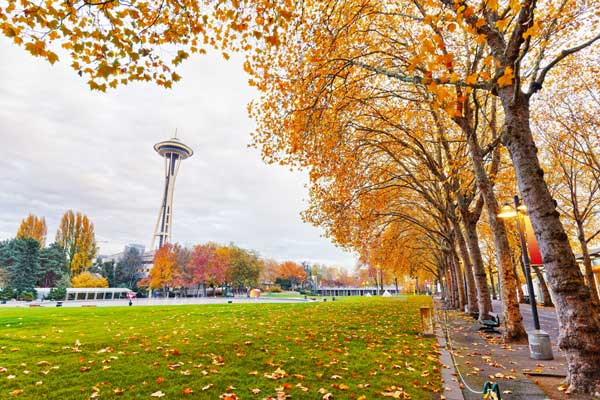 Known for its elaborate lush hotels and for offering an affordable, comfortable lifestyle, Phoenix is the capital city of the southwestern state of Arizona. You might want to move from this 'Valley of the Sun' for various reasons. If you feel like you need a change of lifestyle from beautiful Phoenix, for whatever reason, we can confidently say that you will find solace in Seattle's unique character and distinctive charm– being the Emerald City, as they call it. And it is indeed a gem because of its beautiful neighborhoods, charming restaurants, and diverse economy. Other elements such as its unique music culture, and LGBTQI+ neighborhoods make Seattle a city of immense diversity and hospitality.
What else should you know about moving from Phoenix to Seattle? Keep reading our article to know more.
Factors To Consider Before Moving From Phoenix To Seattle
Weather Conditions
If there's one thing you'll like about Seattle, it is its moderate, pleasant weather. And this is something many Phoenicians are jealous of. Let us look at summers, for example. Seattle, being in the Mediterranean region, witnesses moderate, dry summers as opposed to Phoenix's desert-type summer heat. Due to a healthy number of rainy days, Seattle is generally cooler than Phoenix during the summer months. So, with this perfect balance of coolness and heat, summers in Seattle are much more favorable than in Phoenix.
Here's the difference in temperature that you can expect during peak summers:
Seattle in July – Average temperature falls in the range of 57°F to 74°F.
Phoenix in July – Average temperature falls in the range of 84°F to 107°F.
Winters in Seattle are cold and wet but are never extreme. They rarely receive any snowfall annually, so this saves you the trouble of shoveling your car out from the snow. However, you should know that winter months in Seattle also see more rainy days – 14 on average. Therefore, it's better to carry an umbrella or a light rain jacket with you while heading out during these months. On the other hand, winters in Phoenix are warmer and drier than winters in Seattle.
Here's the difference in temperature that you can expect during peak winters:
Seattle in January – Average temperature falls in the range of 37°F to 45°F.
Phoenix in January – Average temperature falls in the range of 47°F to 69°F.
Also see: 8 Most Eco-friendly Cities in the US
Cost Of Living
Whenever one thinks about moving to a new city or state, the question of affordability indeed comes to mind. But, if you think that you're going to be spending fewer dollars in Seattle than in Phoenix, then it's time we tell you the truth without sugar-coating it: Seattle is 38% more expensive than Phoenix. Groceries, transportation, housing, and utilities are some of the driving factors that bump Seattle's cost of living above and beyond Phoenix's.
However, those are only some of the variables that influence Seattle's cost of living. Let us take a look at some more of them below.
Buying A House
If you're moving from Phoenix to Seattle solely based on your prospects of buying a house, then you should know that real estate in Seattle is 130% more expensive than the home prices in Phoenix. This exorbitant difference is because of Seattle's low supply of houses. Since the city's land is not large enough and since many areas are protected from urban and residential development, Seattle doesn't have many avenues to construct new houses. On the other hand, Phoenix's infrastructure has been developing to house the new population, and that's why they can afford to lower their real estate prices.
Below are the median home values of Phoenix and Seattle. You can definitely make out a huge difference in prices:
Median Home Value in Phoenix: $404,005
Median Home Value in Seattle: $932,382
Adding to that, Seattle's average effective property tax rate is around 0.93%, whereas Phoenix's property tax rate stands at 0.61%. Both are below the national average of 1.1%, but you'll just be paying more property taxes in Seattle than you would in Phoenix.
Renting A House
If buying a house is too expensive for you, the next best thing you can do is rent. However, rent in Seattle is 65% more expensive than in Phoenix. For a 2-bedroom apartment, the monthly median rent in Seattle is $2,695, whereas it is $1,625 in Phoenix. Again, you'll have to seriously plan your expenses to afford these rental rates in Seattle.
Utilities
Utilities are another factor that increases the cost of living in Seattle. For a 915 sq. ft. apartment, your monthly utility bill that includes electricity, water, and sewage will cost you around $214 per month in Seattle. This is 25% more when compared to the $171 per month Phoenicians pay on average.
If you're fond of long drives in Seattle, you might have to curb your desires a bit because gasoline is 6% higher in Seattle than in Phoenix. For a gallon of gasoline, you'll spend $4.83 in Seattle as compared to $4.52 in Phoenix. Groceries, too, are pricier in Seattle than in Phoenix. For example, for a loaf of bread, Phoenix will charge you $2.46 whereas Seattle will charge you $3.45.
Job Market
When it comes to the job market, Seattle is one of the best cities to get a job in. With an unemployment rate of just 2.90%, you can say that Seattle's job market is booming and has a place for anyone who wants to make a living. Being one of America's largest metropolitan cities, the Emerald City has successfully provided millions of jobs through its diverse economy. Some of the most established industries in Seattle include aerospace, retail, and information technology. Also, if you're more into the creative space, the media and music industry has a strong foothold in Emerald City's economy as well. So, keep producing new tunes!
Seattle is home to a plethora of well-established companies that have dominated the global economic arena. Here are some famous names that you've definitely heard of:
Amazon
Starbucks
Nordstrom
Avanade
Alaska Airlines
Weyerhaeuser
Expeditors
To keep up with the high cost of living, Seattleites earn a handsome net salary per annum. So, as far as surviving in this large city is concerned, you won't have to worry much because its minimum wages are among the highest in the country – approximately $17.27 per hour. Phoenix's minimum wage is lower compared to Seattle's, but so is their cost of living. To give you a better understanding of what we're talking about, look at the median household incomes in Phoenix and Seattle and notice the huge gap in salaries.
Median Household Income in Phoenix: $57,459
Median Household Income in Seattle: $92,263
Transportation
You have quite a few options to help you navigate Seattle's neighborhoods, the most preferred one being driving since everyone owns a car and this is the most convenient mode of traveling. But, the only downside is that Seattle has some of the country's worst traffic. At times, rush hour traffic can last up to 5 hours at a stretch and can get a bit frustrating. Practice a couple of deep breathing exercises if you plan to travel amidst Seattle's traffic because you're going to need them.
Other than driving, you have Seattle's public transportation to use to get around. Although there are plenty of options, this city's public transportation can often get caught up in traffic or at times face multiple delays. Here are some of Seattle's public transit options to look out for:
Link Light Rail: Starts from Angle Lake Station, and then continues via the University of Washington, and through downtown Seattle. Westlake Station in Downtown Seattle is just 40 minutes away from Seattle-Tacoma International Airport (SEA) by this rail service.
Sound Transit: Has multiple rail stops in central areas in Washington State, out of which King Street Station in Seattle is one of them.
King County Metro Transit: You have buses serving downtown Seattle and the peripherals of King County. You can download a mobile app to help you track these bus schedules, or any other bus transit information.
Seattle Center Monorail: Daily commutes between Westlake Center in Downtown Seattle and Seattle Center at the base of Queen Anne hill.
South Lake Union: This streetcar connects from Seattle's tech-driven neighborhood South Lake Union to Downtown Seattle.
First Hill: This streetcar connects to Link light rail in Capitol Hill and International District stations, Metro Transit buses, and Sound Transit and Amtrak intercity rail at King Street Station.
Also See: Most Walkable Cities in the U.S. for 2022
Seattle's Strong Points
Seattle's economy is sturdy and diverse. Finding lucrative job opportunities here will be child's play if you have the necessary qualifications.
Seattle has fantastic summers! Although it does have dry weather, its summer temperatures lie in the comfortable range of 60°F to 80°F.
Food is close to the heart of the Seattlites and this can be seen in the number of restaurants its neighborhoods hold. The food culture in Seattle is so immense that many eminent food critics such as Anthony Bourdain had taken notice of Seattle's love for food.
Starbucks was founded in the bustling city of Seattle. Therefore, leaving for work without a good cup of coffee would just be unsettling.
Top Neighborhoods To Move To In Seattle
Ballard
If you're looking for a place that has a bit of bustle, then you can look up Ballard. Being one of Seattle's bigger neighborhoods, this place is filled with a plethora of boutiques, bars, restaurants, and supermarkets. This means that you won't have to drive very far to enjoy a drink or buy a batch of strawberries. Downtown Seattle is just a few miles down the block from Ballard, so if you're missing city life, it is just a short drive away. This neighborhood best suits those who want to be amidst all the action.
Median Home Value: $522,200
Monthly Median Rent: $1,415
Fremont
Located east of Ballard, you'll find this serene Seattle neighborhood called Fremont. This place is a perfect blend of quiet residential streets and peppy city culture. You'll see many cafes, restaurants, and bars surrounding Fremont, which adds a bit more vibrancy to the experience of living here. Also, this neighborhood is pretty walkable, so you won't have much trouble getting around if you don't own a car. You can easily use the public transportation system to reach Downtown Seattle or the University District. Therefore, many young professionals and students have found a place in Fremont's neighborhoods because life is so much more convenient living there.
Median Home Value: $533,100
Monthly Median Rent: $1,464
Capitol Hill
Capitol Hill has a lot to offer but there is only so much we can fill in this paragraph. This bustling neighborhood has seen the genesis of the Grunge movement, an alternative rock genre, in the early 90s. And ever since then, this rich music culture has inspired many communities to build a plethora of music theaters in and around Capitol Hill. The LGBTQI+ community here is another vibrant, active community present in this neighborhood, so you're sure going to see a lot of diversity if you live here. Plus, this neighborhood has an active nightlife due to the presence of immense bars and nightclubs, thus waking the party animal in you.
Median Home Value: $526,870
Monthly Median Rent: $1,265
Bryant
We spoke a lot about Seattle's bustling neighborhoods, but if you're looking for something far from the bustle, then choose a home in Bryant. Many have been moving here due to its proximity to the University of Washington and Seattle's Children's Hospital. So, if it has been your dream to start a family, maybe you can fulfill that by living in this neighborhood. Also, with Bryant's proximity to Husky Stadium, you can always catch a game or two of intense football action in your free time, therefore, making it an ideal neighborhood for sports enthusiasts to live in.
Median Home Value: $567,130
Monthly Median Rent: $1,400
Wedgwood
Wedgwood is one of those neighborhoods that's far from the city bustle but still close enough to reach it; you just take the Interstate 5 (I-5) to reach Downtown Seattle in just 15 minutes by car. This makes it convenient for those who have to travel to work in the city. After you're done with work, you can easily unwind at one of Wedgwood's many cafes, restaurants, or bars. You can do this without the worry of getting swindled because the crime rate in Wedgwood is really low. Keeping this point and the various others mentioned above in mind, this neighborhood pleases all walks of life.
Median Home Value: $543,200
Monthly Median Rent: $1,520
Things To Take Care Of When You're Moving From Phoenix To Seattle
Seattle has a high cost of living. Moving to Seattle would be advisable only if you have a lucrative job to support its rising expenses.
Seattle has splendid summers, but it also receives the most amount of rain. With gloomy clouds hovering Seattle's skies, it can make winters feel long and loathsome.
Seattle has bad traffic. Rush hour can last up to 5 hours at times, so keep a Sudoku book in your glove box as standby.
Real estate is expensive in Seattle. If you're planning to stay long-term in this city, you'll have to do some serious budgeting.
Phoenix To Seattle Moving Costs
Long distance moving, in general, is an expensive affair, so expect your bill to be above a couple of thousand dollars. However, there are ways to reduce the overall bill such as booking at the earliest, downsizing your items, and availing of discounts. And you can try doing the same for this move too. Seattle is 1,425 miles from Phoenix and it'll cost you approximately between $3500 – $7000 for the move. Many factors influence the overall cost of the move such as time, distance, size, and location of the move. That's why the figure we've mentioned above is just an estimate and should not be taken at face value.
For long distance moves, it's always recommended to hire a professional moving company. They will do all the heavy work such as the lifting, loading, unloading, and provide a few premium services to ease some of that impending moving pressure. However, if you're on a tight budget, you can rent a truck, a moving container, or a freight trailer. They're affordable options, but they come at the expense of you doing all the hard work.
If you're shifting a 3-bedroom home from Phoenix to Seattle, here are some rough estimates related to the kind of move you choose:
Professional Moving Company: $3,000 – $4,635
Moving Container: $2,893 – $3,654
Freight Trailer: $2,520 – $3,182
Truck Rental: $1,307 – $1,765
See Also: Top Out of State Moving Companies in the USA | Best Moving Companies in Phoenix | Moving From NYC To Seattle – Expert Tips and Advice
Summing Up
Life in Seattle will surely be enriching, adventurous, and vibrant. So, be prepared to never experience a dull moment in the bustling streets of this city. Of course, like any other city, Seattle does have a couple of disadvantages. But, with proper financial planning and management, those can be soon worked out. We hope that your move to the Coffee Capital of America is memorable and worth your while!
FAQs About Moving From Phoenix To Seattle
How Much Does It Cost To Move From Phoenix To Seattle?
You would have to pay approximately $3500 to $7000 for a move from Phoenix to Seattle. Factors such as distance, size, time, and location of the move are proactive influencers for moving costs to fluctuate.
How Far Is Phoenix From Seattle By Plane?
By plane, Phoenix is 1,107 miles from Seattle. It'd take you around 2 hours and 36 minutes to reach Seattle from Phoenix.
What Time Is Rush Hour In Seattle?
Mornings (6:00 am to 9:00 am) and evenings (4:00 pm to 6:00 pm) are Seattle's rush hours. 
See also: Moving from Seattle to Austin