Moving From NYC To Seattle – Expert Tips and Advice


VanLines Inc
Secure Storage
Easy Booking Process
Fully Trained Employees
GET QUOTE

Colonial Van Lines
Storage Services
Long-Distance Moves
Corporate Relocations
GET QUOTE

Moving APT
Vetting Process
Award-Winning
Available Nationwide
GET QUOTE
Our Take
Price
Rating
Minimum Shipment Size
Storage
Booking Deposit
Cancellation Policy
Quoting Options
Discounts

Best Overall Value


GET QUOTE

2+ bedrooms




Free 30 Days




10%

Free up to 72 Hrs

Phone / FaceTime / Text

Senior / Same day Booking

Best Industry Reputation


GET QUOTE

1+ bedrooms




30 Days




20%

Free up to 72 hrs

Phone / Facetime

Seniors Discount

Best Customer Service


GET QUOTE

1+ bedrooms







Free up to 72 hrs

Phone / Virtual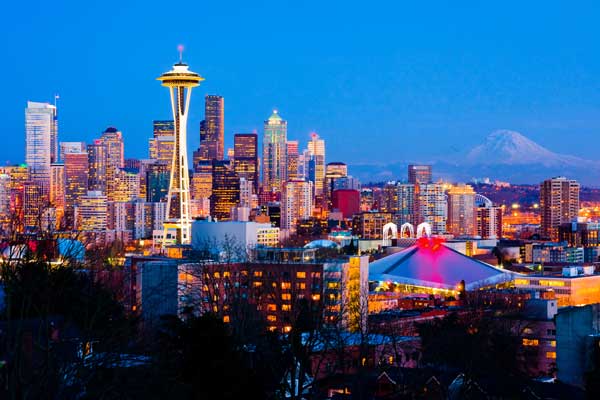 New York is famously known as the city that never sleeps and has an energy unlike any other. Many people remain fascinated by the go-getting attitude of New Yorkers and the fast-paced life of the city, while some don't enjoy it as much. If you're not vibing with speedy New York anymore, you can consider settling in scenic Seattle.
The Emerald City offers a slow-paced lifestyle, great weather, and tons of opportunities to be outdoors. Now, watching Sleepless In Seattle won't give you a holistic idea of what's it like to live here but reading our article surely will. So, let's give you a good overview of the things you must know before moving from NYC to Seattle.
Factors To Consider Before Moving From NYC To Seattle
Weather Conditions
Both NYC and Seattle are close to the shores due to which they do share similar temperatures throughout the year. In Seattle, temperatures fall in the range of 37°F to 79°F while it's roughly between 28°F to 85°F in NYC year-round.
The one major difference between the two cities is that in NYC, the sun makes an appearance for way longer than in Seattle. New York City enjoys nearly 224 days of sunshine while Seattle has roughly 164 sunny days. So you have to bear in mind that you're going to have a way shorter summer in Seattle.
Here's the difference in temperature that you can expect during peak summers:
Seattle In August (the hottest month) – average high of 77°F
NYC In July (the hottest month) – average high of 84°F
Speaking of winters, you'll probably be glad to know that temperatures don't drop as low as NYC in Seattle. But keep in mind that Seattle does have a reputation for having extremely gloomy winters. There will be several days in a row with no sun in sight.
Here's the difference in temperature that you can expect during peak winters:
Seattle In December (the coldest month) – average low of 38°F
NYC In January (the coldest month) – average low of 29°F
Few Things To Bear In Mind About Seattle Weather:
Seattle is one of the many cloudiest cities in the U.S. On average, the city is known to have heavy cloud cover for 226 days of the year. In short, it is cloudy here 62% of the time which might take you a while to get comfortable with. On the upside, there's something comforting and cozy about the cloud cover in Seattle.
It rains frequently in the Jet City but the good thing about the rain is that it's usually just a drizzle and rarely insane downpours to deal with. However, just a heads up that you might want to keep your umbrella handy with you in the month of November when it rains very often.
You should also know that it rarely snows in Seattle as it does in NYC (Say your goodbyes to shoveling snow after moving from NYC to Seattle!) For more context about the difference, know that the average winter snowfall in New York City is about 25 inches while it's just 4.6 inches in Seattle.
Cost Of Living
You'll find that the cost of living in Seattle is 0.5% lower than that of NYC. This means that there won't be a vast disparity in costs. Both the Big Apple and Seattle appear to be en par for most aspects. But in the case of healthcare, costs are 44.7% more in NYC and the cost of transportation is 31.7% more than prices in Seattle. Holistically, there's a big chance that you'd be spending almost the same as you do in NYC even after moving to Seattle. But let's also take a closer look at other factors where you'll see a stark difference between both cities to give you a better picture.
Buying A House
In general, real estate is known to be notoriously expensive in NYC but guess what? Seattle is beating NYC to it with real estate prices soaring sky-high. Seattle housing is now one of the most unaffordable markets in the country; a cue for you to begin house hunting sooner to get a good deal. All in all, you might save on costs for other aspects by moving to Seattle but housing most probably won't be it.
Median Home Value in NYC (According to Zillow): $741,622
Median Home Value in Seattle (According to Zillow): $915,340
See Also: Best Real Estate Markets
Renting A House
In terms of rent in Seattle, the median average is at $2,197 while the average rent remains at $3,200 in NYC. Keep in mind that not all areas in Seattle have high rent rates. Rainier View, Innis Arden, Richmond Beach, South Park, and Georgetown are some of the neighborhoods to check out for affordable rental properties. You may also read our article on Best U.S. Cities to Rent in Right Now.
Utilities
The most basic utility bill which includes what you pay for electricity, gas, and water comes up to roughly $203 a month for Seattleites. For the same, New Yorkers have to budget for roughly $165 per month. All in all, don't expect an insane difference in utility bills but maybe budget for things to go up by $40 – $50 in Seattle. This will vary depending on your usage. One area where you might end up spending less moolah is on your grocery bill. A gallon of milk costs $2.46 in Seattle but the same would cost you $2.49 in NYC (according to PayScale). While the difference seems tiny, the cents would soon add up in terms of savings.
Job Market
Both NYC and Seattle share the podium when it comes to being the most thriving metropolitan cities in the country. Due to the business-friendly nature of both cities, various Fortune 500 companies are headquartered in each. NYC is a hotspot for media, tech, and finance giants. On the other hand, Seattle's economy is driven by clean technology companies among many other diverse sectors.
To give you a gist of the sectors dominating the business-friendly landscape of Seattle, let's look at the city's biggest companies. Some of the largest employers in Seattle are:
The Boeing Co. (aerospace company)
Amazon.com (e-commerce company)
University of Washington, Seattle (education)
Microsoft Corp. (technology)
Costco Wholesale (big box store company)
Starbucks (cafe company)
Paccar (manufacturing company)
Nordstrom (department store company)
Expedia (engineering company)
As you may have noticed, Seattle's job market is diverse and its most significant sectors include technology, manufacturing, and retail. It's safe to say that Seattle's economy is booming and has a presence of strong globally recognized companies. Additionally, the city's unemployment rate is also not concerning as it remains at 3.5%. Lastly, let's also look at a comparison of what you can expect in terms of salary. Here's a brief comparison between the two cities in terms of median household income:
Median annual household income in NYC: $52,737
Median annual household income in Seattle: $67,365
Transportation
As you must be aware, NYC is one of the top cities where you can live without a car, all thanks to the numerous commute options available in the city. New Yorkers have the subway as well as rail and bus systems run by the Metropolitan Transportation Authority (MTA). These public transportation systems basically have you covered for intracity commute.
Seattle isn't doing too bad for itself in terms of giving residents commute options. Some of the major systems that you'll find yourself depending on include:
King County Metro: an extensive network of buses that have good coverage of the city.
Sound Transit Express Bus: Another public transit agency you can depend on for their fleet of buses.
Sounder Commuter rail: This is a commuter rail service that is operated by Sound Transit.
Washington State Ferries: If feasible, you can also get used to the ferries that will transport you to Bainbridge and Vashon Islands in Puget Sound or to Bremerton and Southworth on the Kitsap Peninsula.
King Street Station: This is a prime station in Seattle from where you can board Amtrak intercity trains as well as commuter railway lines operated by Sound Transit.
You must also know that the Emerald City is an extremely walkable city enjoying a walk score of 99/100. It has a reputation for being among the most walkable cities in the U.S.A., making it very easy to ditch the car and walk it out.
Seattle's Strong Points
By moving to Seattle, you have easy access to the mountains, the ocean, rainforests, islands, and many more outdoor opportunities. The Cascade Mountain range is just a stone throw's away from the city so you can escape city life as and when you want to.
Seattle is home to world-class companies namely Microsoft, Starbucks, Amazon, Costco, Boeing, Nordstrom, and Expedia! You have many powerhouse companies at your fingertips for lucrative job options.
There's a presence of 200 art galleries and museums in Seattle for the art buff in you to go gaga over. Seattle is also popularly known for its surprising number of coffee shops and is a city that consumes way more coffee than other American cities. Residents have a whole latte love for coffee and if you resonate with that, you'll love it here.
Also read: Moving To Washington State
Top Neighborhoods To Move To In Seattle
Fremont
Fremont is among the best neighborhoods to move to in Seattle. The area is dotted with a number of restaurants and has easy access to public transportation as well. From here, you constantly have breathtaking views of the Seattle skyline, which is the biggest pro of picking Fremont. Another upside of living here is that the area is chockfull of tech employers. Adobe, Google, Tableau Software are some of the tech giants in the neighborhood. You should also know that the character of Fremont is super artsy and the city is filled with public sculptures and art.
Median value of homes: $699,420
Monthly Median rent: $1,806
Capitol Hill
Capitol Hill is a great vicinity to pick if you love an active, lively neighborhood. There are always grand and local events taking place in Capitol Hill, making it far from a sleepy town. You will certainly love the culture and lifestyle here if you like having tons of cafes, eateries, and clubs in close proximity to your home. In Capitol Hill, Seattle University and Seattle Central College are two great educational institutions to choose from if you're moving to the city to study.
Median value of homes: $575,032
Monthly Median rent: $1,610
South Park
South Park is the perfect place to consider residing in if you're moving with your kids. A Trulia review by a local resident also mentions how South Park has the largest percentage of children of all Seattle neighborhoods. So be assured that it's great for kids. Among the many great schools here, Concord Elementary School, Denny Middle School, and Chief Sealth High School are top-ranking ones. The neighborhood is also very residential in nature with a dozen parks for recreational opportunities.
Median value of homes: $325,121
Monthly Median rent: $1,123
Greenwood
Greenwood is situated in the north-central portion of Seattle and is another super family-friendly neighborhood, just 15 minutes away from Downtown Seattle. You'll enjoy living here for the tight-knit community and the small-town vibe it gives away. Community is everything to Greenwood residents that come together every year to plan their favorite annual event that goes by the name 'Greenwood Seafair Parade'. You'll never be bored here since the residents here host a number of events to keep the neighborhood lively.
Median value of homes: $583,418
Monthly Median rent: $1,594
Sunset Hill
Sunset Hill lies bang right next to Fremont and residents here enjoy scenic waterfront views. Residents of this quaint neighborhood also have great access to the beach and take complete advantage of all the sailing schools and boat rental agencies available here. All in all, if you want to live in a quiet neighborhood with a view to die for, Sunset Hill has got to be it. Although, bear in mind that the real estate here is way more expensive than the other neighborhoods on this list.
Median value of homes: $793,477
Monthly Median rent: $1,709
Also See: Top Neighborhoods In Seattle For Families
Things To Take Care Of When Moving From NYC To Seattle
With a distance of 2,851 miles between NYC to Seattle, you might want to consider getting professionals to help you with a move that's this big.
Book your movers well in advance and make sure to get at least 3 quotations before settling for one.
Purge! Purge! And purge! We can't stress this enough but make sure you're getting rid of as much as possible so that you're only transporting items you genuinely need.
Make a decision about how you'll reach Seattle. You can either choose to drive or book flights well in advance to bag good deals.
NYC To Seattle Moving Costs
NYC and Seattle are located on two different ends of the map, one on the east and the other on the west coast. For such a move, you've got to factor in the vast distance between both cities. As we mentioned earlier, it's a total of 2,851 miles to be exact. This is why your costs would also fall in the higher end and would most likely cost anywhere from $4,500 to $6,000 for full-service movers.
To get an accurate estimate of your total move, make sure you discuss the nitty-gritty details of your move. Inform your moving company about fragile items and if you need help in moving specialty items like a pool table, grand piano, or jacuzzi. Ensure that you also discuss the dates within which you need your belongings to be delivered to you.
If there are staircases involved and no parking available right near your building for the moving truck, there could be additional charges as it takes more work. This is why it's best to clarify everything that can affect your quotation with your mover.
Also read: 4 Most Livable Cities in the U.S. for 2022
Conclusion
A move from NYC to Seattle is a big decision but now that you know about all you should anticipate for the move, things should be easy to tackle. The only thing that you should probably take time to get used to is being called Seattleites and not New Yorkers. That could be tough but moving shouldn't be with the right movers by your side!
FAQs About Moving From NYC To Seattle
Is It More Expensive To Live In NYC Or Seattle?
Both NYC and Seattle are equally expensive cities to reside in, in the country. The cost of living in Seattle is just 0.5% lower than that of NYC. In terms of real estate and utility bills, Seattle is more expensive. On the other hand, rent prices, healthcare, and transportation are more expensive in NYC.
How Much Salary Do You Need To Live In Seattle?
The average income of a resident living in Seattle is $44,167 annually. To live comfortably in the city, it is ideal to earn above the average annual income bracket.
Is Seattle Colder Than NYC?
NYC deals with a much harsher winter than Seattle. The average low temperature during the coldest month in Seattle is 38°F while temperatures drop up to 29°F in NYC. Seattle also doesn't receive nearly as much snow as NYC.
Can You Live In Seattle Without A Car?
Most Seattleites will agree that you can go car-free in Seattle because you have a large network of public transportation options at your disposal. Seattle also enjoys the reputation of being among the most walkable cities in the nation.
See Also: Most Affordable Moving Companies in the USA | Moving From Phoenix To Seattle