Moving to Washington State | 2022 Cost of Living and Relocation Tips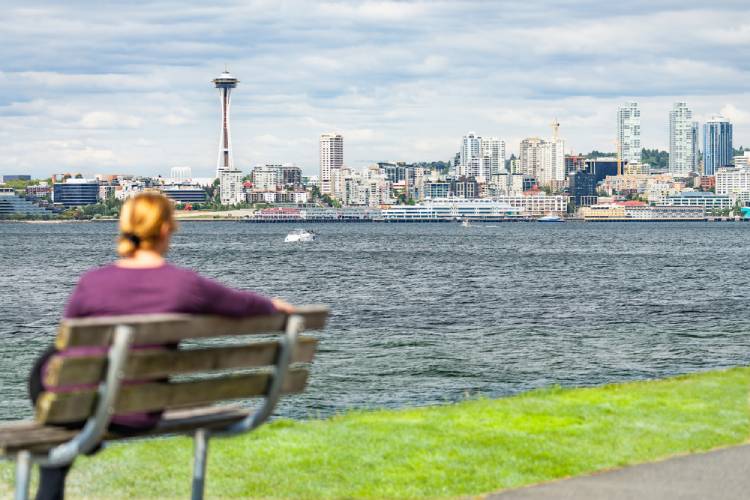 The thought of moving to Washington state (also known as The Evergreen State) is one that would certainly turn many heads. It's an idea that would get many people excited. After all, this state whose name pays an ode to the first United States President, George Washington, is tucked away in the Pacific Northwest region of the country. Many would argue that the region, with the Pacific Ocean as its neighbor on the west, boasts of the most mesmerizing landscape across the US.
Washington is blessed with numerous spectacular mountains such as Mount Stuart, Bonanza Peak, and of course, the towering 4,392 meters tall Mount Rainier. To add to the intrigue, there are also 5 active volcanoes cozily tucked away in the state. With numerous national parks, mountains, islands, lakes, and the bordering Salish Sea & Pacific Ocean, Washington is certainly an undeniable prospect for those who love nature and the outdoors.
However, it's not that straightforward. There are a lot of other factors to consider before moving to any state. Sure, with the 13th highest population in the US, it seems like the state is desirable for most people. Washington being in the top 10 economies of the country only adds to that. Beyond its natural beauty, the state has a lot more to it. So in case you're planning on moving to Washington state, here's what you need to know.
Transportation In Washington
There are several transportation options in Washington to get around the state. The transportation infrastructure is not bad at all, with Washington State Department of Transportation (WSDOT) taking charge of all the maintenance and development of essential infrastructure. Washington is not a small state by any means, with over 20,000 lane-miles of roadways to show for it. Then there are also approximately 3,000 bridges for vehicles.
In terms of the modes of public transportation, the state has buses, trains, interstate flights and even ferries. If you have your own vehicle, it will surely make your life easier when looking to explore some of the more remote and offbeat destinations in Washington. However, each mode of transportation won't necessarily be accessible in all corners of the state.
An important thing to know is that the i-5 is the primary state highway of Washington. It's what you take to travel from the Northern end of the state, all the way down to California in the south. Washington has several US Highways and Interstate Highways which create convenient interstate and even intercity roadways.The WSDOT does have Bus and Ferry services. However, the accessibility is restricted to certain regions or cities only.
All things said and done, here are the available modes of transportation in Washington.
WSDOT – Ferries
The Washington State Ferries is an option to commute in the waterways of Puget Sound, situated in the western parts of the state. There are ferries from different ports of Seattle to Bainbridge Island, Bremerton, Southworth and Vashon Island. You can also get a ferry to the San Juan Island that's close to the marine Canadian border on the north, from the city of Anacortes.
Several other cities, towns and islands surrounding Puget Sound also have the Washington State Ferries. In total, there are 20 terminals on these waterways, which are connected through 10 different routes. The Washington State Department of Transportation currently operates 21 ferries in the waterways of Puget Sound. In the US, this is the largest ferry service.
The Washington State Ferries have vessels with a passenger capacity starting from 750 and going as high as 2500. Similarly, the capacity of these ferries to accommodate automotors starts from 64, with the maximum capacity being 202. Service fee of the ferries might seem to be a tad bit on the higher side, especially if you're taking your vehicle along with you.
The price would ultimately depend on whether it's a four wheeler or a two wheeler. Some factors which determine that would be the length and weight of your vehicle. To give you an idea, the fare could go well above $100 or even $150 for your vehicle, but it could also be as low as $30. Luckily, those with nothing more than a bicycle will only have to pay $1 as an additional cost.
In general, kids below the age of 6 can travel free of cost. If you're a senior citizen or a youth that falls under the age bracket of 6-18, your fare would normally be half of what the actual passenger fee is. The fare can differ depending on the route and type of ferry you take. A one way trip from Seattle to Bainbridge Island costs $9.05 for a standard passenger ticket.
WSDOT – Buses
Buses are certainly another reliable transit option in Washington. The WSDOT serves specific regions which are divided into 4 lines. These 4 lines act as the operational route for the intercity bus program started by WSDOT, called Travel Washington. As a public transit service, Travel Washington's focus was on improving the connectivity between smaller rural towns and the larger urban cities. Here are the routes covered by the 4 lines:
Grape Line: A route which covers Walla Walla and Pasco, the Grape Line also creates connectivity to services provided by Amtrak and Greyhound. Richland and Benton City, are some of the destinations that are a part of the route, among others.
Dungeness Line: This route connects the largest city in Washington to a small city on the peninsular periphery of the state. The Dungeness Line makes up the Seattle-Port Angeles route, apart from also creating connectivity to Sea-Tac & Port Townsend.
Apple Line: A route that covers a little more than 3 hours of journey, Apple Line connects the little town of Omak to the gorgeous tiny town Wenatchee and another fairly small city in the form of Ellensburg.
Gold Line: Situated on the US Route 395, the Gold Line connects Spokane to Kettle Falls, with the gorgeous Loon Lake falling along the way. Several other smaller cities like Deer Park and Arden also fall on this route.
The WSDOT certainly has plans to expand their network. Do keep in mind that each urban city and most cities in Washington have bus services that operate locally.
Amtrak – Railways
Just like it is across the US, Amtrak is an option to commute within cities in Washington, across cities, and to other states too. In fact, there are also 2 trains everyday from Seattle to Vancouver, Canada. Similarly, there's also connectivity from Seattle to Portland, Oregon, with 4 trains running each day. Beyond these, there are also connections to Chicago and Minneapolis on the far eastern parts of the country, and Los Angeles further down south.
The East-West connectivity within the state functions in two ways. First one involves Spokane to Seattle, while covering Pasco, Wishram, Bingen and Vancouver (WA) along the way. This route in essence goes from east to west through the northern parts of the state. The second one is also Spokane-Seattle, however, this one goes centrally, covering Ephrata, Wenatchee, Leavenworth, Everett and Edmonds, before finally reaching Seattle.
On the North-South trail, there's also connectivity between Bellingham and Vancouver (WA). Apart from the stations from the previous East-West connectivity which already fall in this route, this particular trail also includes Kelso-Longview, Centralia, Olympia-Lacey, Tacoma, Tukwila, Stanwood and Mount Vernon. Of course, stations for Seattle, Everett and Edmonds are also tucked in between.
Airways
Goes without saying that Sea-Tac International Airport is the biggest, best connected and the busiest airport in Washington. However, Spokane and Bellingham are two other places which have International Airports. Then there are also domestic flights available to fly within the state, from the airports at Walla Walla, Wenatchee, Yakima and San Juan Islands. William R Fairchild International Airport in Port Angeles is another option for air connectivity.
Of course, there are a lot more airports which connect various small and big cities of Washington. So catching a flight is definitely a convenient option. Although, in some cases it might be expensive. The season in which you catch a flight will also be a factor that determines the price of the ticket. All in all, there are a variety of flights available within Washington, including charter planes, which makes getting around the state faster too.
Job Market
In the state's major cities, you are highly likely to get yourself some lucrative opportunities. Washington falls in the top 10 economies of the US, with the state showing no signs of slowing down. Huge tech giants like Amazon and Microsoft are headquartered in the state, apart from the famous gaming company Valve, telecom giants T-Mobile and of course, Starbucks. This clearly gives an idea of how massive the job market in Washington is.
The state's reputation as a Tech Hub seems to be growing at an electrifying pace. A promising job market awaits for those seeking opportunities as a Hardware Engineer, Software Developer and Website Developers, among other tech related jobs. An interesting statistic is that Washington's average minimum wage in an hour comes up to $13.50. That's another positive sign considering it's the second highest average minimum wage in the US.
Another industry which offers very lucrative opportunities is Healthcare. Physicians and Surgeons from different areas of the medical field are paid really well. In fact, these jobs could even fetch as much as $20,000 per month in wages, depending on how experienced you are and where you get the opportunity. Washington also has a reputation for being a state suited for entrepreneurs and Business.
Renting In Washington
This is where things get tricky. If you're going to be living in Seattle, your rent will definitely be one of highest in all of the US. The rent in Seattle can be about $2200 per month or even more. If you compare this to the average rent in the state, there's not a lot of difference because that's still as high as $1995, which is still a lot more than the national average of $1463. Fortunately, there are some cities and neighborhoods where the price is much lower.
Cost Of Living In Washington
The cost of living in Washington is ranked at 46 in terms of housing affordability and 37 overall. So clearly, Washington is an expensive place to stay. When you consider its median home value at $428,896 (according to Zillow), as compared to the national average of approximately $240,084, you see how big a margin there is.
Fortunately, Utilities and Healthcare costs are cheaper in Washington compared to the national average. Due to the booming economy, the Median Household Income of the state is also as much as $74,073 (2018), compared to that of the country's average of $61,937 from back in 2018. So that makes it a tad bit easier to afford the higher cost of living.
Sales tax in Washington state: 6.5%
Income tax in Washington state: 0% (no state income tax)
Also Read: Get Paid to Move tto these States
Education – WA Schools and Universities
Top-Rated WA Colleges
University of Washington (Seattle)
Gonzaga University (Spokane)
Seattle University (Seattle)
Washington State College (Pullman)
Whitworth University (Spokane)
Western Washington University (Bellingham)
Seattle Pacific University (Seattle)
Pacific Lutheran University (Tacoma)
Whitman College (Walla Walla)
Northwest University (Kirkland)
Top-Rated WA Schools
Bellevue School District (Bellevue)
Mercer Island School District (Mercer Island)
Bainbridge Island School District (Bainbridge Island)
Lake Washington School District (Redmond)
Issaquah School District (Issaquah)
Northshore School District (Bothell)
Oakesdale School District (Oakesdale)
Pullman Public Schools (Pullman)
Shoreline School District (Shoreline)
Camas School District (Camas)
Top Cities To Move To In Washington
Most of the cities we have in the list are Urban centres with opportunities aplenty. Not necessarily the cheapest, but great cities nonetheless.
Seattle (Western Washington)
Hands down the best city to start with. A seaport bordering the Puget Sound on its west and the Washington Lake on its east. Seattle is the biggest city in Washington by a mile, with its population standing tall at 753,675. With a glowing reputation as a gargantuan tech hub, getting a job in Seattle will most likely pay you the big bucks, which will be enough for you to afford the expensive city. While it might seem like a concrete jungle, the numerous parks, ports and piers simply add to the charm of this magnificent city.
Median price of homes sold: $705,600
Median rent: $2600 per month
See also: Moving to Seattle, Washington | Best Moving Companies in Seattle
Bellevue (Western Washington)
Right adjacent to Seattle on the eastern side of Lake Washington, lies the city of Bellevue. Another major tech hub which is also a great city for businesses. Bellevue is home to the headquarters of telecom heavyweight T-Mobile and gaming giant Valve. In fact, Larry Sanger, the co-founder of Wikipedia is also from Bellevue. Over the past decade, the city has been recognized as one of the best places to live in the United States multiple times. The city has multiple peaceful parks, apart from the beautiful Sammamish Lake and Washington Lake.
Median price of homes sold: $944,700
Median rent: $2,945
Redmond (Western Washington)
Relatively smaller to the two cities above, Redmond is situated just north of Bellevue. Redmond is not as much of a concrete jungle but holds a unique charm of its own. It has a lot more natural beauty, thanks to places like the Sammamish River Trail and Farrel-McWhirter Farm Park among others. Redmond is culturally rich too, with annual Bicycle Races and local music gigs at the Old Redmond Firehouse taking place often, apart from also being home to numerous Hindu temples. In fact, the city is also home to the headquarters of Microsoft of the US headquarters of Nintendo.
Median price of homes sold: $833,400
Median Rent: $2,700
Tacoma (Western Washington)
Situated on the southside of Seattle, Tacoma is another port city on the periphery of the Puget Sound. The city has multiple beautiful islands on its western side. Tacoma's population is 217,827, which is less than half of Seattle. The Port of Tacoma is also the largest in the state. What's even more interesting is that everything is usually in close proximity so you can easily walk to a lot of places. The view of Mount Rainier in the distance is also a wonderful sight. Art is quite prominent in the city and fortunately, Tacoma is not as expensive as Seattle or even Bellevue.
Median price of homes sold: $343,300
Median Rent: $1,795
Spokane (Eastern Washington)
Situated on the far east border of Washington, Spokane is an interesting city to live in. With numerous vineyards and golf courses and a very prominent art community, Spokane exudes an intriguing vibe. The city has a population of around 222,081, making it the second largest city in Washington. While being a big city, Spokane's traffic is nothing compared to Seattle. However, that changes during Hoopfest, which is the city's famous Basketball tournament in a 3on3 format. Also, white water rafting is one of the many fun things to do in the city itself.
Median price of homes sold:$260,800
Median rent: $1,295
Also See: Moving To Spokane, Washington
FAQs about Moving to Washington State
What do I need to transfer my driver's license to Washington?
If you need to transfer your driver's license to Washington, here are the things you need to have before applying for the process.
A proof of your identity and residency in Washington (you might need multiple original documents for this)
Social Security Number
Existing driver's license
$35 for application fees
$54 for a Class D driver's license
Where should you not live in Washington State?
There are certain places in the state that you shouldn't move to for reasons related to safety and quality of life. These are the cities in Washington State that are best avoided:
Aberdeen
Shelton
Tukwila
Ocean Shores
Centralia
Moses Lake
Union Gap
Chehalis
Hoquiam
Fife
What is the most dangerous city in Washington State?
Tukwila is the most dangerous city to move to in Washington. This is so because its crime rate is almost 7 times higher than the national average crime rate. Although violent crimes are on a decline here, the chances of being a victim of property crime is a whopping 1 in 6 in Tukwila. People have also frequently been a victim to violent crimes like rapes here. As a result of this, Tukwila is the most dangerous city in Washington.
What is the safest city in Washington State?
The safest city in Washington is Oak Harbor. With a property crime of just 7 in 1,000 and the violent crime rate of just 1 in 1000, it has been declared as the safest city in Washington State.
Is it a good time to buy a house in Washington State?
If you are planning to buy a house in Washington, remember that that March – April is the best season to buy houses. This is so because around this time, you will be able to take the advantage of the wide variety of houses showcased by the Washington real estate market.
In addition to this, winters prove to be the perfect time to buy a house and get the cheapest deals. The reason behind that is the residents of Washington prefer not wading through the rains and snow. As a result of this, the prices for houses fall and you will be able to buy a beautiful home at a relatively affordable cost.
How much money do you need to live comfortably in Washington State?
You would need about $72,092 to live comfortably in Washington. Out of this, 50% of your income can be used for basic necessities expenditure, 30% of your income can be spent according to your leisure and 20% of your income should be put into your savings account.
Can I drive in Washington with an out of state license?
The answer to this question is simple. You can drive a car with a valid out-of-state license in Washington as long as you are accompanied by a person who is a minimum of 21 years old and who had a driver's license issued by Washington State. However, here's the catch! You have to get a driver's license issued by the State of Washington within 30 days of you becoming a permanent resident of this state. Failure to do so will lead to clashes with the law enforcement agencies of Washington.
How do I become a resident of Washington State?
People are considered as residents of Washington State as long as they do any of the following things that indicate that they want to become permanent residents of the state.
Obtaining a driver's license issued by the State of Washington.
Purchasing and maintaining properties and houses in Washington.
If you stay in a motorhome (like an RV) and haven't listed any other states as a state of your permanent residence.
Registering yourself as a voter.
Using your Washington address while paying the state or federal taxes.
Benefitting from the public assistance programs of Washington.
Obtaining a professional or any type of business license.
Obtaining a license to hold office, hunt, fish, etc., by submitting your Washington address as your permanent address.
Attending school in Washington or being a parent of the child who has enrolled for a public school in Washington.
Can you register a car in Washington with an out of State license?
In order to register your car in Washington, you first have to obtain a Washington State driving license within 30 days of becoming a permanent resident. Once you have your Washington State license, only then can you register your car in Washington.
Is it better to retire in Oregon or Washington?
Oregon and Washington are both wonderful places to retire as both are considered tax-friendly places. On one hand, Washington charges a sales tax and exempts its residents from paying the income tax; on the other hand, Oregon charges an income tax and exempts its residents from paying the sales tax.
One thing you must know that though the costs of living in both Oregon and Washington are higher than the national average. Although, living in Oregon is cheaper than living in Washington. This is so because Oregon has comparatively low real estate rates. In conclusion, which state you choose to retire in ultimately depends on your decision.
What is the sunniest city in Washington State?
Some areas in Washington experience wet weather, some experience sunny days, while others experience dry weather (hot or cold). However, Sequim is the sunniest city in Washington State and you would rarely spot a dark cloud from there. This city experiences something known as the rain-shadow effect because the Olympic mountains successfully shelter the city from rains. As a result of this, Sequim is the sunniest city in Washington.
What's living in Seattle like?
Seattle is surrounded by verdant forests from all sides and boasts about being environmentally friendly. The city is neighbored by Lake Washington to its east and the Puget Sound to its west, with plenty of ferry services. The weather experienced by Seattle is the best for hiking and going for outdoor adventures. One thing you should know about Seattle is that the cost of living here is drastically high when compared to the national average.
But in Seattle, you can also expect your per-capita income to be very high. To add to that, Seattle takes pride in being one of the best cities in America when it comes to education. Moving here also comes with several job opportunities in the internet & technology sector. Retirees will also be able to find some quiet and charming neighborhoods to spend the twilight years of their life.
Does Seattle have a ghetto?
Some pockets of the city are not so great or even 'risky' to live in. Let us look at some of the worst places to live in Seattle.
South Park
Beacon Hill
Rainier Beach
Georgetown
Sand Point
Yesler
Burien
Lake City
Roxhill
North Gate
Where should I retire in Washington State?
Tax-friendly, beautiful scenery to enjoy and easy access to high-quality healthcare, this is what retirees can get in the places listed below:
Gig Harbor
Sequim
Snohomish
Clarkston
Woodinville
Lynnwood
Anacortes
Port Townsend
Port Orchard
What city has the best weather in Washington State?
What weather is best actually depends on the type of weather you personally like. If you like your days to be sunny at all times, Sequim is the place for you. Meanwhile, if you like the mysterious vibes created by rains, fog, and mist, you will like the cities situated on the coast of Washington. Lastly, if you prefer to stay in a place that experiences all four seasons, Seattle or Spokane would certainly work for you.
---
Our Take On Washington
The natural beauty of The Evergreen State can sweep anyone off their feet. Interestingly, the same can be said about the economies of the big cities here and the high cost of living of the state overall. Although the state is supremely expensive, it doesn't take away from the fact that the city is full of opportunities and a great place to take your career to the next level. The state is also perfect to study. Be it for tech, business or anything else, because like Washington's mountains, the quality of the state's educational institutes (public schools and universities) also have a pretty high peak.