Moving Out of State Checklist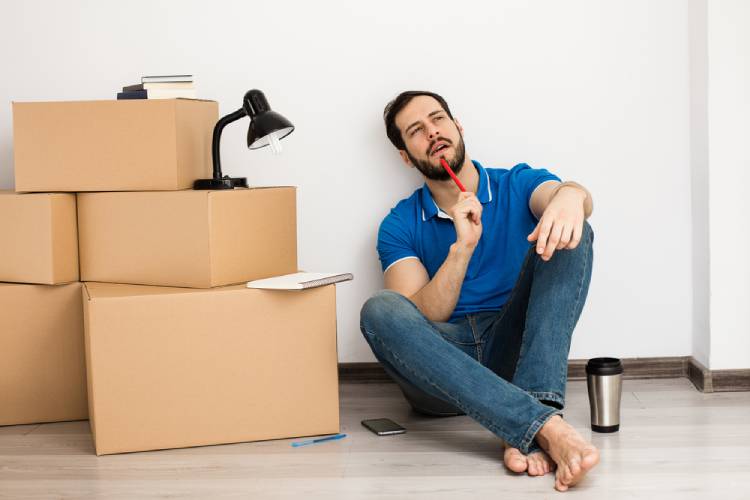 Considering how massive the US is and how each state is unique in its own way, there's a lot to keep in mind when you're planning to relocate. This involves more than just packing your belongings or finding a cozy apartment to live in. Planning is just as important as doing your research and finding out all there is to know about the state you're relocating to.
Here's a moving to another state checklist to ensure things go smoothly and you don't miss anything.
1. Finalizing A Place To Stay
For obvious reasons, this is first on the checklist. Make sure you have found a new place to stay much before you have started to make a move. It's important to finalize the place and not just have a few apartments or single family homes on shortlisted properties. Simply because you would already have a lot on your plate with making a move. So not having a place to stay when you do arrive in your new state would just be an unnecessary challenge. The idea is to sync the moving in date with the day you travel to the new state. If this is done before you even move, you could also gradually send some of your stuff before moving.
2. Getting Acquainted With The New Neighborhood
When in the process of finalizing a place to stay, it's good to make a visit, meet your possible landlord (if you're going to rent), get acquainted with the locale and the neighbors. It's a great way to learn more about what will be your new life. Not just to soak in the vibe, but also to discover places to eat, shop or simply learn more about the accessibility to necessary services. Wouldn't it be good to know things like how far is the nearest laundromat, mechanic, grocery store or a hospital? You could simply just get a feel of the place too. Find out if there are cool parks or hangout spots nearby.
3. Updating Documents As Per State Laws
This is very important and one that we can't stress enough about. Be it in terms of driving license or your Voter Registration Card, you have got to get these updated. For the former, you can get in touch with the DMV to guide you through the process if you wish to update your existing driving license or get a new one. Although the requisites are different for each state, make sure all your essential documents are in place. This would include your social security number and other personal identification proofs. You can reach out to the office of the state election, and they will help you get an updated Voter Registration Card.
Also, the State Tax is unique for each state in the US, so it's important to be acquainted with that too. Help yourself understand the kind taxes you will have to pay and expenses you will have. At the same time, do not forget to contact the IRS if you're expecting any tax returns. The 8822 form is the one you will have to fill and submit with your new address updated. Keep in mind that this step is especially for those moving permanently and are expecting any mail or tax refund from the IRS. You might have to fill a Domicile of Declaration too if you're going to move permanently, for tax purposes.
The bottom line is, be up-to-date with every legal requirement and regulations of the state you're moving to. Make sure you have updated all your essential documents accordingly.
See also: How to Establish Residency in a New State
4. Budgeting And Managing Your Finances
Like we mentioned above, each state has a unique state tax. Beyond that, some places even have additional local tax on certain commodities or services. Your pattern of expenses and savings will most likely change when you're moving to a new state. Which is why it's important to understand the taxes you might have to pay, and the cost of commodities and services. So, just get an idea about the general cost of life in the state you're moving to.
It would also help to preempt what your lifestyle would be like, and start budgeting and managing your expenses accordingly. People often underestimate how moving to a new state can have an impact on their finances. When it's good, nobody even thinks about it. But it's the unpleasant surprises that you should always plan for. After all, what's the point of moving to a new place if it's only going to keep chipping your financial stability away?
5. Finding Good Schools And Universities
This would be specific to anyone with kids, those expecting one or planning to start a family after moving to a new state. The age bracket of your child will certainly be one of the most crucial factors in making the decisions. So make sure you've done enough research on the kind of schools, colleges or even preschools in your neighborhood. Try to find some time to visit some of the places before moving. Speak to some locals or people in your possibly new neighborhood to find out where their kids go and which ones are the best.
6. Forwarding Your Mail
Nobody wants to move to a new state and have all their mails and packages being sent to their old address, isn't it? Well, you can avoid all the hassle by forwarding your mail before you move. It's pretty simple actually. You could visit the USPS website and fill out an online form or you could just as well visit a local post office nearby and get that sorted. In case you're someone who's planning to receive their mails through a rental PO Box, you could also plan that in advance. This too can be done through the USPS website or by visiting a local post office.
7. Transferring Or Updating Your Bills, Utilities And Subscriptions
If you receive any magazines, bank notices, letters or bills, make sure you update your address with the company individually, or transfer the services and subscriptions. With credit card or bank accounts, you could easily update your address online without physically going to a branch. The same might be possible for magazine subscriptions or anything else. With services like water, electricity, gas, internet or cable, you will have to get in touch with the companies individually to inform them about your move. In a situation where it's possible, your services could very well be transferred to your new place of residence.
8. Start Planning Your Packing Process
One of the most important things to keep in mind with this part is to not keep it for the last moment. Start creating lists of all your belongings and how you want to segregate them. To stay ahead of the curve, you have to plan and categorize everything you intend to keep, sell, donate or even recycle. Trust us, this does make the process simpler. If you know even a month or two in advance about your move, start packing small things which you won't need.
Identify things which you don't use in your daily life and start to pack those to begin with. Create a clear distinction of what are your essentials and non-essential items. The latter can always be packed first and even sent across to your new home if that's already finalized and vacant for you. If not, you could still just pack and keep it ready for movers to come and take it. These non-essentials can include paintings, seasonal boots, electronics or even books.
9. Find A Reliable Packing And Moving Service
You ain't no superman and you shouldn't have to do it all on your own. Especially when there are experts to help you out. There are many good Packing and Moving services out there that you can rely on. Some that specialize in interstate transportation and moving. While you're at it, you can even use their services with packing larger or the more fragile items.
It's good to take this also into account when planning your move so that you don't have to forget or scramble for things at the last minute. However, all of it would depend on your budget or your financial situation for that matter. These services can be expensive at times, even more so when it comes to moving stuff from one state to another.
See also: Get Accurate Moving Estimate Online
10. Alternative To A Moving Service
You always have the option of renting a moving truck and doing things yourself while you make a road trip out of the job. It will certainly turn out to be a cheaper option if you're comfortable driving on your own. You might want to consider large freight moving trailers too, as they are also money savers that help move stuff for longer distances.
See also: How to Plan Your Moving Road Trip
Another economical option would be portable storage containers. The best part about these moving containers is that you can choose a size and the duration that fits your needs. Its cost would depend on these factors. Getting one of these on rent certainly makes your life easier and allows you to have a tad bit more control with your packing and moving process.
See also: Top-Rated Interstate Movers in the USA
11. The State Pet License
Got a four-legged furry family member who's going to be making the move with you? Well, some of the states' laws in the US require you to make sure that you register them with the city or county you are moving to. Once again, the laws for each state might be different so make sure you do your research and account for this too. Purchasing a pet license is mainly with the objective of public safety, and ensuring that your pet has been given all the shots.
See also: Moving with Pets
12. The Goodbyes
Not to be captain obvious here, but it's still something you have to do, right? With your closest friends, relatives and family members, you might have already shared the news or kept it in your mind to inform them about it. But let's not forget to do the same with our neighbors and let them know too. Just let them know about it too, apart from your colleagues at work or the folks from your children's school.
While you're at it, there's no harm in letting those friendly local acquaintances be informed about it too. Moving to a new place takes a lot of time and effort, so we understand how challenging it can be to do it all in person. One good way of going about it is sending a common email to most of them. Keep it light and simple and maybe share your new address and contact details.
13. The Goodbye Cleanup
This isn't just a matter of sheer politeness. For all we know, your security deposit would depend on it. Doesn't matter if the place was your own or one that you had leased, it's good and important to give it a good cleanup before moving out. The goodbye cleanup is going to be your final act, so if you can, you can make it one to remember. A lot of people actually get a deep cleaning done too. That's definitely an option. Even if you opt against it, make sure that you at least do some scrubbing, dusting and vacuuming of the house before you leave.