Moving from Seattle to Austin – Expert Tips and Advice


VanLines Inc
Secure Storage
Easy Booking Process
Fully Trained Employees
GET QUOTE

Colonial Van Lines
Storage Services
Long-Distance Moves
Corporate Relocations
GET QUOTE

Moving APT
Vetting Process
Award-Winning
Available Nationwide
GET QUOTE
Our Take
Price
Rating
Minimum Shipment Size
Storage
Booking Deposit
Cancellation Policy
Quoting Options
Discounts

Best Overall Value


GET QUOTE

2+ bedrooms




Free 30 Days




10%

Free up to 72 Hrs

Phone / FaceTime / Text

Senior / Same day Booking

Best Industry Reputation


GET QUOTE

1+ bedrooms




30 Days




20%

Free up to 72 hrs

Phone / Facetime

Seniors Discount

Best Customer Service


GET QUOTE

1+ bedrooms







Free up to 72 hrs

Phone / Virtual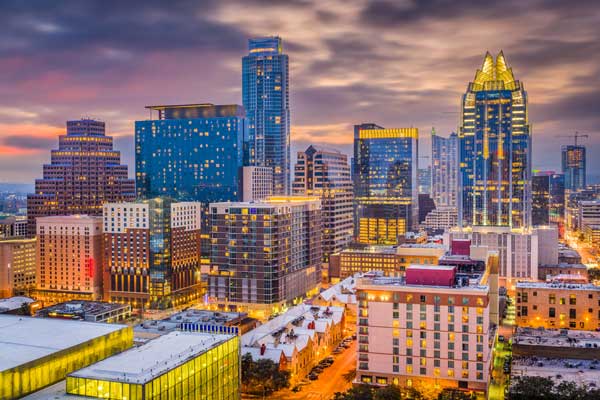 Where do we even begin to tell you how awesome your decision to move from Seattle to Austin is? Allow us to make it clear that you're not going to miss Seattle's amazing parks and beaches since Austin has enough of those. In fact, Austin is the greenest city in Texas. The only thing you might long for every time you step out is the Space Needle. But then Austin has its own charm waiting for you. The capital city of Texas, Austin was founded in 1839 and named after the Father of Texas, Stephen F. Austin. It's often ranked as the number one city to live in the entire country and the reasons are endless — affordability, high quality of life, booming job market, outstanding options for education and entertainment, etc.
Apart from a number of cool places to eat and drink, Austin is known for its live music venues. Austin is among the country's safest and happiest cities and that's why thousands of people move in every year. Whenever you reach the city, keep in mind the slogan its people follow — Keep Austin Weird.
Here's a list of the major factors that you need to know before moving to Austin.
Factors To Consider Before Moving From Seattle to Austin
Weather Conditions
Washington's Seattle experiences a sub-oceanic climate with mild and rainy winters along with mild and sunny summers. On the other hand, Austin's climate can be described as subtropical with mild winters and extremely hot summers. The two best periods of time to enjoy Austin are from March to May and from September to November. The summer months are a bit harsh and you might want to stay inside during those couple of months.
Let's compare a few more aspects of the two cities. The people of Seattle and Austin get 152 and 228 sunny days a year respectively. The average number of days of sunshine in the entire US is 205. The amount of rainfall that Seattle receives is 38 inches which is at par with the national average. Austin is not far behind with 35 inches of rain annually. If you're a snow lover, it's bad news for you since Austin doesn't get a lot of snowfall.
Here's the difference between the cities in temperatures during peak winters:
December is the coldest month in Seattle and the average low temperature is 35.9°F.
January is the coldest month in Austin with an average low temperature of 38.2°F.
Here's the difference in temperatures during peak summers:
August is the hottest month in Seattle with an average high temperature of 76.3°F.
August is the hottest month in Austin and the average high temperature is 96.2°F.
Cost Of Living
Cost of living is undoubtedly the most crucial factor when deciding to move from one part of the country to another. This part always gets us a little excited whenever we're about to deliver good news. Moving from Seattle to Austin, you're now going to save a lot of money. Seattle's cost of living index score is 172.3 compared to Austin's score of 119.3. Although both are higher than the national average of 100, the difference between the two is still huge. Also, Texas has no state income tax; that means you're saving a bit more money!
Buying A House
According to Zillow, the median home price in Austin has seen a humongous increase of almost 41% from January 2021 to February 2022. It stands at $655,862 which is nearly double the average in the US ($331,533). And when you combine both these figures, the result you get is somewhere around the median home value in your current city Seattle which is $932,382.
Renting A House
For those who are not yet ready for homeownership, the life-saving option of renting is there for you. The prices are significantly lower than most of the other major cities in the country like New York and Los Angeles. The average monthly rent for a studio apartment in Austin is $1,700 whereas for a 1-bedroom apartment, a 2-bedroom, and a 3-bedroom apartment, it's $1,718, $2,152, and $2,602 respectively. Some of the most amazing neighborhoods for renters in Austin are Westgate, Clarksville, South Lamar, Hyde Park, Crestview, Downtown, and Riverside.
Utilities
The average bill of utilities in the US is $237. In Seattle, it's considerably higher at $281 per month while Austin has it at just $209. So you see, there's a clear advantage to you if you move to Austin.
Job Market
With a GDP of $2.006 trillion in 2021, Texas is the second-highest contributor to the US economy after California. Austin, being the capital city, has a major role to play in this. There are a large number of industries that are providing work opportunities to thousands of people like hospitality and tourism, healthcare, lifestyle, and most importantly, science and technology. One of the fastest-growing cities in the country, Austin is also considered among the best cities to start your own business. It's home to tycoons like Amazon, Apple, Google, Facebook, Oracle, and IBM.
The technology sector in the city started with the launch of Dell in 1984. It was founded by Michael Dell during his days at the University of Texas. Another brand you might have heard of is the online dating app Bumble, which is also based in Austin. Apart from the tech sector, some of the other major employers are the Austin Independent School District, St. David's Healthcare, and Ascension Seton Medical Center. You won't have to worry about finding work in Austin of all places.
Here's the difference between the salaries in Seattle and Austin:
Median household income in Seattle: $102,486
Median household income in Austin: $75,752
The difference between the incomes you get in both cities may be stark, but you needn't worry too much about it as Austin is a comparatively more affordable city to live in!
Transportation
Probably the only negative aspect of the car-centric city of Austin is its traffic, much like the rest of the major cities in the US. If you're someone who enjoys walking to biking, you'll love commuting in the city. When it comes to public transportation, Austin's multimodal public transit system — Capital Metropolitan Transportation Authority (Capital Metro) — is the best option since it is easy and cheap.
It provides multiple options of bus services like MetroRapid, MetroBus, and MetroExpress along with a 32-mile long light rail system called Capital MetroRail. It serves downtown, east, north-central, northwest Austin as well as the suburb of Leander. The MetroRapid bus service has two rapid buses — Routes 801 and 803 — and they run between north and south Austin.
Some of the airports in and around Austin are the Austin-Bergstrom International Airport, San Antonio International Airport, and Killeen-Fort Hood Regional Airport.
Austin's Strong Points
No State Income Tax: Since there's no state income tax in Texas, your take-home pay is higher as you get to keep more of your own money.
Friendly People: As we mentioned in the beginning, Austin is among the happiest cities in the US, and so are its extremely warm and welcoming people. Striking up conversations and making friends is super easy in Austin.
Music Scene: Austin is a heaven for music lovers. With more live music venues than any other city in the country, it's known as The Live Music Capital of the World. The city hosts at least one major music festival every month, some of which are Levitation Music Festival, South by Southwest, and Austin City Limits.
Job Opportunities: Austin is one of the top cities to find jobs in the US with multiple industries performing brilliantly. With a low unemployment rate of 2.5%, Austin is a hub for start-ups and its tech industry, in particular, is booming. Giants like Google, Apple, Facebook, Amazon, Dell, and Tesla have their headquarters in Austin.
Top Neighborhoods To Move To In Austin
Hyde Park
Hyde Park was one of the first suburbs in Austin and was established in 1891. Home to 7,654 people, the neighborhood is loved by the families, students, professors, and young professionals living in it. The centrally located Hyde Park is the perfect place if you want to live in a peaceful neighborhood with houses built in different architectural styles. If you move to Hyde Park, you'll get to enjoy numerous pubs, cafes, and restaurants as well. The families have the Austin Independent School District to send their children for quality education.
Median Home Value: $646,000
Monthly Median Rent: $1,730
Downtown
Home to 12,772 people, Downtown Austin offers a luxurious lifestyle and homes in the form of high-rise lofts, and lavish, garden-style condominiums to its residents. Public attractions like Lady Bird Lake and Zilker Park are occupied by people throughout the day. It's because they offer multiple options of walking, biking, and kayaking along with sports fields, a dog park, Zilker Botanical Garden, and the Umlauf Sculpture Garden. By the time the sun goes down, live music venues, restaurants, and cafes are filled with people. The Colorado River is also there for you to spend some relaxing time.
Median Home Value: $680,000
Monthly Median Rent: $2,543
East Austin
With a population of 23,389, East Austin is one of the most sought-after and fastest-growing neighborhoods in Austin. If you select East Austin as your place of residence, you'll have a number of options from bungalows, single-family homes, and modern condos. The culturally diverse neighborhood has no dearth of lush green parks, open spaces, and beautiful waterside views. You can reach Downtown Austin, Lady Bird Lake, and East 6th Street easily from East Austin. Not to forget, there are some top-quality restaurants and cafes offering a wide variety of food.
Median Home Value: $625,000
Monthly Median Rent: $2,157
Mueller
Mueller is a treat for nature lovers as it features the splendid 30-acre Lake Park and plenty of other open spaces. Home to 5,937 people, this pedestrian-friendly neighborhood was smartly designed with everything within walking distance, whether it's the parks, schools, shops, or medical centers. Like the other neighborhoods in Austin, Mueller also offers a variety of options as far as homes are concerned, from single-family homes to lofts, houses, townhouses, and condos. Families can visit the Thinkery Children's Museum and the various places to eat and drink. The Austin-Bergstrom International Airport and Downtown Austin are easily accessible from Mueller.
Median Home Value: $825,000
Monthly Median Rent: $2,874
Also See: 5 Best Neighborhoods in Austin for Singles and Young Professionals | Top Neighborhoods In Austin For Families
Things To Take Care Of When You're Moving From Seattle To Austin
The distance between Seattle and Austin is huge and therefore it's important that while you research moving companies on the internet, you make sure it's a long distance mover that you're shortlisting and not a local one.
Reading as many customer reviews as possible will help you tremendously before you finalize your mover. It's advisable to get estimates from at least three moving companies so that you can compare and choose the best one.
Make sure that your moving company is registered with the US Department of Transportation.
Get rid of any heavy items that you don't need because you're most likely to be charged based on the weight of your shipment.
Prepare an inventory of all the items you're getting moved, no matter how small or large. When your shipment arrives at your new house, check if each and every item is there or not.
Keep all your important documents and paperwork safely with you all the time. Documents are more important than any of your belongings.
Seattle To Austin Moving Costs
Your biggest challenge will be to find a reliable professional moving company that offers long distance moving services. It's because the distance between the two cities is over 2,100 miles. Although it's going to cost you quite a bit, this is just a one-time deal and you should not compromise on the quality of the moving company to save a few bucks.
Here is the approximate cost of moving a two-bedroom apartment from Seattle to Austin:
Professional Moving Company: $3,440 to $5,760
Moving Container: $3,070 to $3,885
Freight: $2,625 to $3,310
Rental Truck: $1,910 to $2,410
Conclusion
We have covered each and every aspect that you'll eventually need to ponder upon before finalizing your decision of moving from Seattle to Austin. Apart from the problem of traffic, there are not many negative points about the city and you know what you're looking for. It's a perfect place for everyone from professionals and families to retired folks. Also, students move to Austin because of the University of Texas, which is not only known for its top-quality education but also for sports. All the best with your move!
FAQs About Moving From Seattle To Austin
How Much Does It Cost To Move From Seattle to Austin?
Hiring a professional moving company to move a two-bedroom apartment from Seattle to Austin will cost somewhere between $1,920 and $5,800. Please note that this amount does not include any additional services you might want like packing, unpacking, junk removal, and packing materials.
See also: How Much Does it Cost to Move Out of State
Is Austin A Safe City?
Austin has a violent and property crime rate of 4.88 and 38.04 per 1,000 residents, respectively. You can compare it with the national average which is 4 for violent crimes and 19 for property crimes. Generally speaking, Austin is known to be among the safest cities to live in the US.
Does Austin Have Beaches?
Although Austin is located around 200 miles from the Gulf of Mexico, you'll find a number of stunning beaches on the sides of beautiful rivers and lakes. Some of these amazing beaches are Lake Pflugerville Beach, Secret Beach, Emma Long Park Beach, and West Lake Beach.
See also: Moving From Seattle To Dallas | Moving from Seattle to San Francisco | Moving from Denver to Seattle