3 Best States to Retire in 2022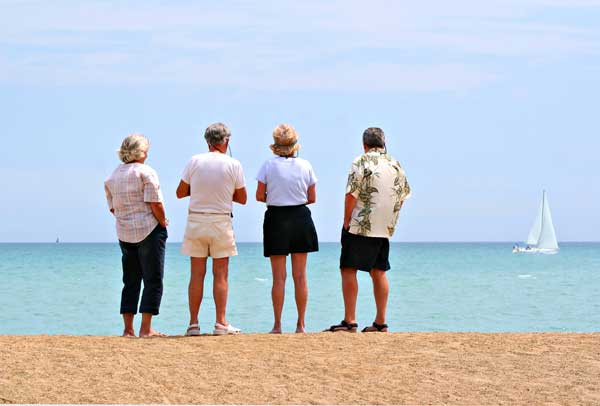 Planning for retirement is an exciting process, but it can also be overwhelming. After having worked most of your adult life, deciding the best way to spend your well-earned free time can be a daunting choice. For many, moving to a new location is a refreshing way to embark on retired life. During our careers, countless factors seem to keep us in one place including jobs, children, and other obligations. With these obstacles removed, a world of possibilities suddenly emerges.
So you have decided to pick up your roots and move to a new state. The obvious next question is "where is the best state for retirement?" There are a few considerations that should factor into this decision. Perhaps the most important aspect is also the most enjoyable: where is the most fun? The entire purpose of retirement is to enjoy yourself, so you want to make sure you pick somewhere with a plethora of entertainment and recreational options. Related to entertainment is the climate you choose. Few among us wish to spend their retirement years staring out of a window at a blizzard.
Beyond mere pastimes and weather, there are other aspects of states to consider. One of the most under-considered factors is the cost of living. Regardless of how much you have saved for retirement, no one wants to spend their entire savings on rent or other menial expenses. To this end, considering the total cost of living as well as any state-imposed taxes is also a smart move to maximize your spendable income.
Lastly, access to healthcare is a key matter to account for. Many beautiful and remote locales look exceedingly tempting on paper. However, many of these places lack the necessary infrastructure to keep you healthy and well throughout the years. Thus, while it is not the most pleasant factor to consider, proper access to healthcare facilities is a matter of vital importance.
With all of these factors combined, let's look at some of the best states for retirement.
Top-Rated States to Retire in the US
Florida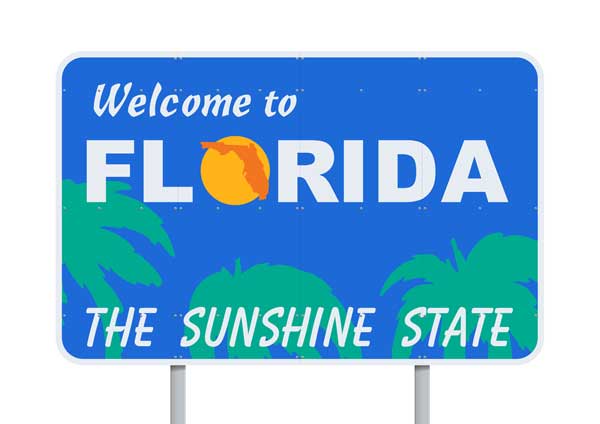 Florida is often considered the de facto state for those seeking a better life in retirement, and there is a good reason. The infrastructure, climate, and favorable housing costs of Florida make it an ideal fit for many retirees.
Total Population: 21.5 Million
Share of Senior Population (65+): 19.1%
State Capital: Tallahassee
Major Cities in Florida: Miami, Orlando, Jacksonville, Tampa, Tallahassee, Florida City, Naples
The Warmth is Endless
For many, the main draw of Florida is the climate. Especially for those who are accustomed to the frigid northeast, the sun-drenched and balmy Florida weather is a welcome transition. However, the weather in Florida is not always quite so hospitable. In the summer, the heat in Florida can become quite severe. Thus, if you prioritize spending a lot of time outdoors year-round, there may be better fitting choices than Florida. Another obstacle to Florida's climate is the hurricane season. Generally, at least one hurricane will impact Florida every year. Luckily, the effects of these storms are primarily in the coastal regions. Thus, selecting a home slightly inland reduces the risk greatly.
The Housing Costs are Financially Friendly
Another great reason why Florida is the one of the best states to retire is the cost of living and the very favorable taxing structures. While the price varies significantly based upon the region, housing costs in Florida tend to be very affordable and financially friendly. Around Orlando, for example, a very nice home can be purchased for as little as $200,000. Further, Florida employs a very unique system for property taxes. The amount of income tax that you initially pay when purchasing a home is locked in as long as you own the property. Thus, you are immune to the fluctuations of a changing housing market.
See also: Top 10 Cities in Florida
Medical Access and Infrastructure is Excellent
The infrastructure of Florida makes it an extremely well-suited location for seniors. Because of the large percentage of retired individuals that live in Florida, the medical industry has swelled to accommodate the demand. This means that regardless of where in Florida you live, there will likely be convenient and affordable access to any facet of healthcare you may need.
Entertainment is Abundant
Aside from the ample sunshine, one of the most-cited reasons why Florida is considered an ideal retirement destination is the seemingly endless variety of recreational activities. If you enjoy golfing, Florida has one of the largest concentrations of world-class golf courses in the world. If amusement parks are more your speed, then there are few better cities than Orlando. Even if your idea of a perfect day is simply relaxing on the beach with a cool drink, Florida has you covered in spades.
See also: 6 Best Places to Retire in Florida
South Carolina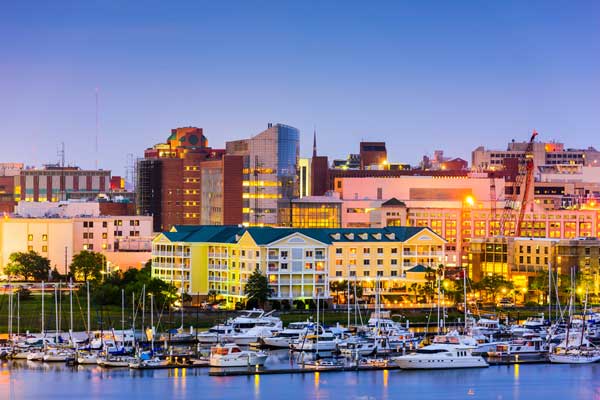 South Carolina is not at the forefront of many minds as a primary destination for retirement. Despite this, there are numerous surprising advantages to this gem of the mid-Atlantic. South Carolina is a magnificent place to settle due to its temperate climate, extremely affordable housing, and incredibly diverse landscape.
Total Population: 5.15 Million
Share of Senior Population (65+): 18.2%
State Capital: Columbia
Major Cities in South Carolina: Charleston, Columbia, Myrtle Beach, Greenville, Spartanburg, Hilton Head Island, Florence
You Can Find Any View
One of the primary advantages of South Carolina is the sheer variety of topography and landscapes. To the west of the state lie the Piedmont mountains, which provide some of the most idyllic mountain views and hiking opportunities imaginable. Many seniors flocking to South Carolina choose to settle near the coast, close to Charleston or Myrtle Beach. Both of these options are beautiful options near the water, with hugely diverse communities and countless sources of entertainment. The best aspect of South Carolina is that, regardless of where you choose to land, you are only a short drive from a completely different environment. Thus, you don't have to choose between the mountains or the sea. With a short drive, you can have both.
The Cost of Living is Extremely Affordable
Another significant advantage of South Carolina is the affordability of housing. Unlike many states, South Carolina does not have many large centralized cities. Rather, South Carolina is composed primarily of clusters of small to medium sized towns. This not only provides a diverse culture but also a lower cost of living. Housing costs in South Carolina are some of the most affordable in the country. In a slightly rural area, a beautiful home can be found for as little as $125,000. Even in more densely populated areas, houses rarely exceed $250,000. Once you begin to explore South Carolina, the true value it offers becomes apparent.
The Food is Fantastic
One of the aspects that many people look forward to most in retirement is finally having the time and money to enjoy some of the finer things in life. Whether you prefer white-tablecloth dining or a greasy barbecue joint is more your style, the culinary culture in South Carolina is rich, diverse, and delicious. The Carolinas are famous for their barbecue rivalries, and the allegiances fall along county lines. In the Eastern half of the state, mustard-based whole-hog barbecue is the favored tradition, while the Western half leans to a simpler vinegar-based sauce. Whatever your preference, the quality of the food in South Carolina is undeniable.
The Climate is Just Right
Another sizeable advantage to South Carolina is the climate. Thanks in large part to its mid-Atlantic location, the weather in South Carolina is temperate year-round. While the summers can certainly show their fair share of heat and humidity, this rarely becomes oppressive. Better still, winters in the Carolinas tend to be mild and beautiful, with only a few days of snow each year.
For all the above reasons, South Carolina is at #2 on our list of best states to retire in America.
See also: South Carolina Relocation Guide
Arizona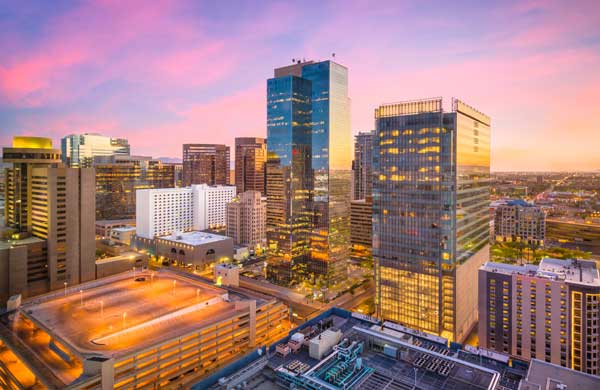 For many years, Arizona has been one of the most popular retirement destinations in the United States. While Arizona is often thought of as an arid and desolate landscape, the diversity of Arizona is culturally and geographically vast.
Total Population: 7.27 Million
Share of Senior Population (65+): 18%
State Capital: Phoenix
Major Cities in Arizona: Phoenix, Tucson, Scottsdale, Sedona, Grand Canyon Village, Mesa, Flagstaff
The Climate is Consistent and Warm
The primary city for those choosing to retire to Arizona is Phoenix. Phoenix is a beautiful city that is in many ways an ideal choice for retirement. For many retirees, the initial draw of Arizona is the climate. Phoenix is a desert region, which leads to extremely warm and dry weather patterns. Even in the winter it rarely dips below 60 degrees. Compared to coastal regions, this warm dry air often alleviates breathing difficulty and joint pain.
Despite its desert reputation, the climate of Arizona is far from monochromatic. Just a short drive from Phoenix lies Flagstaff, an idyllic skiing destination marked by beautiful snow-peaked mountains. Thus, whether you want to ski through the slopes or watch the lizards scurry past the cacti, Arizona has the climate for you.
The Healthcare is Second to None
Due in large part to the large retiree community of Phoenix, there are few areas with more developed healthcare industries. Whether you need a primary care physician or any form of specialist, you will likely be just a short drive away in Phoenix. Further, the demand has led to a national migration of world-class doctors moving to the area, meaning the healthcare in Phoenix is among the best in the country.
You've Never Seen a More Beautiful Sunset
It may seem like a minor point, but once you have experienced a sunset in Phoenix you will immediately feel gratified in your decision. The dust casting through the desert air creates a stunning rainbow effect every night as the sun dips below the scenic desert backdrop. A simple sunset might not seem like a reason to move, but as you sip a glass of wine and admire the majesty every evening, it will certainly seem like a reason to stay.
There are Numerous Retiree-Focused Communities
Given the large presence of retired individuals in Arizona, multiple communities have formed to cater specifically to their needs. Sometimes these take the form of a simple "over 55 only" restriction. Other times these communities offer comprehensive retiree-focused services and programming to make your transition as enjoyable and fun as possible. Despite the services and advantages of these communities, the cost of living within them is often surprisingly low.
Related: Moving to Arizona – Relocation Tips
---
There is Something for Everyone
Just as everyone's career is different, so too is everyone's retirement. The ideal retirement destination is not a single choice option. Instead, it depends upon your wants, needs, and preferred pastimes. Whether you crave the warm coastal sites of Florida, the diverse landscapes of South Carolina, or the stunning desert scenes of Arizona, there is truly not a bad choice to be had.
If possible, the best method of making your selection for the best states to retire is to simply try them out. Deciding upon a state in which to retire is a big decision, and it is one that deserves the necessary time and careful consideration. Thus, develop a list of your wants, needs, and dreams so that you can most efficiently and accurately hone in on your best option. And most importantly, relax and enjoy your time.
Useful Articles Related to Retirement Relocation